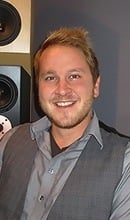 Drew is a Nashville native whose passion for creating great sounding music brought him to Sage Audio in 2011. After earning a digital media degree from MTSU, he has been training under Steve Corrao for the past 5 years to become a mastering engineer. In addition to learning and honing his mastering skills, he has held the position of project manager and has had an integral role in handling client relations. He is dedicated to building relationships with clients to gain a deeper understanding of the unique sound that each artist envisions for their music.
Life for Drew has revolved around music from a young age. He was always checking out live shows, playing guitar in a few different bands, and he spent a lot of his time playing, writing and recording music in his bedroom. Because of this, Drew can especially relate to independent artists, songwriters and "DIY engineers."
"Although I truly enjoyed the experience of recording at home, there was always the desire to take those recordings to the next level. This desire is what attracted me to mastering."
Now, having been involved in a wide variety of projects and incorporating the techniques and knowledge instilled under Steve's direction, Drew is equipped with the tools and skills necessary to craft high-quality masters for clients at any level.
Drew is committed to delivering high-fidelity masters and ensuring an enjoyable experience for clients from start to finish. He approaches each project with the straightforward mindset of "making awesome music and having fun doing it!"