In our previous post, we shared two top-of-the-line ribbon mics worth looking into picking up: the Royer R-121 and the Coles 4038. Both excellent in their own regard, here are two more ribbon mics that are equally worth paying attention to.
AEA R84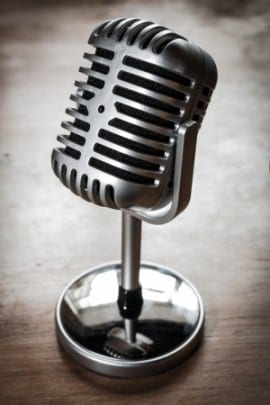 As one of the most beautiful ribbon mics on the market, the AEA R84 features a design reminiscent of ribbon mics from the 1950's, a fitting look considering that it takes a lot inspiration from the classic ribbon mic of the 20th century, the RCA 44a. As an all-purpose ribbon mic, the R84 is a workhorse, handling everything from vocals and acoustic instruments to drum overheads. Like most ribbon mics, its got a smooth mid-range and a bit of a darker tone.
Like with its predecessors, shocks, drops, phantom power and even improper storage can damage the delicate ribbon. Still, for $1,035, the California-built AEA R84 is a great all-around addition to any studio.
Shure KSM313
As a modernized take on ribbon microphones, the Shure KSM313 brings the best of that warm, natural ribbon sound with the latest technologies. Implementing a material for the ribbon dubbed "Roswellite," the KSM313 is said to be among the most durable ribbon mics ever created. The elastic material will "always return back to its manufactured shape."
The sound of the KSM313 is excellent, but a touch more colored than some of the others. (Perhaps it's the Roswellite…) For a ribbon mic that will last, though, it's a great deal at $975.
Audio Technica AT4080
Probably the most modern take on our list is the Audio Technica AT4080. It's got the trademark natural tone but with a frequency response that's tad bit brighter than traditional ribbon mics. The result is an all-around excellent mic that shines on most anything from vocals to drum overheads. Its phantom powered, too, adding clarity to the signal. The AT4080 retails at $999.
If you're in the market for a new studio microphone, a ribbon mic can make an excellent addition to your recording toolbox. There are now dozens of excellent ribbon mic options available, and these five models are great place to start.