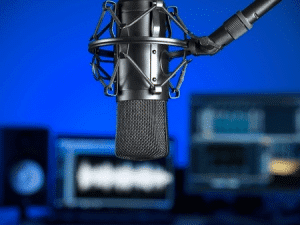 Earlier this year, we published a post on how you can get everything you need for a recording studio for under $1,000. We wanted to revisit that idea again, but for studios with a bit more of a budget to work with.
As technology has advanced audio production, it's impressive what you can do with $5,000. Whereas in the past as professional studio was at least in the tens of thousands of dollars (if not hundreds of thousands), today you can have professional grade equipment for much less.
If you have only $5,000 to spend, here's how you can build a killer recording studio, assuming you already have a computer that's decent enough to run a modern day DAW (64-bit, at least 4GB of RAM, high quality processor…). If you don't have a computer, look into picking up a Mac mini.
Glyph Studio mini Professional Portable Hard Drive 1TB - $200
You're going to need a good external hard drive to record your music to. Glyph has been making high-quality hard disc drives for audio and video professionals for years and is a trusted brand. At 7,200 RPM and Firewire/USB 3.0 connectors, this drive is fast enough to handle all of your needs.
UA Apollo Quad - $2,500
For your recording interface, the Universal Audio Apollo Quad is the perfect piece of gear. It has excellent A/D conversion and impressively transparent preamps. With 16 inputs, you'll have more than enough recording options. The real magic, though, is the UAD-2 power that allows plugins from Universal Audio to be processed through the interface, saving your computer precious memory and power. For best results, be sure to get the thunderbolt card.
Cubase 7 - $410
While Pro Tools is by far the DAW of choice for most pro studios, that doesn't mean it's the best. Many producers in recent years have used Logic Pro, Ableton and even Fruity Loops to cut hit records. While each DAW offers its own range of features, all of them will allow you to record and edit high quality digital audio. Cubase offers a good balance of audio mixing tools with an intuitive MIDI programming interface. And at $410 it's hard to justify paying nearly $300 more for Pro Tools.
With your DAW, interface and hard drive covered you'll still need a few more things to get your $5000 studio up and running. In our next post, we'll cover the rest with monitors, mics, your MIDI controller and room treatments.