I admit it: I'm a little obsessed with Adele. And though "Rolling in the Deep" gets stuck in my head for a day or so every once in awhile, it has less to do with her music than my music-news-junkie interest in her phenomenal success over the past two years.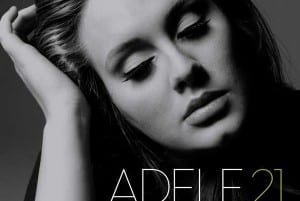 At the end of November, Billboard confirmed that sales of Adele's sophomore album 21 crossed the 10 million mark in the U.S. alone. These numbers make the album just the eighth record in history to reach that mark less than two years after its release.
So it's no surprise that 21 is the number one Billboard 200 album for the second year in a row. Here are some other notable stats about the album:
21 debuted on the albums chart in March 2011, and didn't leave the top 10 until September of this year. During that time, it was the number one album for 24 weeks.
The last album to be album of the year two years in a row was Michael Jackson's Thriller in 1983 and 1984.
Perhaps it should be noted here that Thriller is likely the best-selling album of all time in the world.
I've learned all this information from Billboard's year-end chart round up, which provides us with a pretty interesting way to view the year in music – at least in terms of record sales. The round up also looks at the best selling singles for the year - all of which happen to be the debut singles by their respective artists.
"Somebody That I Used to Know" - Gotye
"Call Me Maybe" - Carly Rae Jepsen
"We Are Young" - fun.
To satisfy my mild form of OCD that makes me a completist, here are the top four of the top-selling albums of the year.
21 – Adele
Christmas – Michael Buble
Take Care – Drake
Red – Taylor Swift
I think it's interesting to note that Red is the only album of those four released in 2012, with the rest coming out in 2011. Not only that, Red wasn't released until late October, and has remained in or around the number one spot on the chart each week since it was released. It would appear that Swift's marketing strategy focusing on pizza and shoes might make her a prime candidate for the best-seller next year.
Since we're talking country, a genre near to both our hearts and our Nashville mastering studio, I should probably point out that Red is the year's best-selling country album (of course it is, it helps when your album sells more in its first week of release than many fairly successful albums do in their lifetime). Luke Bryan came in the number two spot with his album Tailgates & Tanlines, while veteran singer but novice country music man Lionel Richie's album Tuskegee took the number three spot. Lady Antebellum filled the number four spot with its third studio album, Own the Night.
And finally, because I love my Rock music (and want my MTV, etc. or whatever), Mumford & Sons sold the most Rock albums with their sophomore album, Babel. That album was also released late in the year in September. The Black Keys' El Camino took the number two spot on the Rock Albums year-end chart, with Nickelback's Here and Now coming in at number three.