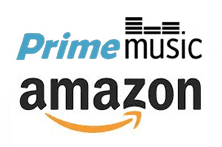 Last week, Amazon released it's own version of a streaming music service called Prime Music. Customers of the $99/year Amazon Prime subscription can now have access to millions of tracks and hundreds of curated playlists for no additional charge. There are also personalized recommendations based on your listening habits, similar to the preexisting Amazon "recommends" shopping feature.
All of Amazon's previous music services, like Cloud Player and Amazon MP3 apps, along with Prime Music, will now all be under the umbrella of "Amazon Music".
Prime Music is ad-free and has no skip limits, unlike Pandora. There is also an offline mode that allows users to download playlists and albums for listening while not connected to the Internet. The "high quality" setting streams 256kbps, which is less than Spotify's 320kbps, but it's unlikely users will notice a difference.
Spotify and Rdio have the leg-up on Prime Music with the sheer size of their music libraries (over 20 million songs). Amazon has yet to make a deal with Universal Music Group, which means there's no availability for some major artists like Jay-Z or Taylor Swift as well as countless iconic albums. Also, with current licensing deals, Prime Music will lack the newest hits. Currently, 9 out of the 10 Billboard's top Hot songs are unavailable.
While a bit half-baked, Prime Music will likely not disappoint users if for nothing other than the fact that it costs nothing extra. (Though, the cost of Prime did jump $20/year a few months ago…) Perhaps Amazon is looking for ways to add value to its new streaming device Amazon FireTV.
With Apple recently acquiring Beats Music and Youtube working on a new streaming service, it appears Amazon has joined the race for streaming dominance. With the addition of another streaming service, it'd be safe to assume that music sales could drop even lower than last quarter's drop of 13%. Even if it doesn't become everyone's go-to streaming source, the launching of Prime Music is representative of the changing stage for music today, trending towards streaming or "renting" and away from sales. For mixing and mastering, it means studios and producers will have to become even more considerate of the low fidelity MP3 formats when finalizing their music.