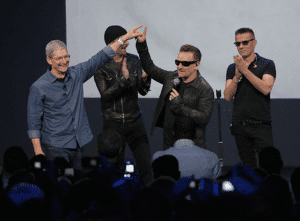 Apple is in the works to release a new music format to try and spur digital album sales. In an interview with TIME , U2 frontman Bono said he "hopes that a new digital music format in the works [with Apple] will prove so irresistibly exciting to music fans that it will tempt them again into buying music."
In typical Apple fashion, no further details about the format have been released, but such a service couldn't be timelier. Album sales have been dropping significantly in the past couple of years, largely due to the proliferation of streaming services like Spotify and Pandora.
Bono told Billboard that fans can expect, "an audiovisual interactive format for music that can't be pirated and will bring back album artwork in the most powerful way, where you can play with the lyrics and get behind the songs when you're sitting on the subway with your iPad or on these big flat screens. You can see photography like you've never seen it before."
TIME wrote about Apple's new service mentioning it would "help less well known artists and others in the industry who can't make money from live performance."
Apple acquired Beats, the high-end consumer audio brand and streaming service, in May of this year on the heels of a lackluster iTunes Radio rollout. Since then, their plans for the Beats Music streaming service have remained unclear. Earlier this week Apple refuted rumors that it would be shutting down the service.
While iTunes is still the dominant digital music retailer, digital music sales overall have been in sharp decline lately. Streaming services have been growing rapidly. Tim Cook, Apple's CEO, said last month that he's "100% sold on music subscription."
With the recent rise of audiophile formats like vinyl and forthcoming HD digital devices like Pono and Geek Wave, it's not hard to imagine Apple implementing a high-fidelity streaming service to compliment the Beats brand of audio quality. None of the major streaming services in the U.S. offer anything better than MP3 format currently.
Another possibility would be an app format of albums. Norwegian pop artist Jarie Bernhoft, released his album in iOS app format earlier this year. The app featured exclusive pictures and a remixing interface for fans.
Whatever Apple's new format is, if it gets fans back to purchasing more albums, it's good news for artists and producers.