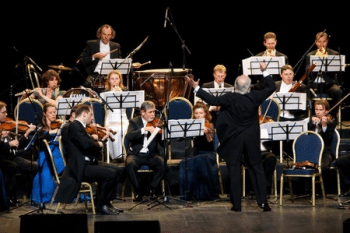 Thanks to recent technological advancements like 64 bit processing power and faster, more affordable disk drives, creating with high-end samples has gained popularity as a viable option for composers and producers.
One of the most cost effective use of sampling is with orchestral music. Where the costs of hiring an entire orchestra of professional musicians and renting a large recording space are prohibitive a great orchestral sound can now be had by using samples for a fraction of the cost. Even composers like Hans Zimmer are known to use orchestral samples at times to add extra textures and depth to recordings.
As a blog series, we've decided to look at some of the top orchestral sample libraries available. Each of these is recorded in at least 44.1k/24bit and offers a rich pallet of sonic textures.
Orchestra Essentials – Project SAM
If you are looking for one all-inclusive product , the Orchestra Essentials sample library from Project SAM offers string, brass and wind sections in different articulations. It also includes piano, hard and several percussive textures. Its simplicity is its biggest asset, as it's not difficult to jump in a begin creating full-sounding orchestral mixes.
Some composers may prefer a library with more robust options, like individual instrument sections and multiple recording mics to choose from. On the other hand, at $450, Orchestra Essentials is on the more affordable side of the spectrum. If you already use Logic, you may want to try out the samples that it ships with before purchasing these ones...
LA Scoring Strings – Audiobro
LA Scoring Strings by Audiobro changed the whole way string sampling was done. Rather than recording an entire instrument section, the developers at Audiobro decided to record small ensembles of players as "divisi" that could be assembled into a whole string section. The result is a sample library with incredibly robust articulation and precision. Composers are empowered to shape virtually any popular string sound they imagine.
Many composers swear by LASS due to its ability to accommodate complex string scores. However, its biggest asset can also be a liability, as it can take a bit of a learning curve to be able to wrangle all of the features into the warm sound you're looking for. Once you've got it down, though, you're in serious business. At $1000 for just strings, these are some of the most expensive samples on the market. But, to many, they're still a bargain considering what they can do.
Hollywood Series – Eastwest / Quantum Leap
The Hollywood series by Eastwest / Quantum Leap consists of three instrument sections: Hollywood Strings, Hollywood Winds and Hollywood Brass. Each can be purchased individually or in a bundle. For winds and brass, the Hollywood series is as good as it gets right now. While the Hollywood Strings are equally great, they have a hard time standing out against some of the other string samples out there.
Taking some cues from LASS, combinations of mic placements and articulations can be loaded, allowing up front sound design without any added processing. Using all instrument sections together yields an impressive ability to make a convincing orchestral mix. The full "diamond" version of the each instrument section costs around $400 and features extensive articulations for each instrument.
We'll share more orchestral samples in our next post. With virtually all samples, you can listen to demos online of how they sound in a mix. This is almost always the best way to determine if they have the sound you're looking for.