1. Smooth Vocals Comp - T-RackS Opto-Compressor
2. -16 LUFS Vocals - TC Electronic Brickwall HD
3. Magic - FabFilter Saturn 2
4. Vocal - Oxford Dynamics
5. Thick Transmitter - Soundtoys Effect Rack
6. VT Female Vocal - PSP oldtimer Multi-band
7. Huge Vocal - Lustrous Plates
It's almost always best to dial in your vocal settings on a vocal by vocal basis; however, having some good starting points doesn't hurt.
With that in mind, we wanted to create a list of some helpful vocal presets - the ones that we've listed here are some of the best that we've come across.
Each one can be introduced into your signal chain, and hopefully will augment the sound of your vocal.
1. Smooth Vocals Comp - T-RackS Opto-Compressor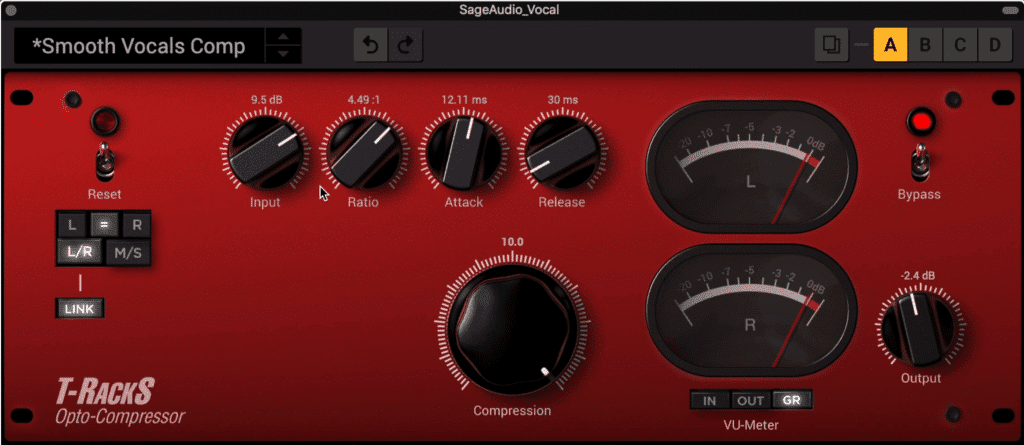 The smooth. vocals preset by Opto-Comp gives a vocal a lot of presence without being overbearing.
To establish a great foundation for your vocal, one that's balanced and controlled dynamically, the smooth vocals comp preset is incredibly helpful.
Simply increase the input until you achieve roughly 5 to 6dB of compression. At this point, you'll notice an impressively full sound- as if you've added 2 or 3 plugins.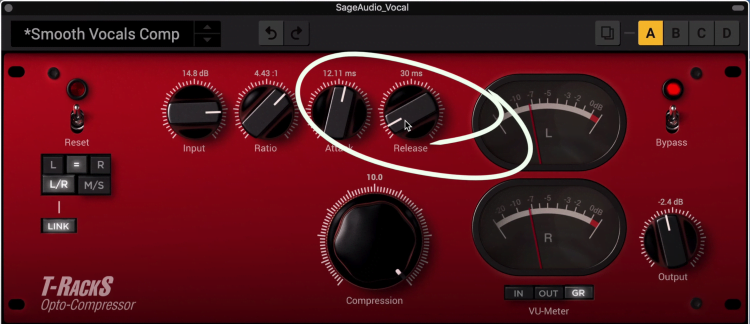 Increase the release time if you'd like to have even more compression.
But, with just this one setting and a little bit of tweaking, you can achieve an impressive vocal presence in seconds.
If the sound is too aggressive, or you want an even smoother sound, increase the release time. This will make the compressor behave more like an optical compressor and will glue the vocal together more.
2. -16 LUFS Vocals - TC Electronic Brickwall HD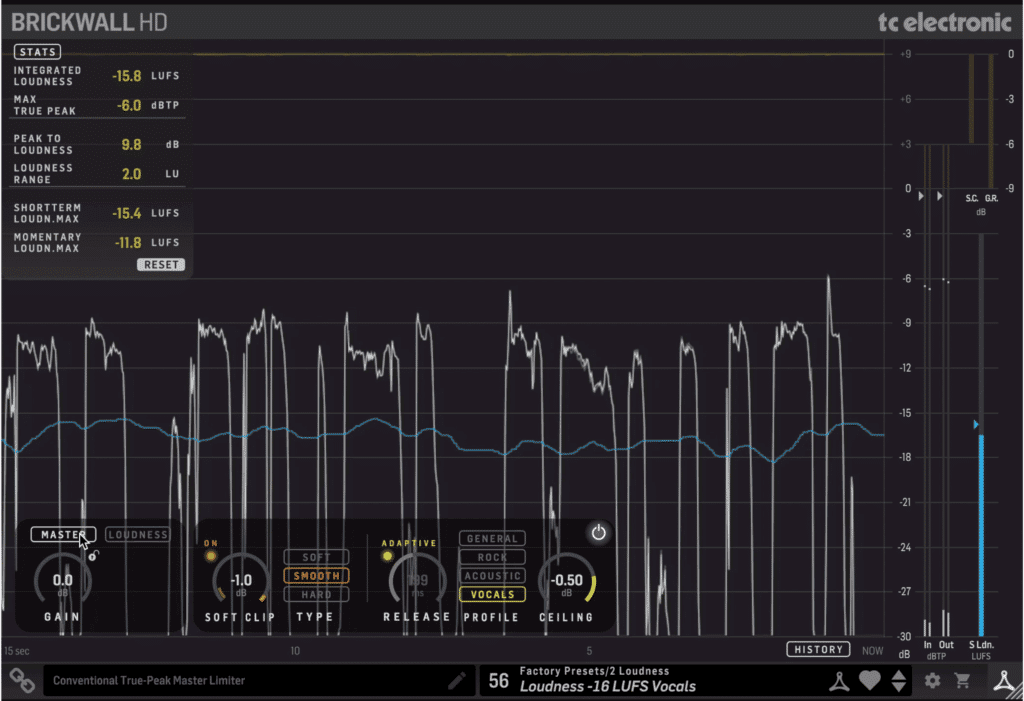 This limiter lets you master to a specific LUFS.
If you're mastering dialogue, or, you simply need your vocal to be loud and at the forefront of a recording, try this preset.
In the loudness section of the menu, you'll find this preset listed as number 56. After you select it, you'll notice that the sound hasn't changed.
This is because you'll need to click set gain. This function measures the current loudness of the vocal, and then once that's done, lets you normalize your vocal's loudness.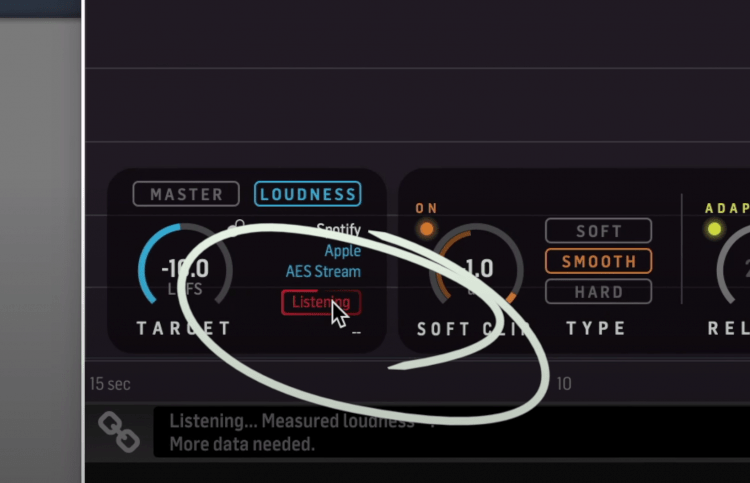 Click Set Gain once the limiter is done analyzing the signal.
What's great about this preset aside from it letting you quickly normalize to a particular loudness, is the transparency with which it affects the vocal.
Whereas the limiters would add too much coloration, especially for dialogue, this limiter sounds like it isn't even there.
This is in part to its adaptive release and vocal profile setting.
If you're looking for more mastering limiters, take a look at our video on the topic:
3. Magic - FabFilter Saturn 2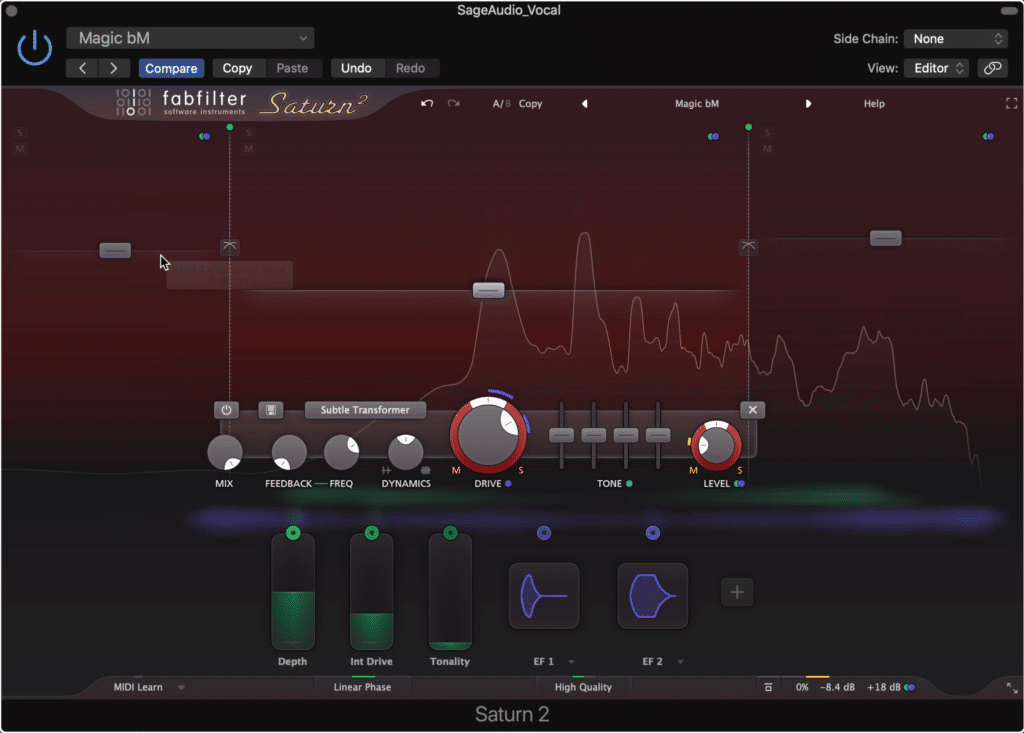 Magic is a subtle but impressive preset.
The Magic preset is a lot more subtle than the name would suggest. When selecting for the first time I braced myself expecting for an aggressive and loud sound as many presets cause without warning.
But, I was pleasantly surprised by the gentle yet impressive sound.
Magic creates gentle harmonic distortion that varies with the incoming signal. This makes it a lot more realistic than other distortion effects.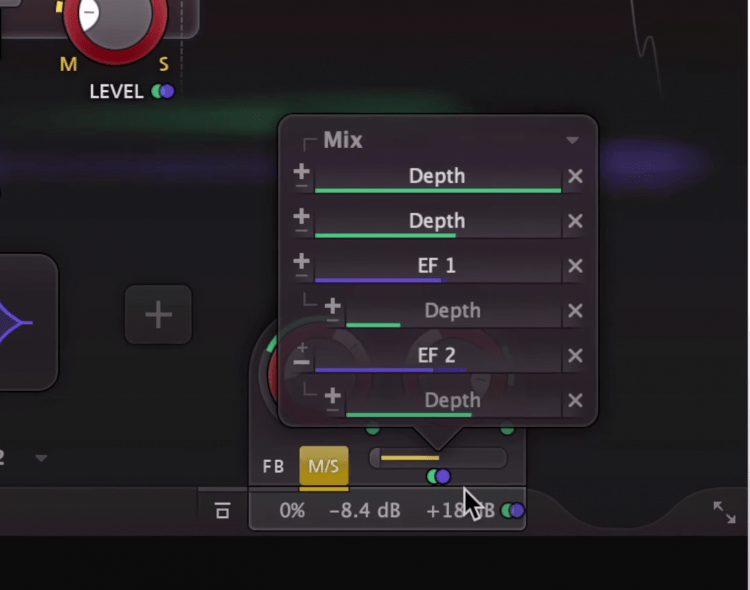 The modulation used to create the preset is varied and complex.
The sound reminds me of how classic microphones begin to gradually distort when louder passages are sung. The distortion caused by this is never the exact same since it's highly dependent on the incoming signal.
The same could be said about this preset. The modulation is complex and accurate and would take a fair amount of time to try and set up from the plugin's initial stages.
The plugin's tone, frequency response, output, and even stereo image are all carefully modulated, making for a fantastic preset.
4. Vocal - Oxford Dynamics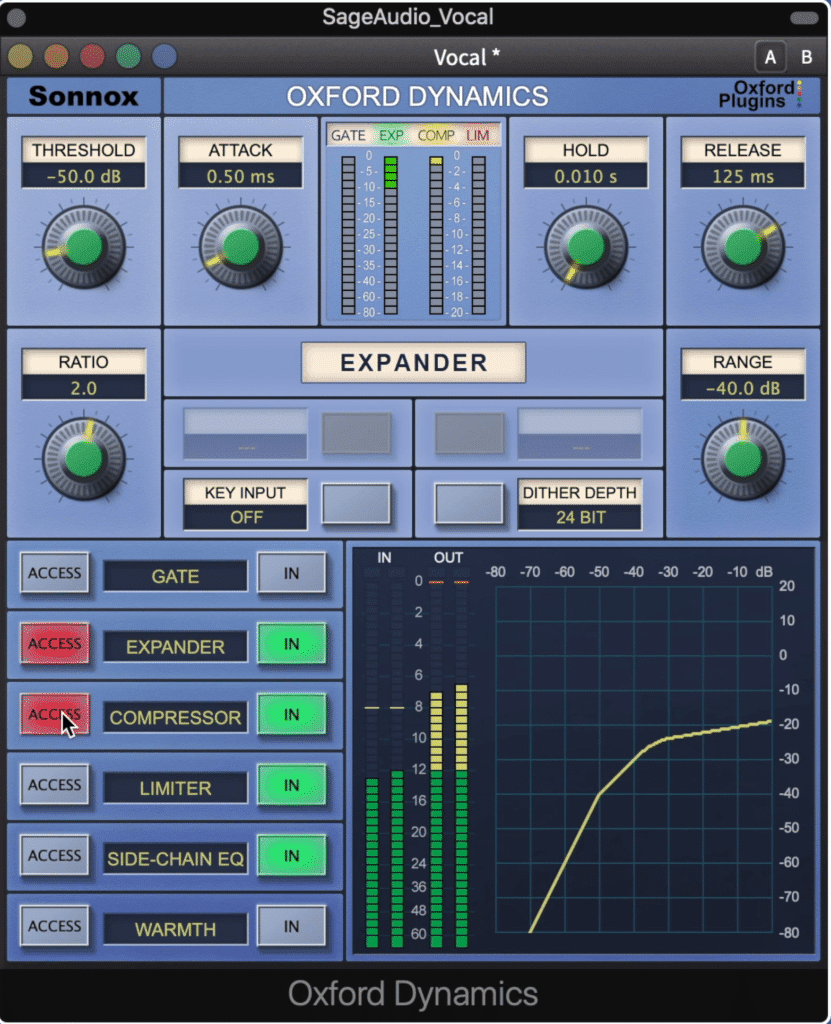 This dynamics plugin include multiple modules, 4 of which are used for this preset.
The vocal preset in the Oxford Dynamics plugin really improves the clarity and presence of a vocal. Immediately your vocal will sound more powerful and upfront, without unwanted harshness.
It utilizes an expander, compressor, limiter, and side-chain equalizer to shape the sound of the vocal, and clean up and loose ends.
1 thing I noticed that I changed slightly is the range of the expander. This will vary from vocal to vocal bases on the signal's amplitude, but I noticed that it cut off my vocal a little.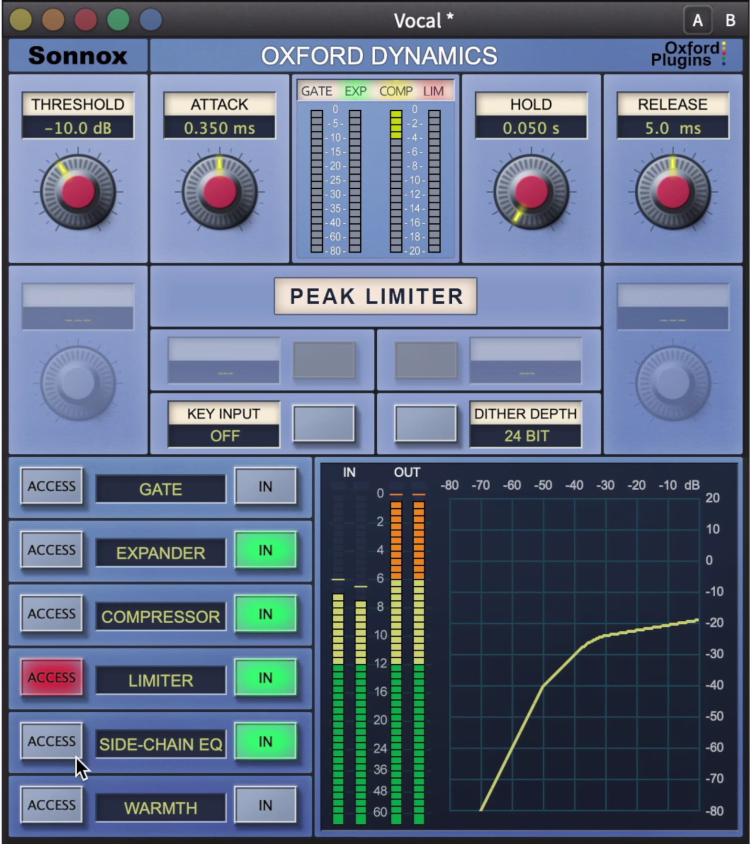 You'll most likely need to change some settings on this preset to accommodate your vocal.
For that reason, I lessened the range to make any attenuation it causes sound more natural.
The only other thing I changed was enabling the Warmth setting. I found that this gave it almost a tube tone, with a strong second-order harmonic.
For more presets, check out this video:
5. Thick Transmitter - Soundtoys Effect Rack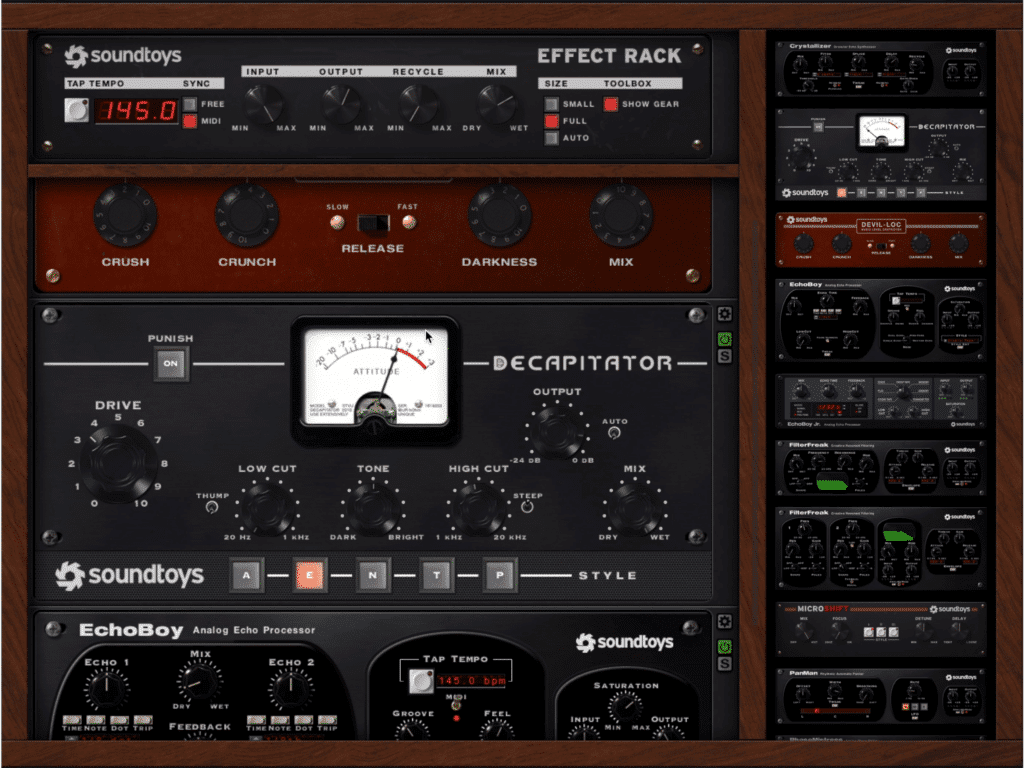 Soundtoys create intense and obvious sounding presets.
Soundtoys don't make subtle presets. Instead, they create effects that are obvious and aggressive.
If you're looking for a distinctive sound, one indicative of distorted rock vocals not unlike the Strokes, thick transmitter is a great option.
The vocal no doubt loses detail, but in return, gains a lot of character.
It sounds somewhat similar to running a vocal through an amp, but, with some temporal effects that you won't find on an amp.
If you want a slightly clearer vocal, try the fast release setting on the Devil-loc. Additionally, for differing timbres, at the bottom of the decapitator plugin, you can alternate between 5 styles.
These range from most clear on the left to most distorted on the right.
6. VT Female Vocal - PSP oldtimer Multi-band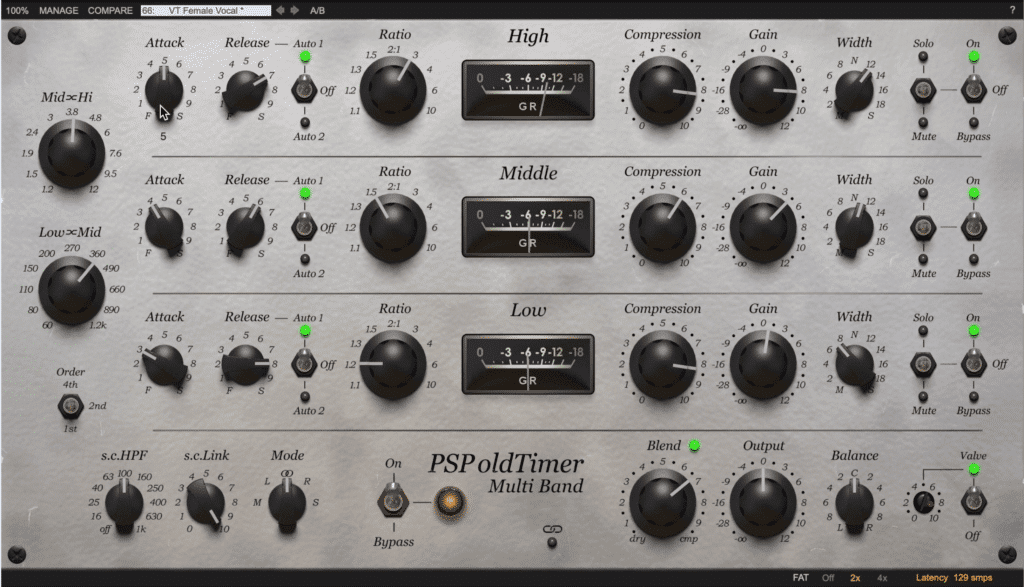 This preset lets you easily dial in a smooth and air sounding vocal.
Multi-band compressors aren't super common on vocals, but they can be incredibly useful on a lead.
This is the case with the PSP old-timer multi-band, a compressor that works well at making a vocal present, but also smooth and pleasant sounding.
VT Female Vocal provides a clear and upfront sound - one that also has a good deal of warmth.
The low-end of the vocal is made more mono, but the mid and high frequencies are spread into the stereo or side image.
Furthermore, the high frequencies are amplified, resulting in an airy and distinct sound that'll help the vocal sit on top of a mix.
Lastly, tube emulation adds some harmonic distortion with the default being 2nd order harmonics.
7. Huge Vocal - Lustrous Plates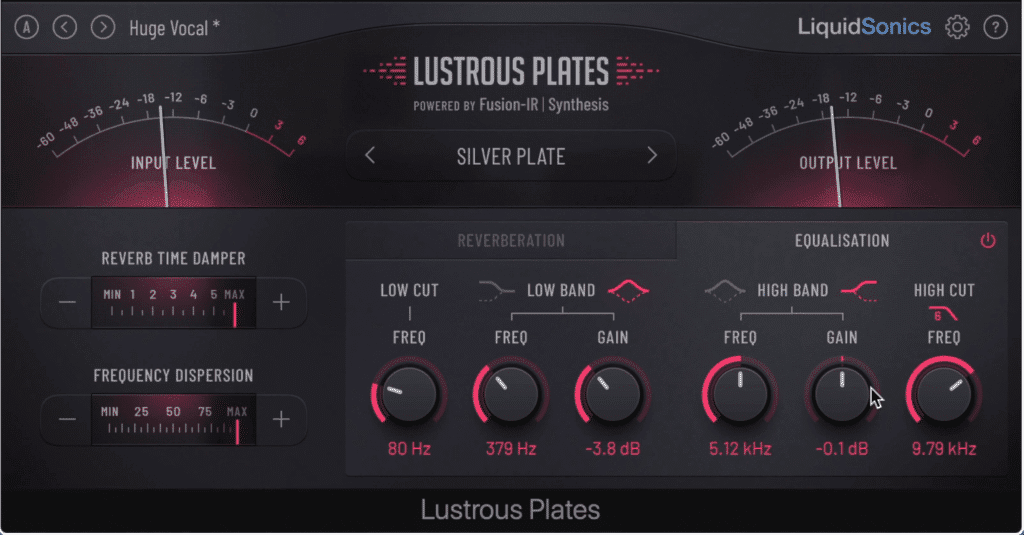 This preset can be considered a default option for large reverb sounds.
Reverb can be a very subjective part of vocal processing. It'll almost always depend on the vocalist, the mix, the genre, and other factors.
But the Huge Vocal setting of the Convolution Lustrous Plates is undeniably good sounding.
Regardless of the genre, there's a way to incorporate this sound into your mixes.
If you're working on psych rock, keep the effect as strong as it naturally is. If you want a more reserved sound, reduce the mix dial.
If you're working on a rap track, increase the high-frequency range of the reverb for extra air and crispness.
Whatever the case, the plugin gives you enough control to change anything about it that you need to, all while providing you with a great foundation for your vocal's reverb.
Conclusion
Regardless of the type of vocal that you're mixing - or even if you're mastering dialogue, there is a preset here that'll help you along the way.
Although some plugins, like the Soundtoys Thick Transmitter, are arguable better suited for particular genres, most here are versatile enough to accommodate a unique vocal.
So whether you're looking to add presence and aggression, smooth out dynamics, bring your vocal up to a particular loudness, or completely change its timbre, at least one of these presets will work well.
If there is a vocal preset that you love, but we didn't mention it here, let us know in the comment section of the video embedded at the top of this post.
---