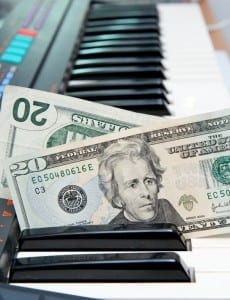 Last week, the world's top-selling musical act pulled all of her music off of Spotify. Just days after sales breaking records with her new album 1989 , the 24-year-old Taylor Swift made headlines again by sharing her criticisms of the streaming model with Yahoo!.
"The landscape of the music industry itself is changing so quickly, that everything new, like Spotify, all feels to me a bit like a grand experiment," said Swift. "And I'm not willing to contribute my life's work to an experiment that I don't feel fairly compensates the writers, producers, artists, and creators of this music. And I just don't agree with perpetuating the perception that music has no value and should be free."
In response to Swift's decision, Aloe Blacc, the artist behind #1 hits like "I am the Man" and Avicii's "Wake Me Up," wrote an article in Wired calling for better compensation for artists from streaming services.
"Songwriters seem to have less control over our work than ever before," he wrote. "By law, we have to let any business use our songs that asks, so long as they agree to pay a rate that, more often than not, was not set in a free market. We don't have a choice. As such, we have no power to protect the value of the music we create."
Blacc explains how being a coauthor of a song that got 168 million plays on Pandora earned him just $4,000.
Last month, Jimmy Buffett addressed the issue at the Vanity Fair New Establishment Summit in San Francisco.
"Do you see [recording artists] getting a raise directly from you, as opposed to the bull— you have to deal with in going through the labels?" he asked Daniel Ek, CEO of Spotify, during a panel Q&A.
It doesn't look like the streaming world is too concerned by the criticisms. Streaming has been one of the fastest growing music formats in the past few years, while album sales have been in decline.
Ek answered Buffett's question with the usual schtick about Spotify contracting with labels who determine artist compensation. But the panel's moderator, Irving Azoff, owner of Azoff MSG entertainment, told Buffett, to "sell one of [your] planes."
Spotify's response to losing Swift's catalog was similarly dismissive her of qualms, citing that nearly 70% of revenues go to the music community and making cheeky playlists pining for her return.
While it may be some time before streaming companies are compelled to give creators a larger cut of their revenues, as big artists speak out for better compensation, hopefully that time will come sooner than later.