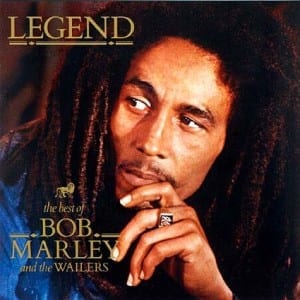 Thirty years after its release, Bob Marley's Legend is finally on the top 10 of Billboard's 200 list, marking the 1984 album's highest chart position yet.
On the September 20th chart, the album went from No. 100 to No. 5 because Google Play slashed the price from $9 to $0.99 for a week. A total of 41,000 copies sold, increasing sales by 1,166%.
Since its initial release, Legend has averaged between 3,000 and 5,000 per week, selling 15 million total.
According to Google Play, artists don't have an influence on the discounts they offer, that they select the albums "on their own," and they continue to pay labels "full price" for the album during the sale, meaning Google absorbs the difference in sale price and retail price.
In the same vein, Sony has also started selling discounted albums. The record label has created an "Album of the Day" app that it describes as the "first flash music sales app." Every day one of Sony's signed artists' album will be discounted by as much as 70%. This effort to compete against the rise of streaming and decline of online digital music sales is trying to get "consumers excited about traditional digital music sales."
As artists and labels rack their brains for new ways to generate income in what is becoming a streaming-dominated music landscape, it looks like all options are on the table–even if it means selling albums for dirt cheap.
Part of the strategy for selling albums for cheap is to garner interest in the artist's live act, the one music revenue stream that's remained mostly unscathed by the Internet age. In this view, recorded music is seen almost as marketing for the live tour. If fans know the songs, managers reason, they'll be more likely to buy a concert ticket.
According to country artist Lee Brice , this type of exposure seems to be the new name of the game because a chart topping song or album can make a significant difference in concert ticket sales.
Another reason for dropping album prices to boost numbers is to get the attention of a label/distributor. An increase in digital sales can garner you the attention of Bandcamp and have their "unlabel"-arm BCwax produce a high-quality physicial copy of your CD. (And once they recoup their costs, you keep all profits).
Of course, for Marley, the deal on Legend wasn't about a branding or marketing strategy for the artist. Google Play's hope in discounting the iconic reggae album was to "introduce his music to the next generation of fans and continue his legacy."