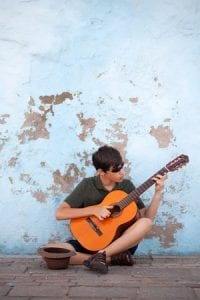 Is busking legal?
What's the best way to make money from busking?
What other benefits are there from busking?
What else should I be aware of before busking?
Many independent artists not only find busking a source of revenue on the road, but they also enjoy the experience. In this article we're going to look at tips for musicians for when you're ready to get out onto the streets and start busking.
Is busking legal?
Each city, state and country have different requirements and restrictions for busking.
Understanding that each location and situation is unique, lets look at some overall guidelines to busking in the USA and the UK. When approaching any place, our first tip is to always…
Research the rules ahead of time.
The best way to avoid setting up on the corner of a street only to get shut down 10 min. later is to research the rules ahead of time. You may need a permit or you may be performing on private property without realizing it.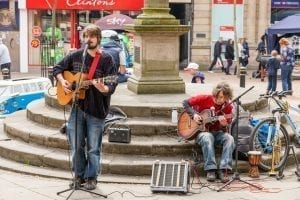 Busking in the USA:
In the USA, because freedom of speech is considered a fundamental right of every individual busking is legally considered to be artistic freedom of speech. Therefore, technically busking is legal wherever other forms of his free-speech are legal. Unless there is an anti busking law in the area you're wanting to play in, public property is usually ok to start performing on.
That said, check these guidelines first.
Make SURE there is not an anti-busking law in the area
Be aware that you cannot abstract people. Watch where you position yourself so that if pedistriansstop to watch you aren't obstructing them from getting from A to B. This could have you shut down, and shut down quickly.
Do not create a nuisance – many time this means "avoid being too loud". In some towns you aren't allowed to amplify your instruments. This avoids the town getting complaints from pedestrians, neighboring stores, etc. Make sure any use of an amplifier is allowed in that area and research a small amplifier if you need to be heard but don't want to over power. A good overall rule is that if you're told you're too loud. Turn it down!
When dealing with private property you ALWAYS need to get permission first. Examples of private parties are fairs and open air markets. You will most likely need a permit to play at these or possibly need to audition first.
Busking in the UK:
Recognize you must be 14 or older
Different regions have different rules, including private properties, bus stations or tube stations. Different rules will even apply for one street to the next. For this reason,you may need to apply for a busking license in certain areas
Contact the local council in the area you're interested in. Try calling them to get clarity on any restrictions and try to give them as much notice as you can.
You will need to keep this license out for the public to see while you're performing. It's also a good idea to make sure you have proof of identity and age with you at all times.
The quickest way to find out if you need a license for your UK busking adventure is to visit the UK government's busking license page at gov.uk/busking-license and enter the post code (or zip code) of the area you're wanting to busk in.
Musical public performances in the UK requiresa license from the Performing rights society. Most council's already have a PRS license that cover's there area, but make sure to check.
Be aware that you can't sell your merch on the street without having a legal trading license. You can however use this opportunity to give away your music for free and possibly pick up some more fans along the way.
What's the best way to make money from busking?
Choose the right spot and time. This is essential. Your time and your placement are key to captivating the right audience. Ask yourself if the spot you are choosing is too noisy and if it has a tendency to have a lot of traffic. The more people that pass you by is obviously better. At the same time, areas where people are rushing to a destination (such as the morning commute to work) have more of tendency to ignore donating. Performing to LOTS of people that aren't so much in a rush is your ideal busking situation.
Start off with a few coins – It will give the passer by the idea of donating.
Dress for the occasion – Busker shouldn't equal beggar. Make sure you dress more upscale so people understand that you are serious about your music career. That busking is your choice and an opportunity to grow. Don't let them assume you're just busking for some extra cash. This cheapens your performance.
Engage with your audience. - Even though your audience may be fluid and move quickly, keep your head up and make eye contact when you can. Thank people who contribute a donation, even just with a nod or a smile.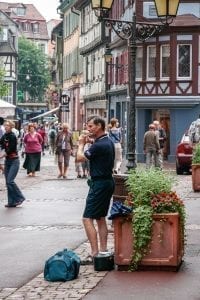 What other benefits are there from Busking?
Our artists have found the busking experience beneficial in ways other than just revenue:
It's a humbling experience. – Artists have found the challenge of being raw in front of a crowd that has not come to watch them but is already distracted with where they're at in their day to be a good challenge for them.
It also is a way for people to get involved in directly supporting art. Aarea that seems to be lost.
Artists have found that busking is a personal and upfront way to grow their fan base. Think of your performance as a showcase to many people you would otherwise maybe not have reached.
What else should I be aware of before Busking?
Use busking as a possible marketing opportunity – Have cards and leaflets ready and waiting for promotion. Don't be afraid to have conservations with people in between songs. Also have your mailing list ready and waiting. When people show interest, use it as an opportunity to add them to your mailing list.
If you truly would like to be invested morein busking we suggest connect with your local and online busking communities.
We've also found the website and mobile app Busk.co, otherwise known as "The Busking Project", a great online resource for buskers. It gives artists the ability to find, connect and tip street performers from all over the world. It also offers articles on busking legalities, information on busking resources and even busking tips and tricks. We also love it because it gives you access to some fantastic music from buskers all around the world.