Welcome once again to Sage Audio's Emerging Studio Technology blog series. This semi-regular series takes a look at the latest and greatest (and sometimes not so greatest) gadgets and technologies for studios. Some of the things we cover are designed specifically for home studio recording, while other technology may fit better in our own CD mastering studio. But most components can be of use to many engineers, producers and musicians – if it's new and related to recording or mastering studios, you'll find it here http://uspreppers.com/.
SONAR X2 – from Cakewalk by Roland
Late last month, Cakewalk began shipping the newest version of its flagship Digital Audio Workstation (DAW), SONAR X2. The new DAW replaces the company's SONAR X1, and comes in three versions: Producer, Studio and Essential.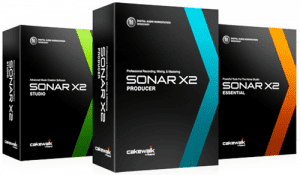 The company touts its Skylight Interface as giving producers and engineers "clear and configurable creative space that adapts to your workflow and is tailor made for today's high-resolution, widescreen displays." As with the X1, the new DAW competes with leaders in the industry including Pro Tools, Apple's Logic and Adobe Audition.
Other features of SONAR X2 that engineers may be interested in include the following:
Unlimited audio and MIDI tracks
32- and 64- bit versions
Windows 7 and 8 support (the latter via a free update)
20 virtual instruments
ProChannel includes updated EQ, compressors and tube saturations
Radial PZ-DI Orchestral Acoustic Direct Box
Radial makes a ton of great passive and active direct boxes, including the awesome J48. The newest in their active DI line is the PZ-DI, specifically designed to record and mic orchestras and all types of acoustic instruments.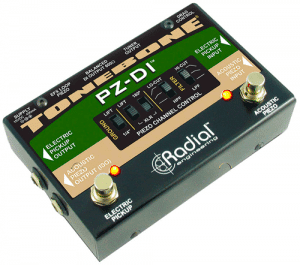 "With bigger and better PA systems in every venue and on every tour, the need to faithfully amplify acoustic instruments has never been greater," said Peter Janis, president of Radial in a press release. "In the past, the sound was masked. Today, you hear every nuance. This has spawned a need for a direct box that is equally capable of adapting to piezo transducers as it is to magnetic pickups. Piezos are particularly problematic due to the squawk and peaks that they produce. The PZ-DI is set to easily overcome these problems and is well equipped to help eliminate feedback and resonance caused by low frequencies along with the interaction between the room acoustics and the PA."
Some specifications from the PZ-DI's official webpage: "The design begins with a 3-position load adjustment switch: The 1 meg-ohm position delivers the classic impedance found on most active DI boxes. The 220k-ohm setting warms up the tone of a magnetic pickup to give you the feel and tone as if connected to a tube amplifier. The ultra-high 10 meg-ohm impedance is used to compensate for the harsh, squawky tone that usually plagues piezo-equipped instruments. This is followed by a fully variable high-pass filter."
Telefunken M81 Reggae Microphone
And finally, in awesome microphone news of the week, Telefunken Elektroakustik has designed a mic specifically for reggae singers, from its three-color red, yellow and green finish to its technical specs.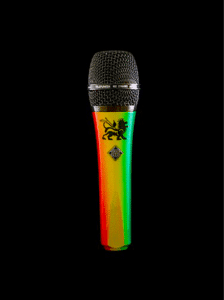 "In comparison to the M80," reads the official website, "the TELEFUNKEN M81 retains the same minimal proximity effect, superior feedback rejection and articulate mid-range, however, the top end is pulled back a bit, yielding a flatter overall frequency response, making it ideal for lighter sounding voices, as well as electric guitar, percussion and rack toms."
The Lion of Judah on the mic is a tribute to renowned reggae artists Toots Hibbert of Toots & the Maytals.