The History of the 808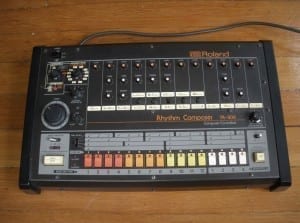 The Roland VR-808 Rhythm Composer might be Hip Hop's most iconic instrument. Originally released in 1980 for over a thousand bucks, the 808 was intended to be a tool for producing demos. It's digital samples, which sounded nothing like real drums, were quickly adopted however as an instrument entirely of their own.
Though production stopped in 1984, the 808 persisted as a fundamental tool for producers of R&B, rap, techno, house, rock and pop. The 808's kick drum was just the right sound that many artists were looking for in their mix. Just a few of the stars who have used the 808 are Marvin Gaye, Run DMC, Beck, Kanye West, Beastie Boys, Janet Jackson, Phil Collins and last year's big Grammy winner, Daft Punk.
Recognizing the unwavering demand for the 808 samples, Novation released a clone sampler, the Drum Station, in 1996. Others began selling old 808's on eBay for thousands of dollars. This past year Roland recently released the highly anticipated Aira TR-8 , which featured samples from the original 808 as well as their follow-up TR-909 and retails for $500.
Free 808 Samples
But, as yet another testament to the amazing digital age of music production we're living in, you don't have to pay anything to get the pivotal sounds of the 808. Trash Audio now offers a free sample library of the 808 you can download for free. We tried it out in Battery, and it sounds as good as we hoped. For one of the most prolific drum samples in popular music of the past 30 years, you'd be hard-pressed to find a better free sample online.
The sound of the 808 will bring an early hip hop, techno throwback sensibility to your mix and master. It's a long loved sound that your audience will certainly recognize even if unnoticed. Of course, if you want the experience of working within the Roland interface, you can always get an Aira TR-8. Even for $500, we still think you'd be getting a lot of bang (and kick) for your buck.