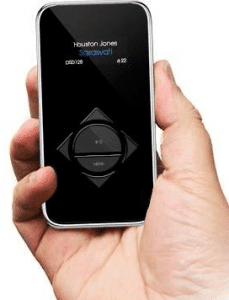 There's another company that looking to mainstream audiophile hardware. The Geek Wave, a mobile audio player may be the first of its kind to allow playback of the best quality digital music has to offer.
Geek Wave is the only 32 bit / 384 kHz PCM capable, native DSD player in the world, which means you can feed it anything. From MP3's all the way up to DSD128 files.
Created by high-end digital-audio-converter maker Light Harmonic , the Geek Wave was announced on the crowdfunding site IndieGoGo in mid May. It's initial goal was to raise $38,000. By the campaign's close two weeks ago they had raised $1.3 million.
The campaign's success is notably similar to that of the Pono Music player, which raised over $6 million on KickStarter earlier this year. It's worth mentioning, though, that the Geek Wave seems to offer a distinct set of features from Pono.
Along with its ability to play pretty much every digital format that exists, the Geek Wave will also have a much more pocket-friendly rectangle shape than Pono's triangular design. It will also allow users to upgrade the device's storage to over two terabytes–an important feature when considering that some HD audiophile-grade albums can be over a gigabyte in size.
The device will also be Wi-Fi ready and allow users to control it with their iPhone or iPad. A supplementary software, "GeekPerfect," will allow users to play their high resolution files from their Mac without leaving the iTunes interface.
The astounding success of both Geek Wave's and Pono's campaign affirms the case that there is a strong market and interest in high end audio. Even the resurgence of vinyl in recent years suggests that current digital formats are not cutting it for many music fans.
The majority of music lovers enjoy the convenience and consistency of digital, but don't want to sacrifice the fidelity that's lost in an MP3. Thanks to devices like Geek Wave, which bring audiophile-grade sound to the market for less than $500, they will no longer have this problem.
As playback of such formats become more and more prolific, we expect that the demand for high resolution formats will only increase from here for the recording and mastering world.