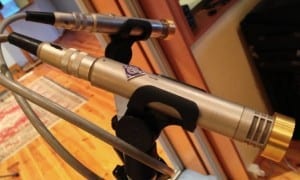 A well mixed and mastered track starts with a well recorded track, and possibly the most important component to getting a great recording is having the right microphone.
Small diaphragm condenser (SDC) microphones are essential to every studio's mic locker. Typically they're used for recording acoustic instruments, especially guitars, strings and pianos. They're also great for hi-hats, snare or as a drum overhead.
Producers love them for the highly-responsive detail and clarity they can provide, and they're also often used in matched pairs for stereo recording.
While there are a ton of great SDCs on the market today we've highlighted a few of the more popular ones to help you get started. In this part well look at SDCs you can get for under $1000.
Shure KSM141 - $399
For the money, it's hard to beat the reliability and versatility of the Shure KSM141. A big brother to the well-respected SM81 ($349), the KSM141 features an additional switchable polar pattern (cardioid and omni) and a gold-layered diaphragm for better sensitivity.
The KSM141 is durable and records well on many instruments, making it a benchmark for both big and budget studios.
Josephson C42 - $435
Being founded in 1988, California-based Josephson Engineering has enjoyed the advantage of starting from scratch with newer technologies and designs than were possible with many of classic popular SDCs.
The C42 cardioid mic is well-liked for its sharp, bright sound and competitive price point, making it a solid choice for a matched pair purchase.
A lot producers love it with with acoustic guitar or other bright instruments with heavy overtones, even preferring it sometimes over the Neumann KM184. Its other applications include hi-hats, drum overheads and room pickups.
Its only downside: the high sensitivity to detail, especially in the high range, can mean placing the mic a few inches out of pocket yields a harsher sound. Take the time to place it right, however, and it sparkles.
Microtech Gefell M300 - $989
Originally founded by Georg Neumann, Microtech Gefell became its own company when its factory fell on the Soviet side of the Berlin wall in 1961 and was separated from Neumann's office on the Western side.
When the Berlin Wall was torn down 28 years later engineers from Neumann in Berlin were surprised to discover that, since their last contact, Microtech Gefell had developed technology that surpassed their own.
In its keeping with many of Georg Neumann's designs and techniques, some audio historians claim that Microtech Gefell is Neumann's true legacy over the present, Sennheiser-owned Neumann company.
The M300 is considered to be a close modern version of the discontinued Neumann KM84, one of the most popular recording mics ever. It features a cardioid polar pattern and ceramic housing, which is said to provide better consistency in temperature fluctuations.
When compared to Neumann's updated KM184 the M300 is said to have a slightly darker presence, which many artists will prefer. This, along with the M300's performance at both XY and ORTF stereo configuration make it one of the best mics on the market.
Peluso P84 - $991
Modeled after Neumann's flagship KM84, the Peluso P84 was built to fill the gap left when Neumann stopped producing its highly sought after model. And, to many producers, it has done a great job of capturing the warmth and resolution of that vintage sound while adding a bit of presence and clarity, not unlike the Neumann KSM184.
What's great about the P84 is that it comes with both a cardioid and omnidirectional capsule, making it an excellent choice for a studio needing both quality and versatility.
In conclusion, with all gear the most important thing is to know what your needed application is and what sound you want. Each of these mics would make a valuable addition to your recording studio. In part two, we'll look at more options, specifically mics in the +$1000 range.