The engineers here at Sage Audio spend hours every day hunkered down in our CD mastering studio producing some of the best sounds in Nashville, so we're pretty glad that our studio setup is full of good vibes.
It's too bad legendary Queen guitarist Brian May can't say the same for a German studio Queen spent some time in back in the 1980s. Speaking to Contact Music, May says that MusicLand Studio in Munich was not a great place to work.
"It was a real strange place… (Led) Zeppelin did a lot of recording down there, as did Deep Purple… but it was an utterly depressing place," May said. "And people used to commit suicide by jumping off the top of that building quite frequently."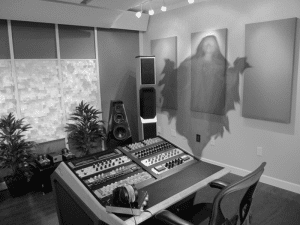 The video for the 1985 Queen song "One Vision" was recorded in the studio, and the group also recorded "Another One Bites the Dust" and "Crazy Little Thing Called Love" at the studio.
"They have this thing in Munich called The Fohn (wind) and when The Fohn blows… people go nuts and they commit suicide. It's a studio down in the depths of this huge high-rise building… with no windows and no contact with the outside world."
The studio was located in the basement of the Arabella High-Rise Building in the Munich, and was started by Italian producer Giorgio Moroder. Billboard reports that other notable artists that recorded in MusicLand included the Rolling Stones, ELO and T-Rex.
So, why all of this talk about creepy recording studios in Germany? Well, I'm not sure what got Brian May talking about it in the interview, but strange stories coming from recording and mastering studios have also interested me. While it seems some artists are definitely haunted by their own demons, legend has it there are studios around the world that house real demons and other ghosts. Here are a few fun ones I've found.
Soul Singing Ghosts in Alabama
The recording studio at 3614 Jackson Highway in Muscle Shoals, Al. is typically known as either Muscle Shoals Sound Studio or simply by it's address (which is printed on the only sign on the outside of the building). The studio was used by some of the biggest acts of the 1960s and 70s, including the Rolling Stones, Paul Simon and Wilson Pickett.
But it's the late lead guitarist of the famed Muscle Shoals Sound Rhythm Section, Eddie Hinton, that current artists say they see walking around the studio, even though he died in 1995. It's been reported that he wears a blue suit similar to the one Hinton was buried in.
While he was alive, Hinton was an extremely underrated singer and songwriter. The Drive-By Truckers recently presented his songs to a wider audience by covering two of them on their 2011 album, Go-Go Boots.
Werewolves of Beverly Hills
OK, so it's not a werewolf, but it has been said that the ghost of Warren Zevon watches over the Cave, the studio in the basement of actor Billy Bob Thornton's house in Beverly Hills. The rumor would make sense, as the two were reported as friends in the Zevon biography "I'll Sleep When I'm Dead." That book also revealed that at least one song from Zevon's final record (a cover of Bob Dylan's "Knockin' on Heaven's Door") was recorded in the studio.