Parallel compression is a well known and often used method for creating a great sounding mix. It can be used before or during mastering, on instrument groups, and even on individual instruments.
Although the method may be well known, it isn't always used in a way the optimizes its effectiveness.
To achieve the best parallel compression possible, use a compressor with analog emulation, such as the Waves or UAD SSL compressor. Then compress significantly, increase the make up gain, and follow with a low level compressor like the waves MV2, and then blend in reasonably.
Below is a step by step detailed process, showing how to accomplish this great sounding parallel compression.
Create Your Parallel Track
Step 1: Create an aux send using a bus or by creating an auxiliary track. Set your send to unity for an equal strength and identical signal. Turn down the auxiliary track before continuing to avoid an obnoxiously loud output.

Decrease the level of your auxiliary send before playing the track. Otherwise your output may be incredibly loud.
Step 2: Use an SSL compressor on your auxiliary track. Decrease the threshold until achieving roughly 16dB of gain reduction. Increase the make up gain or output as much as possible.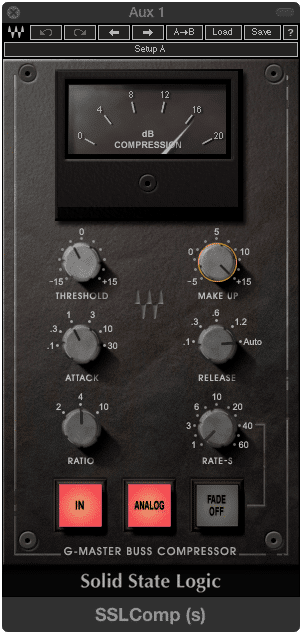 Set your release, attack, and ratio settings to your personal preference.
Step 3: Follow the SSL compressor with a MV2 or other low-level compressor. Increase the gain of the low-level compressor by roughly 6dB.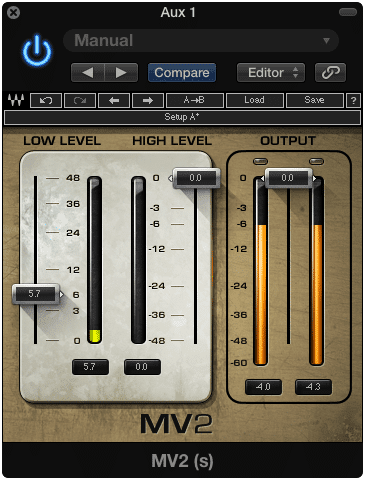 There is no need to use the high level compressor function.
Step 4: Slowly blend in the auxiliary track with the original signal. Too much and it may sound over compressed; too little and it may not make a difference.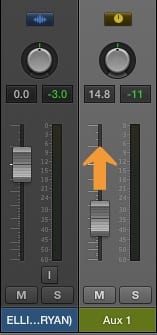 Blend until you feel a good balance has been created.
Step 5: Ensure that your master output isn't peaking.
Before and After Comparisons
Original Signal:
Post Processing:
Conclusion:
Increasing the gain of the output on the SSL to its maximum setting, allows the compressor's sonic characteristic to be introduced to the signal. By increasing the output, the analog emulation and other modeling the compressor is known for become more apparent.
This is made even more apparent by the low-level compressor, which takes the quieter parts of the compressed signal and amplifies them even more.
Use this technique when you want to get the most character out of your parallel compressor as possible.
How do you use parallel compression in your mixes?
---