Spotify is a good representations of the current changing state of the music industry as it seems to be moving to an all-digital platform. The precedents being set now (in law and technology) will likely shape the state of the music industry as we know it in years to come – and we think that is definitely something to follow.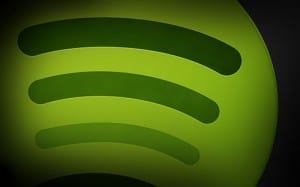 So, the newest news out of the Spotify camp is decidedly good for the service – it is now up to 20 million total subscribers around the world. Of those, 5 million pay monthly fees, and 1 million of those paying subscribers are located in the U.S. The latter number is particularly impressive considering the service has only been open to U.S. subscribers for about a year.
"People are most interested in how we're doing in the U.S.," Spotify CEO and co-founder Daniel Ek said as the newest stats were revealed at an event held jointly in London and New York. "In just over a year we've now passed 1 million paid subscribers. This makes us the biggest subscription service here but also the fastest growing. We've done in a year what it's taken others a decade to do."
Of course, one of the things we're most interested in around here is if the service is making money, as there are still loads of question as to how the digital music industry will become and remain profitable (for the services as well as for artists).
Ek revealed that the company has paid out $500 million in royalties to artists and labels to date, and that the amount represents around 70 percent of the company's revenue. The founder also revealed what he sees as a weakness of the company.
"Spotify is great when you know what you want to listen to, but not so great when you don't," Ek said, and he outlined a new page that will be unveiled on the service that will display artists' recommendations. This weakness is essentially the greatest asset of Pandora, so it would appear that Spotify is looking to compete on even more levels with the internet radio site.
In other Spotify news, Metallica has announced that their entire catalog will now be available on Spotify. This comes as a surprise to many who remember the days when the band (and drummer Lars Ulrich specifically) fought in court to end Napster. But at the event Ulrich appeared with Napster founder Sean Parker (who is now a Spotify investor) to apparently bury the hatchet. Parker remarked that they "were more alike than different."
If that weren't enough news, Metallica revealed the surprising news that they have taken ownership of all of their master recordings, including music and videos. The move is extremely rare for a group that was signed to a major label (Warner Music Group) for the majority of their career.
"We would like to thank everyone at the Warner Music Group for 28 years of a fantastic relationship, particularly since 1994 where we truly felt we had partners in every aspect of our business in North America," said front man James Hetfield in a statement.