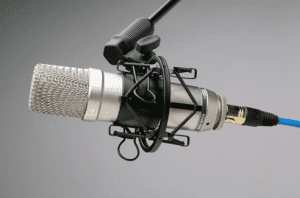 In a previous articles, we discussed some of the best small diaphragm condenser mics. In this one we'll look at large diaphragm condenser (LDC) mics.
Traditionally LDC mics are used for vocals and strings, but their applications are certainly not limited to just that. Producers today love them on piano, drums and all kinds of acoustic instruments.
If you're going to buy one microphone for your recording studio, make it a large diaphragm condenser. If you're on budget, these models offer a professional sound without breaking the bank.
Audio Technica AT2020 - $82
For an incredible price, the Audio Technica AT2020 delivers a dependable sound with extra warmth on the low to mid range. Back it away too much and you'll likely get some noise, but for close-miking vocals and guitar, this mic works well. It's also a very sturdy piece of gear–not that it'd be painful to replace at that price point.
MXL 2003a - $180
Not joking, the $180 MXL 2003a has been compared to the benchmark Neumann U87 that costs TWENTY times more. With an on board -10db roll off and high pass filter, you can record vocals, drums, acoustic instruments and even piano with it. This mic gives you some serious quality at a killer price.
RØDE NT1-A - $230
The very popular RØDE NT1-A is another solid mic at the entry level price range. It features very minimal noise and is a little brighter –with a natural boost in the upper mids–making it a favorite for recording male vocals. For good reasons this mic has been considered as the mic to get for studios on a budget for quite some time.
Audio Technica AT4040 - $300
For many budget studios, the Audio Technica AT4040 is a the "go to" of their mic locker. It's as durable as an LDC can be and records well with about anything thrown at it: vocals, guitar, horns, piano and especially drum overheads. It's a little darker sounding but still delivers clean bass. For its ease of use and versatility , this is a great mic.
sE Electronics sE4400a - $650
With multiple polarity patterns, -10 and -20db rolloffs, high pass filters and an overall flat, accurate sound the sE Electronics sE4400a is a nice all-purpose LDC in the mid-level price range. If you need a mic with a lot of features, without breaking the bank, this is the one to buy.
This is a great time be a recording artist. A good sounding large diaphragm condenser mic can be bought at any price range and the options are numerous. These models are just a handful of the more popular options for studios on a budget. In the next post we'll look some LDCs in the mid to high price range.