At Sage Audio, we know that working in the audio industry is one of the best jobs you can have. We don't know of too many better ways to get to work than by walking through the historic Music Row district here in Nashville, and we don't know too many better ways to work than by providing high quality CD mastering services to artists around the world.

So we were glad to see our industry being acknowledged as Shure Incorporated is now officially one of "Chicago's 101 Best and Brightest Companies to Work For," according to the National Association for Business Resources (NABR). In fact, the company has been named to the same list in 2006, 2007, 2008 and 2011.
"Sidney N. Shure often said he was building an organization of people, not an organization that built products," Shure Incorporated, CEO Sandy LaMantia, said in a press release. "Thanks to his philosophy, our company has dedicated and creative associates across the globe. Today we are celebrating an award that honors companies that recognize employees as their greatest asset."
Of course, those employees do make products that have become among the most known in the music industry, particularly for live performances. The Shure SM58 dynamic microphone is one of the most used vocal mics in live concerts around the world, and you'll often find Shure SM57 mics set in front of guitar amps or drums on stage.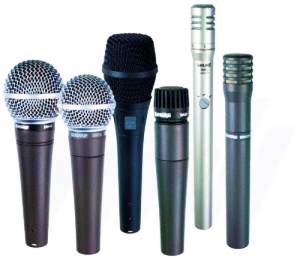 But you can also find the company's microphones in studio settings as well. U2 lead singer Bono is known for eschewing far more expensive microphones to record his vocals in favor of the Shure SM58, and the audio company also makes a line of condenser and ribbon microphones especially for studio use.
According to BikeGeeky the "Best and Brightest" companies by distributing an online survey to random company employees. The survey contained ten categories: communication and shared vision, community initiatives, compensation and benefits, diversity and inclusion, employee education and development, recruitment and selection, strategic company performance, employee achievement and recognition, employee enrichment and retention, and work/life balance.
Paul Applebaum, Executive Vice President, Human Resources and General Counsel, also expressed his excitement about his company's appearance on the list.
"I am especially pleased that we have received this recognition so many times," Applebaum said. "It reflects the hard work and devotion of many associates, including our Human Resources professionals, who work tirelessly to ensure that our Company remains a great and rewarding place to work."
In other Shure news that's kind of cool, the SM57 was going to be used by a scientist to record the "contact calls" of parrots in Venezuela. Unfortunately, the design of the microphone apparently looked a little bit too much like a snake to the birds, who "hesitated to get close to it, wanting to avoid exposure to predator danger."
The scientist, Dr. Karl Berg had to switch so the Shure SM11 mics, which are very small and look nothing like snakes unless you count the cord.
All we know is that the audio industry, whether Shure or here at Sage Audio CD mastering services, is a great place to work.