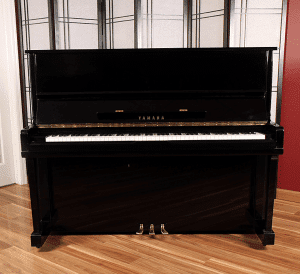 Though there are some excellent virtual piano samples that can be had, there's a certain natural and organic color that only comes from recording a real piano live.
If you don't have room for a grand but want to have a real piano in your studio, your best bet is to get a professional upright. Here are three of the best 48" uprights for recording.
Kawai K3
With its shared roots with Yamaha pianos, Kawai pianos are made in the same Japanese city as Yamaha's professional line. However, they're built on a very different ethos.
Where the Yamaha line has minimally changed over past decades, Kawai is regularly developing new technology to make the best pianos in the world. They also have the advantage of making only pianos, allowing their efforts to be much more focused than Yamaha's. Kawai is the first manufacturer to adopt ABS-Carbon actions that are lighter, faster and more durable than traditional wood. The award-winning K3 also has a lower string tension than the industry standard.
Typically, Kawai uprights sound a little darker and mellower. The lower tensile strength of the strings also effectively provides more dynamic range, letting you play softer and more sensitively. You can pay thousands more for a different piano and you'd be getting a different name, but not likely better quality. For a more cinematic sound, Kawai's can be a great choice.
Yamaha U1
Baldwin used be perhaps the most popular professional upright pianos, but after they seized domestic production in 2008 many artists and dealers felt that much of what made them so great was lost. Without question, Yamaha has filled the gap left by Baldwin.
Yamaha uprights are the most popular in professional studios. This is due to their reliably bright sound, clarity and trademark light action. The U1 model has been used on classical, jazz and pop records alike. It's versatile, consistent and still sounds great after decades of play. For many producers, it's the obvious choice for recording a studio upright.
Boston UP-126
The Boston UP-126 plays very well and sounds even better. It's designed by the legendary Steinway Piano Company, but is built by Kawai on it's own factory line in Japan to keep costs down. To some, the fact that it's not handmade means it's not really a product of Steinway. But if you try it out, you quickly can see that it's a beautiful instrument with a rich and complex sound.
Falling somewhere in between a Kawai and Yamaha in terms of tonality, the UP-126 is rich on the lows, clear on the highs and very well-balanced. The action is sensitive and has a slight break at one-third's way through the downstroke. It costs the most of the three, but owners don't seem to regret paying the difference.
If you want to record an upright piano in your studio, each of these models are top of the line and built in Japan. Moving into the American and European-made uprights can add tens of thousands of dollars to your cost, and not always a better sound. What's most important when shopping for a piano is that you love it.
Remember: a piano is an investment. It's got to inspire you and sound great to you. That inspiration will translate into your performance and then into your mix. If you plan to record piano often and want to have the sound of a live instrument over a sample, then a professional upright will be an investment worth making.