Believe it or not, there was a time in the not too distant past when the most lucrative product on mobile devices was ringtones. But with the quick rise in adoption of smartphones and tablets, sales of ringtones are going the way of sales of the feature phone, it would seem (though that hasn't stopped annoying ads for ringtones popping up all the time on certain music sites).
'What does all this have to do with a mastering blog,' you may ask. Well, it has more to do with the new and emerging ways for independent artists to market and sell their music in an increasingly digital music world. And more and more this will involve mobile marketing and sales in the future, and this is confirmed by a new report on the state of mobile music by Juniper Research.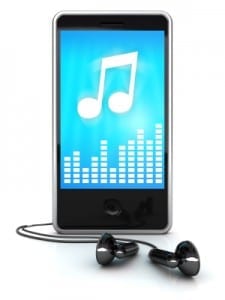 We've written quite a bit about the importance of streaming services and internet radio programs like Spotify and Pandora, but we've never looked extensively at the differences of how these are used on the desktop (and in the home) and how they are used on mobile. For example, the free, ad-supported version of Spotify is not available on mobile devices -- users have to sign up for the monthly subscription service to gain access to mobile apps.
Juniper's new information estimates that the global music subscription market will grow by 40 percent throughout the rest of this year to $1.73 billion. It should be noted that this is only mobile services that are supported by user subscriptions, not "freemium," ad-free models. So considering that this number does not include desktop subscription services -- which still represent the bulk of subscription revenue -- this number gains significance and illustrates the growing importance of the mobile music market.
It should also be noted that the report leaves out new subscription services by Apple and Google, which may prove to be major influences in the new music market.
How independent artists can leverage this new information on mobile trends, however, is more complicated. Namely, at this time there's little artists can do differently to market their music toward mobile subscribers than those that subscribe (or use ad-supported services) exclusively from their home.
That said, the growth of mobile just means that there's an even wider scope of possibility for users to listen to new music though they haven't actually purchased a physical copy. Though the benefits and disadvantages of subscription streaming services for artists continues to be debated, it is clear that this is the future of music listening habits, and the Juniper report shows that the future may already be here.
Fortunately, despite its downsides when it comes to song royalties and other payments, it is usually agreed that subscription models can favor independent artists more than more established acts, which provides even more incentive to point your marketing efforts at least partly at the independent market. It is likely that lawmakers and other groups will continue to scrutinize the payment from internet music companies in the coming years, which will continue to shape this evolving industry.