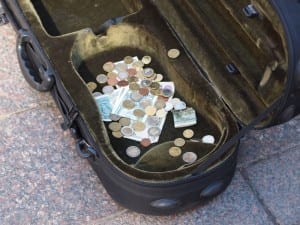 Along with new resolutions and promises, the first of the year also brings new financial reports from the previous year. While we don't care about very many of these, we do like to keep tabs on how the players in the digital music world are doing.
So it's great to see that TuneCore, a digital distribution service, paid its artists $101.8 million in 2012, 47 percent more than the year before, according to Billboard . These revenues for artists came from sales and streams of music. In total, there were 79 million downloads throughout the year, up 25 percent from 2011, and 1.17 billion streams, up 258 percent over the previous year.
Similar to other services like CDBaby, TuneCore places artists' music on digital platforms including iTunes, Amazon and Spotify. Rather than taking a cut of music sales from the artist, TuneCore instead relies on a yearly subscription paid by the artist, which was previously $49.99 per year for an album. The company recently announced that it would be lowering its first-year subscription rate to $29.99, though the renewal rate will stay at $49.99. Singles cost artists $9.99 per year on the service.
Since its launch in 2005, TuneCore has been extremely open about what it pays its artists, something of a novel approach compared to the shroud of secrecy that surrounds most major labels. The company also revealed that it distributed 112,158 total releases in 2012, and that rock and hip-hop were its most represented genres. Since 2006 the company has distributed a more than 447,000 albums and singles, and has paid artists over $250 million.
TuneCore also has a publishing arm; the TuneCore Music Publishing Administration. This section of the business is not included in any of the above figures. In other recent news, the company revealed it has signed four sub-publishing agreements that include the majority of Europe. The company says it also has agreements in place for much of Asia and Canada, as well as the U.S.
All of this is a good sign for the company, particularly in the wake of the unexpected firing of co-founders Jeff Price and Peter Wells in the middle of last year. Price was also CEO and president of the company, and many expressed worry about the future plans of the company at the time of his dismissal. Perhaps the most vocal of these critics was Price himself, who was pretty obviously upset at being pushed out of the company in an October interview.
"I don't know who the CEO is. I don't think there is one," he told DigitalMusicNews.com. "What's the vision? Where is it going? Where does it want to go? I mean, a company needs a vision. What is it?
But, as Chief Operating Officer Scott Akerman simply puts it, "We had a great year last year." Akerman also said that the company's management will always be happy when "you can increase your artist revenue by the percentage we did."