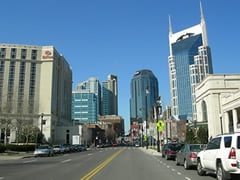 We're honored to be part of the Nashville music community, and equally excited to have the opportunity to open the studio to artists from all over the world. Bringing our mastering studio online has given us the chance to give Nashville quality to musicians who might not otherwise have access to a professional mastering engineer. Our studio is located in the heart of Music Row just one block away from historic RCA Studio B where Elvis Presley made most of his famous recordings. We love Nashville, and are happy to be part of such an amazing musical community.
Nashville has been known as "Music City" since the 1950's, and the name is as relevant today as it was then. Every year thousands of singers, songwriters, and musicians move to Nashville with the hopes of making it big in the music industry. For this reason we have access to some of the most talented and respected session musicians, as well as engineers. In fact right next door to us are some the music industry's biggest record labels such as BMI, Sony, and Warner Music among many others.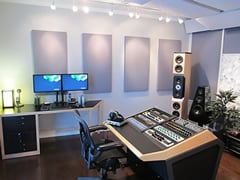 Our studio is designed to be an optimal listening environment for audio. This means not only a quiet room, but also correct acoustical treatment that allows sound to be presented in clear crisp detail. Doing this requires not only a great amount of knowledge regarding sound waves, but also the correct use of absorption, diffusion and equipment placement. Our primary mastering suite allows us to hear and correct subtle imperfections that would otherwise go unnoticed, and ensure that your music sounds great on any system. Read more about what goes into mastering your album.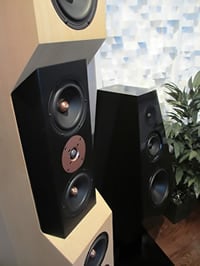 We use specialized analog and digital equipment in the studio to reveal definition and to create balance for each song. All our equipment was chosen to compliment the studio layout, and works together to achieve excellent sounding masters. Our primary monitors are Tyler Acoustic D1's powered by a Bryston 4B SST2 which provides accuracy and dynamic clarity. This system is complimented by a pair of custom SS-M7 monitors for referencing, especially useful when translating a mix to a standard home stereo setup. We also use a Grace amplifier paired with Beyerdynamic DT 770 Pro headphones for detailed editing work. In addition, we have a tube power amplifier to power the SS-M7's. This gives us a versatile set of monitoring options to reveal imperfections and then fine-tune the sound of each project to best match an artist's request. In addition to our monitoring, we use specialized analog equalization and compression depending on the project needs and desired sound. Also, to ensure the highest quality in digital performance, routing, and stability we use Sequioa 13 coupled with Cube-Tec software.