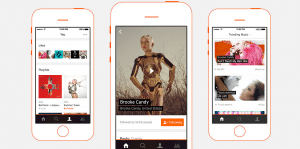 SoundCloud recently released a new version of its iPhone app and it's already garnered criticism from artists.
The new app was designed to create a more simple, "one thumb" interface for users. While it certainly looks good, a range of features have been lost in the update, many of which made the service appealing to artists in the first place.
Users of the new app can no longer see who is following their profiles, or who they themselves are following. And the only way to find someone else's music now is to find it in your "stream" of the latest music or perform a search. Likewise all the comments functions, as well as the ability to see who has "liked" your music is gone. The only metrics left for artists to see about how their music is performing is the play count of a track.
One of the most important features for musicians who collaborate–the ability to share private tracks with another user–is missing as well.
As to be expected, many artists have expressed major disappointment for the the new update, claiming that they've been completely overlooked in the new update. Many have vowed to cancel their paid professional memberships with the company.
The timing of this app does not bode well for SoundCloud, which is also in the news for striking a deal with the major record label Universal Music that allows the industry giant to mine data from SoundCloud's user behavior and to regulate/delete artists accounts without discretion.
SoundCloud has quietly become the largest hub for underground music online. But as the new app restricts key features for artists, it's possible that many will seek out new services to share their music like Bandcamp.
Perhaps SoundCloud will release an update of the app soon with some of the missing features restored. But for now, the general consensus is disappointment.