When you think of companies that are on the cutting edge of digital music technology, many spring to mind immediately: Pandora, Spotify, iTunes Radio, Amazon and many more. But there's one institution that may need to be added to this list, though it's probably not what you think.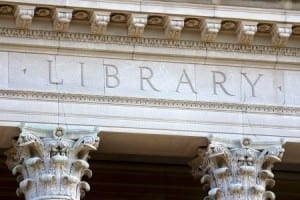 Your public library.
And not just the one right down the street, but the one in the next town over, the next state over -- even a library on the other side of the country. Yes, the newest place to find online streaming content is through your local library.
From Ebooks to Music and Movies
The long and storied history of the institution of the public library typically does not lend itself to being thought of as being on the cutting edge of technology particularly in the 21st century though it may not be as far behind as you may think. Microfiche projectors were once new technology, and DVDs and audio CDs have been available for years (and certainly vinyl, cassettes and VHS before that). In fact, many public library systems have been allowing patrons to check out Ebooks for quite a few years now.
So maybe the jump to allowing library card holders to access online streaming music and movies shouldn't be that much of a surprise. Helping libraries across the country along is a new service called Hoopla, which launched this May.
Available Soon at a Library Near You
When the service was launched in May, it included access for 20 library systems around the country. That number is expected to increase to 100 systems by the end of the year and well over 220,000 folks are already using the service.
Will Hoopla Mean You'll Be Trading in Your Netflix and Spotify Subscriptions?
The short answer: probably not, but it can be a great resource to use as a complement to those services.
Fortunately for us music fans, there is much more music available to stream than movies titles. In fact, about 300,000 albums currently are available, including fairly new albums in a wide variety of genres. A quick browse through the service reveals the most recent albums by Janelle Monae, Avenged Sevenfold, Arctic Monkeys and even Red from Taylor Swift are all available. The last title is a bit surprising, as it was even left off Spotify after it was initially released (though it is there now). If you are looking for an app to stream movies then check out these awesome free movie apps.
The service doesn't just have new titles, and its catalog includes an extremely wide range of artists including Frank Sinatra, KISS, Count Basie, Elvis and Tupac.
There are significantly less movies available around 3,000 titles right now and most are much less well known than the albums. A quick sample: "Liar Liar," "Babe: Pig in the City," "Scarface," "George Carlin: At Carnegie."
All jokes about libraries being a bit behind the times aside, they are decidedly one of our greatest resources, and it's great to see them not only remain relevant, but also help push along the growing digital music industry. It's hard not to see this as a win-win situation for everyone involved.