Quick Answer
RME Babyface Pro 24-channel USB Audio Interface
Roland Studio-Capture USB Audio Interface
TASCAM Celesonic US-20x20 USB 3.0 Audio Interface
PreSonus Studio 1810c USB-C Audio Interface
Peavey PV 6 v2 Mixer with USB
Universal Audio Apollo Twin MKII SOLO 10x6 Thunderbolt Audio Interface with UAD DSP
Apogee Element 46 - 12x14 Thunderbolt Audio Interface for Mac
PreSonus Quantum 2 22x24 Thunderbolt 2 Audio Interface
IK Multimedia AXE I/O USB Guitar Audio Interface
Audient iD14
10. RME Babyface Pro 24-channel USB Audio Interface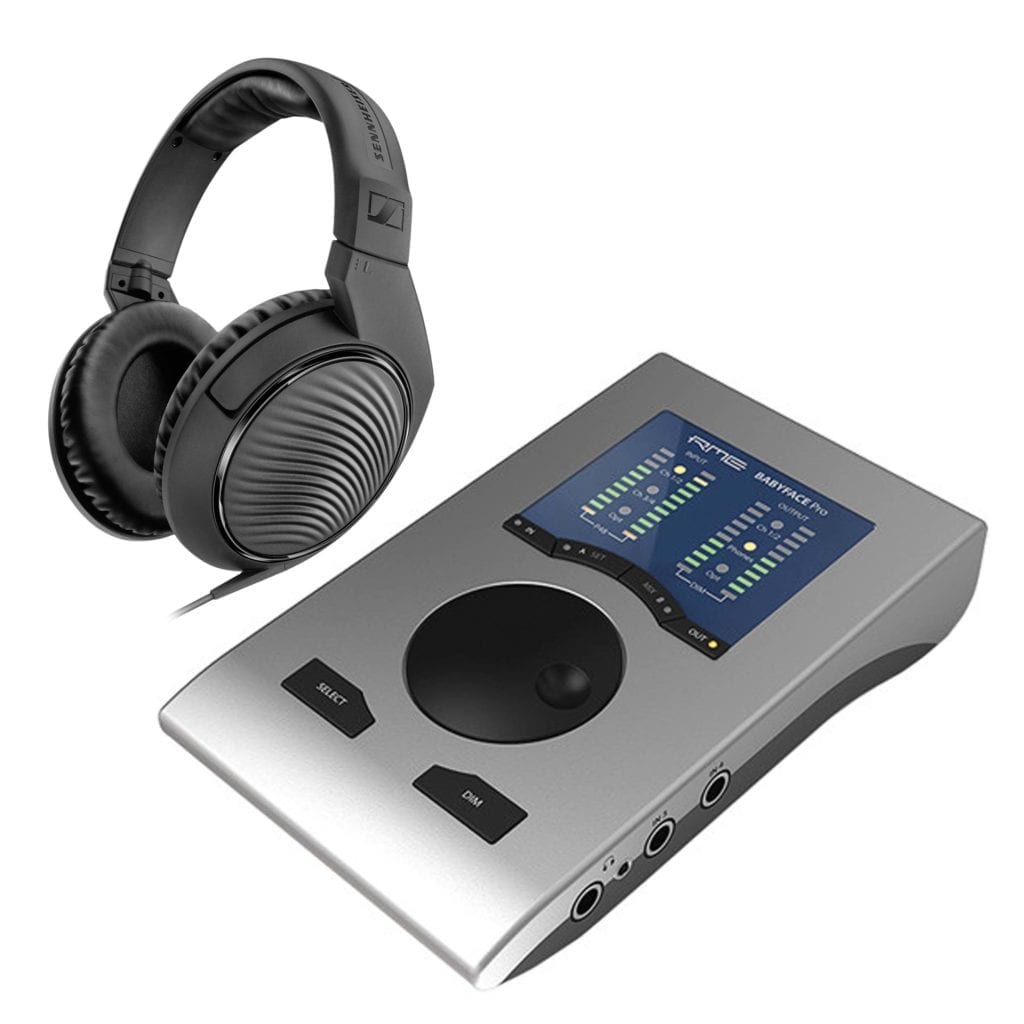 The RME Babyface Pro is a portable professional interface with complex connectivity, adding a great deal of recording flexibility.
If you value flexibility and mobility in your interface, then the RME Babyface is a great introduction to RME's line of pro-class interfaces. Introductory in its price, the RME Babyface Pro offers a great and transparent sound, as well as an intuitive DAW and operating interface.
The interface's connectivity includes 2 mic preamps/XLR inputs, 2 XLR outputs, a headphone 1/4" and 1/8" output, 2 instrument inputs, ADAT/SPDIF input and output for an additional 8 channel input and output, as well as MIDI and USB.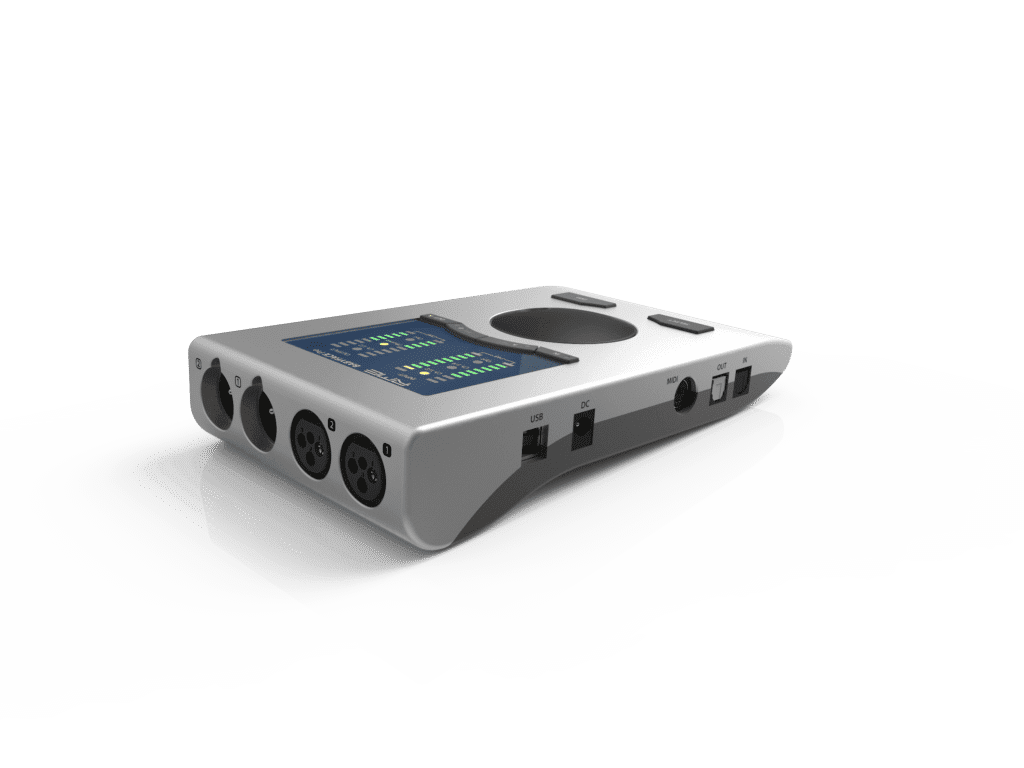 ADAT connection means you can always connect another 8 preamps.
The RME Babyface Pro is bus-powered, meaning it can be powered by your USB connection. That being said, it makes for a perfect interface on the go, to bring to band practices, or to record a live set. It's sleek but solid design means you can bring it anywhere you want to record music.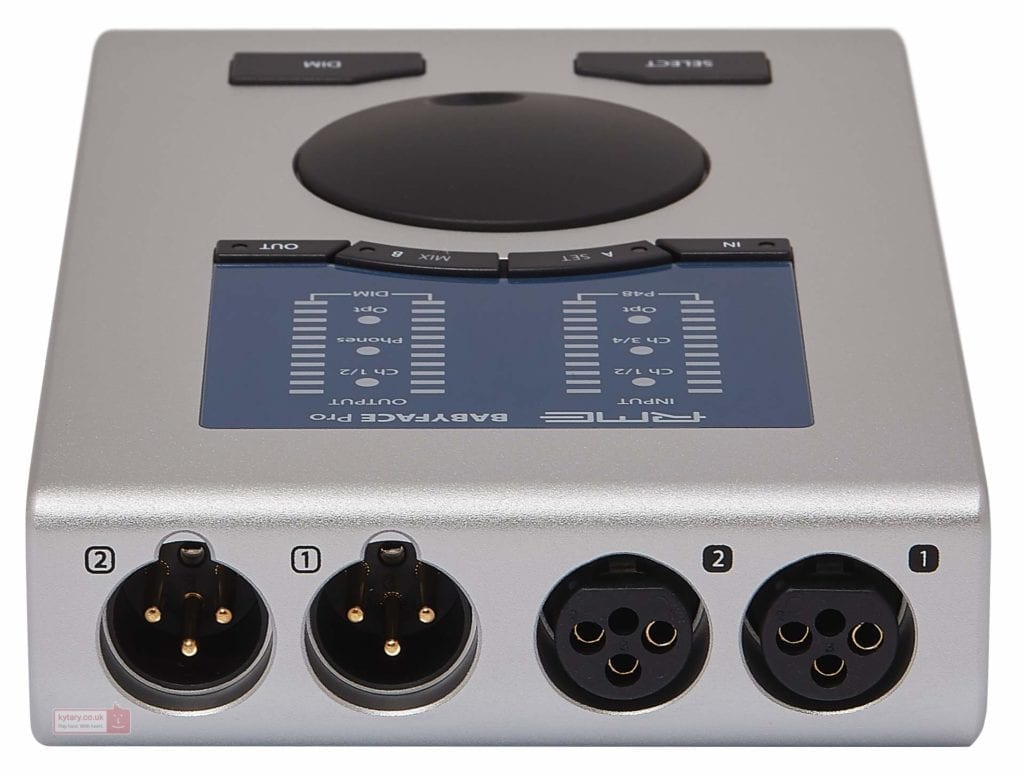 The compact design of the Babyface Pro makes it perfect for recording a live set or a rehearsal.
Additionally, the RME Babyface Pro can be connected to your iPad or other touch devices for whatever application you may come across.
The RME Babyface Pro is currently selling for $749.00 USD
9. Roland Studio-Capture USB Audio Interface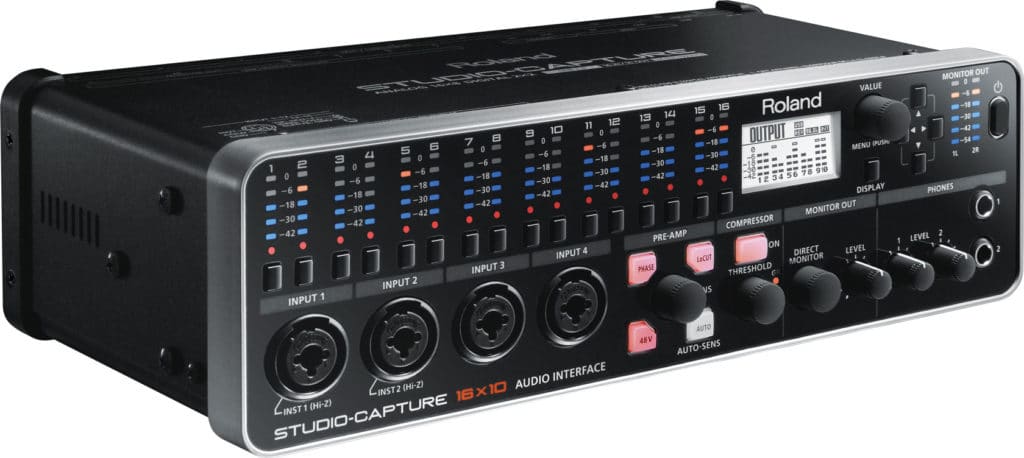 The durable and multifaceted design makes the Roland Studio-Capture perfect for larger sessions.
If you're looking for an interface that can handle a full band's live performance, while keeping a relatively low price tag, the Roland Studio-Capture offers impressive capabilities for the price.
With 12 XLR/1/4" inputs, 24 bit and 192kHz analog to digital conversion, coaxial input and outputs, midi and USB connectivity, the Roland Studio-Capture give you an immense amount of recording options.
Furthermore, a high-pass filter, compressor, phase inverter, reverb-processed, phantom power, and "auto-sens" gain function are easily accessed via the front of the interface.
Perhaps the most interesting function of the interface is the afore-mentioned "auto-sens," which measures the incoming signal or signals of any connected microphones or instruments, and automatically adjusts the gain to best capture the signal. All you or the artist you're recording needs to do is briefly perform the material and the Roland Studio-Capture will find the best levels to match their energy.
With this functionality amongst others present in the interface, any user will save time and easily set up a successful session. Additionally, the driver and software associated with the Roland Studio-Capture work for both Mac and Window's operating systems, making it easy to share sessions amongst engineers.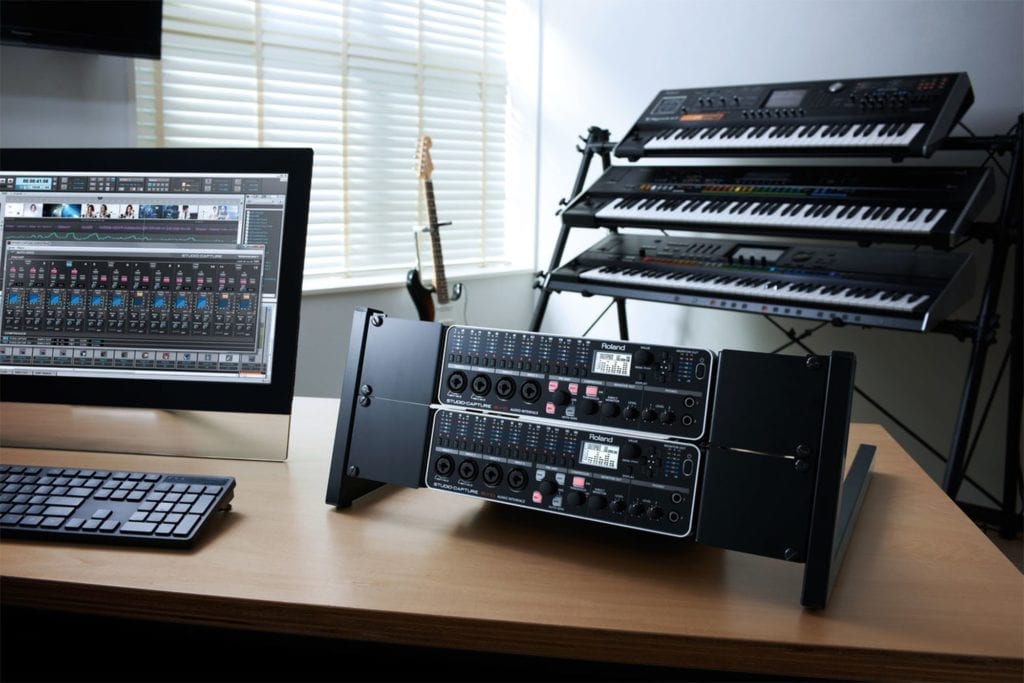 The Roland Studio-Capture works well for both Mac and Windows operating systems.
Lastly, it's sturdy design and aluminum casing makes it perfect for any traveling engineer.
The RME Babyface Pro is currently selling for $704.95 USD
8. TASCAM Celesonic US-20x20 USB 3.0 Audio Interface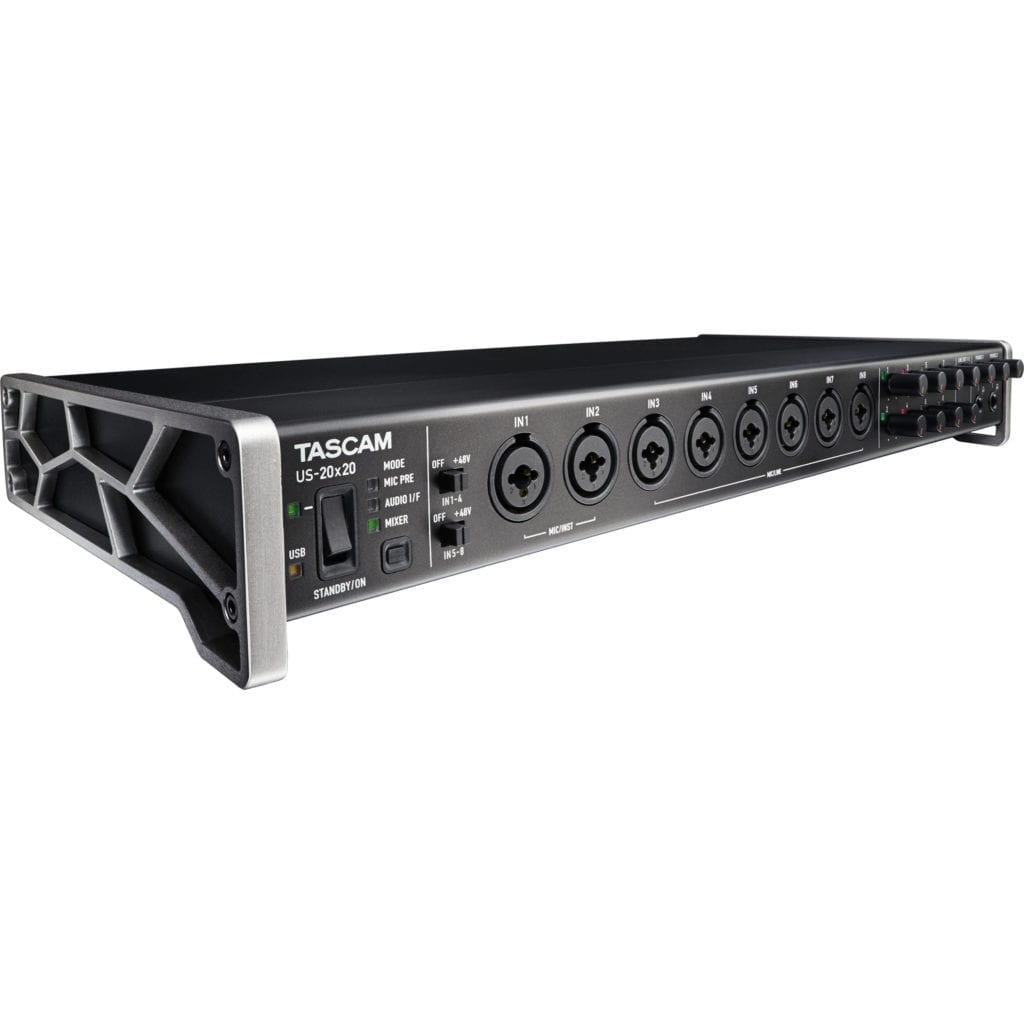 The Tascam Celesonic can be a great studio recorder or live sound mixer.
Similar to the Roland Studio-Capture, the TASCAM Celesonic is a great option for any engineer looking to record larger projects, or live shows. The versatile design of the TASCAM Celesonic's, including its DSP and DAW software, allows the TASCAM Celesonic to be used as a recording interface or a live mixer with exceptionally low latency.
8 XLR inputs, 2 Instrument inputs, 8 line inputs, 10 balanced line outputs, and midi and USB connectivity make the TASCAM Celesonic a flexible option for any engineer.Coaxial and Optical inputs and outputs add to the flexibility and allow for additional preamp and interface connectivity.

The Tascam Celesonic has a great deal of routing options.
The Ultra-HDDA mic preamps recreate a transparent signal, while the software makes routing easy for any application. Furthermore, a 24-bit/192kHz analog to digital conversion allows for a truly professional sounding recording.
The TASCAM Celesonic US-20x20 can be purchased for $499.99 USD
7. PreSonus Studio 1810c USB-C Audio Interface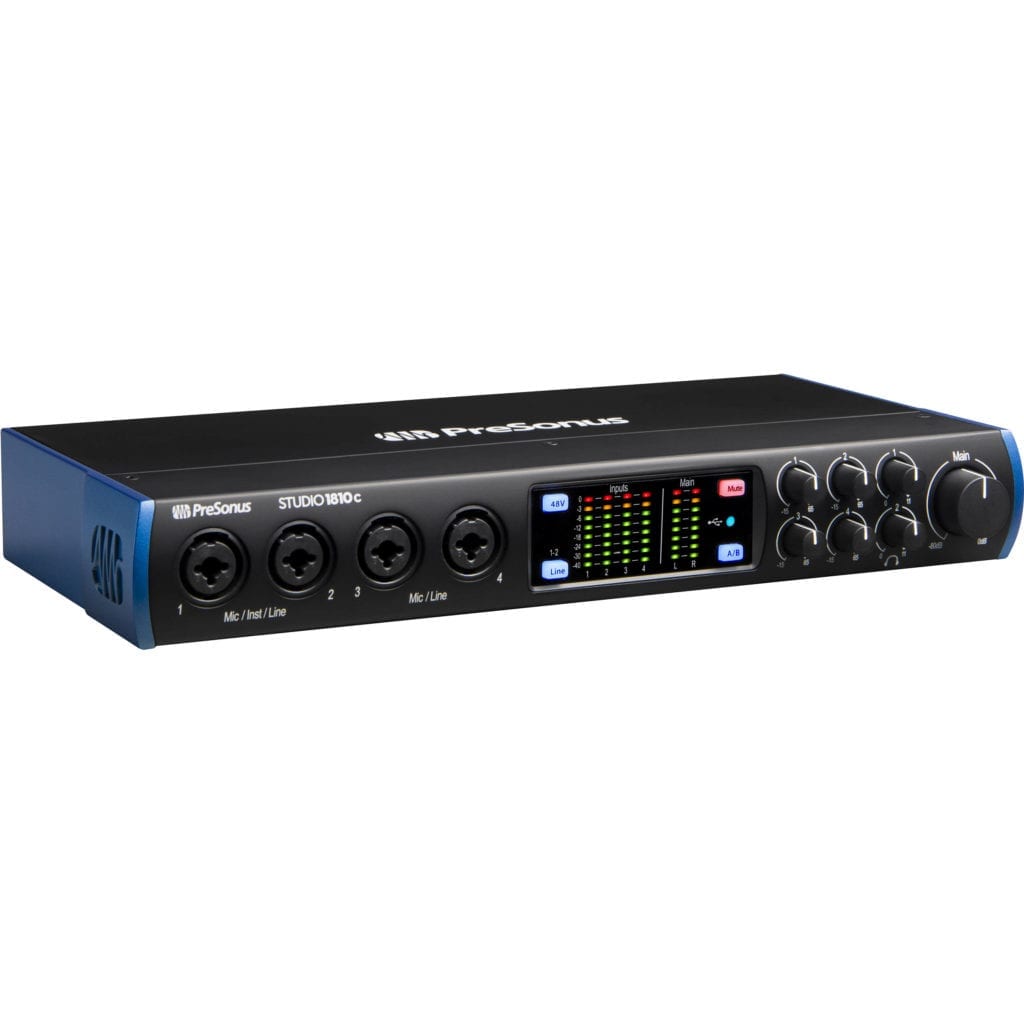 Affordable and flexible, the PreSonus Studio is a great introductory interface.
The newest Studio Series from PreSonus is a great software and hardware package, that offers a great introduction into audio recording with professional-sounding equipment and convenient, easy to learn recording software.
The PreSonus Studio 1810c comes with the latest version of StudioOne, Presonus's DAW package, including plugin bundles and stock plugins to get you started. MIDI connectivity means you plug in your or keyboard or software instrument and begin to record.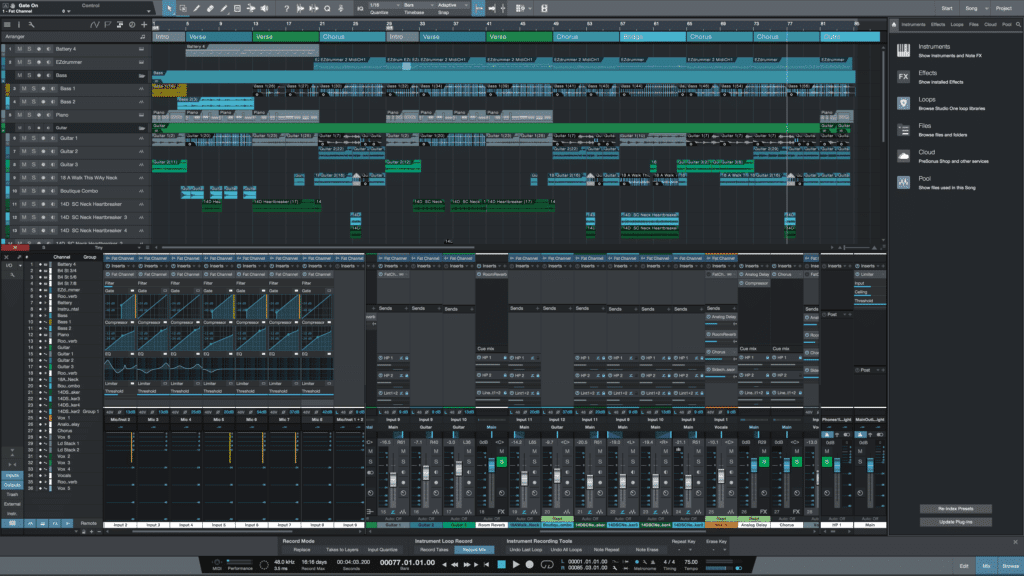 StudioOne is offered with the purchase of this Presonus interface.
Additionally, this particular Presonus Studio interface includes 4 XLR inputs with XMAX preamps, 2 instrument inputs, 8 line outputs including 2 headphone outputs.This makes it a great sounding introductory interface that still offers multiple routing and recording options.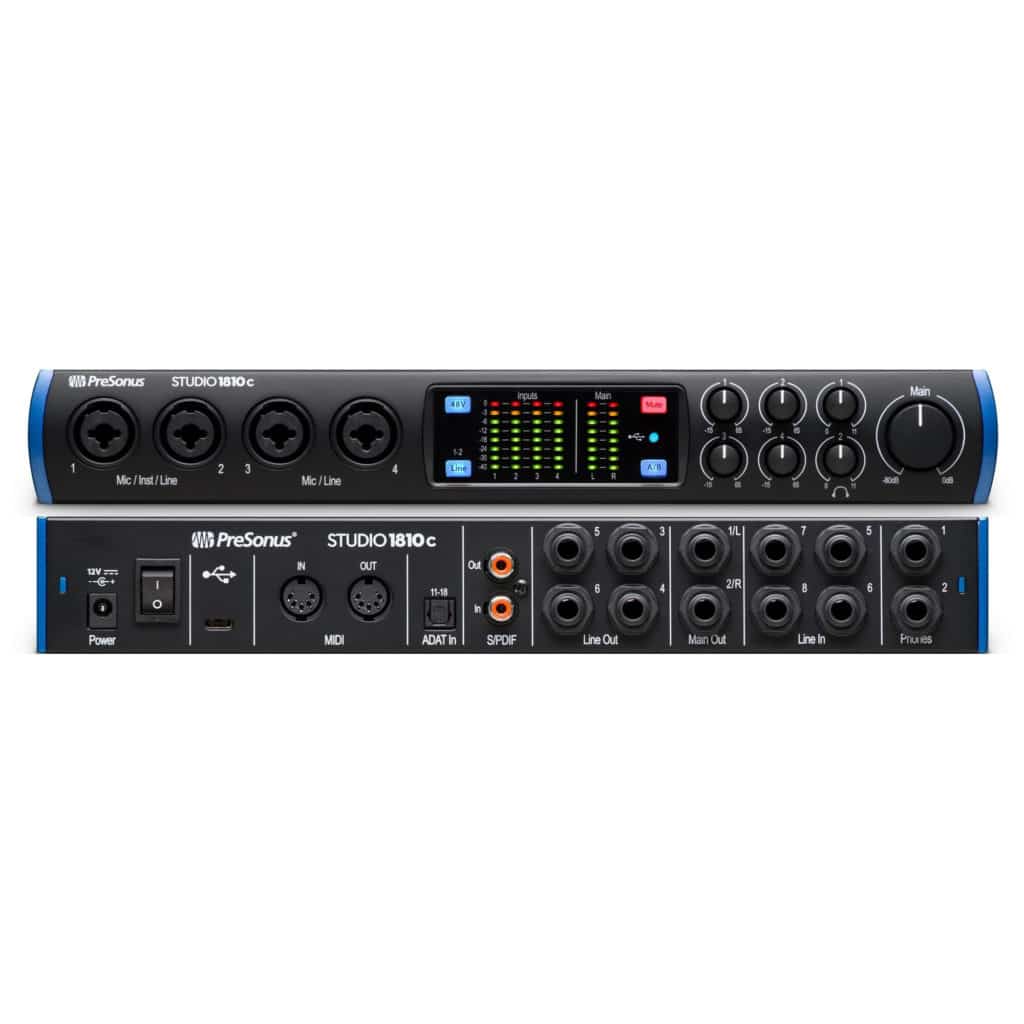 The ADAT input means you can connect 8 more preamps. MIDI allows you to quickly record MIDI and software instruments.
If you're looking to start recording, and you need a package that can help you get started with a professional sound, the PreSonus Studio 1810c is a great option.
The PreSonus Studio 1810c is currently selling for $369.95 USD.
6. Peavey PV 6 v2 Mixer with USB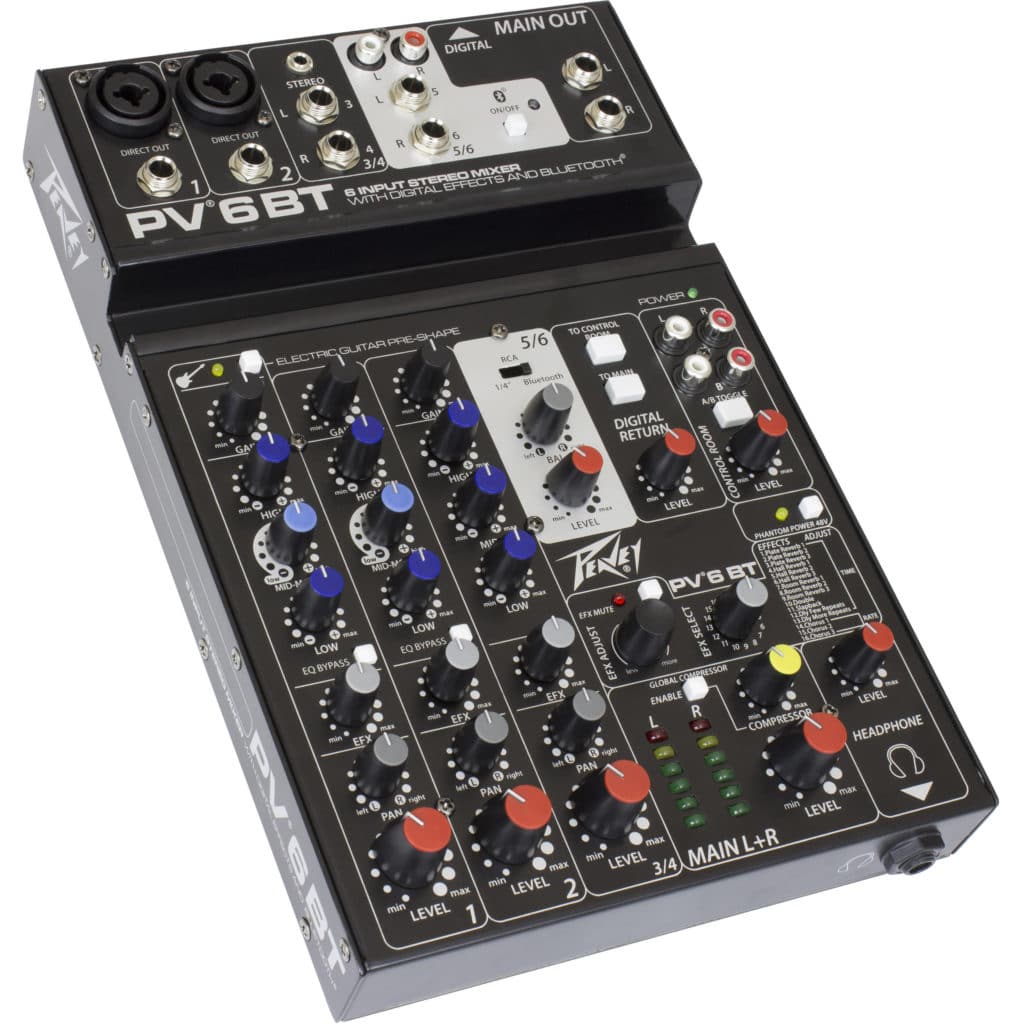 The Peavy PV 6 is a combo between a studio and live audio mixer.
For those who are more accustomed to live sound, the Peavey PV 6 v2 Mixer is an affordable and familiar option for both live and recording applications. Not only does the Peavey PV 6 operate like a traditional live sound mixer, and retain all of the functionality of one, it can convert its analog signal to a digital one, via a USB connection.
For those of you who are not as accustomed to live sound, the physicality of this interface can be compared to a classic recording or mixing console, as it offers the ability to amplify, route, and record with its simplistic but versatile design.
If you're looking for a way to add some analog sound to a signal prior to recording it, the Peavey PV 6 v2 Mixer is a great option. With 2 XLR inputs with phantom power, left and right channel 3-band equalizers, and an output compressor, you'll be able to record as well as process your signal, all while becoming accustomed to the sound of analog.
It should be noted that the USB connectivity on this mixer, like other live-sound to digital mixers, only exports the signal as a single stereo file, but considering you can only record two to four individual signals at one time, this isn't too much of a limitation.
For the low price of $149.94 USD, the Peavey PV 6 v2 Mixer is a great introductory analog option.
5. Universal Audio Apollo Twin MKII SOLO 10x6 Thunderbolt Audio Interface with UAD DSP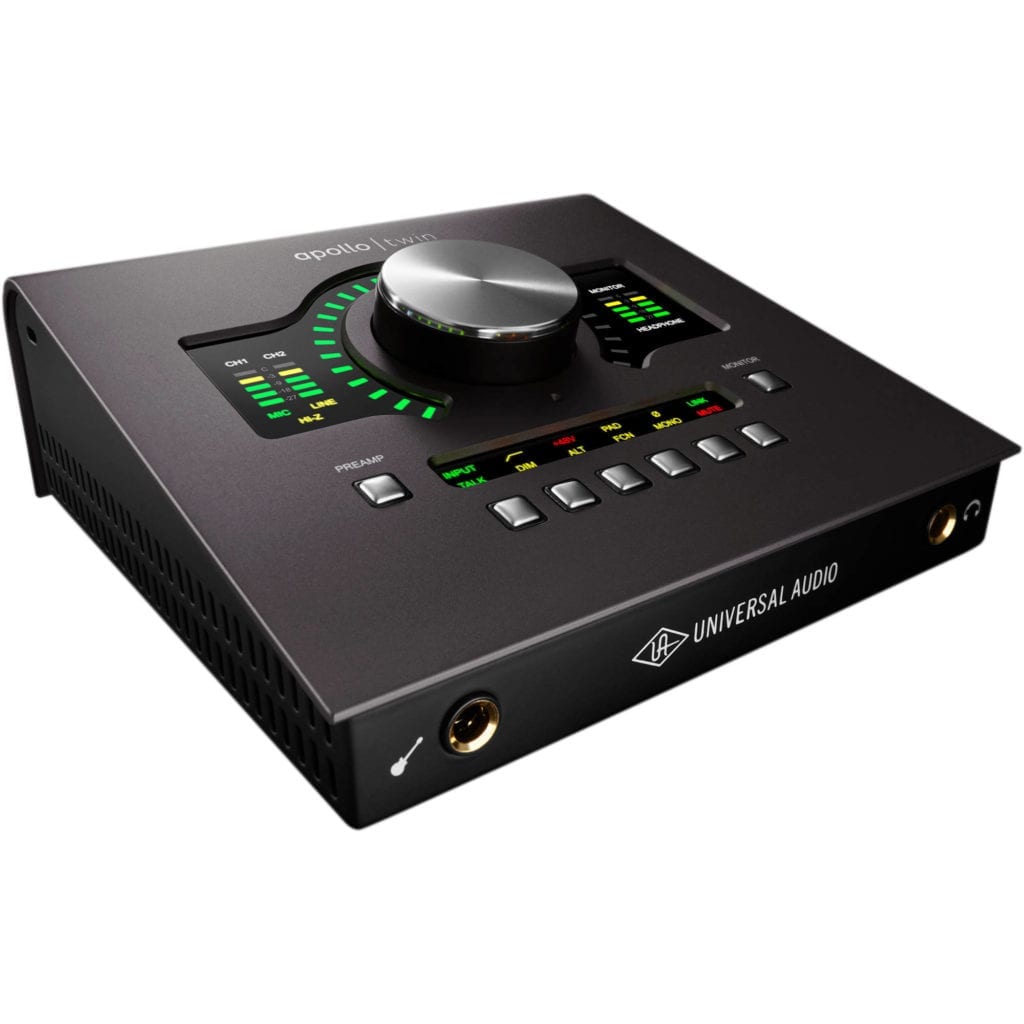 Universal Audio has created one of the most popular and affordable audio interfaces of the past decade with the Apollo series.
This interface is one that you may be more familiar with, as it's proven time and time again to be one of the most popular and sought after introductory interfaces of the last decade. Universal Audio's Apollo Twin MKII offers a great yet simplistic design, that can serve as the primary interface or the desktop control of any studio.

The outputs of the Apollo Twin are simplistic and don't offer complex routing options.
With two Mic/Line inputs and an optical connection for additional preamps, as well as 4 line outputs, the Apollo Twin is relatively simplistic in terms of it's routing options.But, as you may know, this interface is known for its processor which allows for UAD plugins and software to be run from the actual interface.

A big reason for the Apollo's popularity is the processor. With it, you can run UAD plugins.
This means less CPU usage, and the possibility to run UAD's widely acclaimed software. Although this particular interface only has one SHARC processor, making complex processing difficult, additional and external processing power can be purchased to accompany this interface.
With that in mind, the Universal Audio Apollo Twin MKII SOLO is a great introduction to UAD's line of interfaces and makes for an affordable interface upgrade for any engineer looking to enhance their sound.
The current retail price of the Universal Audio Apollo Twin MKII SOLO is $599.00 USD.
4. Apogee Element 46 - 12x14 Thunderbolt Audio Interface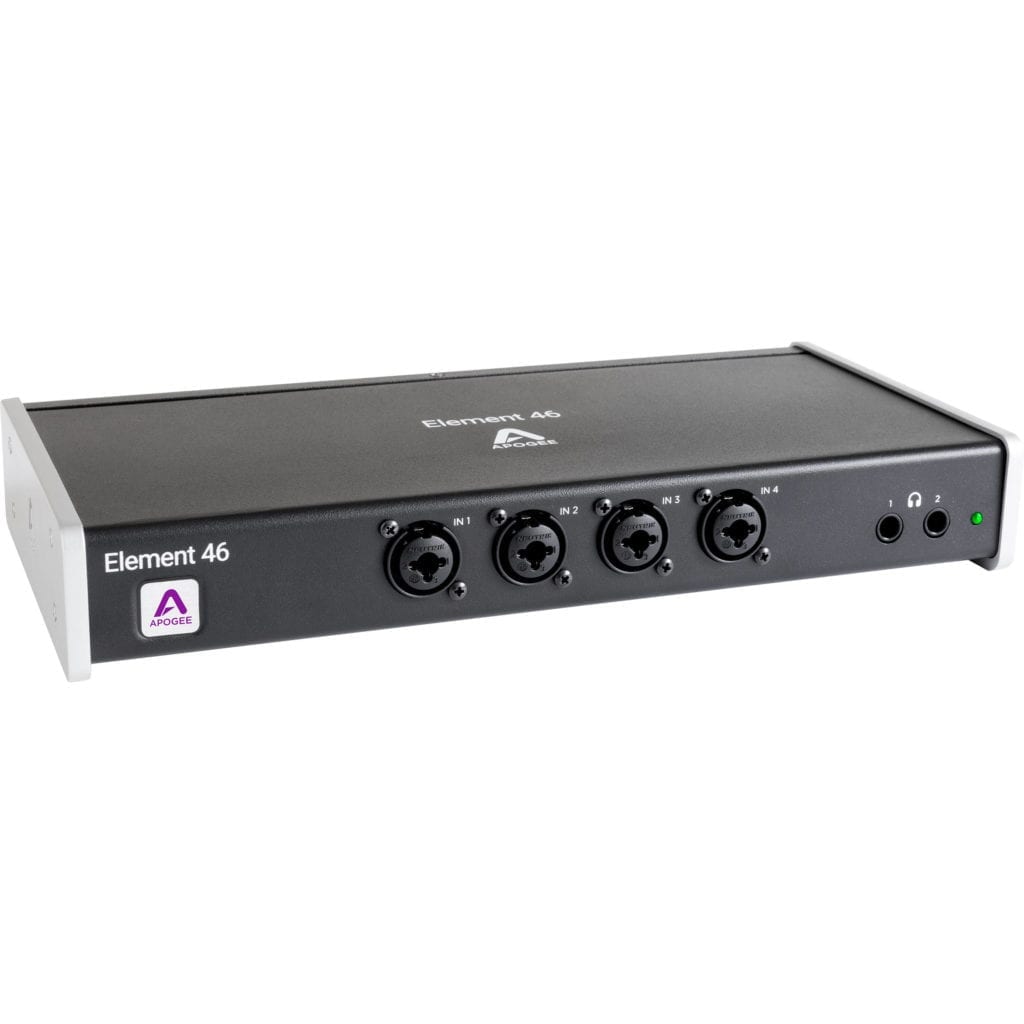 The Element's front panel doesn't utilize any knobs or buttons like other interfaces.
At first, not having a control panel, any knobs to turn or buttons to push may seem unconventional if not slightly off-putting, but the Apogee Element 46, as well as the other Apogee interfaces in the Element line, offer exceptional quality, all while being completely software-driven.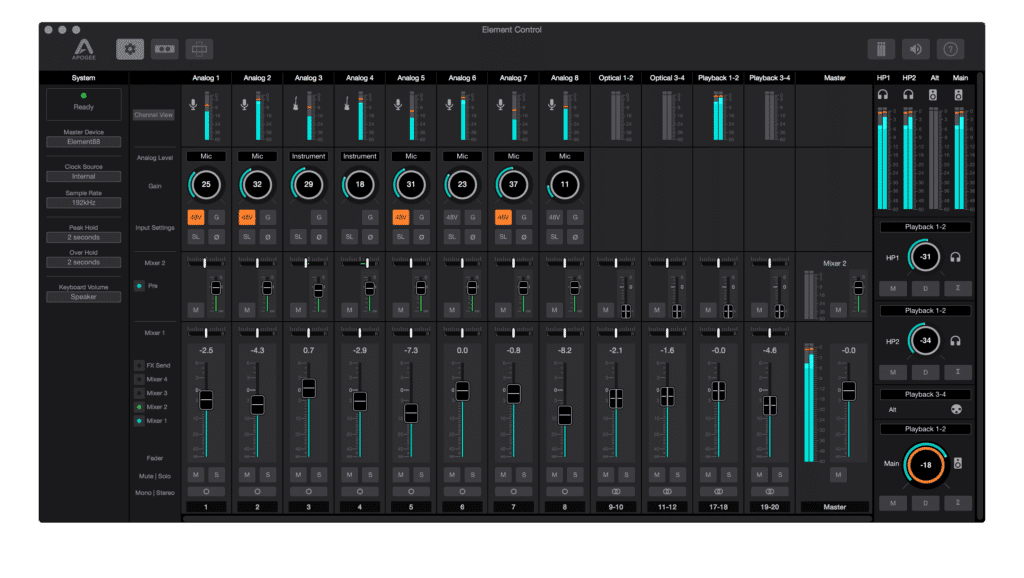 The Element software allows you to control your Element interface.
The Element software tied to this interface allows you to control your signal in all the ways a traditional interface would, but now with the extra flexibility that software can provide, such as a customizable user interface, and advanced routing and processing options prior to recording.

The routing options are also simplistic.
In terms of connectivity, the Apogee Element 46 offers 4 XLR/Line inputs, 2 headphone outputs, optical input and output, and 2 XLR outputs for monitoring. Although this is seemingly simple, it definitely is enough for any project studio or artist looking to record semi-complex sessions.
Where the Apogee Element 46 really shines is in it's transparent but not bland mic preamps and its fantastic analog to digital conversion. With 75dB of available gain , and incredibly low noise and distortion, the Apogee Element 46 and the other Apogee Element interfaces are a great upgrade interface for anyone taking their recordings seriously.
Currently, the Apogee Element 46 costs $895.00 USD, with a more affordable 2-channel version, the Apogee Element 24, coming in at a reasonable $595.00 USD.
3. PreSonus Quantum 2 22x24 Thunderbolt 2 Audio Interface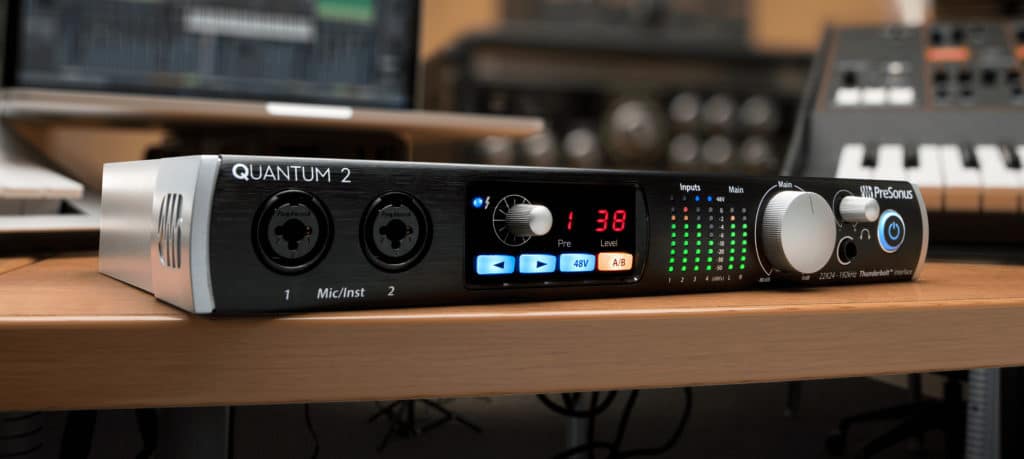 Presonus's flagship interface is affordable and sounds fantastic.
When you can afford the flagship interface of a reputable company like PreSonus, that's something to get excited about - and there's a lot to be excited about with the PreSonus Quantum 2.
24-bit 192kHz conversion with some of the lowest latency of any interface makes the PreSonus Quantum 2 stand apart from other interfaces in a similar price range. The classic PreSonus XMAX preamp sounds great while offering an unheard of 80dB of gain and the option for preamp recall.

Notice the multiple ADAT and thunderbolt connections, allowing for daisy-chaining multiple quantum interfaces.
The PreSonus Quantum 2 22x24 offers 4 Mic/Line inputs and 4 line outputs.Additionally, it offers an S/PDIF input and output and MIDI connections.
Multiple optical ins and outs offer immense expandability. Additionally, multiple thunderbolt outputs create the possibility of daisy-chaining your Quantum interfaces together, increasing your flexibility and expandability if the need should arise.
Like the other Presonus interface on this list, the PreSonus Quantum 2 comes with the StudioOne software - a great introductory DAW, including plugins from SPL, Maag, and other reputable plug-in designers.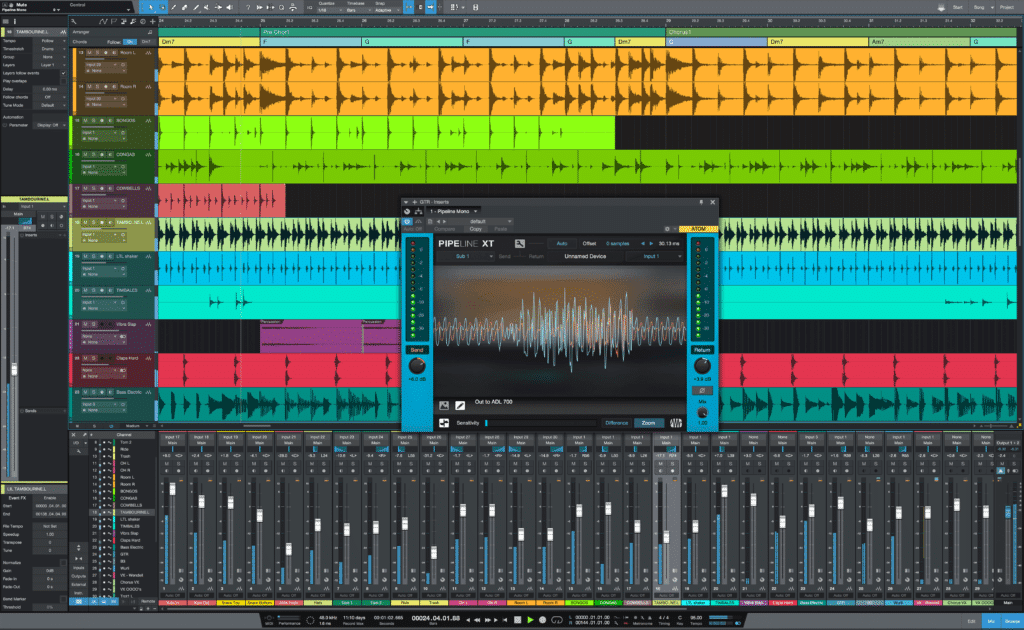 The StudioOne software is also included with this Presonus interface.
Lastly, the PreSonus Quantum 2 offers intricate metering on its front panel with 8 led lights respective to each channel making it easy to ensure no clipping is occurring when recording.
As of now, the PreSonus Quantum 2 22x24 is listed at $599.95 USD.If you'd like more channels for extra recording needs, the PreSonus Quantum 2 26x32 offers 8 XLR/Line inputs at the still relatively affordable price of $999.95 USD.
2. IK Multimedia AXE I/O USB Guitar Audio Interface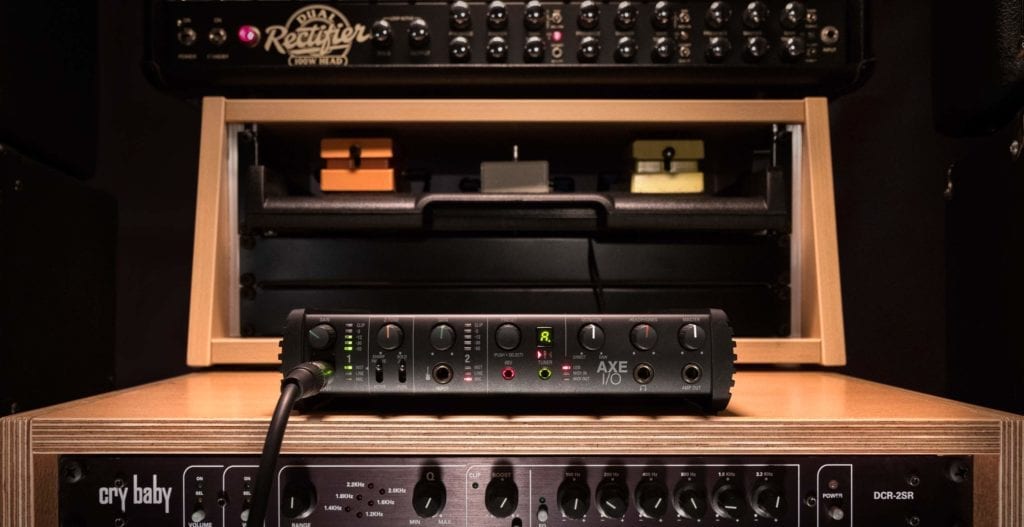 The AXE I/O is a great interface for guitarists and bass players looking to get a better D.I. sound.
If you're a guitar or bass player, and you're frequently disappointed with the sound of plugging your guitar into your interface, then the IK Multimedia AXE I/O is an affordable solution.
By utilizing a variable impedance knob, and a switch for adding subtle harmonic generation, the IK Multimedia AXE I/O can take a clean and boring D.I. guitar, and add the life that your guitar or bass has been missing. By increasing the impedance of your D.I., this interface makes your amp modeling sound more realistic and enjoyable.

The impedance knob creates a more realistic sound and offers gentle harmonic generation.
Additionally, the IK Multimedia AXE I/O has two XLR inputs with phantom power, so you can record vocals or any other instrument. Although the primary focus of this interface is creating more realistic amp modeling, 2 class-A preamps make the IK Multimedia AXE I/O a fully realized interface, capable of recording whatever you need to complete your recording project.

The MIDI connections and two XLR inputs make the AXE I/O suited for a full recording project.
Some perks of this particular interface an included software package with AmpliTube 4 Deluxe, 10 T-RackS Singles, and Ableton Live 10 Lite. This way, you can quickly set up the interface and begin recording your electric guitar and bass without the need for purchasing additional software or amp modeling.
Lastly, a tuner on the front panel as well the interface's durability make it a great alternative to traditional amplification, so if you're touring and don't have the means or desire to lug around your combo, the IK Multimedia AXE I/O along with your laptop could be an effective solution.
The tone of the IK Multimedia AXE I/O and its low price make it a great addition to any interface you may already have, as the variable impedance controls, software package, and the ability to add harmonics to your instrument truly make a difference when recording guitar using your D.I.
The IK Multimedia AXE I/O can be purchased for $249.99
1. Audient iD14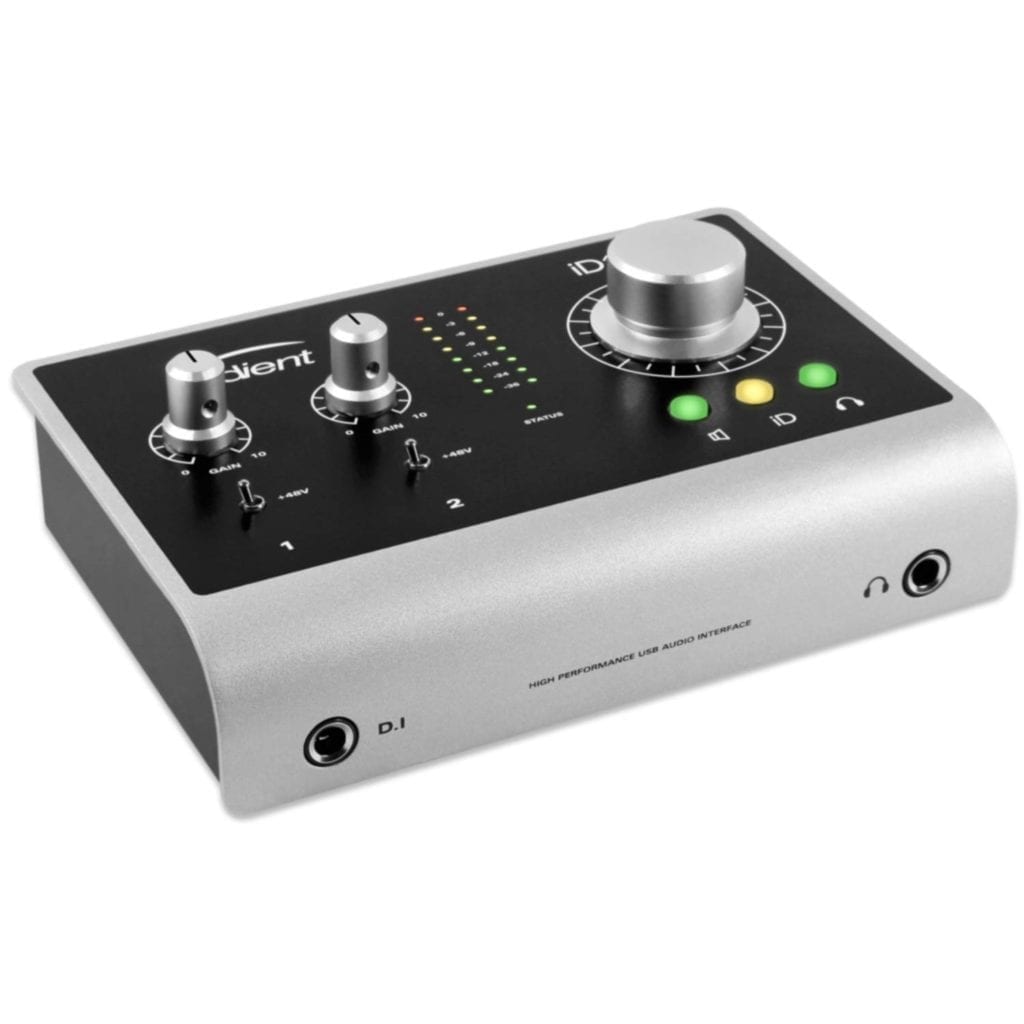 At the top of our list is this affordable yet professional-sounding Audient interface.
If you've been looking around for an affordable interface, perhaps an upgrade from your Focusrite Scarlet or Presonus Audiobox, odds are you've come across this interface - and for good reason! Owners of the Audient iD14 and other versions of this interface are delighted with its tone, design, and innovative software.

The connectivity is simplistic, but an optical input allows for 8 more preamps to be connected.
Sporting 2 class-A microphone inputs from their ASP 8024 console, Burr-Brown converters, and a JFET D.I., the Audient iD14 covers all the bases. No matter what you're recording, you can achieve an impressive sound quality with this bus-powered interface.
The Audient iD14's innovative virtual scroll wheel allows you to control parameters in your DAW by simply placing your cursor over that function, and adjusting the rotary on the interface. When combined with a latch or read automation option, this rotary can be used to a very creative effect by automating your plugin's settings during playback.
The Audient iD14 offers 2 XLR/Line inputs with 56dB of available gain, a JFET D.I., a headphone output, left and right monitor line outputs, and an optical input for increased flexibility. Additionally, the phantom power has been isolated to each respective XLR input, meaning you can connect a condenser microphone to one input, and a ribbon to another without the risk of damaging your ribbon microphone.
It's small size, durable construction, and bus-powered nature make it a great interface for traveling or for mobile recording needs. Additionally, it's 24-bit/96kHz analog to digital conversion makes it a great option for high-fidelity recording.
If you're in need of an affordable, great-sounding, mobile and high-quality interface, the Audient iD14 is one of the best if not the best choices for your recording needs. Try this Audient interface or any other in their new line of interfaces.
You can purchase the Audient iD14 for $299.99 USD
Conclusion
Any of the interfaces listed here offer an affordable way to begin recording or to update your interface. The interfaces above demonstrate how different designs, connectivity types, and additional processing options need to be considered when determining which interface will be best for your recording needs.
With that in mind, one of these interfaces is most likely better for your recording needs than the otherslisted , even if the one that serves you best is listed lower our list.
Regardless, if you do choose to purchase one of the interfaces listed here, you've put yourself in a good position to start making great recordings.
If you've already finished your recording, and you now have a mix that you need mastered, send it to us here:
We'll master it for you, and send you a free mastered sample.
Have you tried any of these interfaces?
---