Sibilance...Right when you think you may have made the right adjustments on your EQ and set the compressor just so, a sharp, harsh "s" jumps from your speakers. It seems that without a drastic cut within the ranges of 2-10 kHz your perfect take may not end up so perfect after all. Even then, such cuts could alter the character of your track in an undesirable way. Using an EQ and a compressor we can treat this problem more effectively than with a standard EQ adjustment.
Traditionally, de-essing was achieved by accentuating the problem frequency with an equalizer and feeding the EQ output into the sidechain input of a compressor. This way, whenever the problem "s" sounds were present, the compressor would apply gain reduction. In today's world of audio, standalone de-essers exist both as hardware and software allowing for dedicated units whose purpose is to react to the problem spots in your mixes and masters. This list compiles ten of the best plugin options currently available.
Eiosis E2Deesser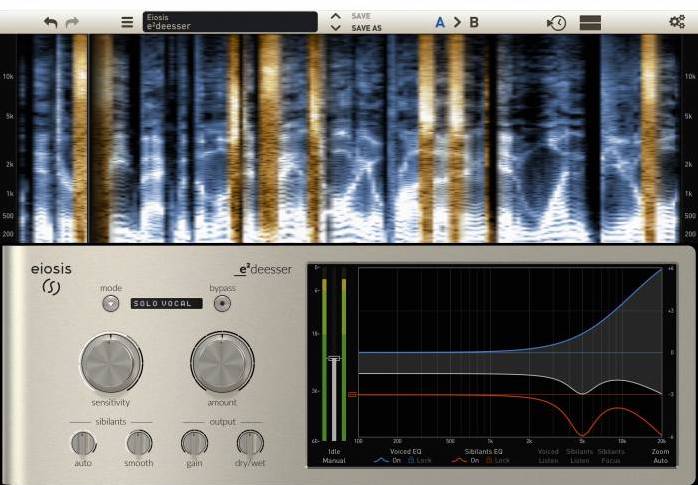 With dynamic equalization, a frequency spectrum analyzer, and automatic sibilance attenuation, this plugin sports increased functionality and flexibility.
Eiosis makes de-essing as simple or advanced as you need with its plugin. The E2Deesser has features for quick setups and fine-tuned settings for hard to fix sibilance in your tracks. The layout starts with the main section. The main section features a mode selection button to change how the plugin reacts to the incoming signal, a sensitivity knob to set how quickly the de-essing kicks in, and an amount knob to change how much attenuation is applied.
For increased control over sibilance, the E2Deesser has a fine controls area with four knobs. Under the sibilants area, the Auto control makes dynamic adjustments to the sibilance in your signal. Increasing this knob also increases the amount of the dynamic changes being made. Paired with Auto is another knob called Smooth. Smooth adds saturation to your track to help offset the high-end sizzle and peaks that can come with harsh sibilance. This adds an interesting way to add color to a track while also accomplishing the primary goal of de-essing. You can also blend your dry signal into the output giving even more control over the tone of your tracks after processing.
To go further, Eiosis added a dynamic EQ section to the E2Deesser for precise adjustments. Using the EQ allows you to bring back high-frequency content to your tracks if your changes have taken out too much character. The plugin also features a Time-Frequency Display which acts much like a spectral editor. Using this display allows engineers to visualize the sibilance in their tracks and make changes based on the real-time analysis. For the ultimate de-essing plugin with features to fit the simplest and most complex situations, check out the Eiosis E2Deesser.
FabFilter Pro DS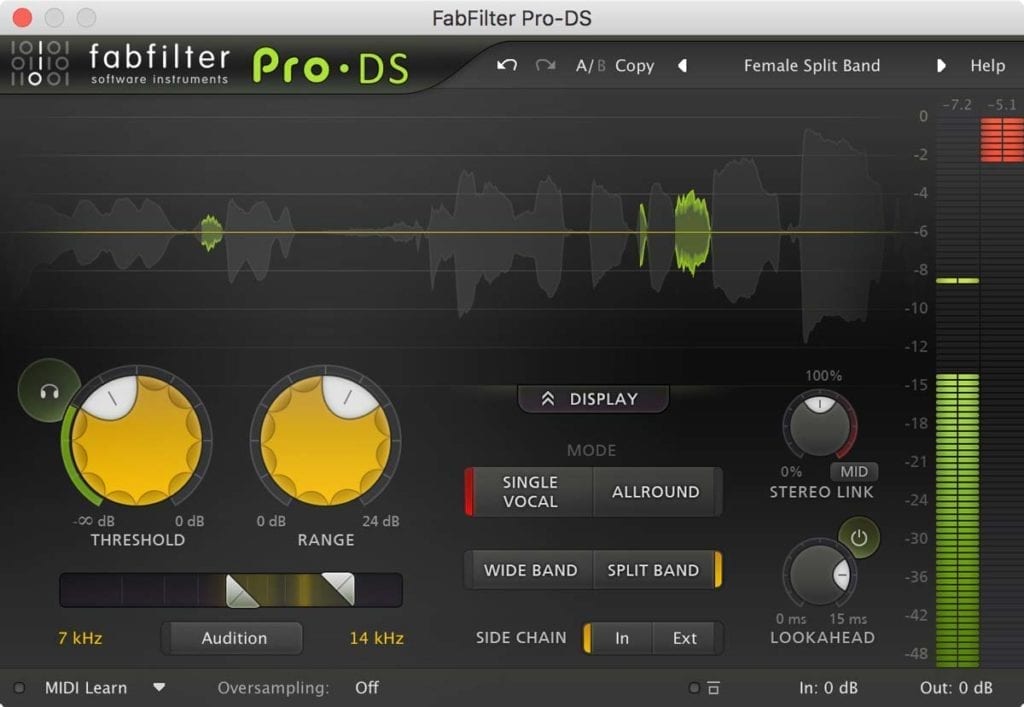 The Pro DS offers incredibly transparent de-essing.
Like all of their plugins, FabFilter's Pro-DS De-Esser aims to be the do-it-all solution to your needs. Featuring one of the best interfaces available in plugins and plenty of useful parameters, the Pro-DS earns its place among the best de-essers on the market. Its detection algorithm aims to be completely transparent in both of its modes. This transparency allows you to use the Pro-DS without the need to add EQ for correction. 'Single Vocal' is the first mode that is optimized for use on vocal tracks and 'Allround' provides a great tool for full frequency tracks or mixes, giving you plenty of options to get the best results for your recordings.
The Pro-DS can be set to act as a wide-band or a split band processor and adds linear phase adjustment to the split band setting. To increase its effectiveness, a look-ahead algorithm is present as well and can be set up to 15ms. 4x oversampling, adjustable stereo link settings and mid/side options give the plugin more options to be your go-to de-esser. With all of these features, mid/side, oversampling, and a beautiful interface, FabFilter has again built a plugin that can handle almost anything. Check it out when mixing or mastering your next project.
Waves Sibilance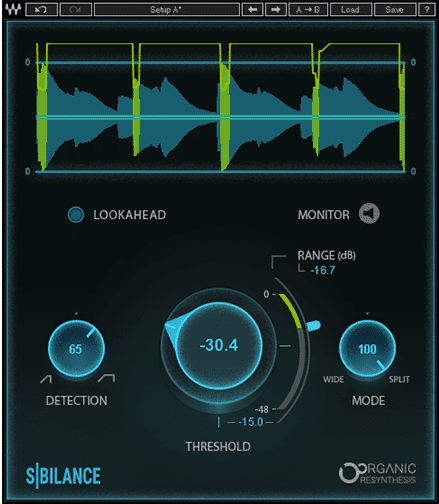 A simple display, band separation, and lookahead capability make the Waves Sibilance a great option for quick and effective de-essing.
While a large amount of de-essers are used for vocal sibilance, there are many reasons outside of vocals that they are used. When designing Sibilance, Waves aimed to build a vocal de-esser that acted transparently and stay focused on the vocal sibilance. Utilizing its Organic ReSynthesis technology, Waves has created a powerful plugin that takes traditional de-essing a step further. Rather than apply gain-reduction to narrow frequency bands alone, Sibilance uses spectral filters to detect peaks in undesirable regions and separates the rest of the vocal signal from them before applying any processing. Doing so allows Sibilance to process only what is creating an issue, leaving the rest of your track's content untouched and clean.
The interface includes a waveform display to allow you to visualize the reduction being applied to the sibilance in your tracks, as well as a threshold setting, mode knob for deciding between wide and split band detection, and a detection control. The simplistic layout makes de-essing a breeze while still providing engineers with all of the tools required to make effective changes to their tracks. To round out the features of Sibilance, a look-ahead algorithm is available so that the plugin can "prepare" for incoming signals and make better adjustments to the harsh parts of your vocal track. This plugin is great for engineers working with harsh vocals and its under-the-hood features make it a very advanced de-esser for any mix.
Sonnox Oxford SuprEsser V3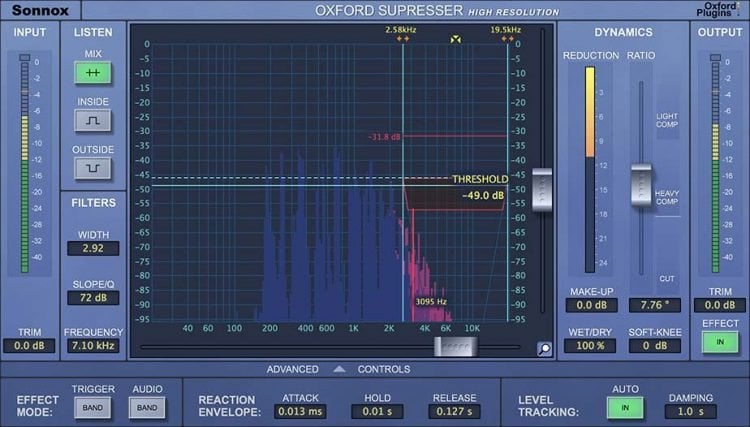 Level tracking allows for consistent sibilance processing with the SuprEsser V3 plugin.
Sonnox does it again with another great plugin. Sporting an advanced interface with many controls, the SuprEsser is a de-esser built for both simple and complex de-essing tasks. With a large waveform display, visualizing your changes becomes incredibly simple to do. Auto Level Tracking provides the SuprEsser with the ability to track changes in the level to apply equal de-essing to tracks that may be loud in one section and quiet in another.
The interface starts with three listening modes to allow for different monitor settings. The mix settings allow you to hear the de-essing in your mix much like a traditional de-esser would do. The other two modes allow you to choose between monitoring the filter output or the band-rejection filter output to make sure that what you are processing is accurate and precise. Setting the threshold determines how much gain reduction is being applied to the material and ratio controls let you dial in the style of compression you would like to use. A wet/dry control and knee settings complete what makes for a complete compressor in the plugin for precise control over dynamics. The Sonnox SuprEsser makes for a great toolset for the advanced or professional engineer. With this feature set, the SuprEsser can be used for a typical vocal session or mastering applications as well. Whether taming a resonance in a mix or using as a focused compressor, mastering engineers will appreciate this plugin's configuration options for their projects.
Softube Weiss Deess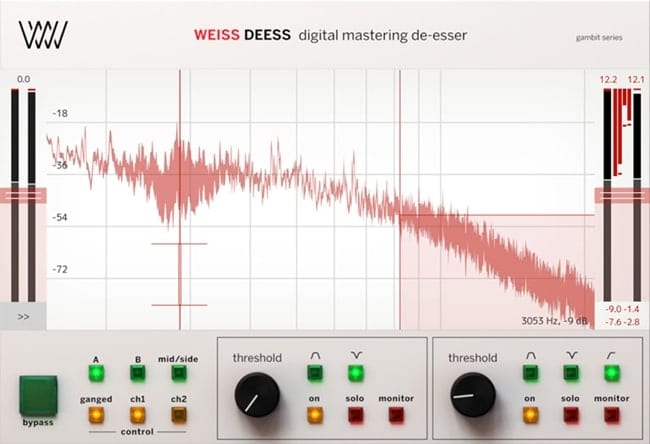 Mid-side processing and high sample rate capability make this plugin a great choice for de-essing during mastering.
Often considered to be the best hardware de-esser ever made, the Weiss DS1-MK3 revolutionized de-essers and became a go-to unit in studios everywhere. Now with the Softube Deess plugin you can have the exact same digital processing right on your computer. The interface allows for simple use with powerful results. There are two separate bands available each with their own parameters. This makes the DS1-MK3 a great tool for hard to fix sibilance that exists in more than one frequency range.
The plugin also offers mid/side control for use in mastering studios as well as a useful waveform visualizer to see and hear what you are changing. Featuring the same code as the hardware version, users have access to the exact processing power of the original unit which boasts internal processing at 88.2 or 96 kHz at 40 bits. For access to what professional mastering studios use for de-essing, check out the Softube DS1-MK3.
Accusonus ERA De-esser Pro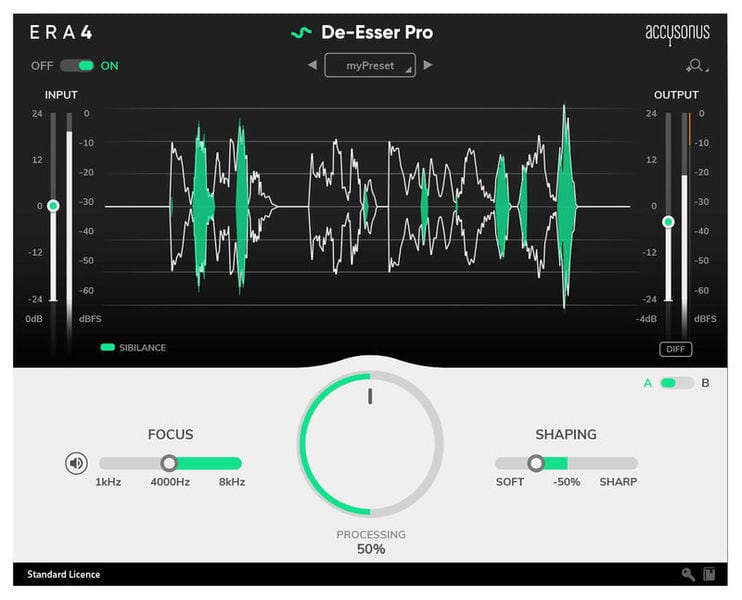 The ERA De-esser Pro offers great results with a simple interface to speed up your workflow.
For those in search of a no-nonsense, easy to use de-esser, the Accusonus ERA De-Esser may for you. Accusonus looked to build a plugin that demands minimum setup with great results. The interface includes a waveform display to visualize the sibilance in your tracks making the process of finding where the harsh spots that much easier. The processing knob controls the intensity of the de-esser.
Fine-tuning controls include the Focus control which allows you to adjust which frequencies the ERA reacts to the most. The other fine-tuning control is Shaping offering a way to soften or sharpen the curve of the de-esser. When moved towards the soft side, the ERA applies a wider curve of de-essing to the material making for a much more natural response from the plugin. Moving the slider towards sharp will give a tighter curve and result when doing precise edits or maintaining character is essential. Rounded out with a difference monitoring option and input/output trims, Accusonics provides a powerful tool with a great interface for engineers of all skill levels.
McDSP DE555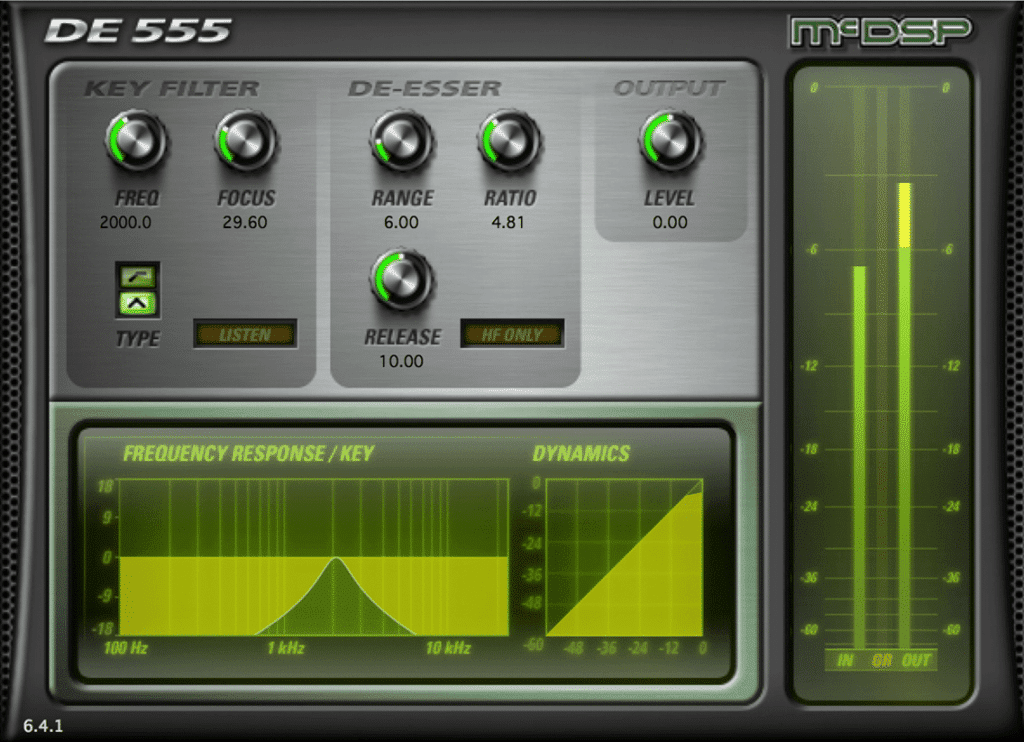 A signal analysis algorithm allows for de-essing at any input level.
McDSP has always done well in the world of high quality plugins. Starting-out in the world of live sound reinforcement McDSP has become a household name due to their lightweight, advanced plugins that offer incredible stability. With their DE555, McDSP takes all of these advancements into the world of de-essing.
One of the coolest features of the DE555 is in how the plugin detects input. Without the need to adjust the threshold settings, McDSP created a signal analysis algorithm that can de-ess effectively with any input level. The key filter settings allow for switching between shelf or band filtering for precise or broad changes. All of the filter settings are also visually represented in the Frequency Response/Key graph. The reduction settings offer many useful parameters for shaping how the DE555 processes incoming sibilance including a ratio, range, and release controls as well as the option to monitor what you are affecting. The McDSP DE555 provides stable and effective de-essing for all of your corrective tasks and features great processing power to remain constant at any level, try it on your next project.
Oeksound Soothe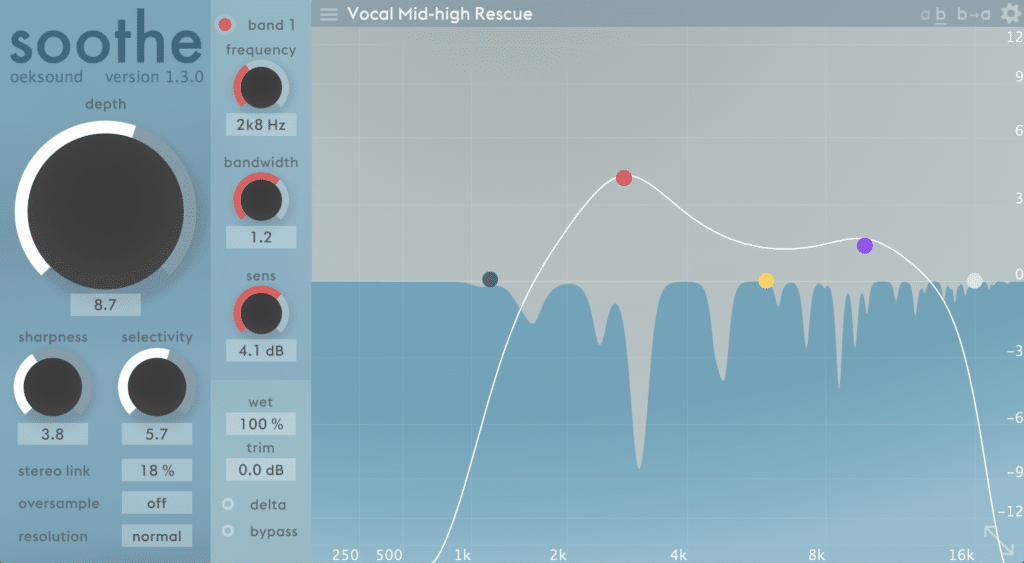 With the Oeksound Soothe, condensed controls allow for an emphasis on a visual frequency spectrum.
Oeksound tackles de-essing a little differently than the other plugins on this list. Soothe is a dynamic equalizer that focuses on high mid correction making it a perfect option for de-essing. With a unique and very clean interface, the plugin offers lots of controls in a small section of the screen so that the majority of the window belongs to a waveform display.
Being a dynamic equalizer, Soothe is constantly monitoring input signal so that EQ bands will adjust to where they are needed. By placing bands where sibilance is occurring, Soothe can have the frequency settings fluctuate in real-time effectively for any of the sibilance in your tracks. It offers up five bands of EQ to give you effective control over troublesome sibilance with many octaves of problem spots. Soothe also allows you to listen to the difference of each band for an added understanding of what is being removed. Added oversampling and resolution control gives users even deeper control on how precise the correction can become. For a different approach to how you do your de-essing, check out Soothe.
Brainworx SPL De-Esser

Brainworx added modern functionality into the classic SPL de-esser with mid-side processing.
The SPL de-esser is a studio legend known to some as one of the best hardware compressors ever built. Brainworx took it upon themselves to recreate the original unit in their plugin. Two versions are available offering a mono or stereo version for use on individual tracks or stereo mixes.
The interface resembles the original with some added functionality only found in the plugin. Mid/Side mode makes its way into the classic design for added functionality to those de-essing stereo mixes such as mastering engineers. A gain reduction meter, auto threshold, male/female detection modes, and an s-reduction amount make up the main controls. For added convenience, an A/B switch was added to compare settings. If classic de-essing is what you prefer, emulation of the legendary SPL De-Esser will give you tried and true results in your projects.
IK Multimedia De-Esser

Straightforward functionality, multiple listen modes, and soft-knee de-essing make this a fantastic option for attenuating sibilance.
IK Multimedia has become a key player in the world of plugins with its T-Racks series.This set of plugins can be used as an entire standalone application for mastering your audio. The De-Esser plugin offers two and three-band operation depending on how much precision you require for your task.
Control over the amount, range, and release make up the core parameters of this plugin, a type-setting is available as well to choose how intense you want the gain reduction to be. Multiple 'listen' modes also you to monitor just the de-essing when required. High quality oversampling and transparent processing complete the package making the IK Multimedia De-Esser a great choice for mixes and masters.
---
Conclusion: For mixing and mastering it is important to remember to choose the right tool for the job. While fixed EQ moves can help fix problem frequencies in a lot of circumstances, there are sometimes that you need the character that comes from having some of that same frequency in your track. Using a de-esser can help alleviate this issue by using thresholds to determine when to apply the reduction of the set frequency. Experiment with de-essing the next time you need to fine-tune the sibilance in one of your tracks.
To hear what precise de-essing and professional mastering can do for your mix, follow the link here for a free mastered sample of your song: https://www.sageaudio.com/register.php
---