Shadow Hills Industries Equinox Summing Mixer and Monitor Controller
SPL MC16 Mastering Monitor Controller
Grace Design m908 Surround Monitor Controller
Crane Song Avocet IIA Monitor Controller
Coleman Audio M3PHMKIII - Monitor Controller
SPL MTC Monitor & Talkback Controller
Antelope Audio Satori Analog Monitoring and Summing System
Dangerous Music MONITOR ST
Burl Audio B26 Orca
Grace Design m905 Analog Reference Monitor Controller
Monitor controllers are an important part of any growing or established studio. If you plan on having more than one set of monitors, or if you'd even simply like to quickly hear your stereo mix in mono or mid-side, a monitor controller is a must-have piece of equipment.
With that in mind, we sought to create a list of the best monitor controllers currently available. Although we won't be able to sample the sound of every controller , this list will still provide a great deal of detail about the connectivity and specifications of each controller.
Additionally, it's important to note that these monitor controllers are listed in no particular order, as each could be beneficial depending on the needs of your studio.
Shadow Hills Industries Equinox Summing Mixer and Monitor Controller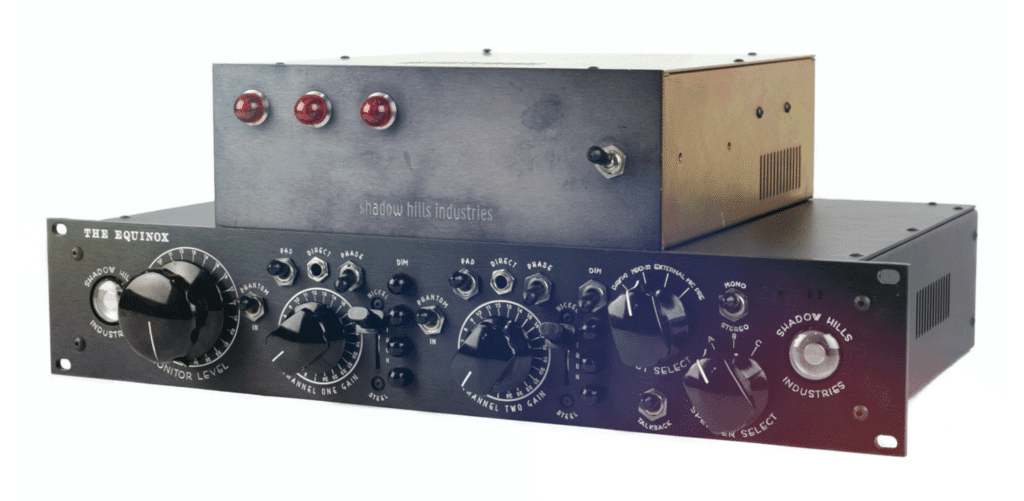 This unit requires a separately sold power supply.
Unlike the other entries that we'll discuss later on, the Equinox Summing Mix and Monitor Controller can do a lot more than simply offer monitoring options. Granted, its monitoring is just as complex as other top-of-the-line monitoring controllers, but we should also consider some of its additional functionality.

The Equinox is capable of monitor control, microphone amplification, and summing.
In addition to a rotary knob which allows you to select 3 sets of speakers and a mono output selector, the Equinox includes 2 microphone preamps, 30 analog inputs that can be summed into left and right outputs, and a selectable transformer section.
The left and right output channels include a respective pad and phase inverter. Additionally, the microphone preamps include direct outputs that can be routed as needed.

The connectivity on the back in strictly analog.
Although the monitor section isn't as robust as some of the other entries we'll discuss, the Equinox Summing Mixer and Monitor Controller is a variable option for monitoring from a highly regarded company.
Current Price: $4845.00 USD
SPL MC16 Mastering Monitor Controller

This unit can handle up to 16 channels of monitoring.
The SPL MC16 Mastering Monitor Controller is a truly unique monitor controller, that allows studios to step forward into multichannel monitoring. Up to 16 channels of monitoring mean you can monitor complex sources , outside the realm of typical stereo mixes.
The SPL MC16 Mastering Monitor Controller runs at 120V, allowing it to operate all incoming and out-going channels at their optimum voltage.

The connections on the back panel are analog, and primarily XLR.
The output section allows you to monitor up to 16 speakers, while 3 presets functions allow you to quickly switch between multiple monitor configurations.
Slo, mute and dim buttons on the front cover some monitoring basics, while the rotary indicates greater than 80dB of dynamic range.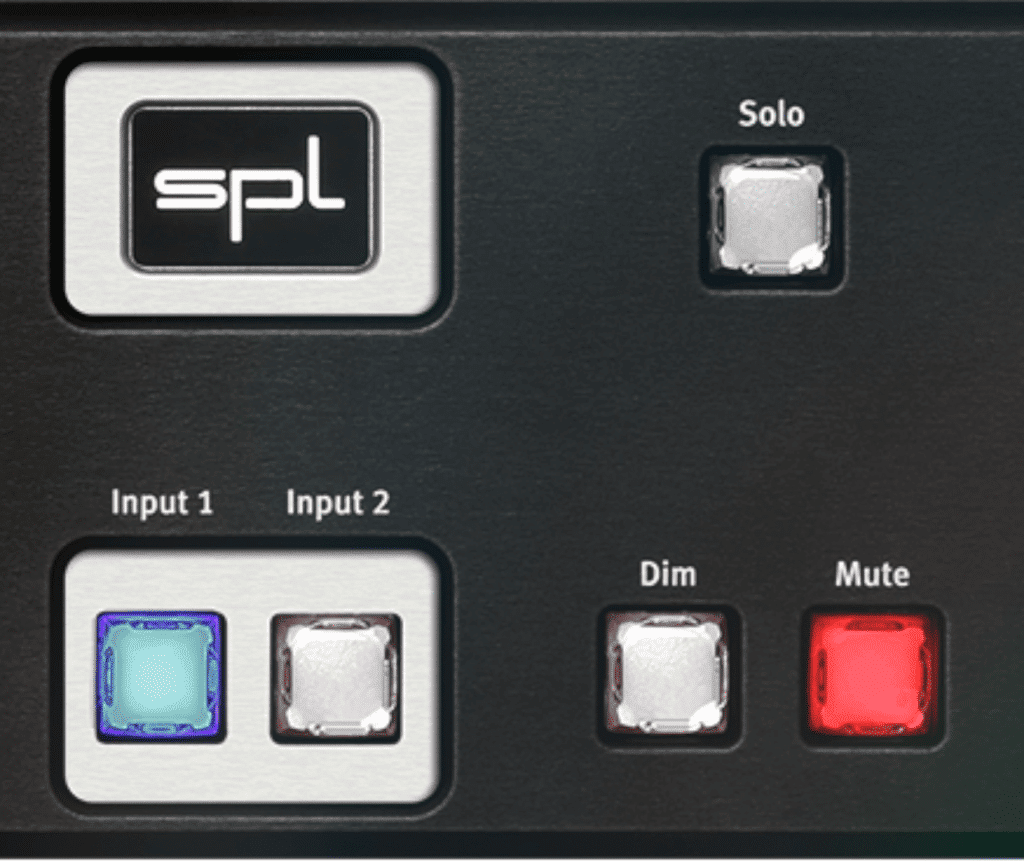 Solo, Dim, and Mute buttons are available on the front panel.
Lastly, 2 input buttons on the front allow you to switch between 2 incoming signal paths via individual sets of your monitor's inputs.
Current Price: $5499.00 USD
Grace Design m908 Surround Monitor Controller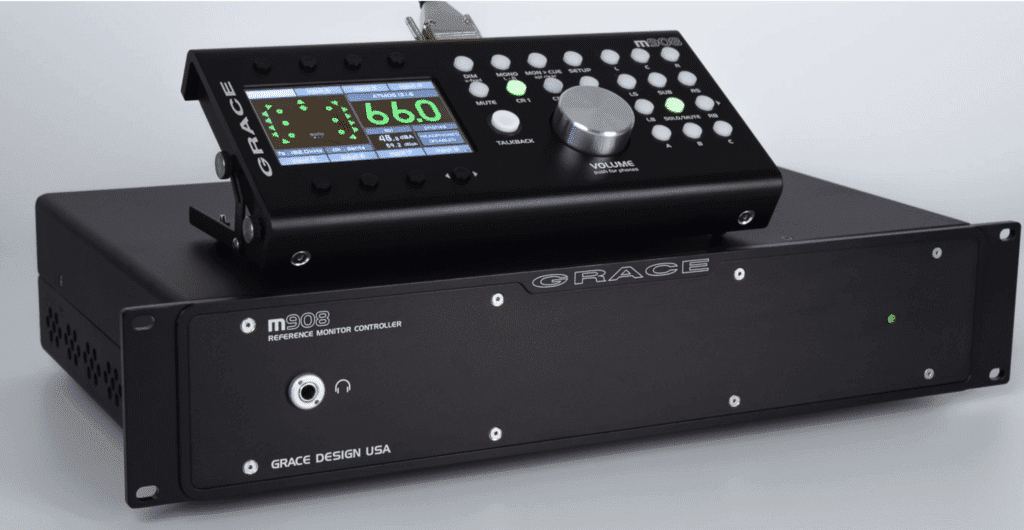 This unit has immense flexibility due to its expansive connectivity.
The Grace Design m908 Surround Monitor Controller is perhaps the most versatile and expansive monitor controller on this list.
The connectivity alone is enough to cover any studio for the next 20 plus years. Whether your setup is XLR, TOSkink, AES3 Digital, RCA unbalanced, or S/PDIF based , you'll be able to configure your routing into and out of the Grace Design m908 Surround.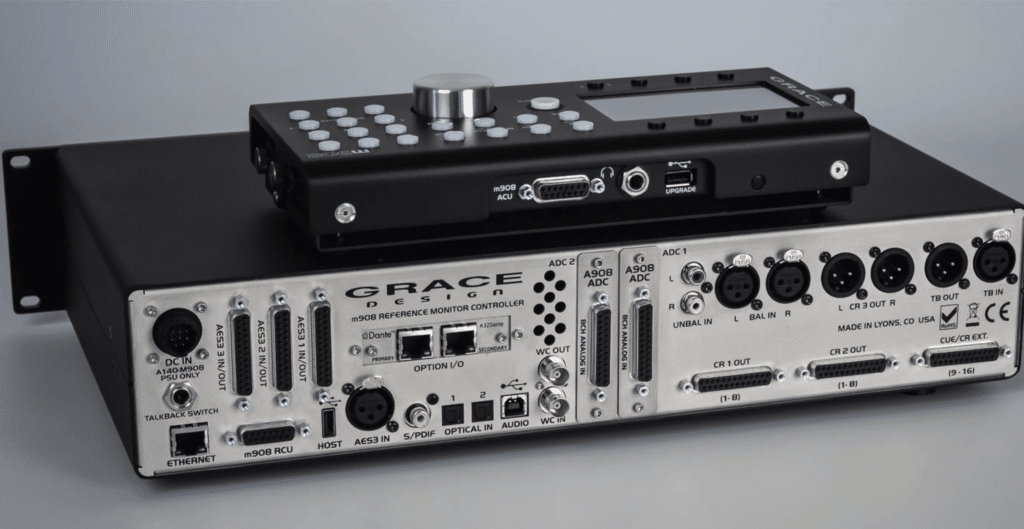 Notice that the back panel includes both digital and analog connections.
Being a surround sound monitor controller, your output can range from a simple 2.1 configuration to an incredible 22.2 speaker setup - that is 22 speakers and 2 subs.
This makes the Grace Design m908 Surround Monitor Controller perfect for any studio that works both on music, and television or film applications. It also makes your studio capable of creating and monitoring media outside the realm of traditional entertainment.
Additional cue paths and talkback make the controller capable of handing tracking and overdub sessions, while channel level and delay calibration allow engineers to dial in the perfect settings to avoid latency or phase cancellation.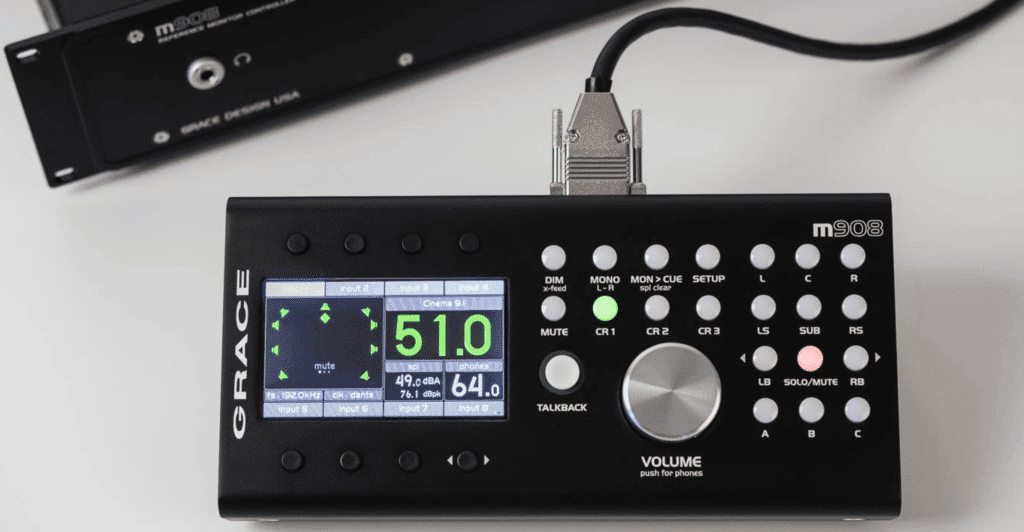 The controller offers in-depth customization of your signal's routing and calibration.
A new clocking system and revised A to D convertors from previous models like the m904 , provide an incredibly clean, transparent, and accurate signal.
Current Price: $7500.00 USD
Crane Song Avocet IIA Monitor Controller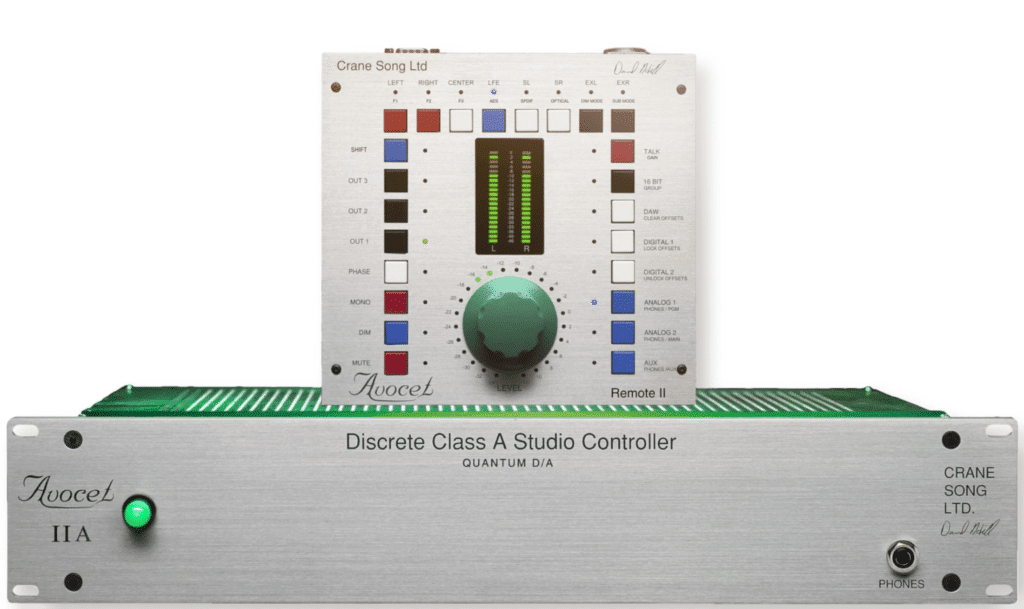 This monitor controller is a popular high-end unit.
The Crane Song Avocet IIA Monitor Controller is a popular monitor controller for a reason. Seen on studio desks in many reputable studios, this monitor controller is both flexible and practical, allowing for advanced monitoring and an accurate sound.
3 Analog and 3 digital inputs and outputs as well as advanced monitoring options via a controller make it a viable option for most studios. Additionally, linking is an option if more inputs or outputs are needed.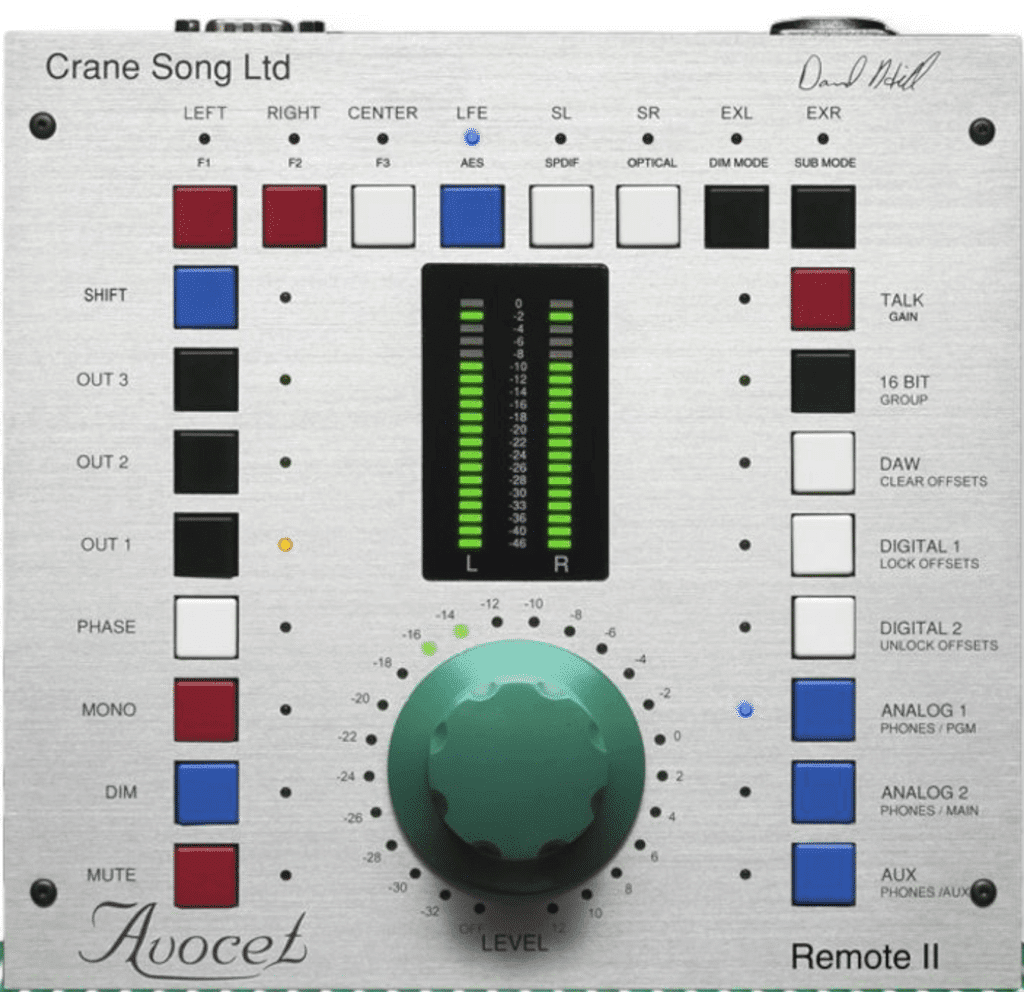 The remote controller contains all of the customization and routing options. In other words, you completely control the unit from this remote.
On the controller, you can select mono, dim, mute, or phase inversion. From this same controller, you can switch between 3 sets of monitors, as well as individually monitor the left, right, and center or mid channels.
Your digital and analog inputs are available from this controller, as is a talkback function for communication during tracking.
Current Price: $3,149.00 USD
Coleman Audio M3PHMKIII - Monitor Controller

This controller has a simple analog setup, perfect for mid-sized studios.
Although advanced functionality is great to have, it never hurts to have a simple and straightforward design. The Coleman Audio M3PHMKIII accomplishes this with bare-bones connectivity and functionality, but with enough versatility to work for most studios.
On the front panel is a headphones input and rotary, next to the monitor level rotary. 4 control room source buttons allow you to quickly change between inputs , while alternate speaker section allows you to switch between your pairs of monitors.

The back panel's connectivity is simple XLR analog inputs and outputs.
Mono, phase inversion, and left and right channel isolation are also available from the front panel.
On the back panel is 8 mono or 4 stereo inputs , and 3 sets of stereo outputs for your monitors.
The level rotary is accurate within 0.05dB , resulting in a balanced listening environment.
Lastly, this unit is rack-mountable, and an individual controller or desk unit doesn't seem to be an option.
Current Price: $1228.50 USD
SPL MTC Monitor & Talkback Controller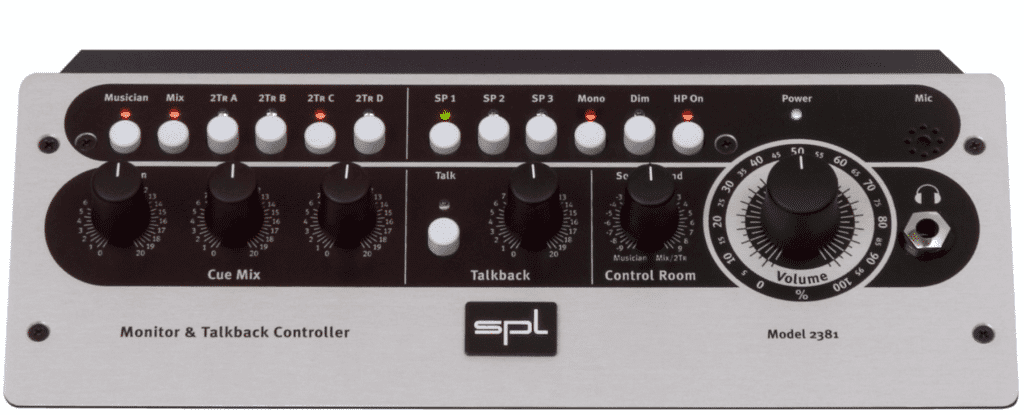 This unit is perfect for smaller to mid-sized studios and comes in at an affordable price.
If you're looking for an affordable monitor controller, but one that doesn't compromise on sound quality or connectivity, the SPL MTC Monitor & Talkback Controller is a great option.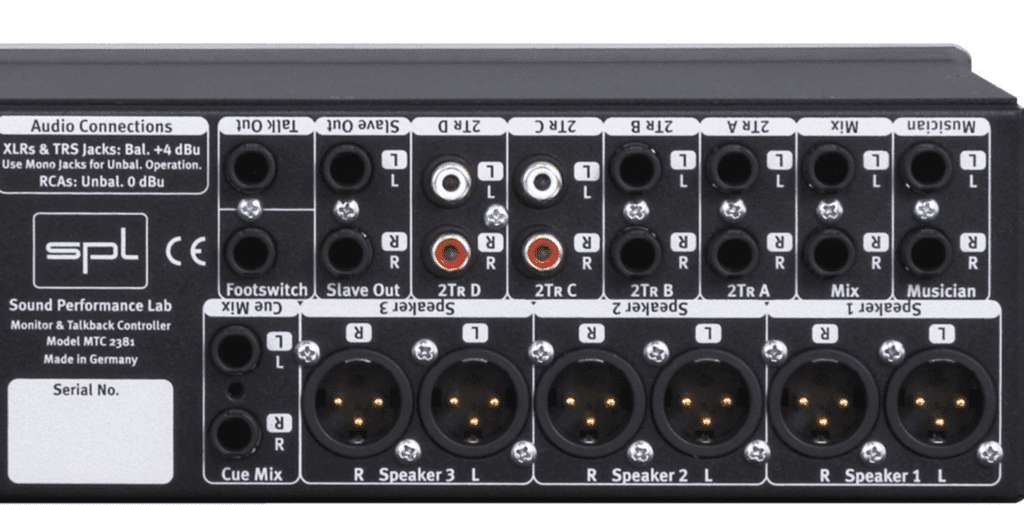 The back panel allows for 3 sets of speakers, and 6 stereo inputs.
Coming in right under $1100 , this monitor controller is a good choice for smaller studios or engineers working within a more confined budget.
This monitor controller allows for 3 sets of speakers, which can easily be switched through via 3 buttons on the front panel. Next to these buttons is a dim, a mono, and an HP or headphone button adding to the unit's flexibility.
The inputs can be selected via this front panel as well, with 6 stereo inputs in total - 4 of which are balanced and 2 are unbalanced.
A built-in talkback function and mic, as well as 3 separate cue mixes for tracking, make the unit even more versatile. The talkback function can also be turned on via a separately sold footswitch.
Just as importantly, the routing in this controller is entirely analog, meaning that reducing the volume of your monitors does not reduce the bit depth. In turn, you retain the full dynamic range of your mixes and masters, even when monitoring at lower levels.
Lastly, this controller is designed to sit on your desk, next to a monitor, or maybe your computer - not mounted in a rack unit.
Current Price: $1099.00 USD
Antelope Audio Satori Analog Monitoring and Summing System

This unit offers analog connectivity along with digital integration.
Advanced connectivity and a compact one rack unit design make the Antelope Audio Satori Analog Monitoring and Summing System a unique and impressive monitor controller.
As the name suggests, this unit is also great from summing multiple sources (up to 8 analog channels) and converting them using Antelope's custom D to A and A to D convertors.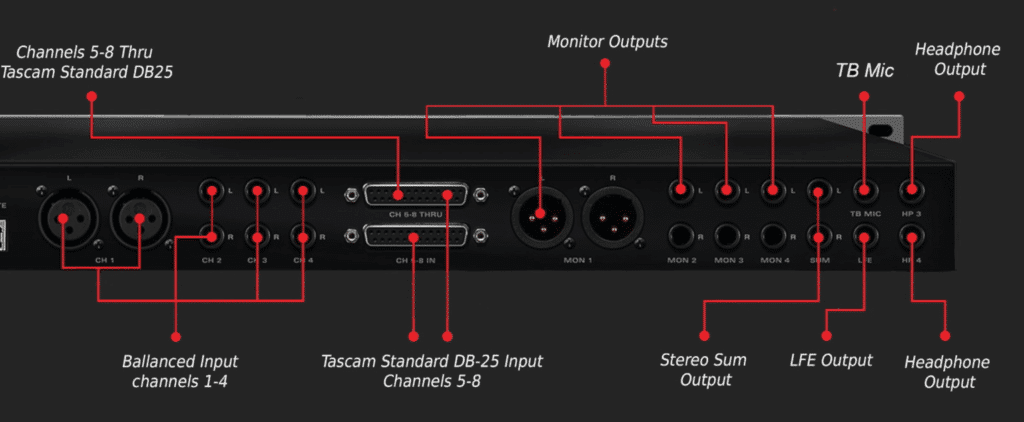 The back's inputs are all analog and include an additional 2 headphone outputs - perfect for cues.
As for monitoring, 8 stereo inputs and 4 stereo outputs give engineers some options. Up to 4 sets of monitors can be easily selected via the front panel of the device or with the remote controller (which is included in this bundle).
4 headphone outputs are available on the rack-mounted unit with 2 on the front and 2 on the back panel, yet the rest of the functionality is available on both the controller and the remote controller.
This includes mono, dim, and mid/side monitoring options , with a sub button to isolate the sub speaker accessible from the remote.
Talkback options are available on both units, as are the internal microphones needed for talkback.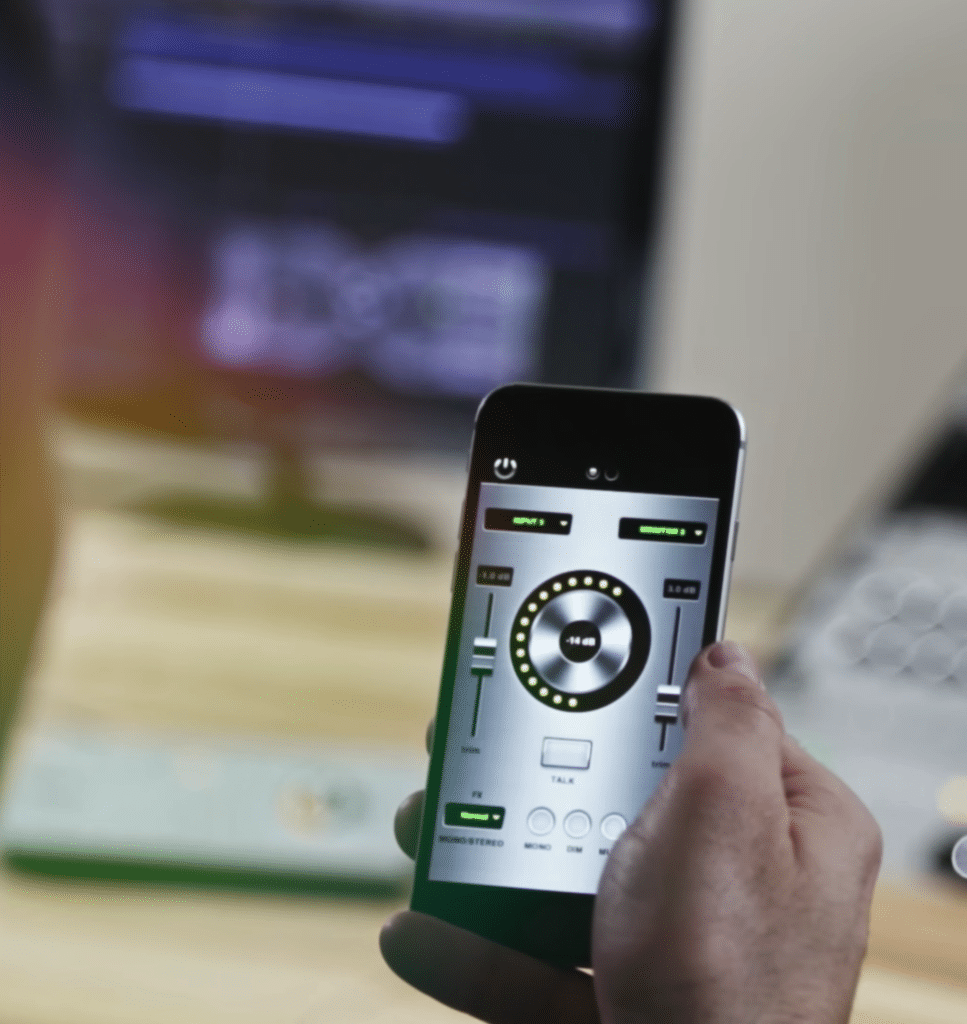 An app is available for both DAWs and handheld devices.
Additionally, a digital version of the interface is available and can sync with your hardware, making it easy to adjust your monitoring from your digital workstation.
Like the Coleman audio monitor controller, this unit also boasts 0.05dB accuracy to the original source.
The Antelope Audio Satori Analog Monitoring and Summing System is moderately priced, making it a suitable option for both professional studios, and independent engineers.
Current Price: $1995.00 USD
Dangerous Music MONITOR ST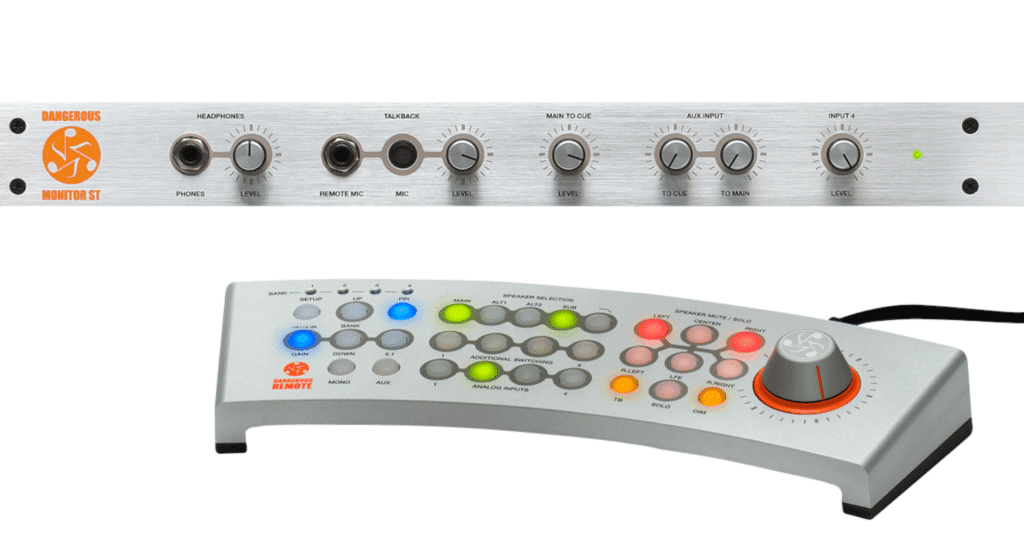 This unit is an all-analog console with a completely digital remote.
The Dangerous Music MONITOR ST gives you the best of both analog circuitry and digital control.
The unit is comprised of completely analog routing, while the remote connects via an ethernet port. This remote is completely digital, but no audio is sent via this remote - it's simply a digital controller for the analog unit.
In other words, any changes you make via the remote control occur in the actual analog unit, not digitally or internally with the remote.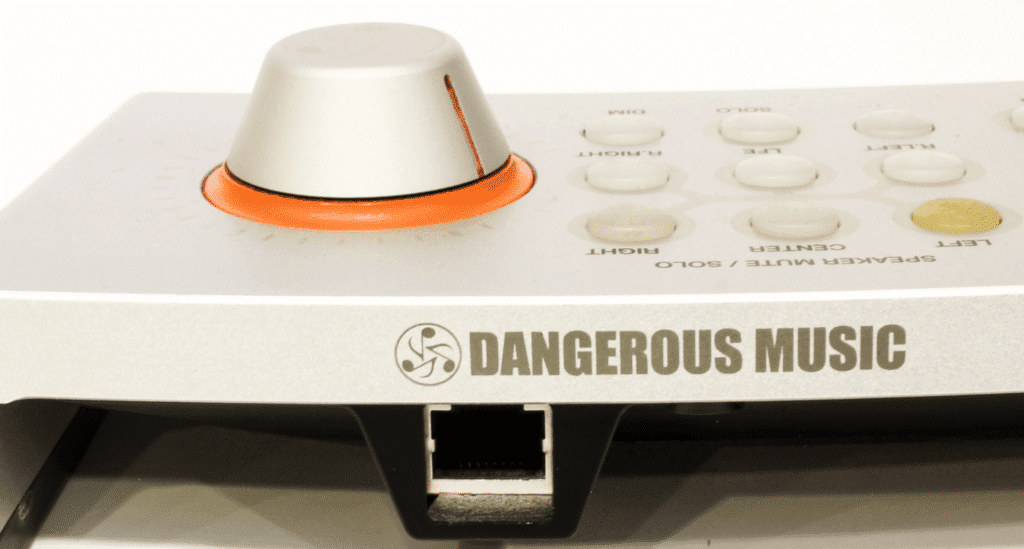 The remote connects with ethernet, and digital controls the analog components of the console.
Being analog controlled via digital processing,the remote is completely programable with up to 4 separate banks.
The remote allows you to solo your left, right, or center channel, as well as dim the full signal.
From the remote, you can also select your main speakers and two alternate sets. Furthermore, you can select 4 separate analog inputs.
On the controller, you'll notice a headphone output and a respective level rotary for quick headphone monitoring - as well as your remote talkback mic.
This mic can again be triggered via the original remote, or a separate remote.
Lastly, additional cue output and auxiliary inputs give engineers extra flexibility and the ability to cue in musicians during a tracking or overdub session.
A moderate price tag makes this unit great from professional studios, home studios, and serious engineers.
Current Price: $1999.00 USD
Burl Audio B26 Orca

The B26 is a simple unit, similar to the Coleman M3PHMKIII.
Like the Coleman Audio M3PHMKIII, the Burl Audio B26 Orca is a bit more simplistic in its design - but still offers enough functionality to make the purchase worth it.
3 stereo mix inputs, 2 stereo returns, a stereo RCA input, and 2 stereo outputs for monitoring provide engineers with some options. The monitoring outputs have been split between a Studio side, which is meant more for sending signals to a tracking room, and the Control side, used for sending signals to the control room.
The control room monitoring is more accurate than the Studio side, due to the 0.1% matched resister associated with the stepped attenuator or volume rotary.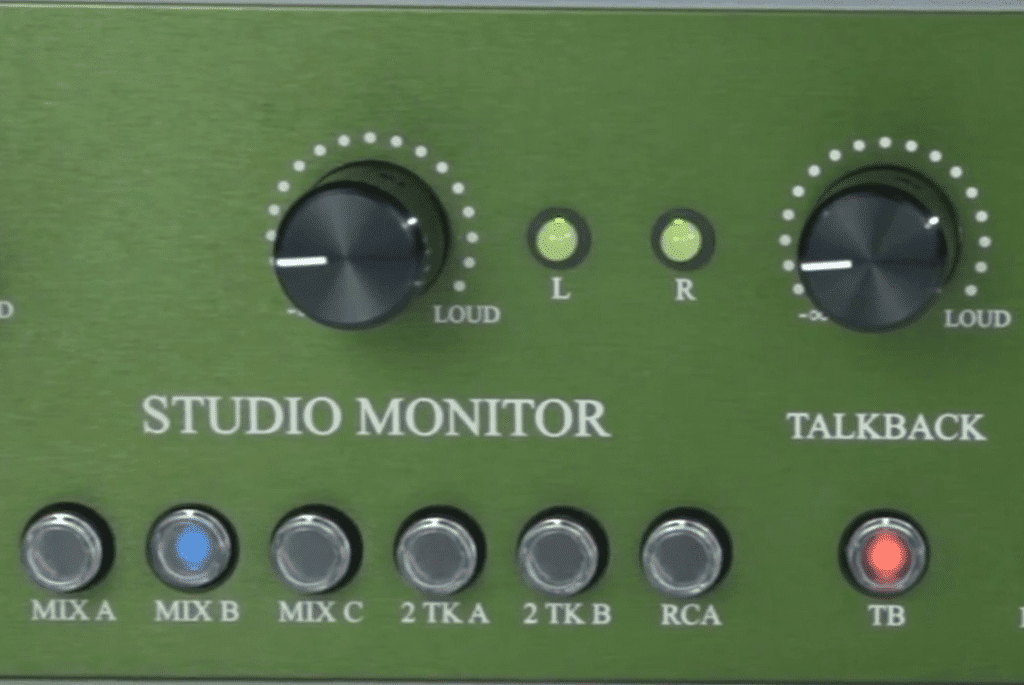 The studio monitor is tied to a typical rotary, while the control room monitoring is tied to a matched resister that provides additional accuracy.
Additional outputs include metering outputs used to measure the loudness of the signal (the metering unit is not included).
2 headphone outputs are available as well , with the control room headphone output following the stepped attenuator, while the headphone output on the studio side has its own rotary.
It should be noted that the headphone output on the control room side is more accurate, as its amplification is associated with the 0.1% matched resister.
Current Price: $3499.00 USD
Grace Design m905 Analog Reference Monitor Controller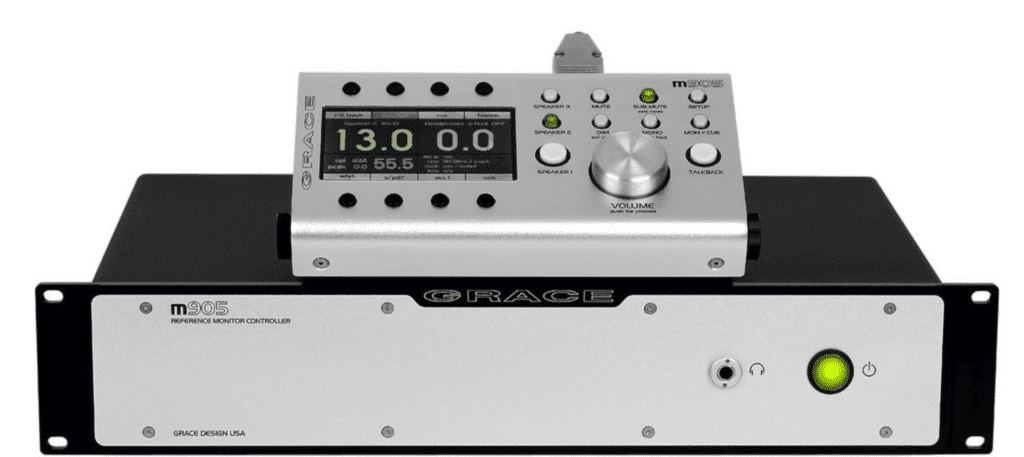 Like the m908, the m905 offers advanced connectivity.
Last up is the Grace Design m905 Analog Reference Monitor Controller, a scaled-down version of the previously listed Grace Design m908 Surround Monitor Controller.
Although this model isn't capable of performing 22.2 surround sound, it does sport the same convertors, low jitter word clock, and advanced connectivity if you choose the analog and digital version . The strictly analog version has less connectivity.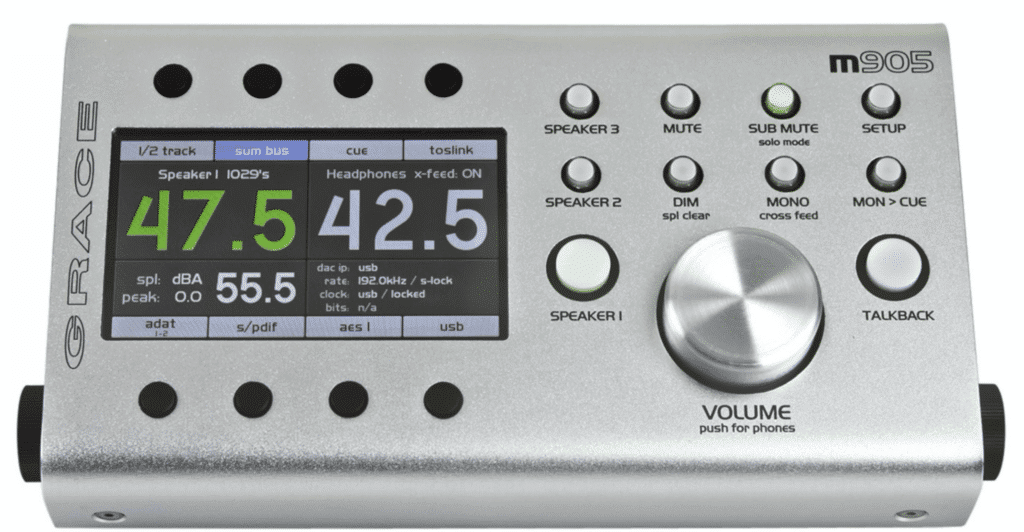 The controller allows for advanced signal customization.
The m905's remote control has mute, sub-mute, dim, and mono options, as well as 3 speaker options. A talkback microphone is built into the remote control, but you can connect a different talk microphone to the back panel of the unit.

Like the m908, the m905 offers digital and analog integration.
Within the digital interface of the remote control , you can alter the calibration settings as well as pick your clock source, level-offset, and change a multitude of other settings.
If you're looking for an advanced monitor controller, one that can support both analog and digital connectivity, the Grace Design m905 Analog Reference Monitor Controller is a great option.
Current Price: $2750.00 - $3510.00 USD
Conclusion
The key to finding the right monitor controller for you is to consider what connectivity you need to properly route and monitor your signal.
If you plan to mix and master music for film or maybe some more advanced mediums, than a monitor controller that supports surround sound and delay calibration, is a good choice.
If you plan to solely create music via stereo mixes, then something like the Burl Audio B26 Orca, or Coleman Audio M3PHMKIII will be better for your studio.
Whatever you choose,the monitor controllers listed here offer a great transparent sound. In that regard, it's difficult to go wrong with any of the products shown here.
If you have a monitor controller that you love but wasn't mentioned here, let us know in the comment section of the video!
---