DYNASAUR - Analog Obsession
OTT - Ofer Records
Convergence - Cut Through Recordings
Top 3 FREE Mastering MULTIBAND Compression Plugins in Detail
Multiband compressors are incredibly useful; unfortunately, they typically aren't the most affordable plugins.
Additionally, finding free ones isn't easy either, especially ones that are compatible with Mac.
Luckily we came across a few that can improve your mixes and masters.
The 3 multi-band compressors that we'll discuss here can each be used for unique purposes, and have a distinctive sound.
We'll cover the functionality of each one of these plugins, discuss how you can use them for mixing and mastering, and then listen to examples of each in the video embedded above to get a better understanding of how each one works.
DYNASAUR - Analog Obsession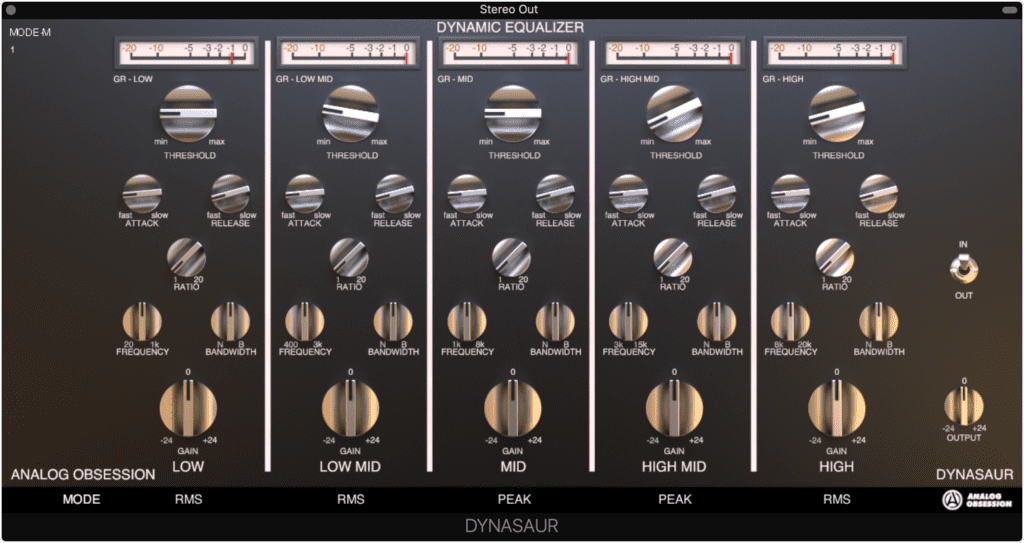 Dyansaur is a multiband compressor, with multiband limiting and equalization capabilities.
We've talked about this plugin on our channel before, and for good reason. It's a great plugin that makes multi-band compression easy.
Whereas other multi-band compression plugins can be convoluted, DYNASAUR is nicely designed and shows the developer's attention to detail. For example, the reflections have been animated into each dial - something that you don't see all too often in freeware.
Regarding the functionality, the signal is broken up into 5 bands:
Low
Low-Mid
Mid
High-Mid
High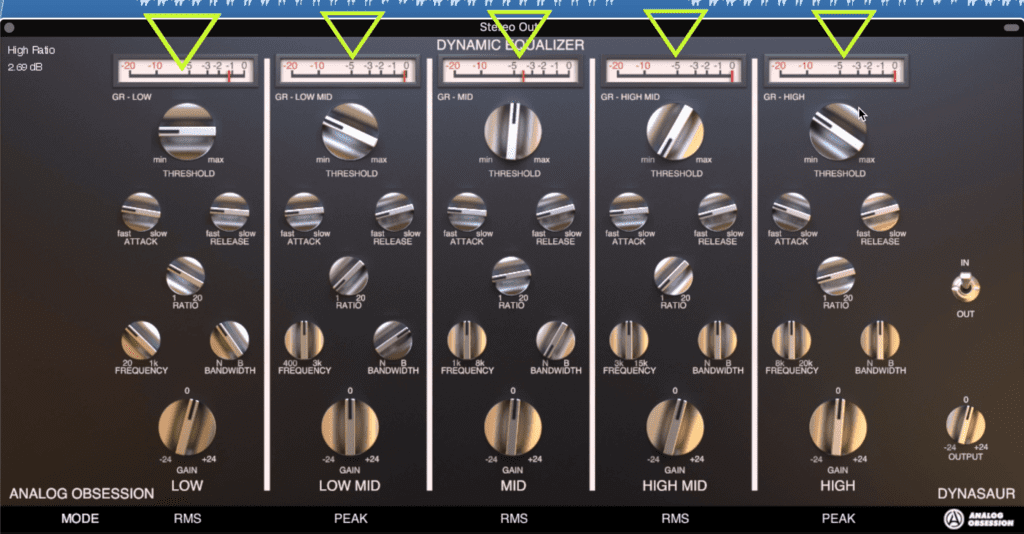 The signal is broken up into 5 bands.
All of which have variable frequency ranges which can be observed underneath their respective frequency dials.
Up top, we have the gain reduction meter for that band, as well as a large threshold dial.
The attack of each band ranges from 1ms to 50ms, and the release from 30ms to 3 seconds.
The ratio can be a linear 1:1, or 20:1 which almost makes this plugin a multi-band limiter.
The bandwidth function makes this plugin, not just a multi-band compressor, but also a multi-band dynamic equalizer.
By narrowing the bandwidth you can adjust how much of the overall band is compressed.
The gain for each band, as well as the overall output gain, can be adjusted.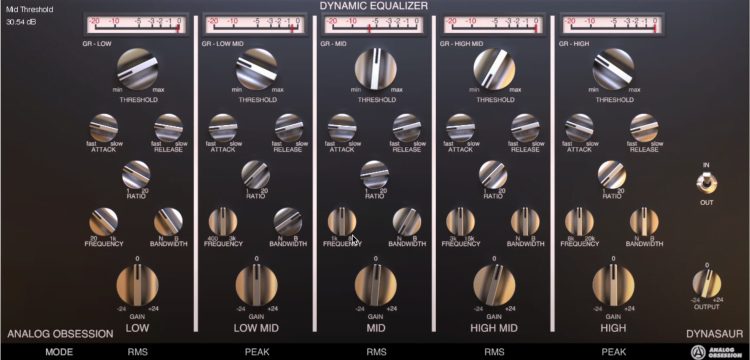 The detection can be peak or RMS.
Furthermore, the detection can be switched from Peak to RMS, which adds a lot of versatility to the plugin.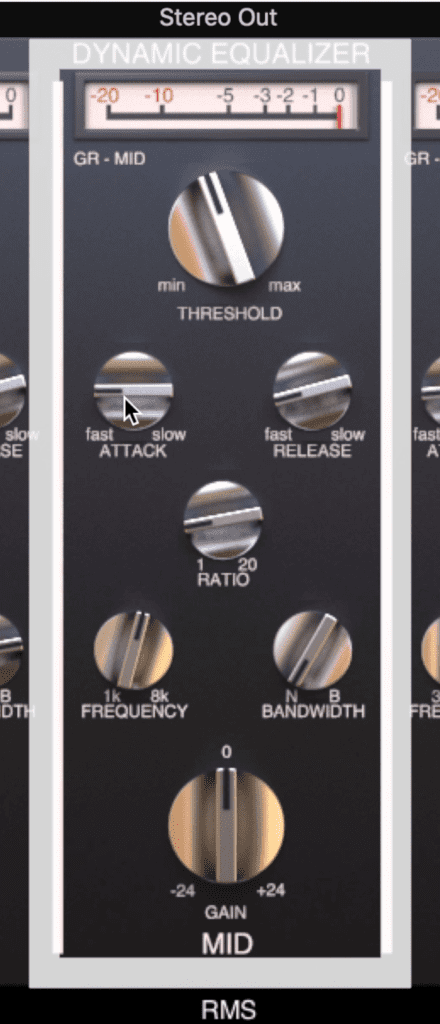 Mids often can be compressed using RMS for a smoothing effect.
So if you want to control or attenuate your peaks, use the peak function. If you're trying to control average levels select RMS. This is especially helpful for mid frequencies that don't have quite the dynamic range as the low end with its kicks and snares or the highs with high hats.
Due to the plugin's versatility, you can use it for mastering, de-essing vocals or de-essing during mastering, and general compression.
For more free plugins, check out this video:
OTT - Xfer Records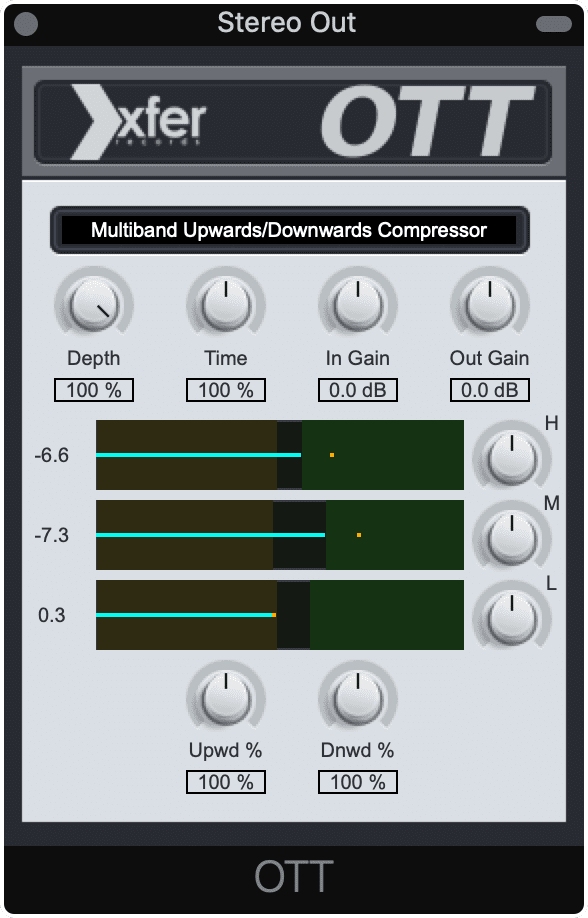 OTT is a low-level and downwards compressor.
OTT or the Over-the-top Compressor by Ofer Records is a unique one. Although it's a great option for EDM producers that want to squeeze as much as they can out of a track, I've found that it works great for mixing when used at lower levels.
In short, it's a multi-band upward and downward compressor but let look at it in more detail.
Think of the Depth Dial as your wet/dry for the plugin. It determines how much of the original signal gets affected. You might notice that this is better left at a lower level due to the plugin's aggressive sound, but this is up to you and what you're trying to accomplish.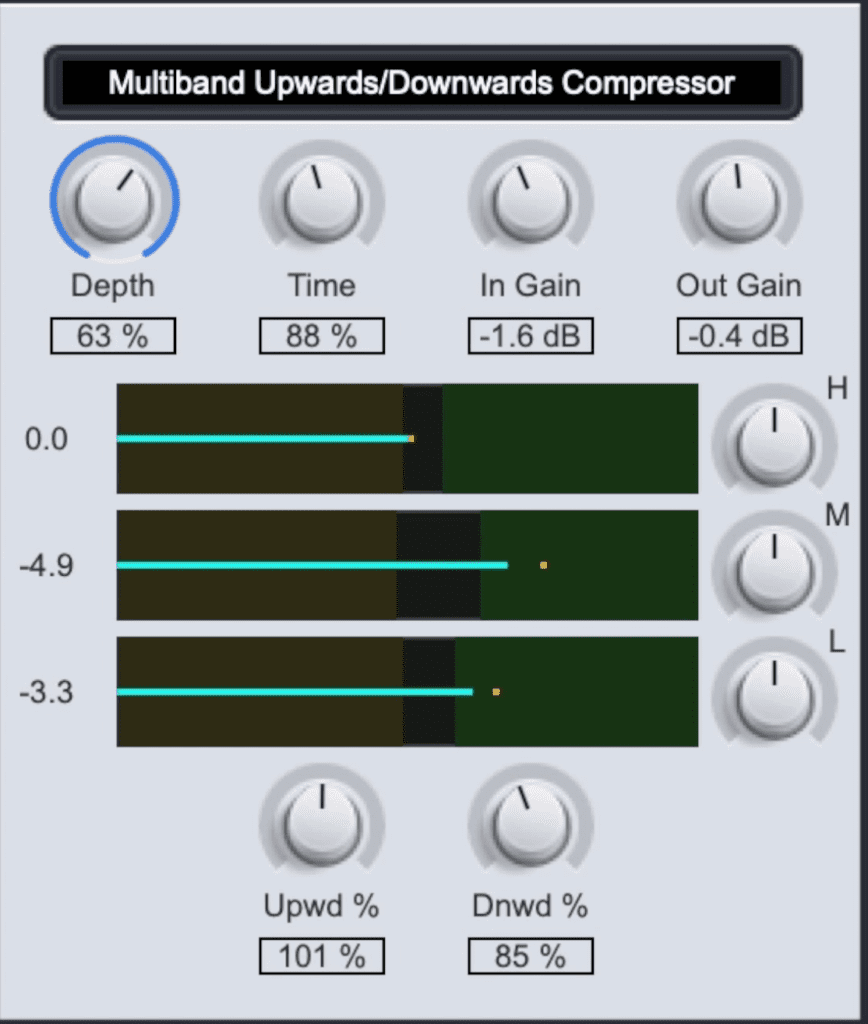 The Depth dial up top is a wet/dry
Time adjusts the time for your attack and release. A lower percentage is a quick attack and release, and vice versa.
Lastly up top is the input and output which work as you'd expect.
In the middle are your 3 bands arranged top-down as High, Mid, and Low.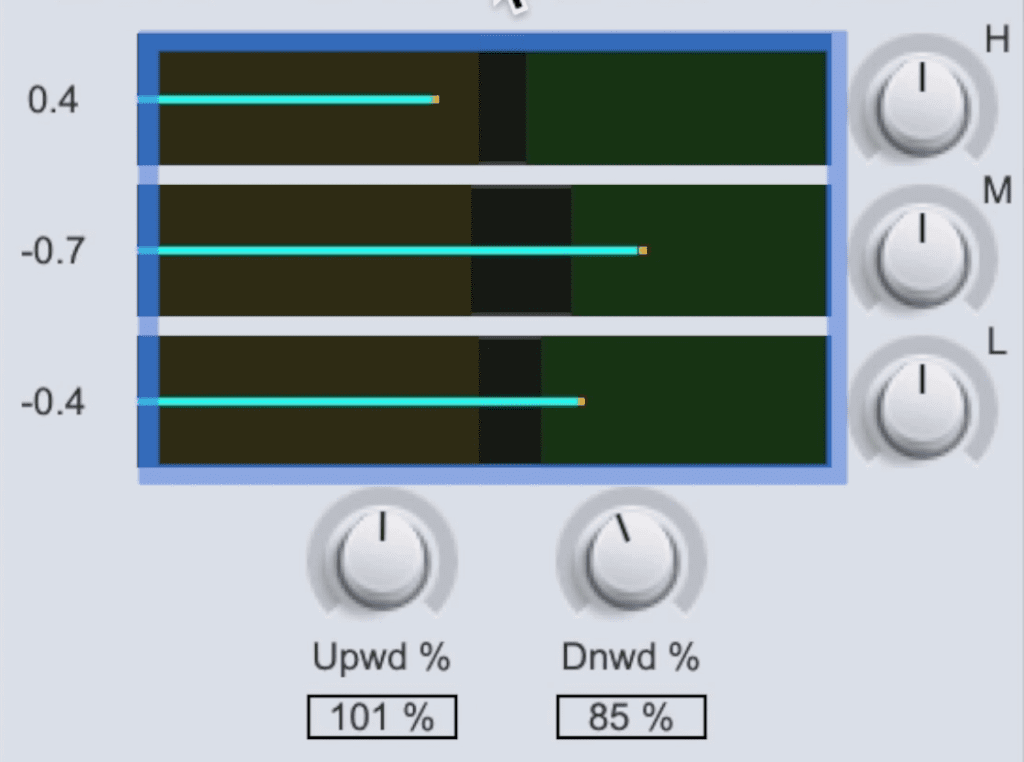 The 3 bands in the middle are top-down High, Mid, and Low.
The brown bar is your upward compression, the dark middle section is the threshold, and the green bar is your downward compression.
By dragging the middle darkened bar, you're essentially telling the plugin, everything below this level is getting compressed upward, and everything above this level is getting compressed downward.
So notice that as the bar is dragged to include more green than brown, the level on the left is showing downward compression or attenuation the more that the signal goes over the darkened bar.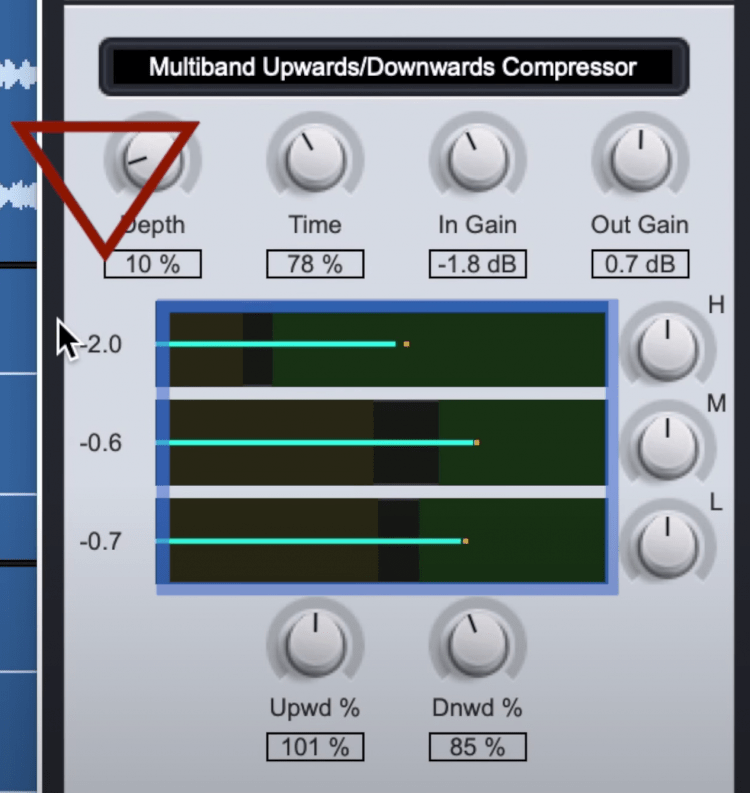 Notice how the gain to the left changes when altering the bands.
Inversely, if I drag the bar in the opposite direction to include more brown than green, the level is being amplified.
To the right, you can increase or decrease the overall amplitude of the high, mid, and low bands.
Lastly at the bottom, if you want to completely avoid upward or downward compression, you can reduce their dial's percentage to zero. Or you can make the effect up to 2x as intense by increasing the dial to 200%.
Use these dials in tandem with the depth dial to really fine-tune how much of the signal is being compressed, and if that compression is upward or downward.
Although I don't use this plugin when mastering, I could definitely see how it would be useful for some genres.
I like using upward compression when mixing, to bring the detail of a guitar or drum forward, in turn reducing the need for downward compression and limiting later on.
For more free plugins, check out this video:
Convergence - Cut Through Recordings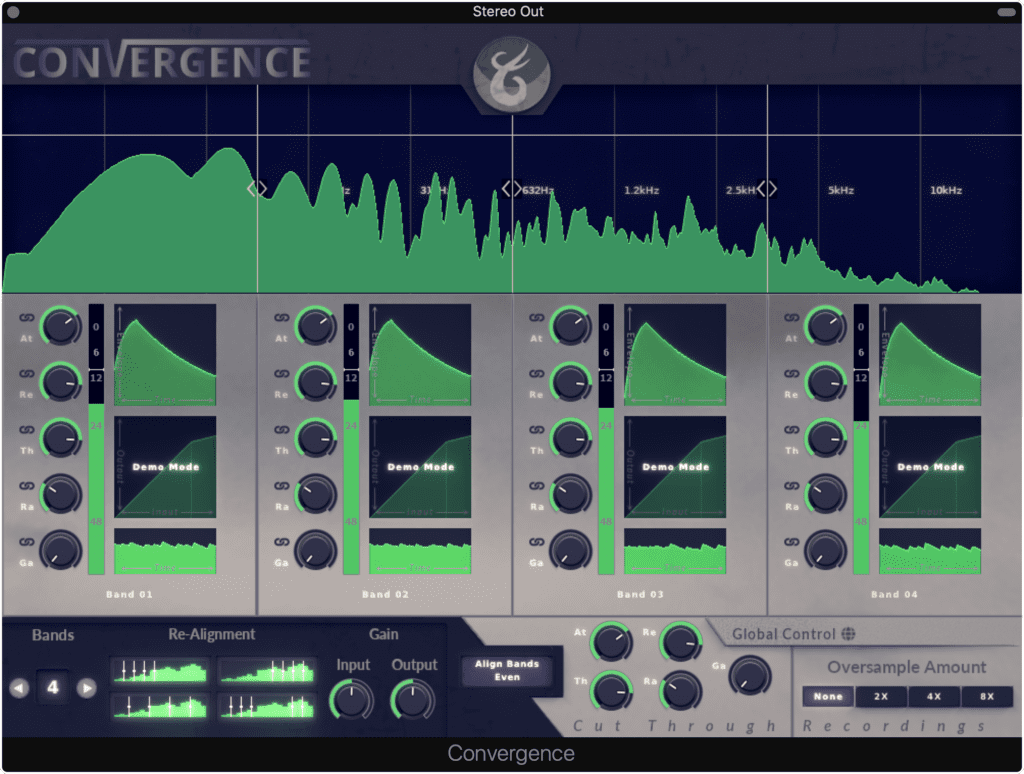 Convergence is a modern looking and sounding multi-band compressor.
Last up we have the demo mode of Convergence, a multi-band compressor that has a more modern interface and functionality.
To be completely honest, I'd use one of the other 2 listed previously before using this one, but it's an option nonetheless that still offers a good sound.
In this demo version of the plugin, the signal can be split into up to 4 bands, but less can be used as well.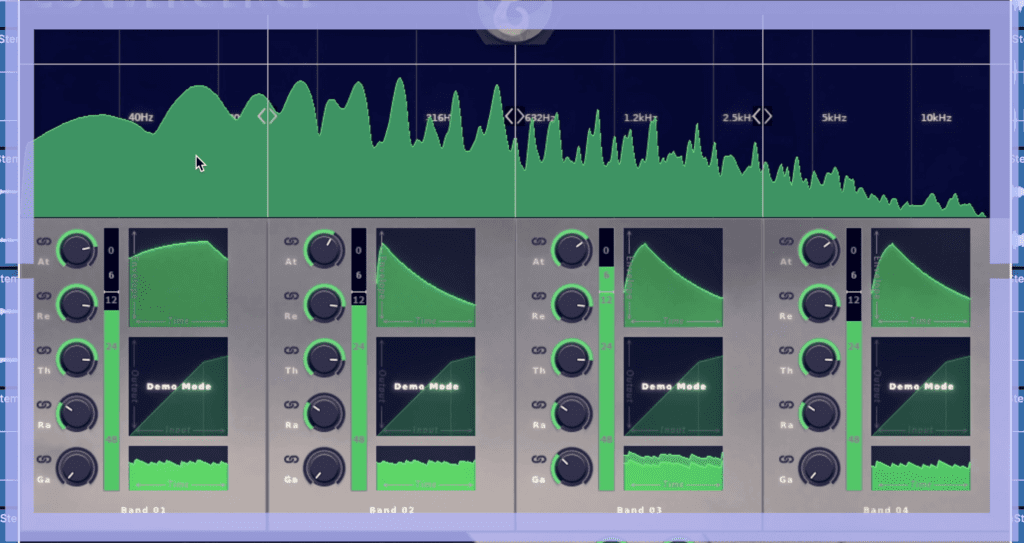 In the demo mode, the signal can be separated into 4 bands.
Up top, you can drag the band's crossover to change what is being compressed. Additionally, you can affect the attack and release of each band, which is illustrated in the small window to the right of each set.
The attack ranges from 100 microseconds to 2 seconds, and the release from an incredibly fast 1 microsecond to 2 seconds.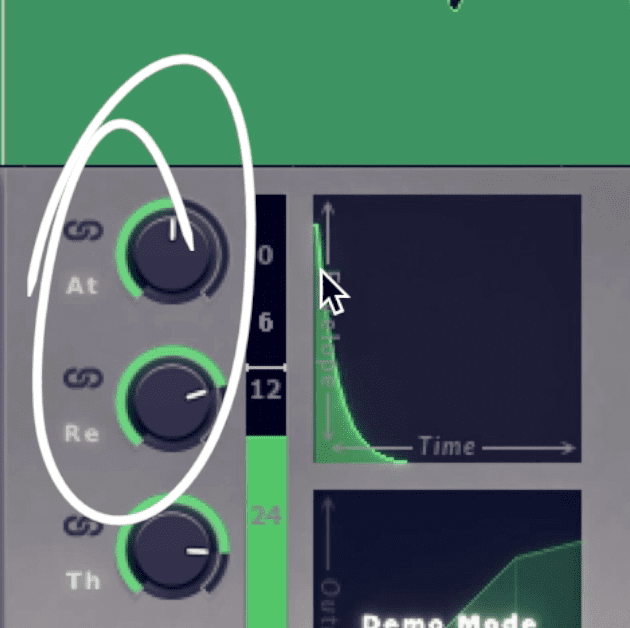 The quick attack and release times for this plugin make it unique.
The threshold for each band can also be controlled independently, as can the output gain of the band.
Unfortunately,the ratio for each band is locked at 4:1 in this demo version.
The orientation or alignment of the bands can be quickly altered by clicking the images in the bottom left. Additionally, the number of bands can be adjusted in this section.
In the global section, you can adjust all of the attacks, releases, thresholds, and gains of the 4 or fewer bands simultaneously.
Lastly, the demo version allows for 2 oversampling, which is great if you're using heavy compression or very fast compression settings.
Conclusion
Although we wish that there were more free multi-band compressors available, it looks like for the time being, we have these 3.
Fortunately, they're great at covering the bases and are versatile enough for a lot of different mixing and mastering purposes.
If you're looking for near limiting ratios and the ability to dynamically equalize a track, try the Dynasaur.
If you're interested in low-level compression, the OTT is a fantastic option for both mixing and mastering.
And if you want incredibly quick attack and release times, and you don't mind a fixed 4:1 ratio, try Convergence.
---