Best Free Vocal EQ - Overtone GEQ by Voxengo
Best Free Vocal Tuner - MAutoPitch by Melda Audio
Best Free Vocal Doubler - Vocal Doubler by Izotope
Best Free Vocal Saturator - BPB Saturator by Bedroom Producers Blog
Best Free Vocal Compressor - MCompressor by Melda Audio
Best Free Vocal Reverb - Supermassive by Valhalla
Best Free Vocal Delay - FreqEcho by Valhalla
The effects that we've chosen here are some of the best that we've come across. These plugins can hold their own against many paid plugins if not outperform some.
With that in mind, let's cover the functionality of each plugin , consider why it works well for producing and processing vocals, and then listen to examples of each effect on a vocal stem to better understand them.
Best Free Vocal EQ - Overtone GEQ by Voxengo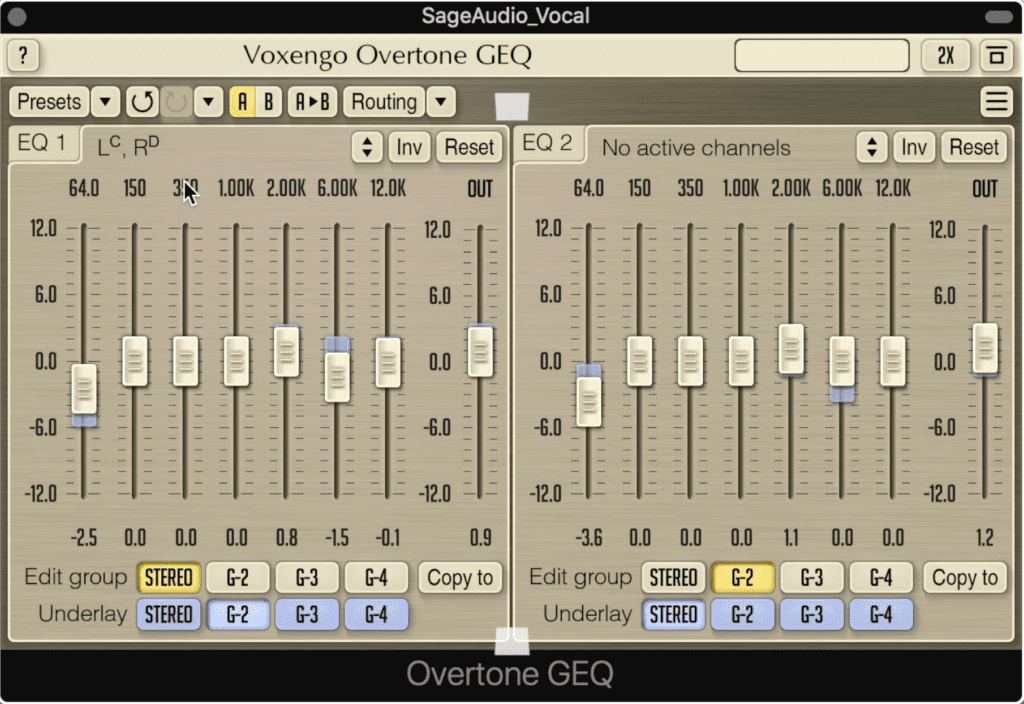 The Overtone GEQ both equalizes and adds harmonics.
Overtone GEQ is a fantastic plugin that both equalizes a signal and adds subtle harmonic content. This means that it allows you to alter the frequency response of your vocal while simultaneously making your vocal sound full and impressive.
The plugin separates the signal into left and right channels, but this can also be altered to mid and side; however, your vocal will most likely be mono.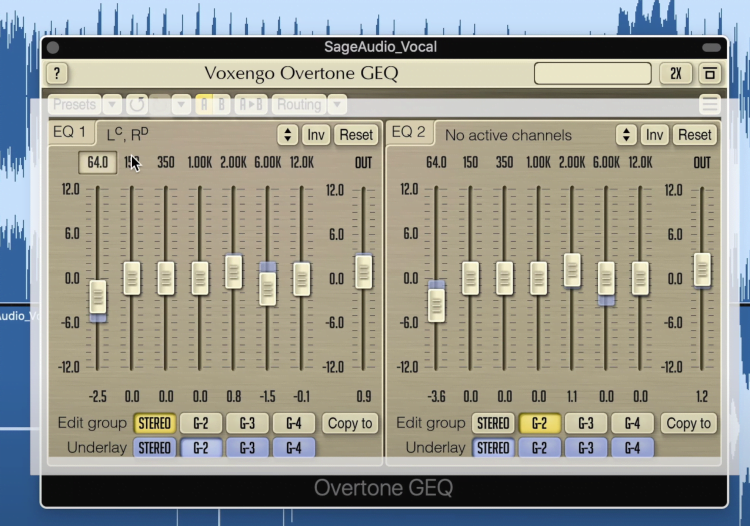 The signal is separated into left and right channels but can be kept mono.
Each side lets you affect 7 bands which can have their frequency altered anywhere from 20Hz to 21kHz. Additionally, there's an output for each channel.
Up top, you can increase oversampling to reduce any distortion that might occur to the vocal at this stage of processing.
For more free plugins, here's a video:
Best Free Vocal Tuner - MAutoPitch by Melda Audio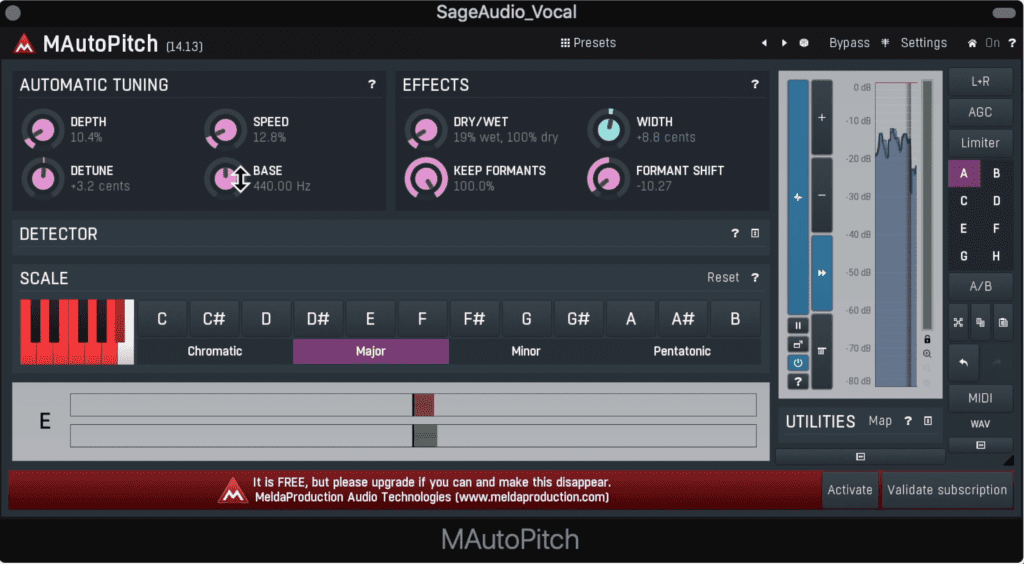 A free vocal tuner is hard to come by but the MAutoPitch is a great solution.
A free vocal tuner is simultaneously the most desirable free vocal plugin and the hardest one to find. Everyone knows about autotune, but finding a free version is a bit more difficult.
Fortunately, MAutoPitch is a fantastic free alternative. It includes both tuning and formant altering.
In the left window are the automatic tuning functions including the depth of modulation, the speed of pitch correction, a global detuning option, and a global base frequency for the tuning.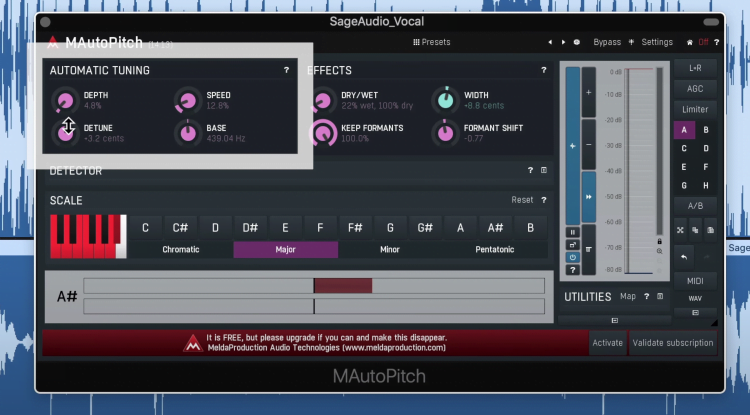 In the top sections of the plugin you can alter the tuning settings.
In the effects section, you can blend the effect in to make it subtle, as well as retain formants during tuning.
The width allows you to widen your vocal, and formant shift changes the tonality of the vocal.
Lastly, at the bottom, you can select the key of the song which informs the tuner to which notes to snap the vocal.
Best Free Vocal Doubler - Vocal Doubler by Izotope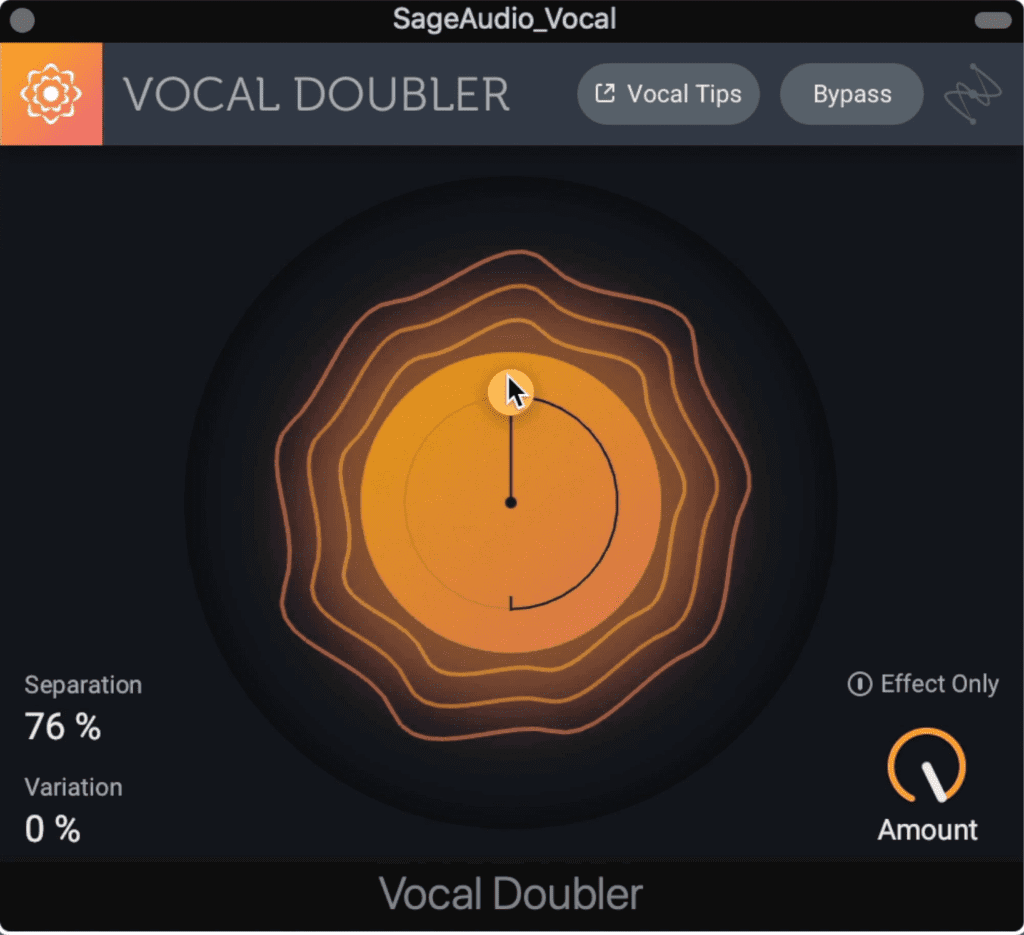 Vocal doubler is an easy to use plugin that modulates multiple vocal threads.
This might be the easiest plugin on this list to use, so if you're new to production but still want to process a vocal, try Vocal Doubler.
In the middle of the plugin is a sphere that represents the original vocal, and rings which represent multiple new or doubled vocals. You can increase the separation of these vocals which increases the delay between them, in turn making them more distinct from one another.
If you pull the lever downward, each double is uniquely modulated to make them sound less uniform and in turn more natural.
You can blend the effect in with the wet/dry dial, or monitor the effect while bypassing the original vocal.
Best Free Vocal Saturator - BPB Saturator by Bedroom Producers Blog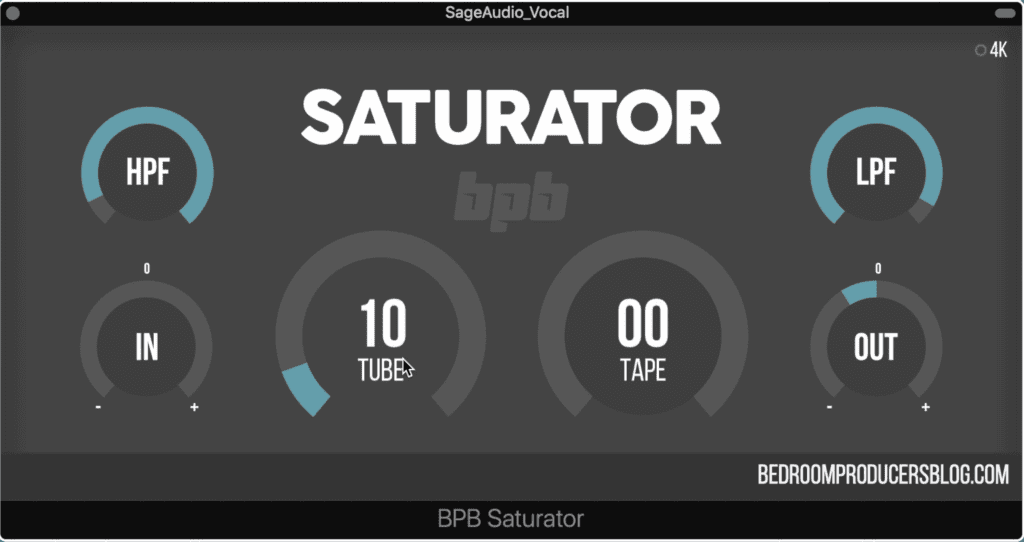 Saturator adds both tube and tape emulation distortion.
If you want a great, easy to use, but versatile saturation plugin, BPB Saturator is a fantastic free choice.
By using this saturator you both compress and distort your vocal, which can be used for subtle effects that thicken your vocal, or for intense and creative distortion effects.
What's great about this plugin is that it utilizes 2 types of distortion; tube and tape.
Tube introduces low order harmonic distortion which has a warming effect, and tape which introduces more high order harmonics which adds clarity and makes a vocal cut through a dense mix.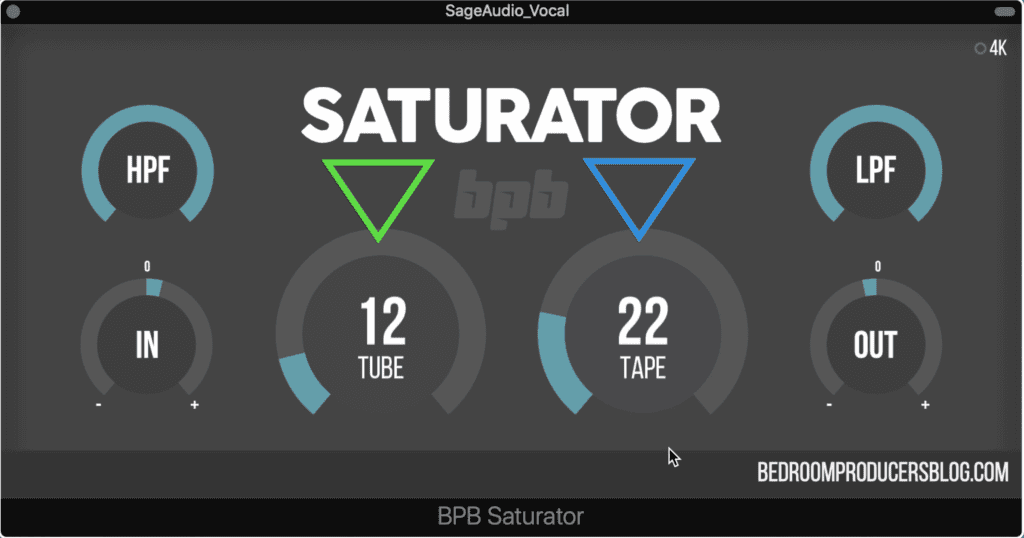 Combine these 2 effects to achieve the right tonality
You can combine the 2 to get just the right tonality.
On the top left and right sides, you have a high-pass and low-pass filter, as well as an input and output underneath these dials.
You might want to reduce the output after introducing distortion to compensate for gain changes.
Best Free Vocal Compressor - MCompressor by Melda Audio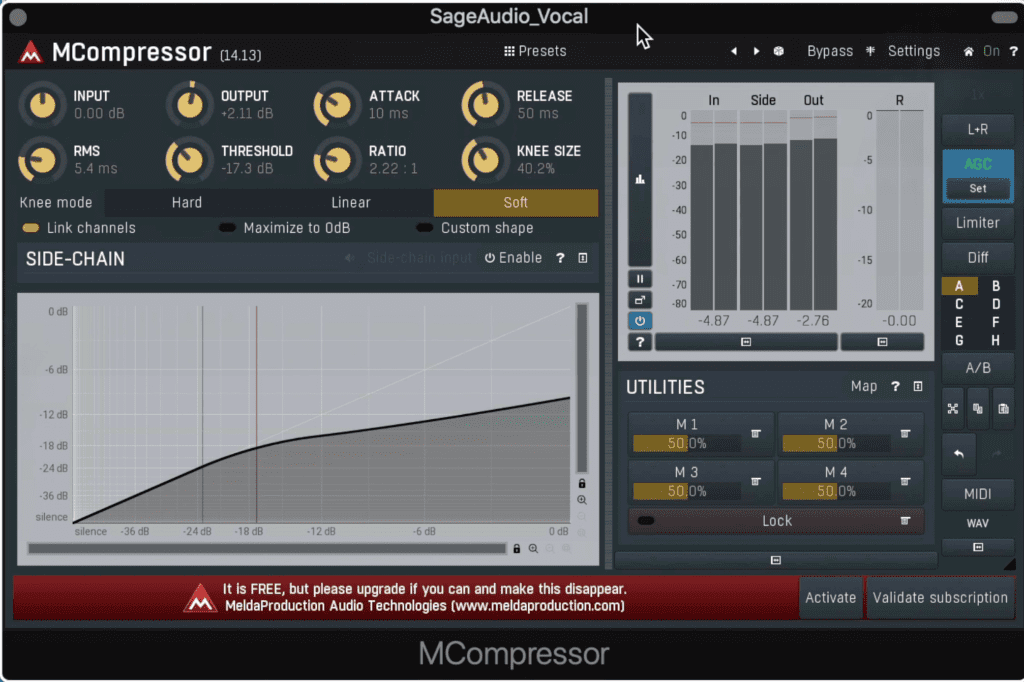 MCompressor offers typical compressor settings as well as advanced functionality.
Another staple in vocal production is compression. Fortunately, you can get a comprehensive compressor for free from Melda Audio Production.
The MCompressor is simplistic in its design but offers more functionality than most paid compressors.
You have all of your typical compressor functions like input, output, attack, and release (which can be set to incredibly fast settings) threshold and ratio.
But you also get RMS detection, 3 knee modes, and knee size when using linear and soft settings.
You can enable both an internal and external side-chain, normalize or maximize the signal to 0dB,and use custom settings to allow you to create non-linear settings or expansion.
In the output section, you can alter the routing, use automatic gain control, introduce a limiter for protection, and listen to the delta or difference of the compression.
For more compressor plugins that you can use for mastering, check out our video on the topic:
Best Free Vocal Reverb - Supermassive by Valhalla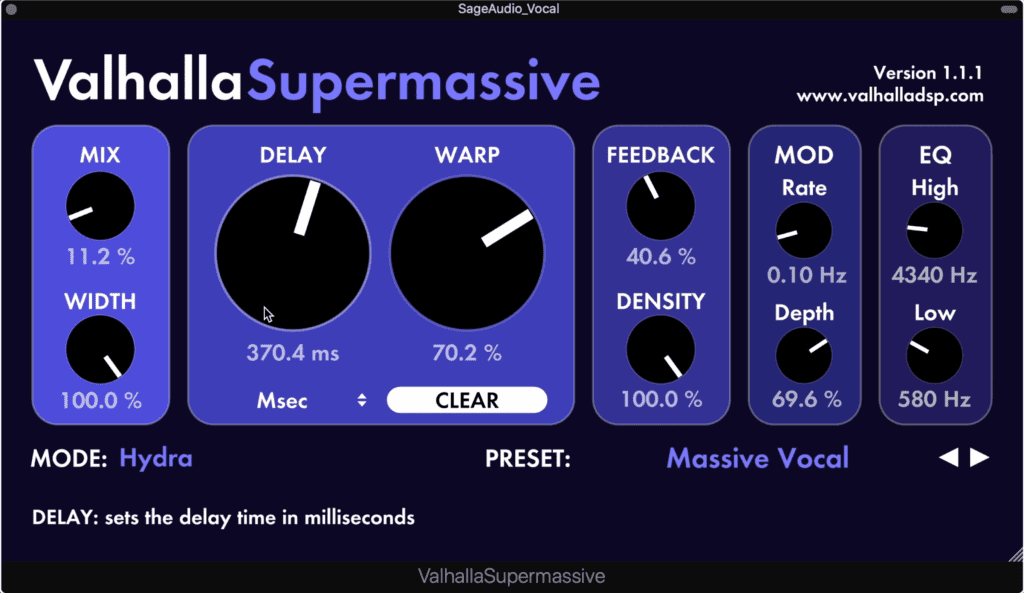 Supermassive is a fantastic plugin with unique settings and the ability to drastically alter the signal.
Whereas the other plugins on this list help you establish a technically sound vocal, reverb is what can make your vocal sound iconic.
Supermassive isn't just a great free reverb plugin, it's one of the best reverb plugins out there.
With it, you can achieve a plethora of sounds, from traditional lush reverbs, to unorthodox and stylistically cacophonous delays and feedbacks.
13 algorithms alter the ADSR of the reverb and cause this ADSR to react differently with various plugin parameters like feedback and warp.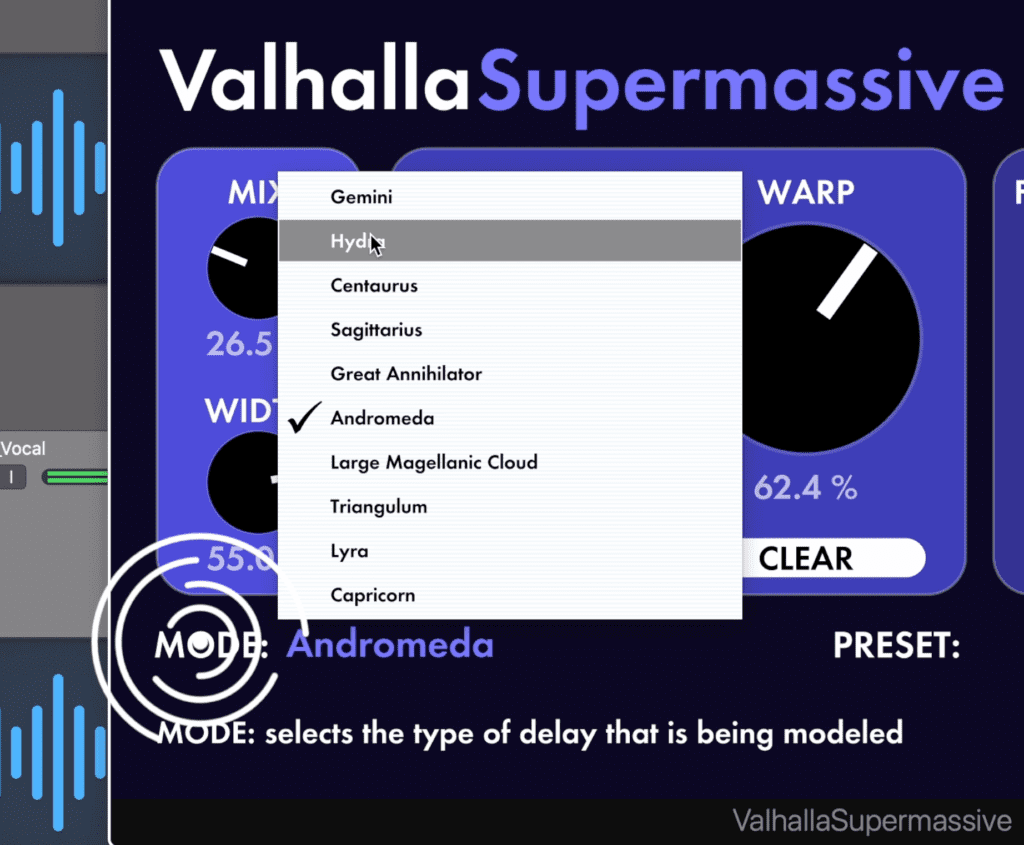 13 algorithms change the ADSR of the reverb.
On the left, you can alter the wet/dry and expand the vocal further into the stereo image with the width dial.
In the middle, you can increase the delay and the delays that are fed back into the main delay by using the warp function.
You can then increase the amount of feedback , the number of echoes, the modulation rate and depth for chorus and ensemble effects, and high and low pass filters.
Lastly, the presets included with this plugin are fantastic and give you a good start with an otherwise complex plugin.
Best Free Vocal Delay - FreqEcho by Valhalla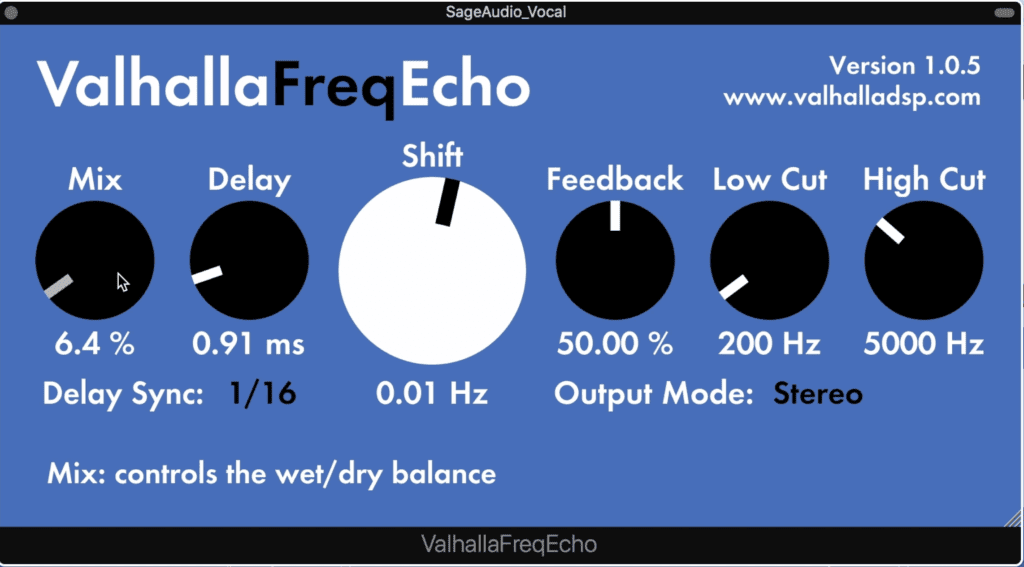 FreqEcho can be used to either subtly or drastically affect your vocal.
Last up is a delay plugin that's simple yet powerful. FreqEcho lets you add both traditional and creative delays to your vocal.
With it, you can create a slap-back to thicken your vocal or add longer and more stylistic delay.
On the left is the wet/dry of the effect. The length of the delay can be set in milliseconds or synced to the BPM of your track.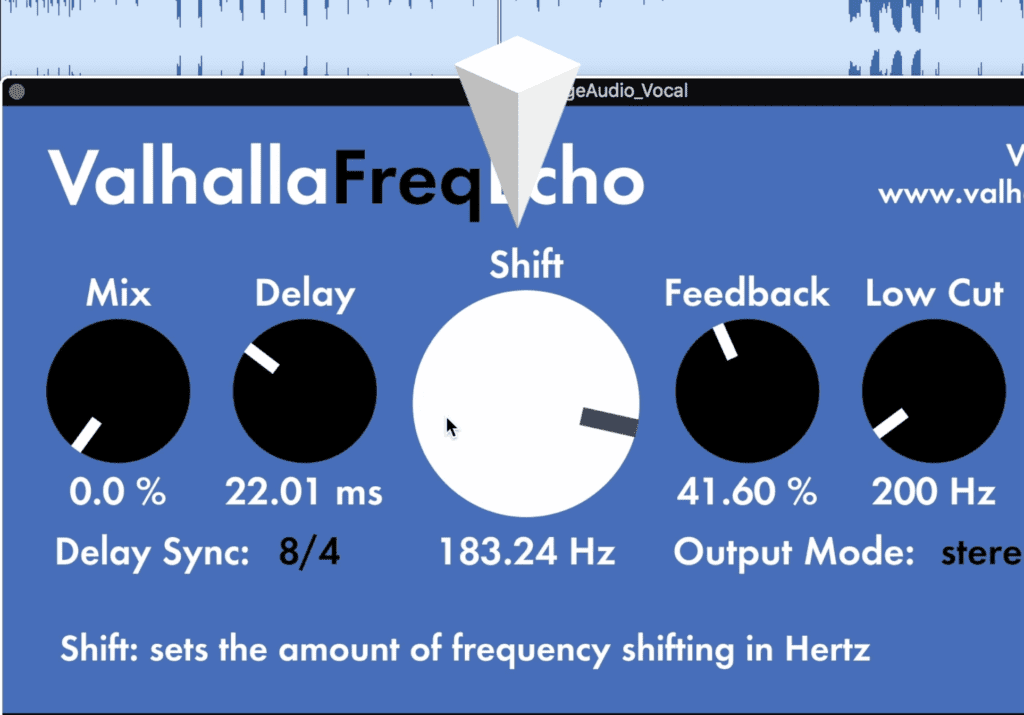 Shift causes frequency modulation which can be used for chorus and ensemble effects.
In the middle, the shift dial is a frequency modulation that causes the delayed signal to be pitch-shifted.
Feedback causes the delay to be fed-back, into the delay as you might expect. Lastly, the delay can be equalized using high and low pass filters, and the entire processing can be altered between stereo and mono.
Conclusion
These plugins can be used collectively and you'd have a great signal chain for your vocal. Or, you can combine them with plugins you already have to augment your vocal.
Whatever you choose, share the results with us in the comments section of the video embedded above.
---