9. PHOENIX AUDIO NICERIZER 16 MK2 SUMMING MIXER
8. HERITAGE AUDIO MCM32
7. TREE AUDIO STEM
6. TUBE-TECH SSA2B
5. NEVE 8816 SUMMING MIXER
4. THERMIONIC CULTURE FAT BUSTARD MKII
3. RUPERT NEVE DESIGNS 5059 SATELLITE SUMMING MIXER
2. CHANDLER LIMITED MINI RACK MIXER
1. INWARD CONNECTIONS MIX690
Analog summing mixers may seem antiquated by today's digital standard - but the sound they can impart onto a signal makes them more necessary than ever.
Although digital processing has provided engineers with a lot of practical and time-saving advantages, it doesn't add the pleasing sonic characteristics that analog routing and processing are known for.
With that said, let's look into some of the best analog summing mixers that can be used to improve the sonic quality of your digital mixes.
Some of these mixers are definitely in the higher price range, but for this list, we wanted to focus on the mixers that provided the best sound, regardless of the cost.
Also, its good to keep in mind that although the mixers listed highest on our list are considered better than some of the others listed here, this list is not in exact order from good to best.
The best analog summing mixer will truly depend on your personal needs and the sound you're trying to create. Keep your personal preferences and mixing needs in mind to determine which one will be best for your studio.
9. PHOENIX AUDIO NICERIZER 16 MK2 SUMMING MIXER

The Phoenix Audio Nicerizer has 16 input channels with panpots for each. a master stereo function allows for greater mix width.
A true summing mixer, not just an amplifier or module used for summing, the Phoenix Audio Nicerizer offers 16 input channels each independently controlled with an analog panpot.
Additionally, a master stereo function allows for useful mid-side processing with which you can widen your summed mix.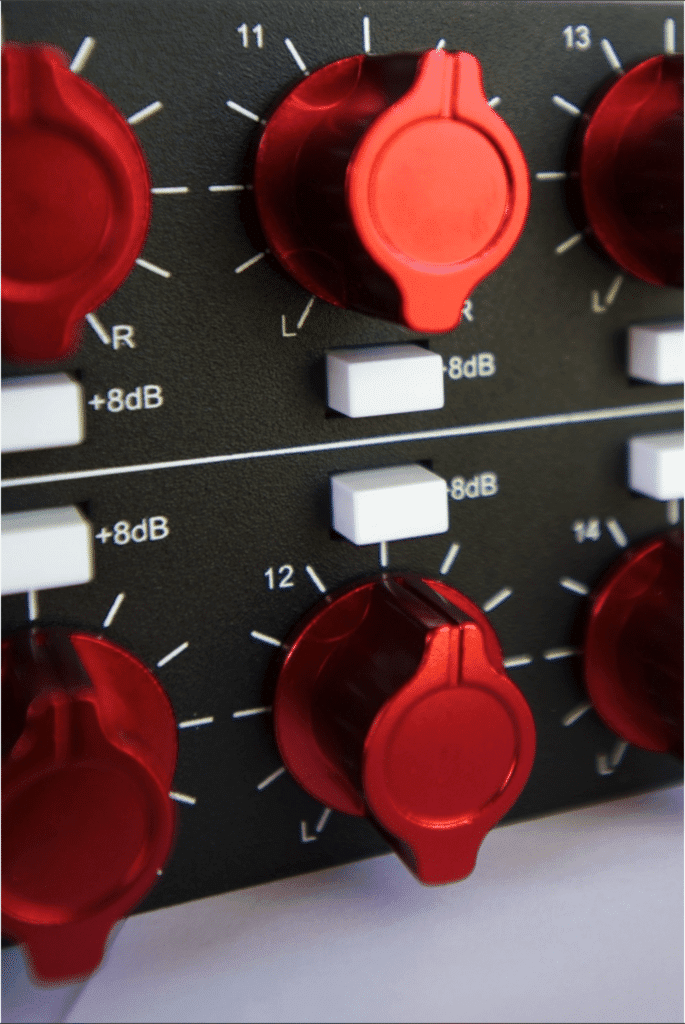 An additional 8dB of gain is possible with this mixer.
Each input is transformerless, offering a clean transition and retained dynamics and transient detail. You can also drive your inputs with an extra 8dB of input gain that results in saturation at higher levels.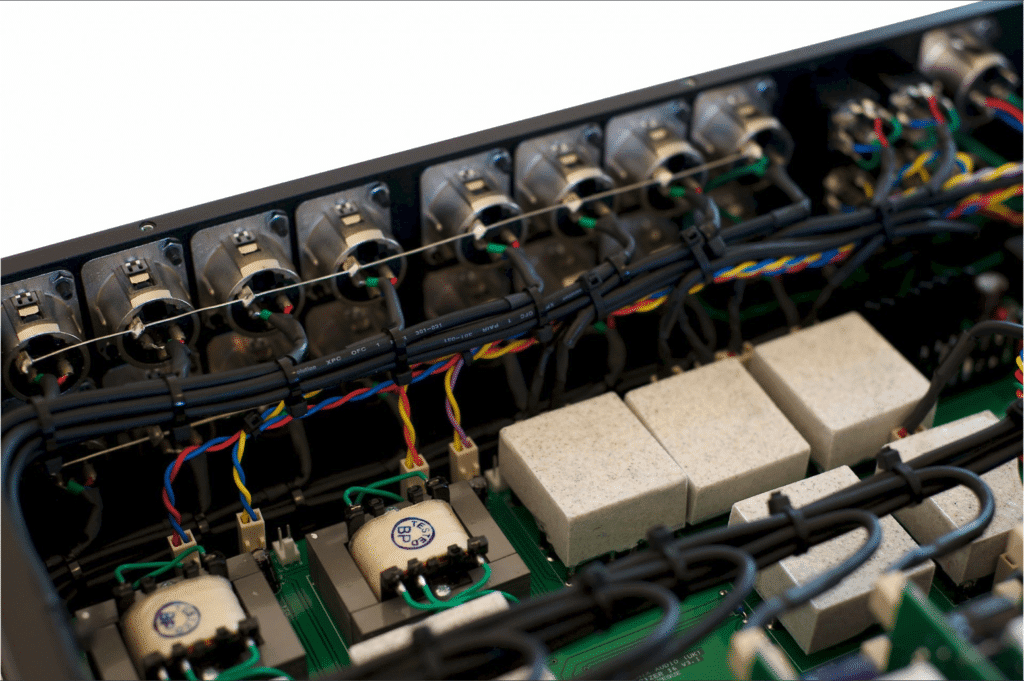 Transformerless inputs result in a clean sound, while a transformer-based output results in more analog tonality
Furthermore, a transformer-based output allows for greater tonality nearing the output - but if you'd like to bypass this you can with the auxiliary output.
A variable monitor rotary allows you to easily alter your monitored signal. With it you can switch between stereo pairs of each one of your inputs, helping you better understand the sonic effect the Nicerizer has on your signal.
With a maximum output level of +26dB and significant headroom, the Nicerizer can add a lot of analog tone, pure stereo imaging, and impact to a digital recording.
8. HERITAGE AUDIO MCM32

Sporting 32 inputs, the mcm32 is suited for large mixes.
If you're looking for an all-inclusive summing mixer, one that can handle a large mix without the need for multiple passes, then the Heritage Audio MCM32 is a great option.
Each individual channel has an individual panpot that allows for a complex stereo image by the time all tracks have been summed. Each of these channels is organized into 4 subgroups of 8 channels.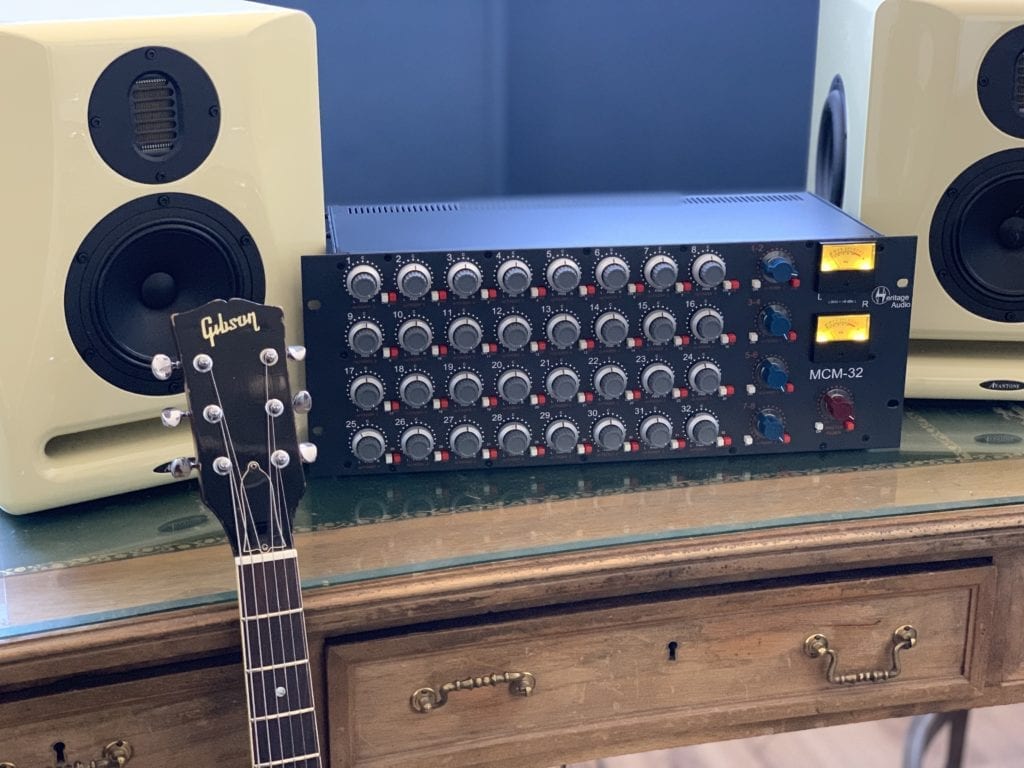 4 sub-groups make it easy to control your signal.
The subgroup's amplitude can easily be controlled by a rotary. This makes it easy to control your stereo mix and to create a balanced mix without needed to affect your channels individually.
Each of these subgroups is passive, but the gain is restored with a microphone preamp that uses transformers to create a distinctly analog sound.
Overall, the Heritage Audio MCM32 is capable of 26dBu as its output level. The channels have all been coupled to avoid any cross-over or bleed between channels.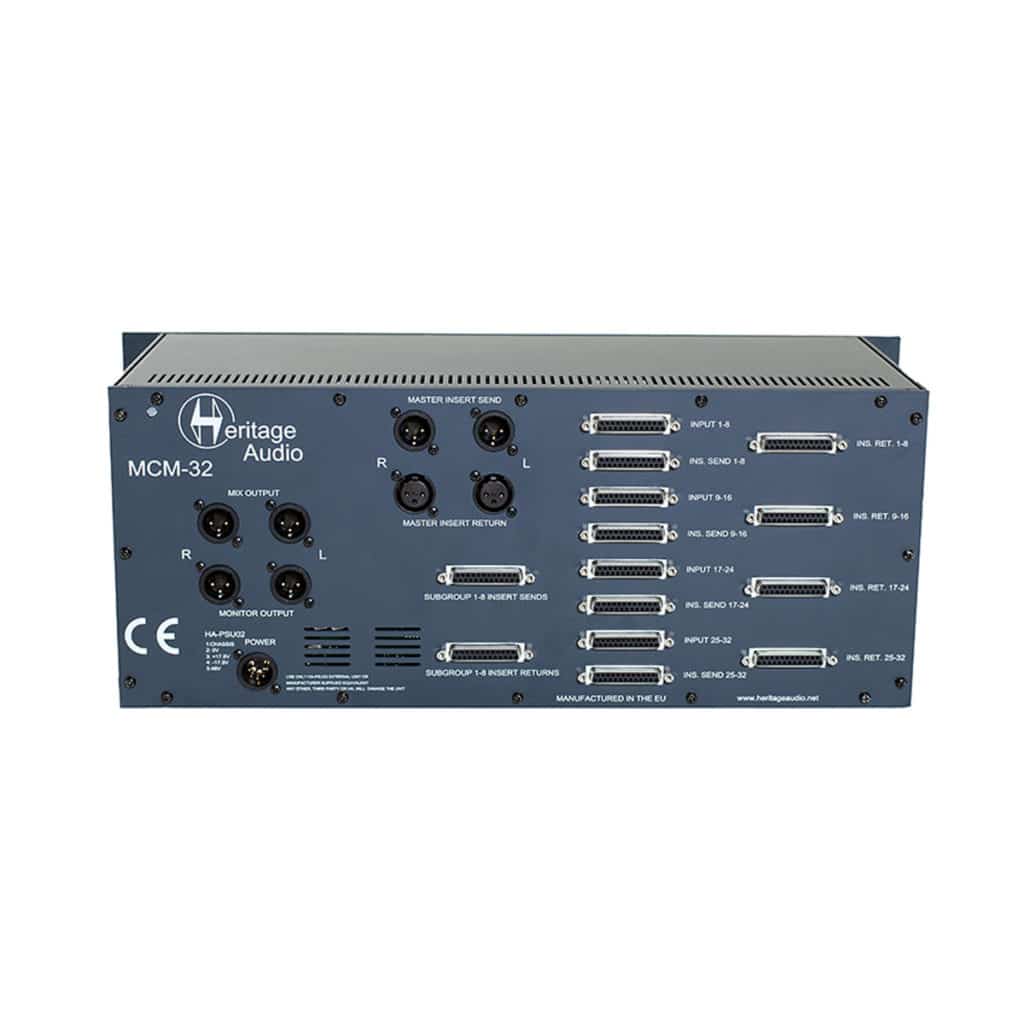 The total THD of the mcm32 is 0.07% - making it a great option for clean and transparent mixing.
With low noise of -80dBU and THD of less than 0.07% , the Heritage Audio MCM32 cleanly sums your mix and allows for expert control.
If you're looking for a way to sum the entirety of a complex multitrack mix without having to sum it multiple times or to pair multiple tracks, then Heritage Audio MCM32 is a great option.
It is important to note that this particular model has had technical issues in the past; however, it appears that the kinks have been worked out, making the mixer a viable option for any studio.
7. TREE AUDIO STEM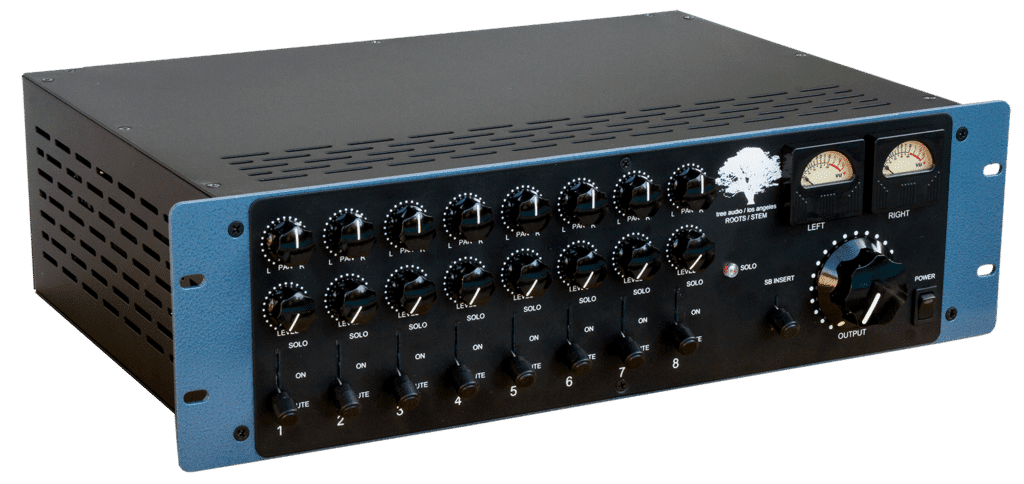 With 8 inputs, the Tree Audio Stem is great for stem masters or smaller mixes.
The Tree Audio Stem is great for smaller mixes and projects. As a standalone mixer or one that can be combined with their Roots console or Junior console, the Tree Audio Stem can offer analog tone at the fraction of the price as the company's console.
With transformerless VF600 Inward Connections amplifiers , the Tree Audio Stem Offers increased headroom and a clean input. A transformer-based output section implements subtle harmonic generation to create an analog tone that glues the sound together, while still maintaining punch and dynamics.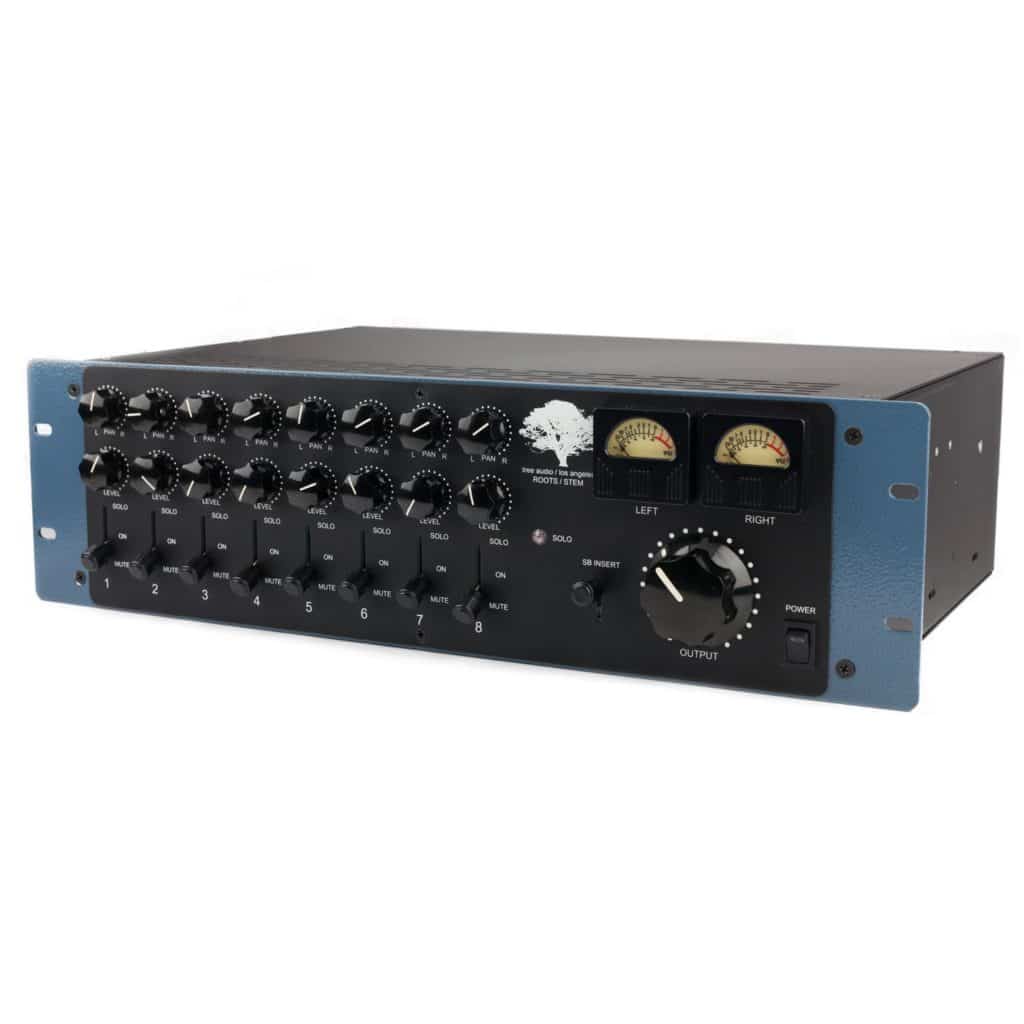 On the front panel, you can mute, enable, or solo a selected channel.
On each channel, you can control the pan, the level, and whether the channel is muted, soloed, or included in the signal . The output is a simple left, right stereo configuration with the addition of a stereo send and return.
A master output rotary allows you to control the level of your stereo mix.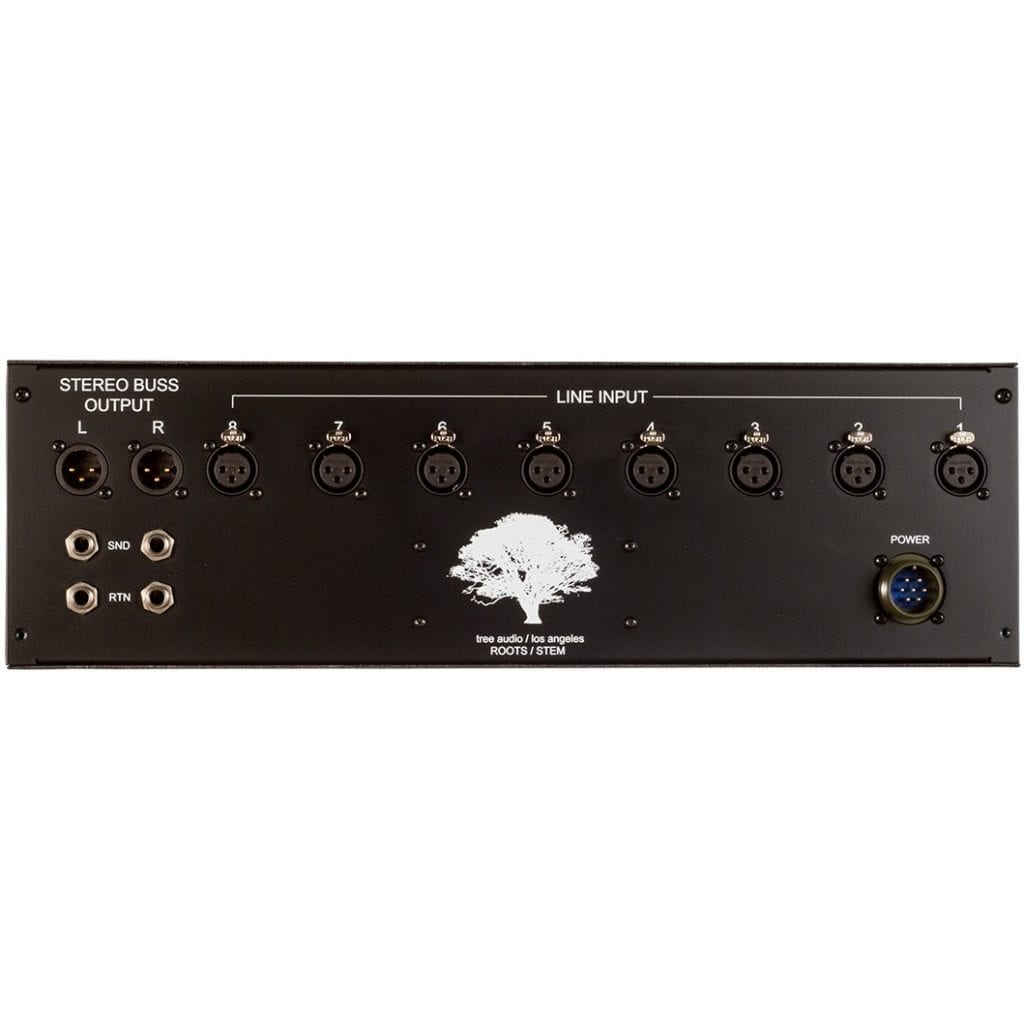 The Tree Stem Audio is a simplistic unit that creates a great analog sound.
All-in-all the controls and routing of the Tree Audio Stem are simplistic and straightforward. If you're looking for an easy way to sum your digital signal and to add analog harmonics then the Tree Audio Stem is a good choice.
6. TUBE-TECH SSA2B

A highly popular unit, the SSA2B introduces tube harmonic generation.
A classic summing amplifier, the Tube-Tech SSA2B by Lydkraft is a flexible and accommodating piece of hardware.
As the name suggests the Tube-Tech SSA2B utilizes tube amplification, resulting in a specific and highly desirable analog sound. Tube saturation and harmonic generation create a full sound due to a high amplitude second-order harmonic.

20 total inputs make it a versatile mixer.
Aside from a fantastic sound, the Tube-Tech SSA2B offers a good deal of available channels with 8 stereo inputs and 4 mono inputs for a total of 20 possible inputs . This makes it a great option for a relatively complex mix or stem mastering session.
A simple stereo output makes the routing options straightforward, with an emphasis on creating a finished stereo mix by the completion of the summing.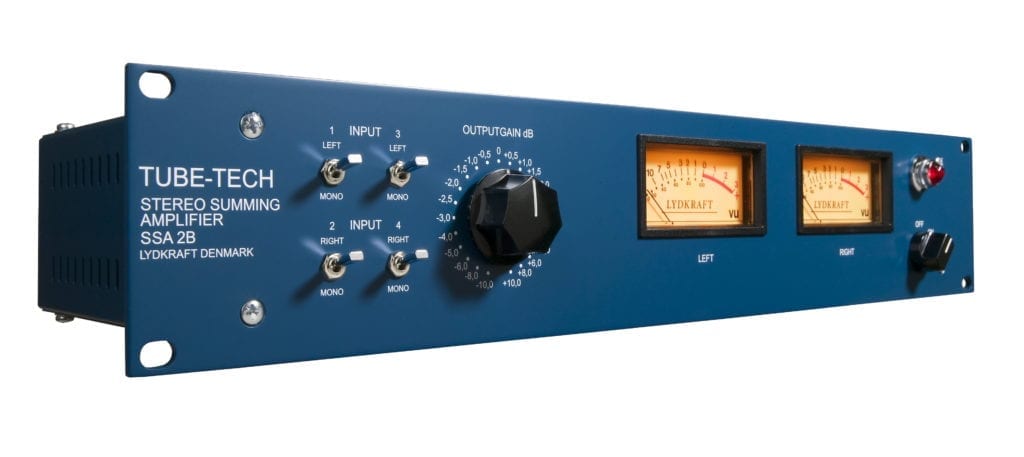 The output gain rotary on the front panel allows for an additional 10dB of gain
A variable output rotary allows for output gain alteration in 0.5dB intervals. With this rotary, you can introduce an additional 10dB of gain, in turn imparting even more analog tonality onto your signal.
The Tube-Tech SSA2B's inputs are balanced by using two zero-field transformers which reduce the distortion of low frequencies, increases the low and high-frequency range, and improves phase relationships across the board.
The total harmonic distortion at40Hz is 0.05% resulting in a clean signal that can be saturated with tube distortion if desired.
5. NEVE 8816 SUMMING MIXER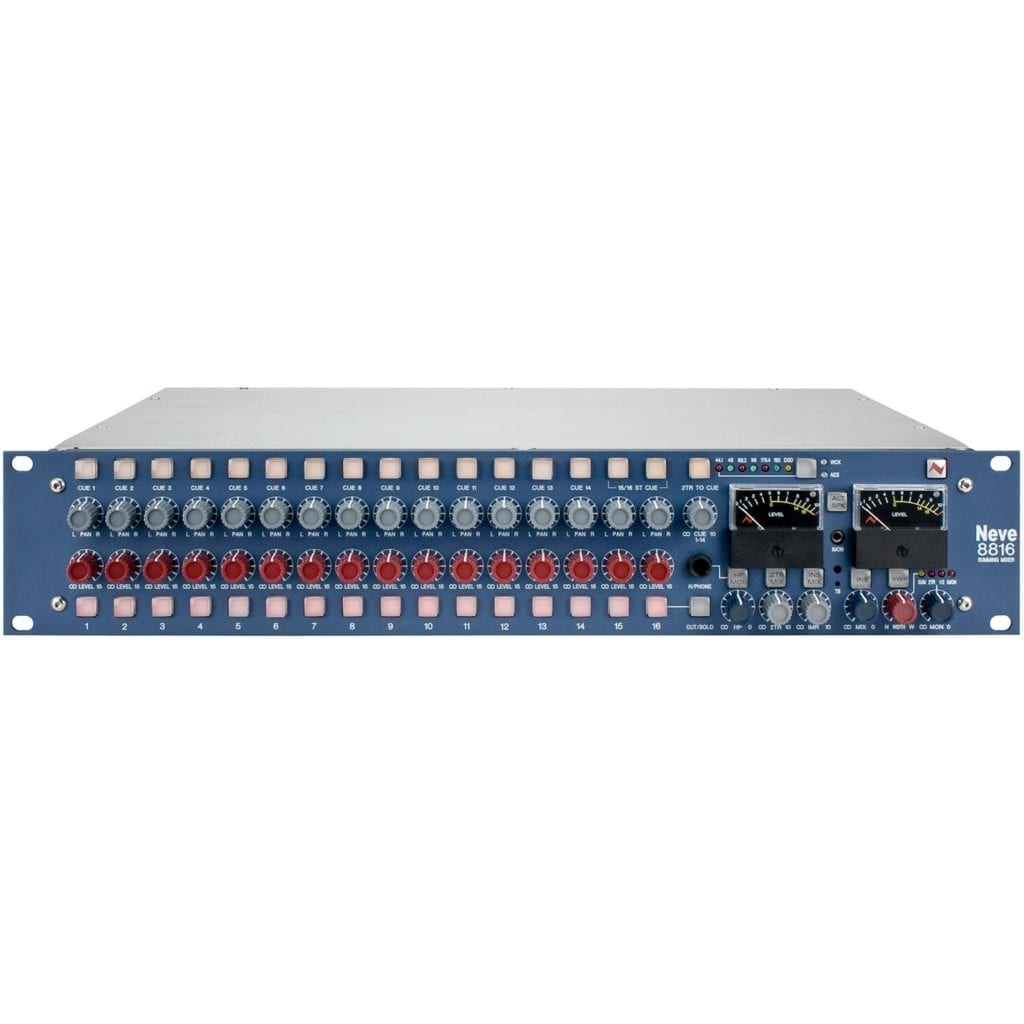 The 8816 accomplishes classic Neve tonality
Another classic summing mixer on this list, the Neve 8816 was one of the first highly popular summing mixers used to add some analog tonality to digital recordings.
Capable of complete recall via a digital source, the Neve 8816 offers the classic Neve transformer sound with the added flexibility of backing up your settings with digital recall.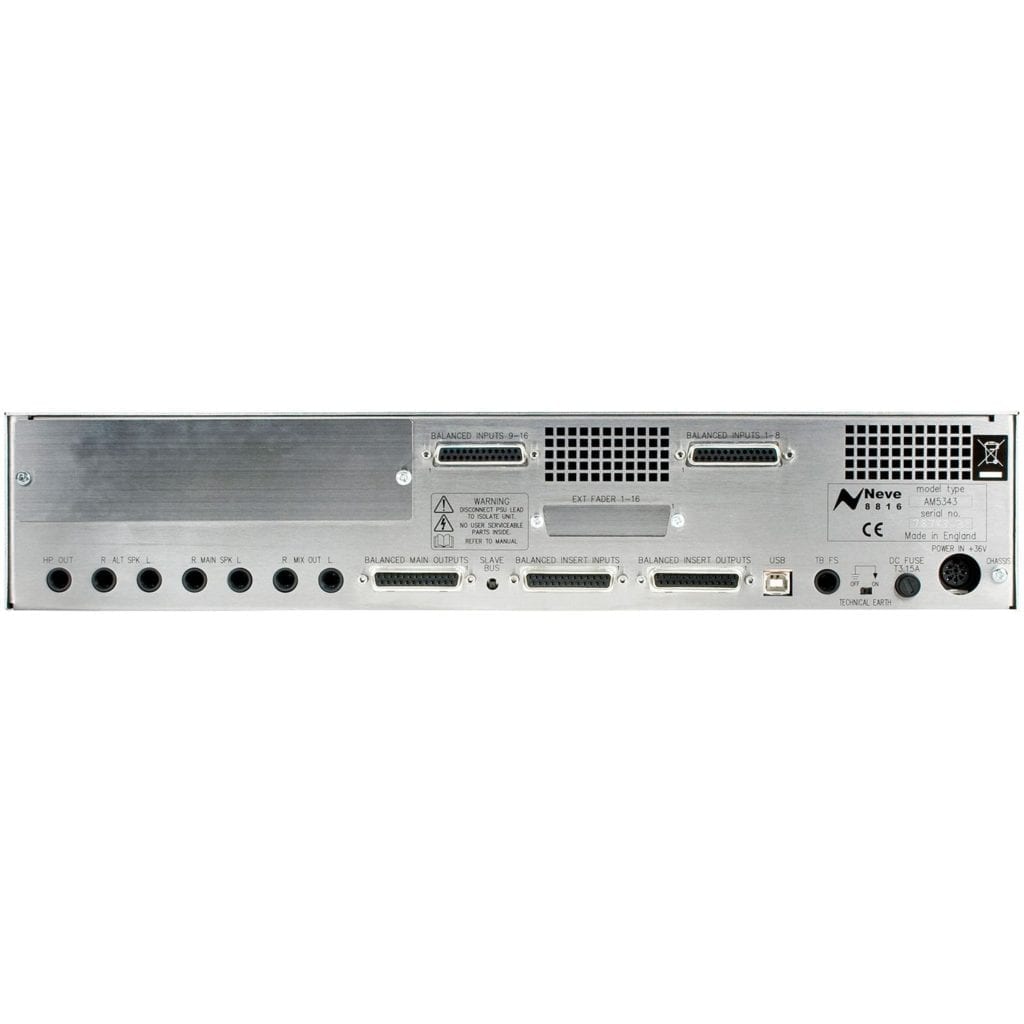 A USB port and digital software make digital recall a possibility
In addition to level and pan for each individual channel, the master output section allows for additional stereo width via a mid-side mix. Additionally, you can create a 2-track mix and a separate instrument mix.
With a full frequency response and low total harmonic distortion of 0.02% , the Neve 8816 accurately recreates your signal but also introduces mild harmonic distortions at higher input and output levels.
Headphone outputs on both the front and back panel allow for additional monitoring options so you can better understand how the unit is affecting your signal.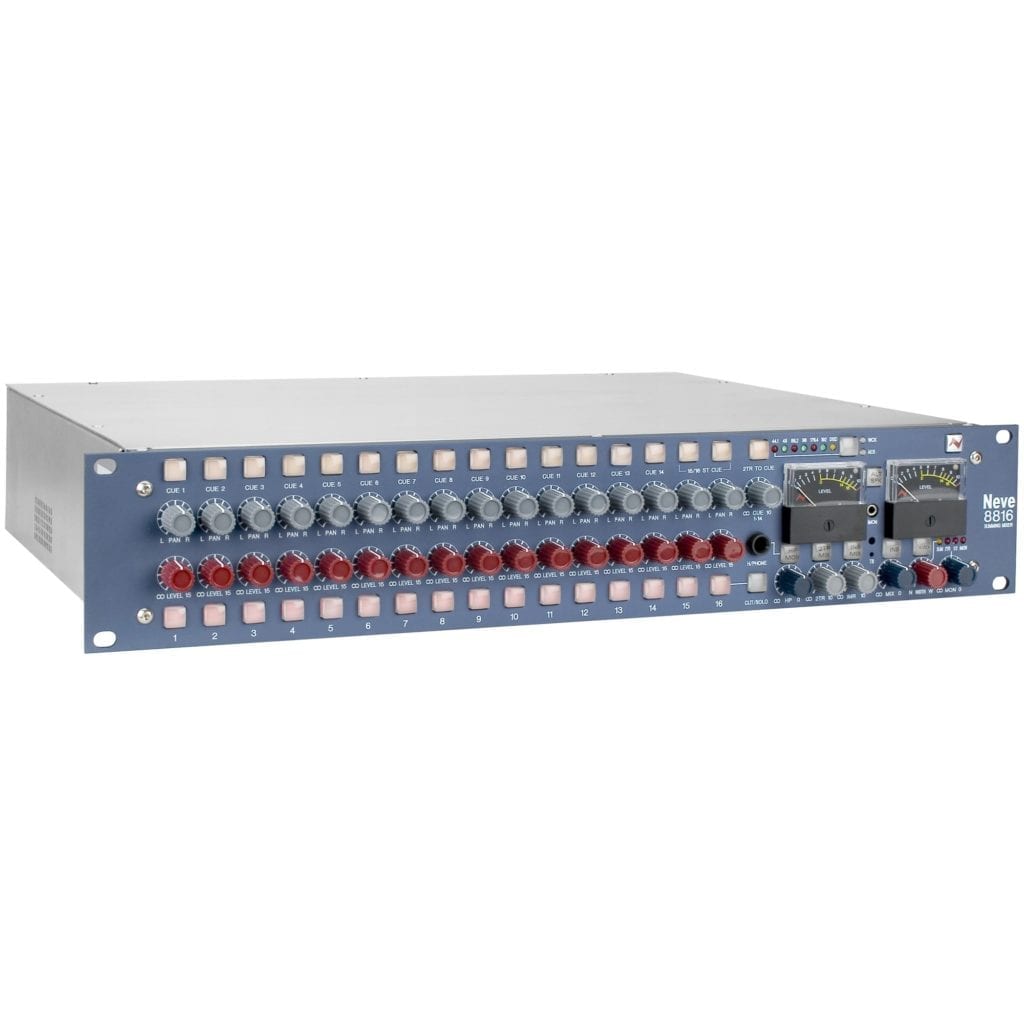 Headphone jacks on the front and back panels allow for additional monitoring and routing options
If you want a classic Neve sound, and want advanced routing options for a summing mixer, check out the Neve 8816.
4. THERMIONIC CULTURE FAT BUSTARD MKII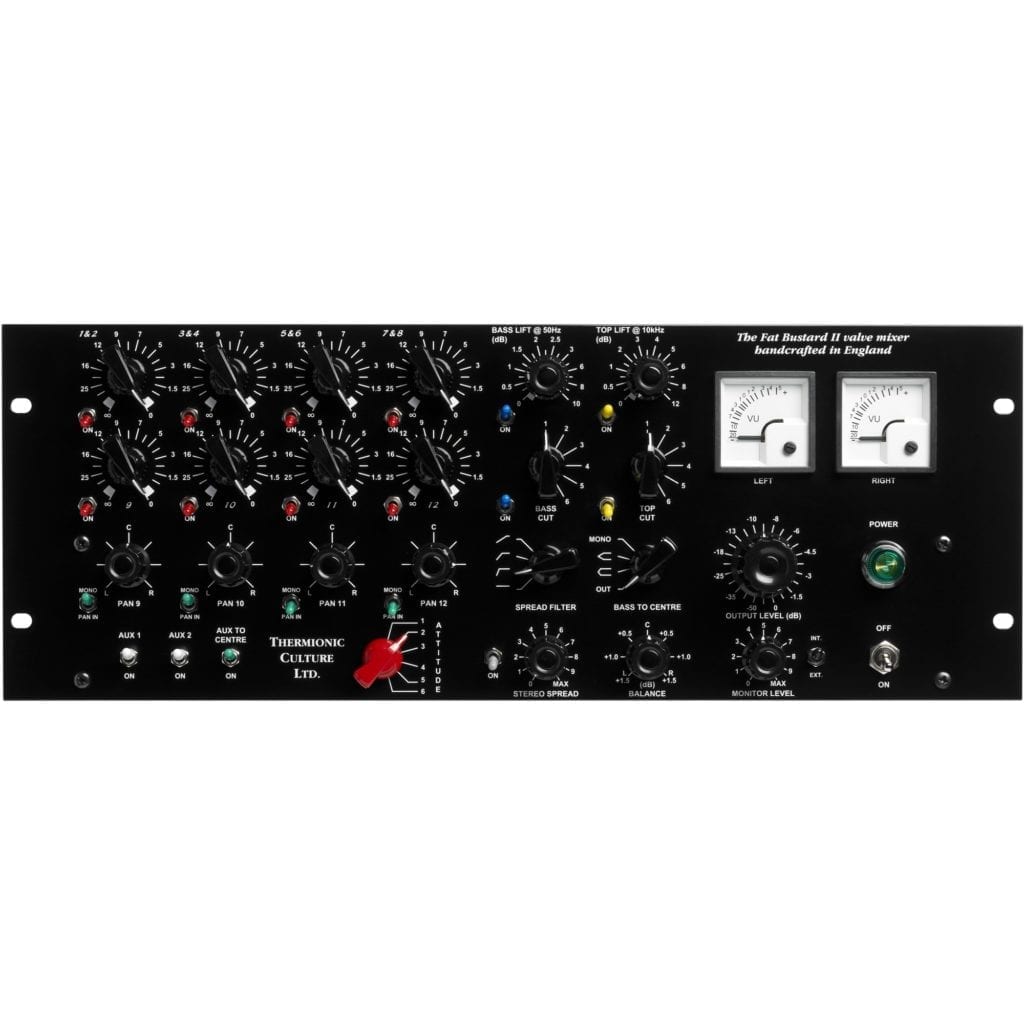 The Fat Busturd MkII offers a lot of additional features when compared to other summing mixers.
The Fat Bustard MkII is an incredibly versatile summing mixer that does a lot more than just sum analog signals. It can be used to sum, pan, add harmonic distortion, increase the stereo width, and mildly equalize a signal.
With 14 inputs, including 4 stereo inputs, 4 mono inputs, and 2 auxiliary inputs, the Fat Bustard MkII is suited for a medium-sized mix.
Unlike some of the other summing amplifiers on this list, the Fat Bustard MkII has a dedicated harmonic distortion control.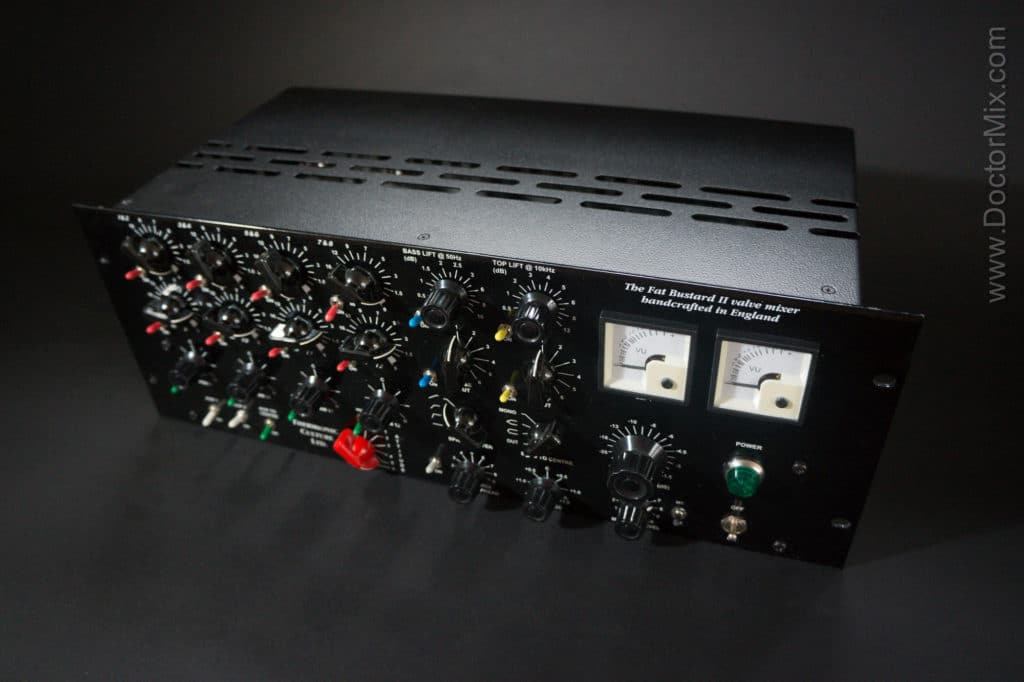 A dedicated harmonic generation section makes introducing harmonics simple and easy.
This means that instead of trying to drive your signal to the perfect amount to achieve the desired saturated sound, you can simply increase the 'Attitude' function until you've created a full 2nd order heavy harmonic sound.
The stereo spread function allows for an increased stereo width, where the 'spread filter' allows for that spread to be frequency-specific.
Without the 'Attitude' function enabled, the max THD of the signal at it's loudest 26dB level is less than 1%. This means that you can create an incredibly clean signal unless you desire otherwise.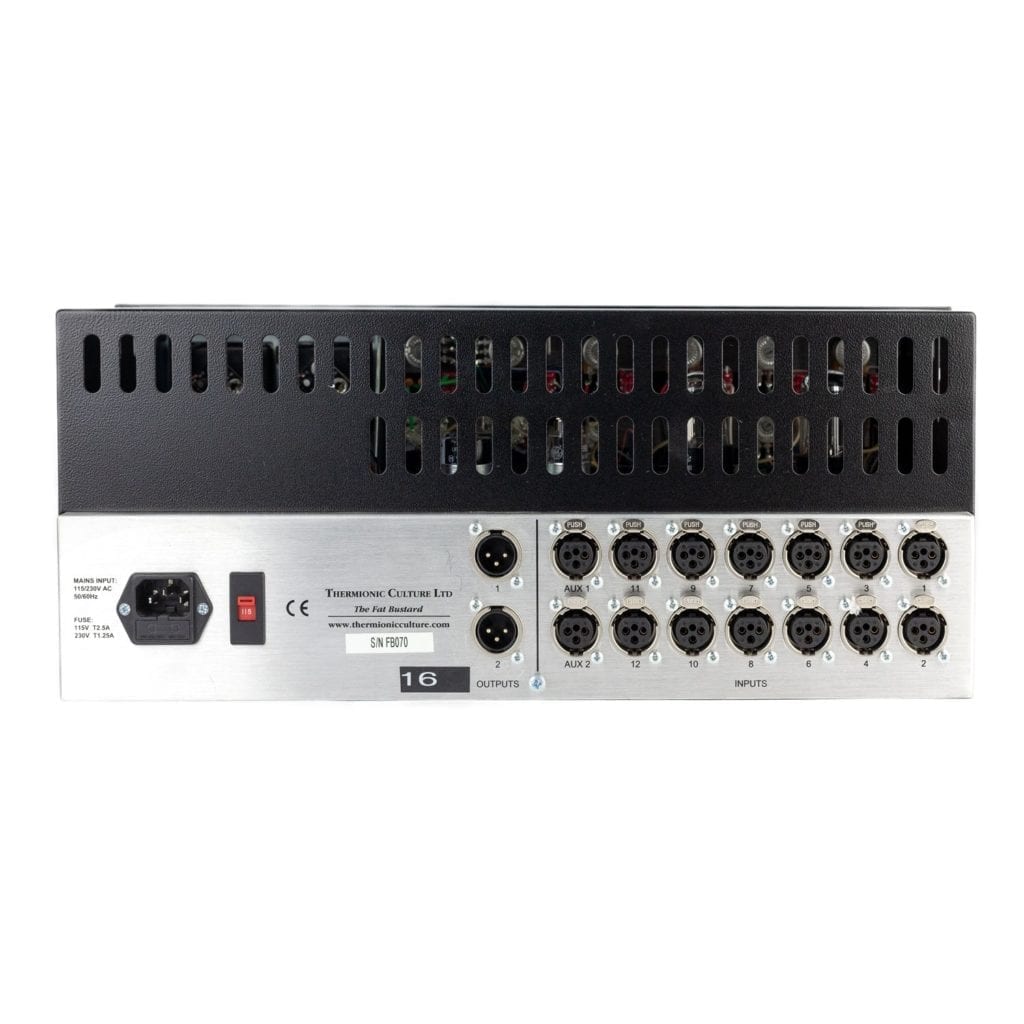 14 inputs allow for a medium-sized mix to be summed, while a low THD make It suitable for clean transfers
A bass lift function increases the center sub-frequency of 50Hz by up to 10dB. A top lift function allows you to increase 12kHz by 12dB. This curve truly differentiates this summing mixer from others in terms of functionality.
3. RUPERT NEVE DESIGNS 5059 SATELLITE SUMMING MIXER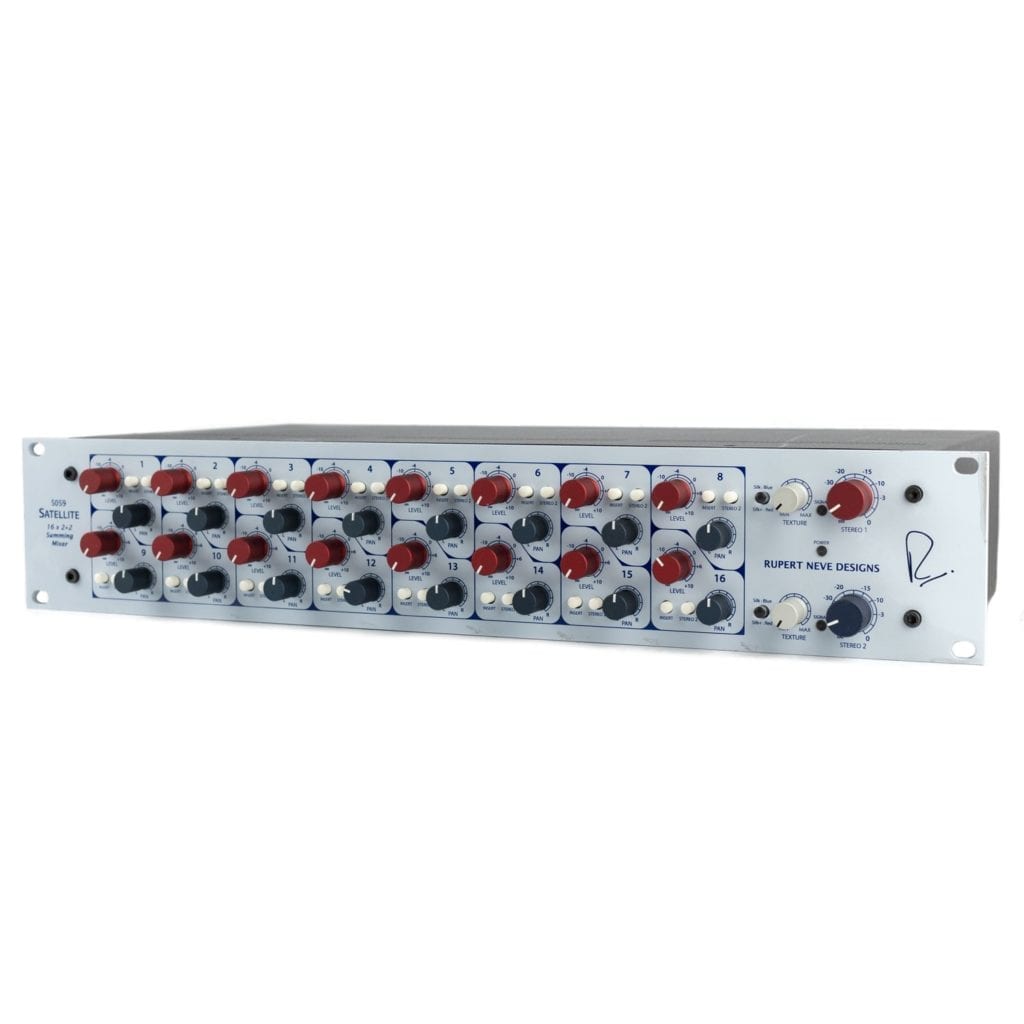 The Neve 5059 is possibly the most popular summing mixer currently available.
A modern classic, the Rupert Neve Designs 5059 satellite is one of the most if not the most popular summing mixer currently on the market.
With 16 inputs, each with their respective level, pan, and insert functions, the Rupert Neve Designs 5059 offers a lot of flexibility. 16 channels mean you can process a fairly complex mix without the need for multiple passes.

16 inputs allow for a larger mix or stem mastering session to be summed.
An additional 10dB of gain on each channel allows you to add some extra character to your summed signal.
Two stereo outputs allow for a print and a monitor output, or perhaps two separate outputs. The ability to create various versions of your summed mix is made more attractive by the 'Texture' function that's respective to each stereo mix.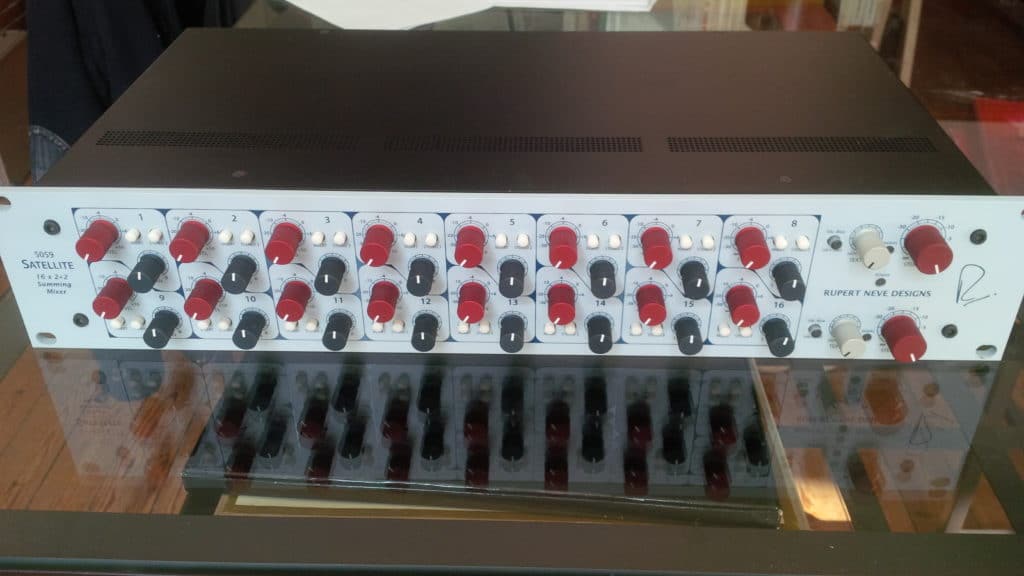 The texture function creates either low or high order harmonics based on the setting you choose.
With it, you can use the 'Blue' or 'Red' saturation type to evoke two different forms of saturation and harmonic generation.
With a signal to noise ratio of roughly 120dB and THD of less than 0.03%, the Rupert Neve Designs 5059 is a great option for creating a transparent sum if desired or a distorted one with the proper control and saturation.
2. CHANDLER LIMITED MINI RACK MIXER
Sporting discrete-op amps and some additional features, the Mini Rack mixer offers engineers a greater deal of flexibility.
Although seemingly complex when first looking at the front panel, the Chandler Limited Mini Rack Mixer is a fairly straightforward unit that allows for simplistic but powerful processing and summing.
Balanced transformers and discrete op amplifiers result in a huge sound with a lot of headroom and some classic tonality that maintains its punch.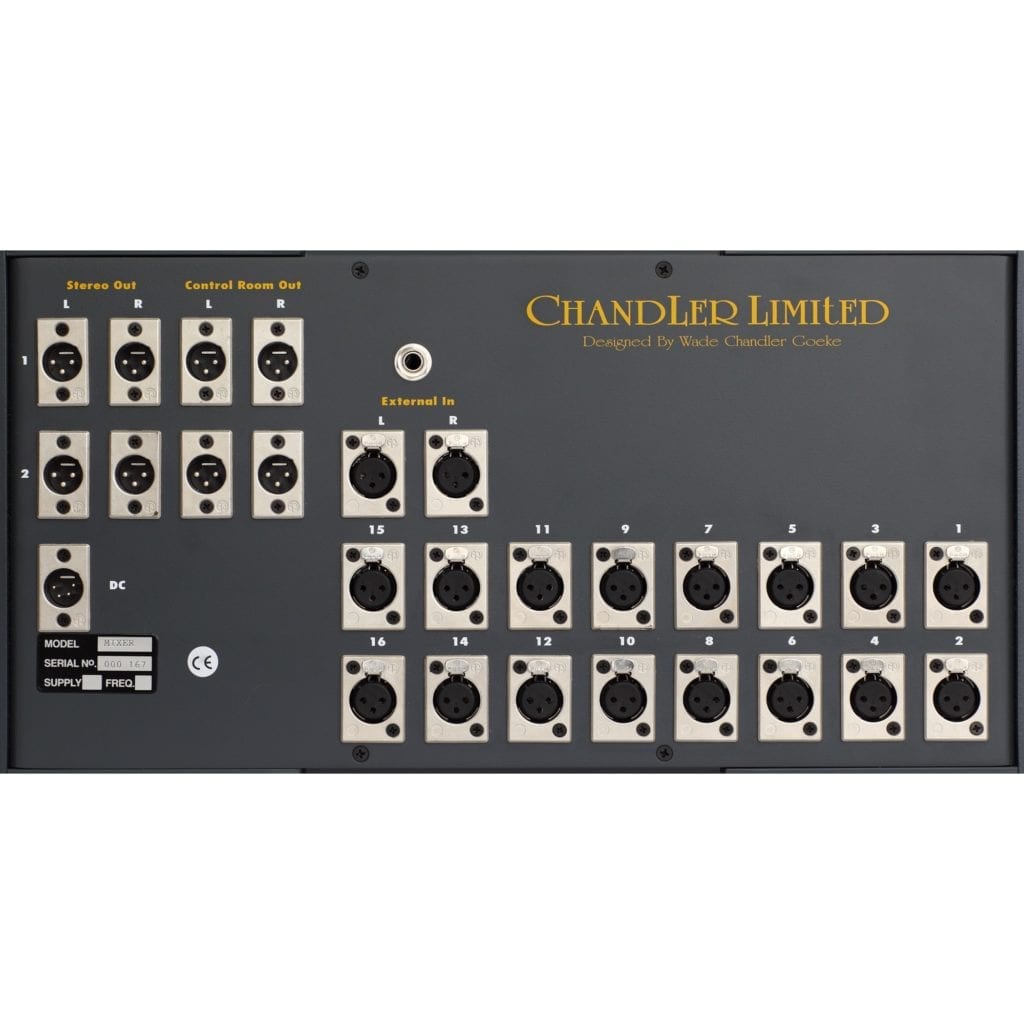 16 inputs, each with respective level and panpot controls allow for some additional versatility.
16 channels or 8 stereo channels makes it a great unit for a medium-sized mix or for a stem mastering session. Volume and pan controls are available for each input.
A talkback section and a simplistic but useful control room section allows for some additional monitoring and possible tracking applications. Additionally, you can quickly monitor your mix or stem master in mono to better understand the current status of your production.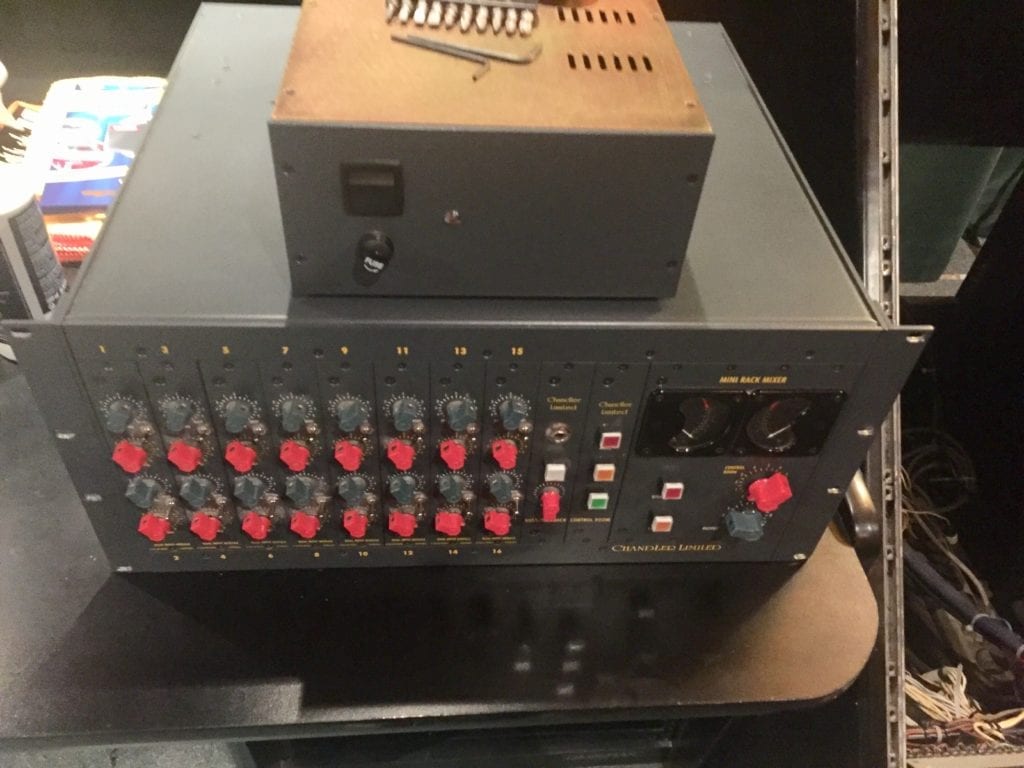 A talkback and control section allows for summing to mono
If you like the sound of Chandler Limited preamps, compressors, or equalizers, try their summing mixer and share your results.
If you'd like to hear your mix mastered using solely analog equipment, send it to us here:
We'll master it for you and send you a free mastered sample for you to review.
1. INWARD CONNECTIONS MIX690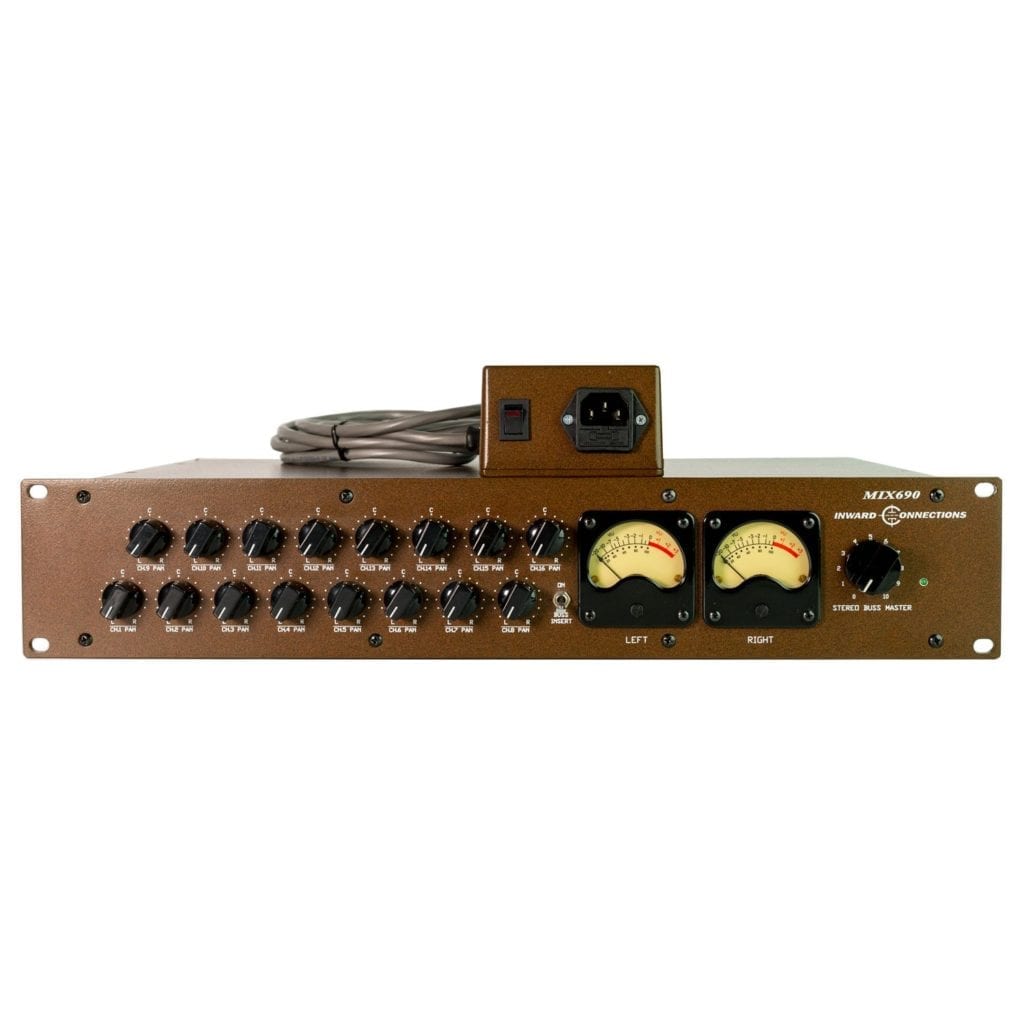 A simple but great sounding device, the Inward Connections Mix690 offers a large console sound.
With a simple interface and routing, once the Inward Connections Mix690 is set up, there's little you'll need to do to make it sound great. Right out of the box, running your mix or stem master through this system will instantly improve the tonality and impressiveness of your mix.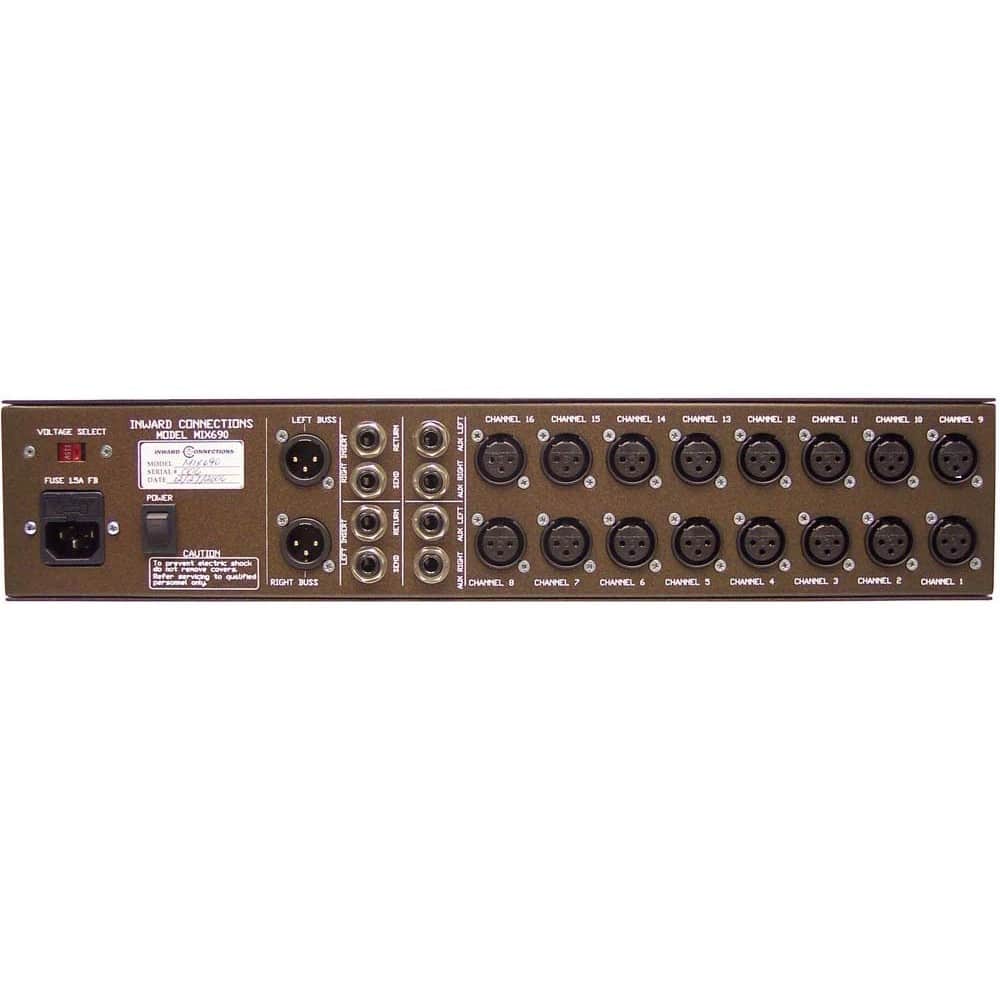 16 inputs and 16 panpots create a straightforward routing experience, making it possible to set it and leave it.
Known for its retention of low-frequencies, and its ability to produce a big console sound at a fraction of the price, this boutique summing mixer has been praised by the likes of Chris Lord-Alge and Eddie Kramer for being top-of-the-line.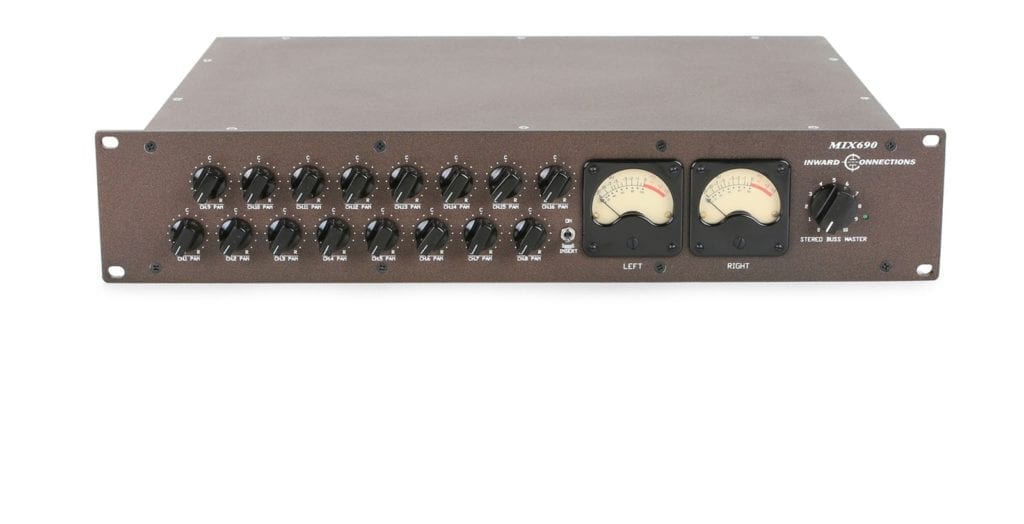 So far, this device has been praised by Chris Lord-Alge and Eddie Kramer.
With 16 inputs with a panpot on each channel and 20 discrete op amplifiers , the Inward Connections Mix690 offers an impressively clean but pleasant sound that maximizes your mix or stem masters headroom and impact.
Sends on the back panel allow you to link another mixer.
The output is a simple stereo left and right channel presented as a left and right bus XLR output.
Try the Inward Connections Mix690 to accomplish a classic analog sound with the impressiveness and impact of a full analog console.
Conclusion
Analog summing mixers can take a dull digital mix and turn it into something spectacular. By sending your signal through one of these mixers you're affecting your transient detail, stereo imaging, harmonic distortion, the overall complexity of your mix, headroom, and timbre of your mix or master.
Although these mixers are expensive, when you consider the importance of creating a console-like sound, the price tag doesn't matter as much.
The one you choose truly depends on your mixing and mastering needs. If you simply want to create an analog sound, then some of the simpler options on this list will serve you well - but if you'd like some advanced routing options, something like the Fat Bustard MkII may be a great option.
Whatever you choose, the importance of having analog processing at some point in your signal chain is paramount. The more commonplace digital processing becomes, the more we look at the days of analog processing with a desire to return to form.
In case you've simply browsed this post and simply are looking for the list, here are our picks for the top 9 Analog Summing Mixer:
PHOENIX AUDIO NICERIZER 16 MK2 SUMMING MIXER
HERITAGE AUDIO MCM32
TREE AUDIO STEM
TUBE-TECH SSA2B
NEVE 8816 SUMMING MIXER
THERMIONIC CULTURE FAT BUSTARD MKII
RUPERT NEVE DESIGNS 5059 SATELLITE SUMMING MIXER
CHANDLER LIMITED MINI RACK MIXER
INWARD CONNECTIONS MIX690
---