Chandler Limited Curve Bender Mastering EQ
FabFilter Pro Q 3
Tube-Tech PE 1C "Pultec" Equalizer by Softube
Maag Audio EQ4 by Plugin Alliance
HarmoniEQ by Voxengo
When you're trying to master a song, having the right equalizer is needed to balance the sound of a mix, and to augment it.
Regardless of the genre that you're working on, these plugins are crucial to establishing a professional sound.
With that in mind, we sought to use some great mastering EQ plugins on a few mixes - each a different genre.
This way, we can observe how to use these plugins and what they might be best for. We'll also briefly cover their functionality to get a basic understanding of how to work with them.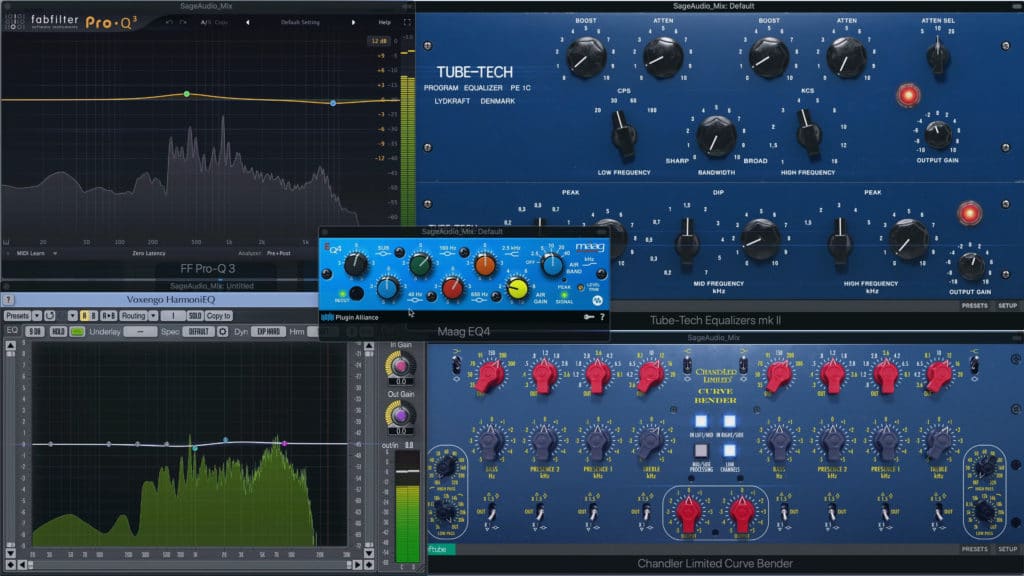 Having a good mastering equalizer will bring new life to your masters.
Some of these plugins are known for their transparent sound, and some are used to evoke a classic slightly distorted tonality. A couple of them are incredibly versatile digital equalizers and a few analog emulations with limited functionality.
The usefulness of these plugins, especially in the scope of particular genres, will become more apparent the more we use them.
Chandler Limited Curve Bender Mastering EQ

The curve bender is broken up into a left and right, or mid and side channel.
The Chandler Curve Bender has been a go-to equalizer for mastering engineers for decades. Regardless of the version, engineers always found that this EQ improved their mixes and masters.
Softube's emulation of the hardware is giving engineers the chance to have the TG12345 in their home studio but at a fraction of the price.
Known as the Limited Curve Bender, this equalizer has the same design as the original, but with the addition of mid-side processing.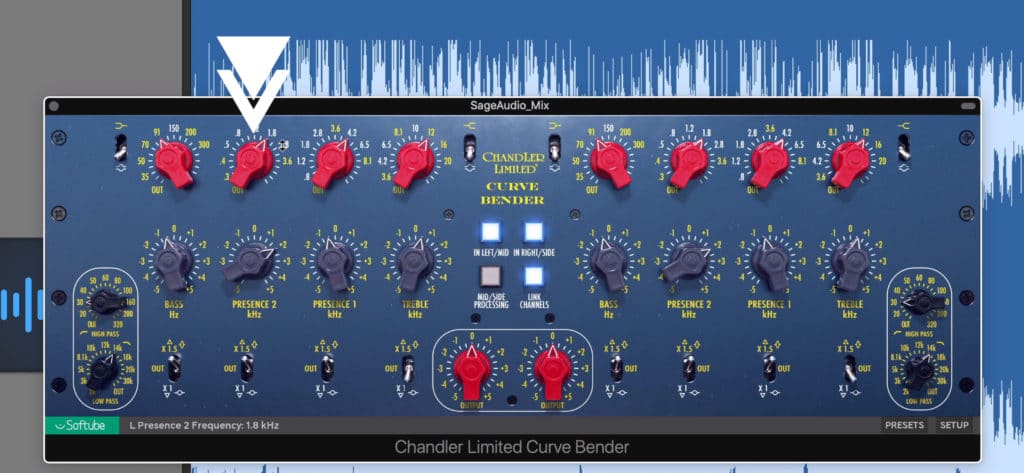 The red knob is the center frequency of the band.
The unit is broken up into left and right, or mid and side depending on your routing. The red dials are your center frequency for the 4 bands of EQ. The lowest and highest can be switched between shelf and bell.
The 4 bands can be amplified or attenuated 5dB, meaning only relatively small changes can be made.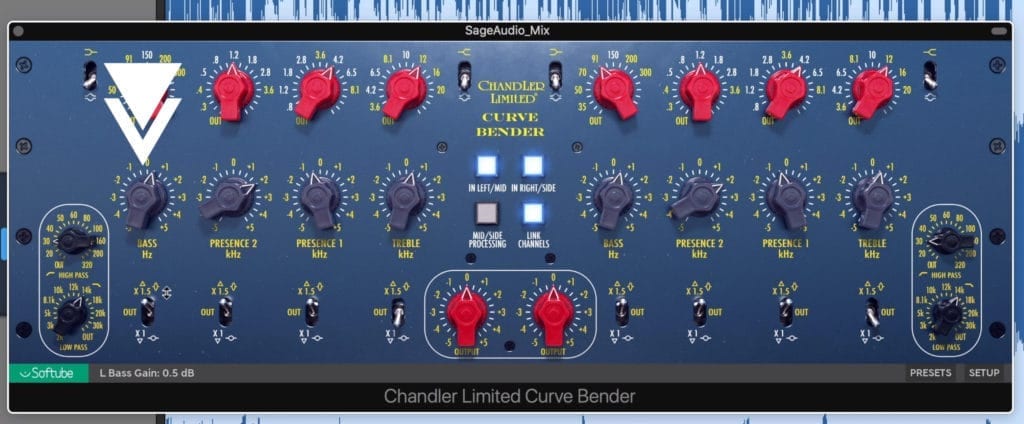 The blue knob is the amplitude of the corresponding band.
The Q value can be switched between 1 and 1.5. Changing this value also changes the gain from 5dB of amplification or attenuation to 15dB - making it possible to create more aggressive changes.

The Q value can be altered with the 1 and 1.5x switch.
Each channel has a low and high pass filter, as well as a master output in the center of the plugin.
Lastly, the channels can be linked or controlled independently.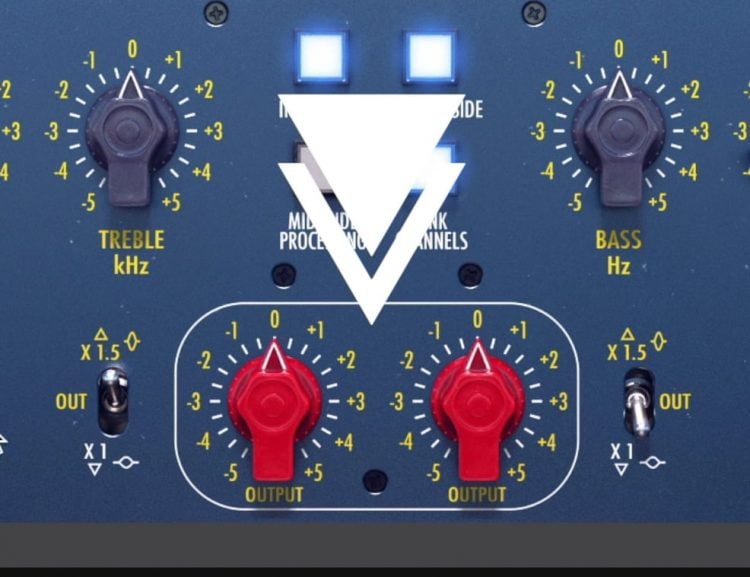 The left and right outputs can be affected independently.
Let's take a listen to this plugin on Rap, Pop, and Indie Folk tracks to get a better idea of how they work for specific genres. If you want to hear the audio examples, check out the video embedded above.
Chandler Limited Curve Bender on a Rap Track
When using this plugin on a Rap track, both low and high-frequency amplification is important. The curve bender can go as low as 35Hz and as high as 20kHz, making it great for accentuating some of the more extreme frequencies.
Because Rap is known for its aggressive eq curve, having this as an option makes the Chandler Limited suitable for rap and trap.
Chandler Limited Curve Bender on a Pop Track
This plugin works well at accentuating some of the Mids of a pop track, as well as bringing the low and high ranges into focus. You can cut some of the sub-frequencies with the low cut, and then boost a little at 91Hz or 150Hz to bring the kick forward a bit.
The classic tone of the EQ works well here, as it gives the clean pop mix some needed character.
Chandler Limited Curve Bender on an Indie Folk Track
The curves of this plugin are great for bringing mid-range vocals and instrumentation forward. By using 800Hz and 1.8kHz, I was able to bring some of the vocal forward and create a full sounding mid-range.
Furthermore, some slight attenuation of the high and low ranges can focus the sound into a narrower spectrum - a technique that is typically only appropriate for folk and lo-fi genres.
By warming the mid-range and taming some of the highs, the Chandler Limited Curve Bender creates a classic and full sound.
FabFilter Pro Q 3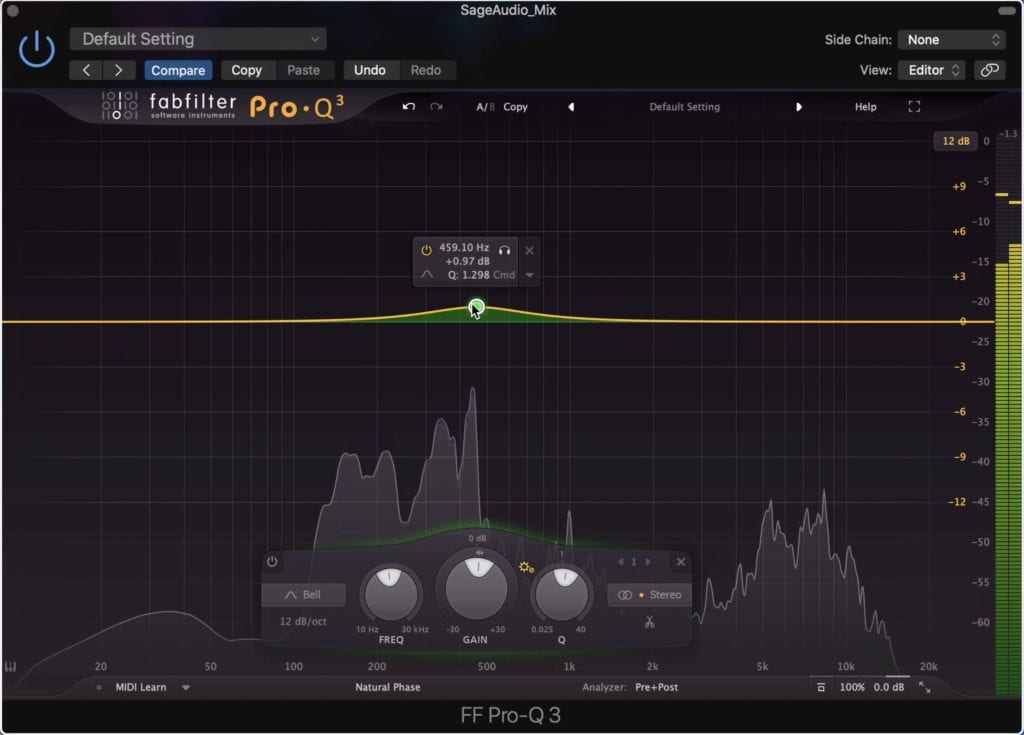 The FabFilter Pro Q 3 is a versatile and impressive digital EQ.
Due to this plugin's complexity, I won't be delving too deeply into its functionality.
Let's look at this plugin in an expedited way.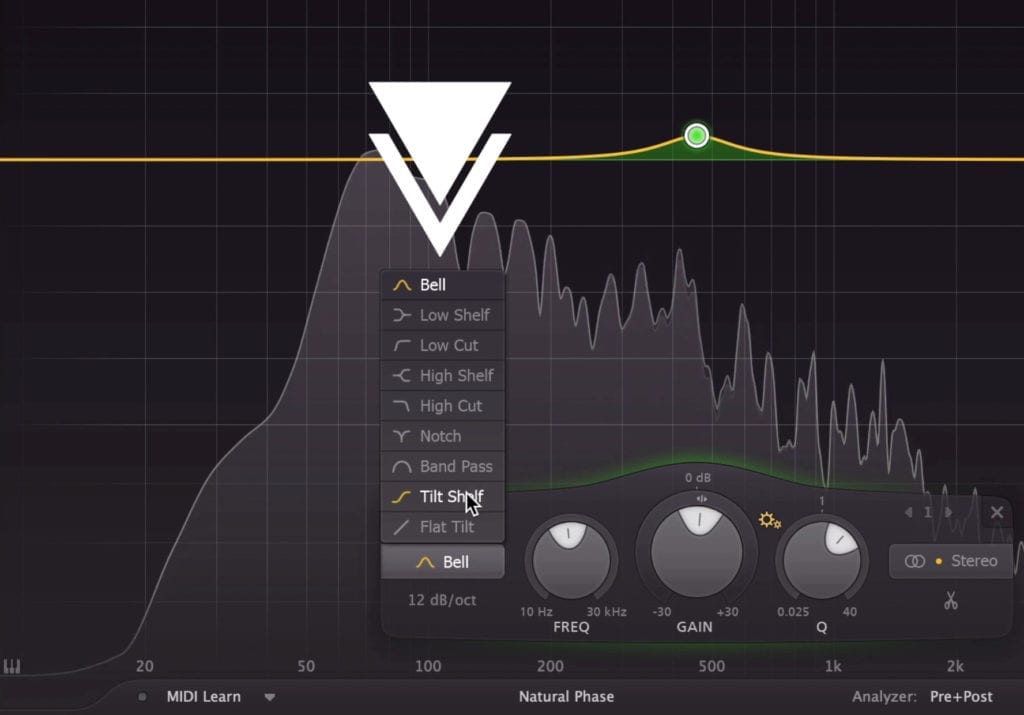 Each band can be 9 different filters.
You can create up to 24 bands, each with 9 different possible filter types. The bands can be located on the left, right, mid, side, or stereo, which is the default.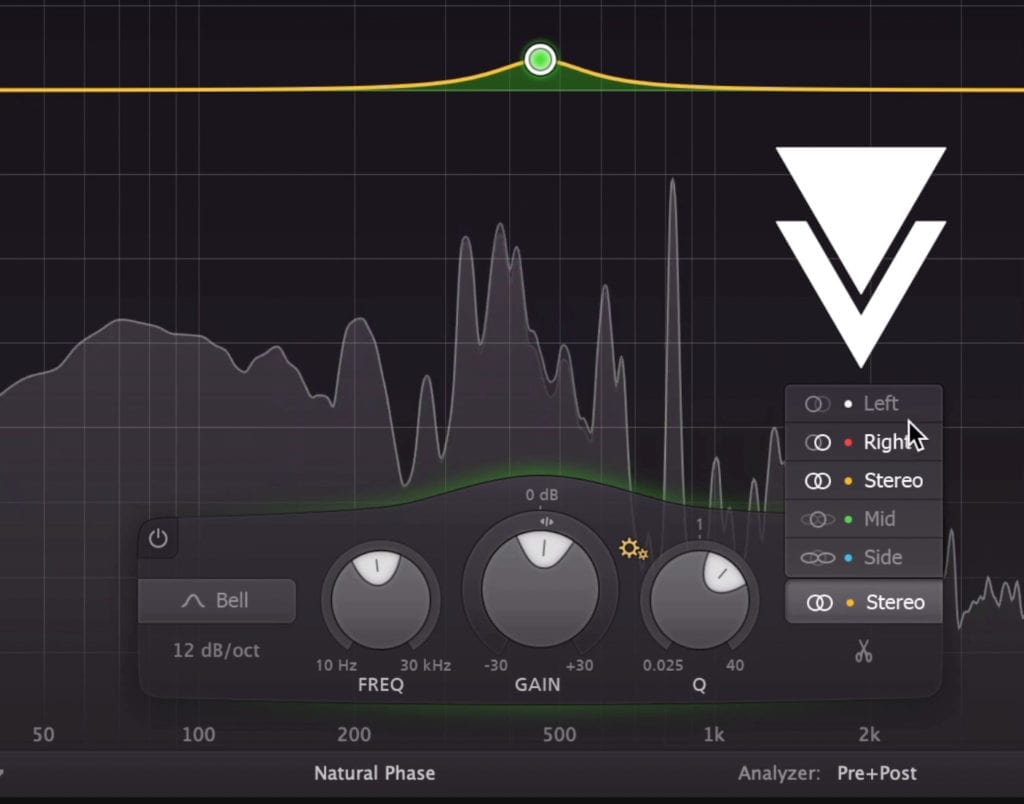 Each band can be placed on the left, right, stereo, mid, or side channels.
These bands can range from 10Hz to 30kHz and have a range of 60dB. The Q ranges from pin-point precision to the entire frequency spectrum.
The phase can be altered between zero latency, to natural phase, and linear phase to achieve different levels of phase cancellation.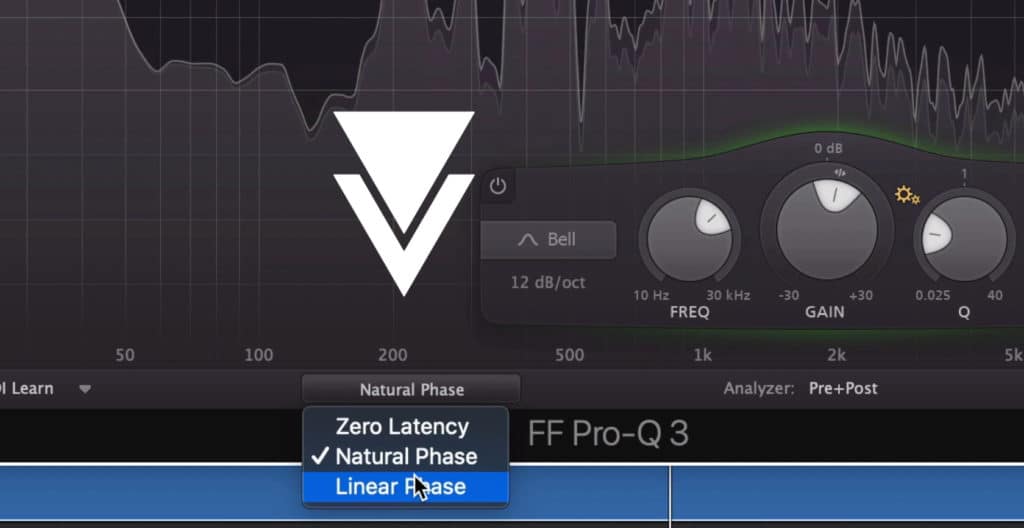 The phase can be switched between Zero, Natural, and various degrees of linear phase.
A couple of my favorite functions include dynamic bands, which allow your bands to respond to the incoming signal. I typically use this for expansion when mastering.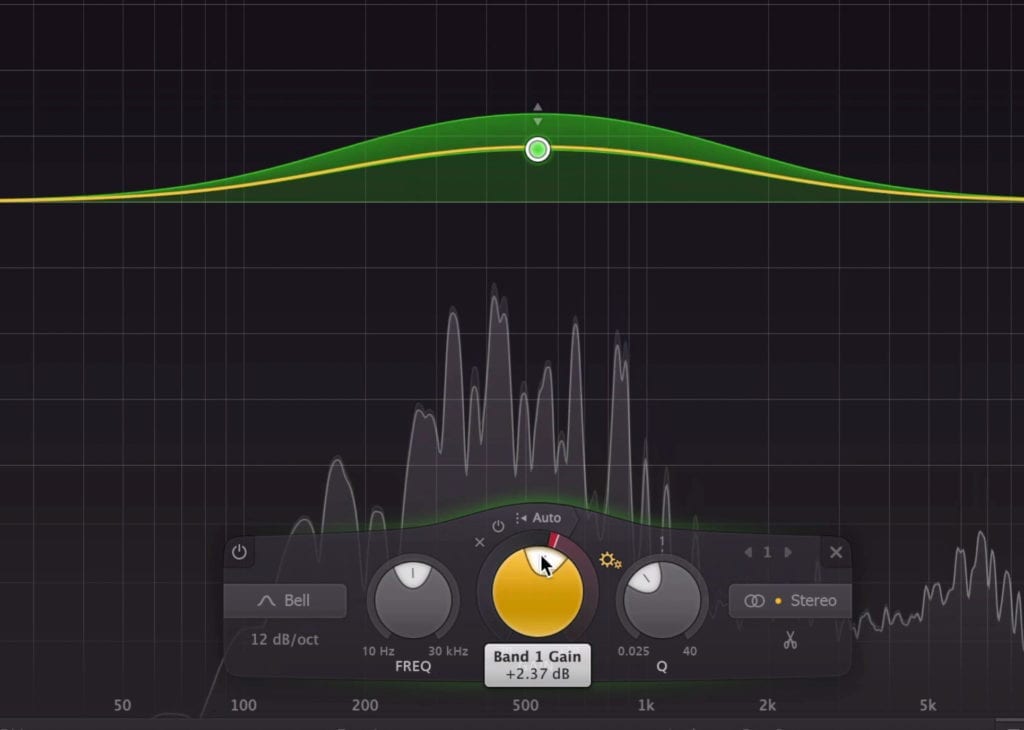 Bands can be made dynamic for compression or expansion.
Another great function is Gain-Q which creates a relationship between the Q of a curve and its gain, which more closely emulates analog consoles.
FabFilter Pro Q3 on a Rap Track
To be honest, the Pro Q3 will sound great on just about any track due to its versatility, but let's see why it works for rap regardless.
By making a dynamic band near the kick and bass, you can expand some of those lower frequencies, making them more impressive, even when applying heavy limiting. This is best we used as a mid-channel band.
A similar idea works for the high frequencies - you can create a dynamic band above 5kHz and place it on the side-channel. This will widen the stereo image of the high frequencies, and make them more dynamic and impressive with a high hat hits.
I think Natural or Zero phase works best for rap since linear sounds a bit too clean.
FabFilter Pro Q3 on a Pop Track
Just about all the settings used for Rap work well for Pop when using the Pro Q 3. In this example, I moved the dynamic low-frequency band up to expand some of the punch of the kick, instead of the sub.
The dynamic band in the mid-range works better lower, to accentuate the fulness of the vocal and production.
For this pop track, I like Natural or Medium Latency phase. Natural makes it sound forward and clear, but with depth. Linear adds even more depth but lacks some of the forwardness of Natural phase.
FabFilter Pro Q3 on an Indie Folk Track
On the folk track, I used a mid-band to accentuate the mid-range of the vocal. To my ear, this introduced some fullness and a little warmer of a tone that matched the production well.
Additionally, I used a dynamic mid-band to attenuate some sibilance, and a side-band to make up for any lost high-frequency presence.
This was the sibilance is controlled, but the side channel which doesn't include sibilance can make up for any of that lost high-frequency range.
Tube-Tech Equalizer MKII by Softube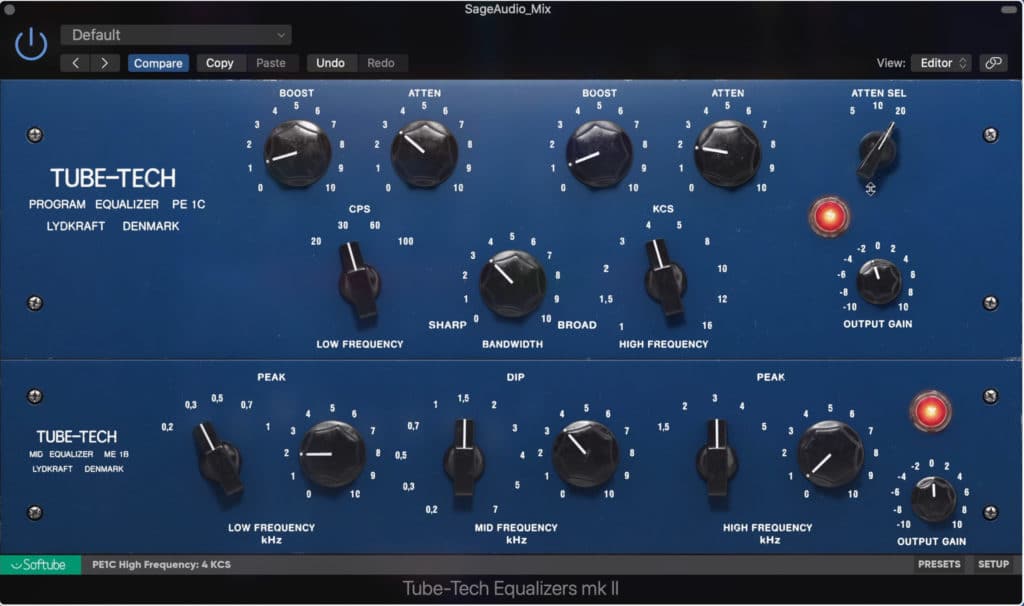 The Tube-Tech Equalizer MKII is a combination of 2 equalizers.
This equalizer combines 2 analog emulations, the PE1C which allows you to equalize low and high frequencies, and the ME-1B which focuses on the mid-range.
Combining these two gives you enough control to equalize an entire mix or master.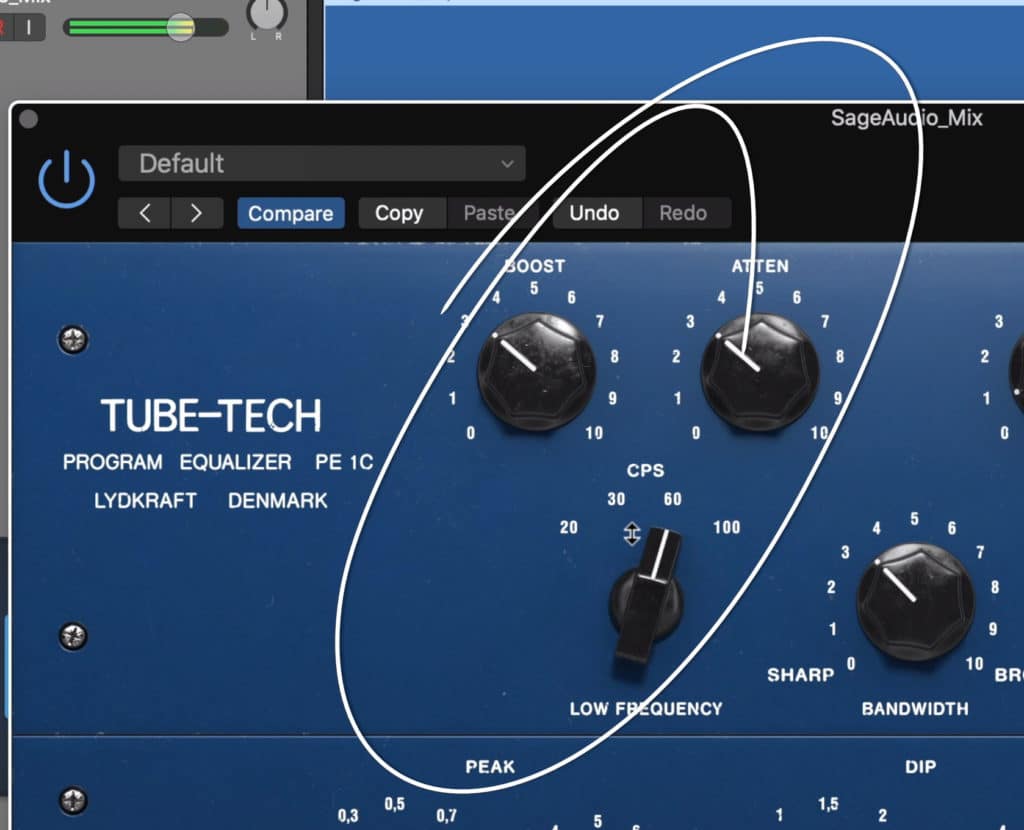 Shown here are the controls for the low-frequency band.
Up top to the left is the low-frequency band, which can either be boosted or attenuated. This ranges from 20 to 100Hz.
The high-frequency band can only be boosted and ranges from 1kHz to 16kHz. The bandwidth for these 2 bands can be controlled with the middle bandwidth rotary.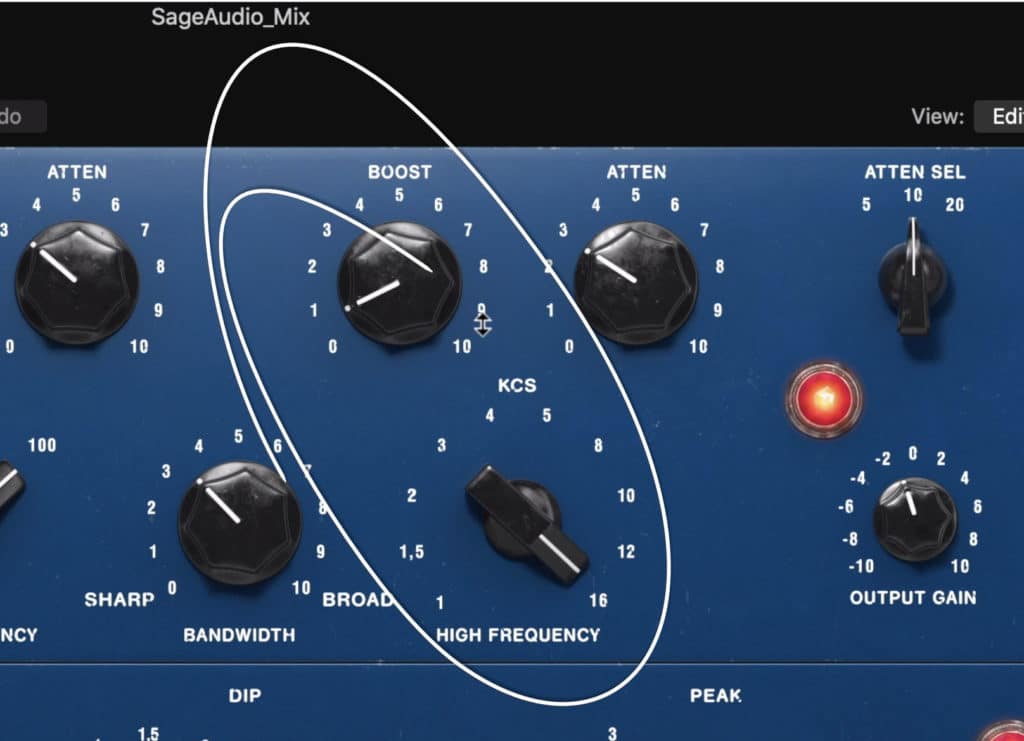 Shown here are the controls for the high-frequency band.
If you want to attenuate the high-frequency range you can use the toggle on the top right to select the frequency, and use the attenuation knob to its left to turn it down.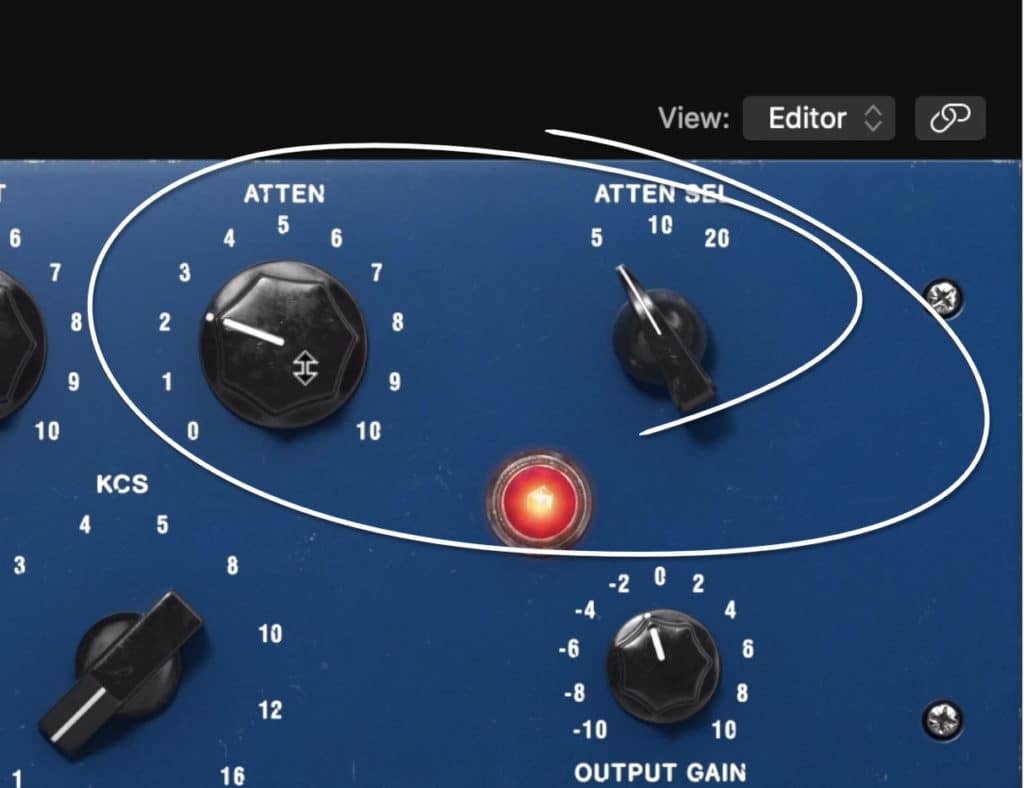 Show are the controls for attenuating the high frequency range.
The ME-1B has 3 bands, a low, mid, and high. The low and high bands can only be boosted, while the mid band can only be attenuated.

The ME 1B has 3 bands to control the mid-range.
Both equalizers offer an output gain dial, meaning you can balance your overall mid-range with your overall high and low ranges by adjusting these dials.
Tube-Tech Equalizer MKII on a Rap Track
The low frequency and high frequency boosts come in handy when affecting a rap track. I found for this track, that boosting 100Hz and 16kHz with a moderate Q has some good results.
How you affect the mid-range will depend on the track, but boosting 700Hz to 1000Hz is going to bring the mid-range forward.
Due to its lack of controls, I probably wouldn't use this EQ when mastering rap, but it has a great tone nonetheless.
Tube-Tech Equalizer MKII on a Pop Track
When using this EQ on the pop track, I liked the sound of cutting some of the Mids with the master output of the ME-1B, while boosting the output of the PE-1C. This really accentuated the low and high frequencies and gave some variance to the frequency response.
Like the rap track, I boosted the lows and highs, while cutting some of the mids using the frequency bands.
Boosting some of the lower-midrange also created a more forward sound indicative of pop.
Tube-Tech Equalizer MKII on an Indie Folk Track
This is where this EQ seems best suited. It's broader curves and classic design are more indicative of older genres . That said it works well on this indie-folk track.
I boosted the mid-range, while attenuating some of the bass and high frequencies.
I found that using the Tube-Tech equalizer on this track gave it a more classic timbre.
For more plugins you can use on your masters, check out our blog post and video on free mastering plugins:
Maag Audio EQ4 by Plugin Alliance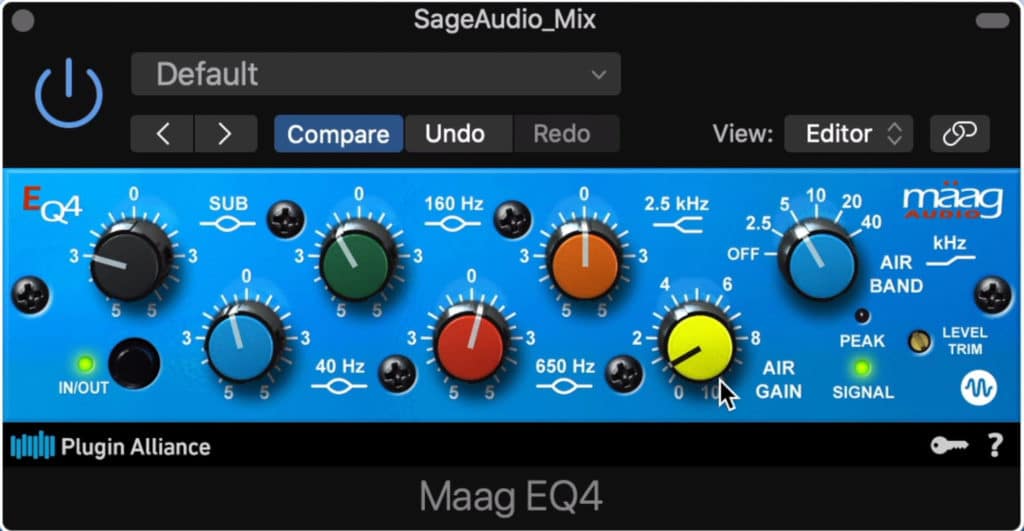 The Maag EQ4 is great for rap and trap music.
Despite its seemingly classic design, the Maag Audio EQ4 has an incredibly forward and modern sound. I find that I almost always increase the gain of each band slightly , and it improves the sound even when the increase in gain is compensated.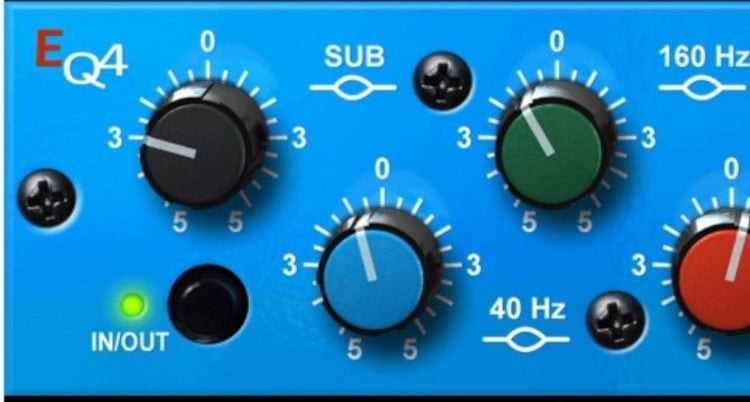 The low sub and 40Hz bell work well at bringing out the kick and bass of a track.
The EQ4 has 6 bands, a 10Hz sub, a 40Hz bell, a 160Hz bell, a 650Hz bell, a 2.5kHz shelf, and an airband shelf that can extent to 40kHz.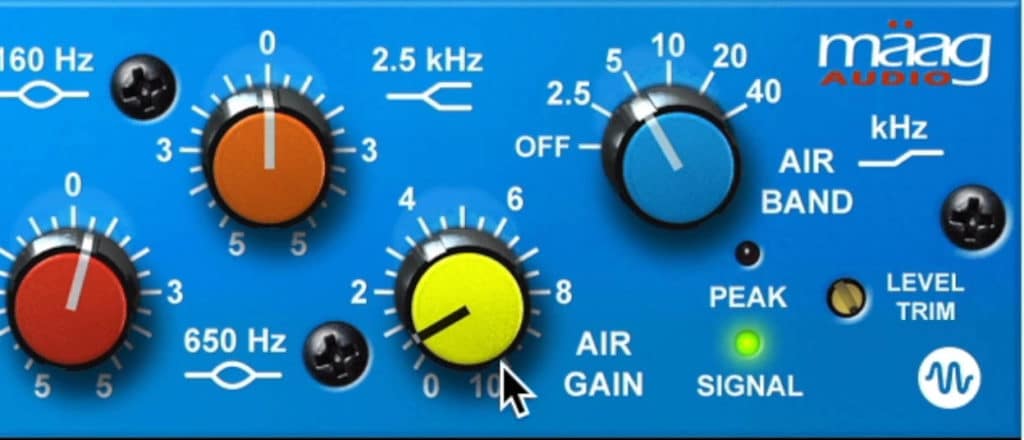 The air band brings clarity and air to a master.
A level trim is also available to compensate for the changes some fo the curves can cause.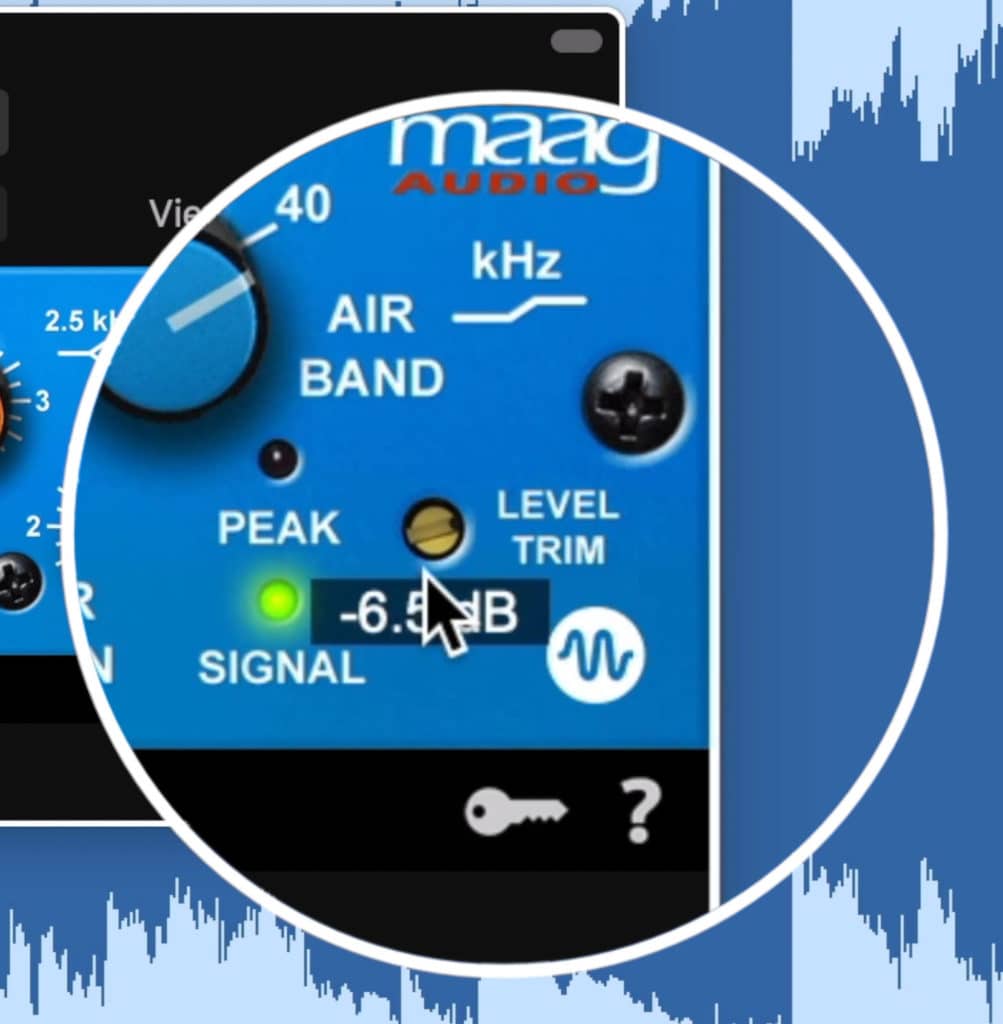 A level trim can be used to compensate for any amplitude changes that occur due to amplifying the bands.
All of the curves on this EQ are smooth and can be considered pretty broad. It should be noted that having the EQ set to anything but 'Off' very slightly affects the frequency curve. Also, if the Airband is set to a specific frequency, the gain is amplified, even if the gain rotary is at 0.
Maag Audio EQ4 on a Rap Track
This plugin sounds great on a rap track due to the sub and air bands. Boosting some of the sub really brings out the tone and power of 808s, while the airband brings life to high-hats.
The 40Hz bell can really make the kick sound impressive , while 160Hz, at least in this example, sounds better when attenuated slightly.
650Hz brings the mid-range forward and increases the overall presence of the track, while 2.5kHz adds some much-needed clarity.
Maag Audio EQ4 on a Pop Track
I didn't find the Maag EQ4 as useful for pop as I did rap. Regardless, some of the functions still augmented the sound.
650Hz worked great for bringing the vocal's warmth and presence forward , while the airband was great at brightening the sound. I used a little of 160Hz to accentuate the kick, but I couldn't get the low-end to sound exactly how I wanted with this EQ.
Maag Audio EQ4 on an Indie Folk Track
Very subtle changes worked well for this folk track. While with the other EQ's I found myself cutting some of the highs, with this EQ I choose to add some in.
A gentle curve at 650Hz helped bring some body to the track.
If you have a song that you'd like to hear mastered with analog equalizers, send it to us here:
HarmoniEQ by Voxengo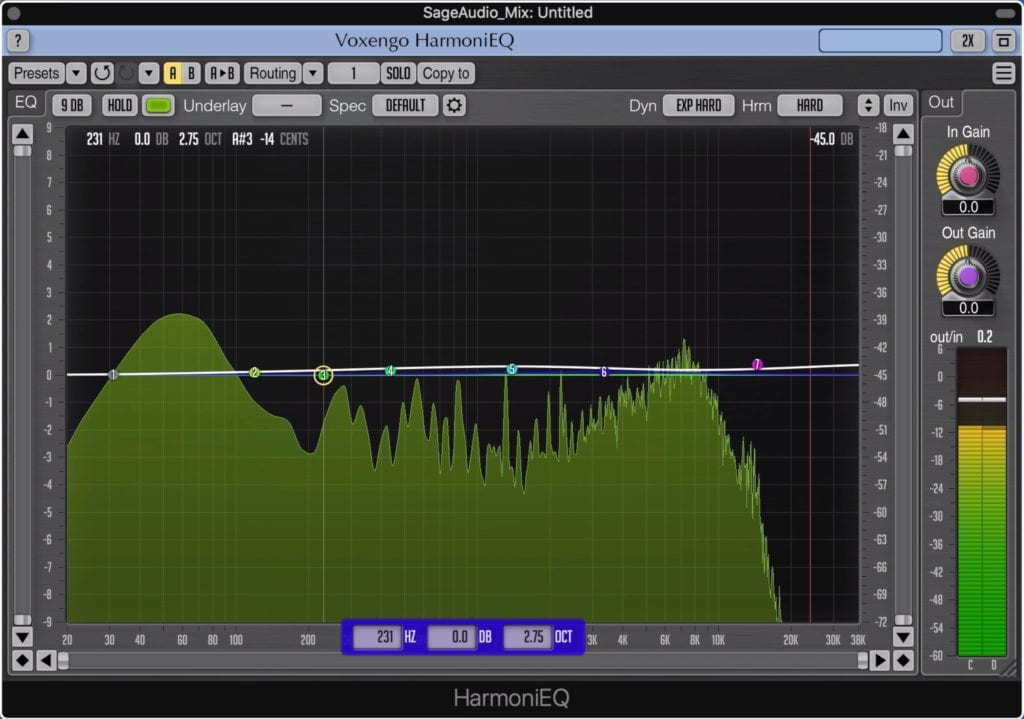 HarmoniEQ is a versatile digital EQ.
The HarmoniEQ offers clean digital equalization with the option of introducing harmonic distortion and expansion. This makes it a great option for both transparent equalization and colorful mild distortion.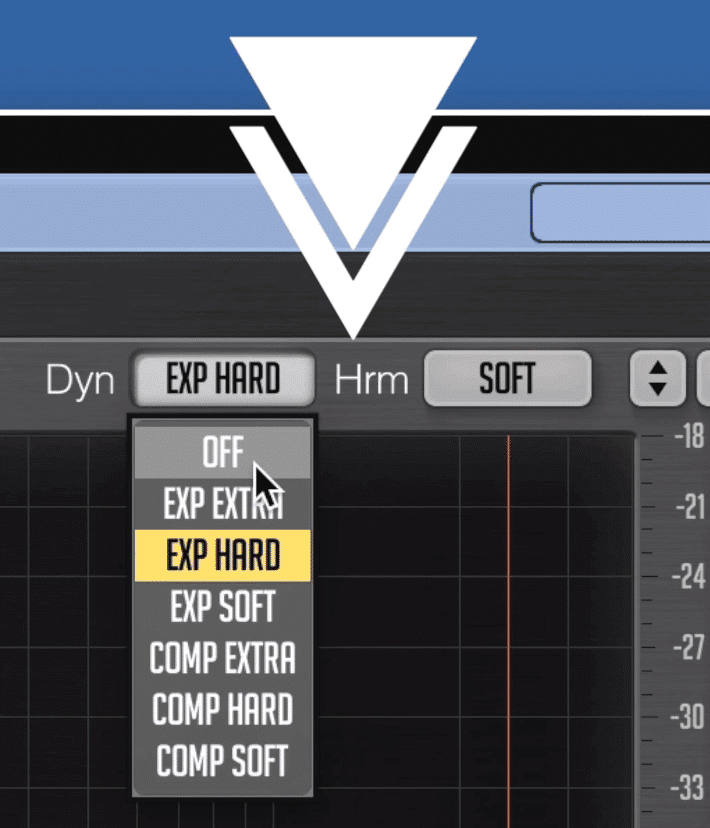 A expander section can be used to make the dynamics hit harder.
Depending on the genre you're working on, you can use various combinations of harmonic generation and expansion to create a subtle or aggressive sound.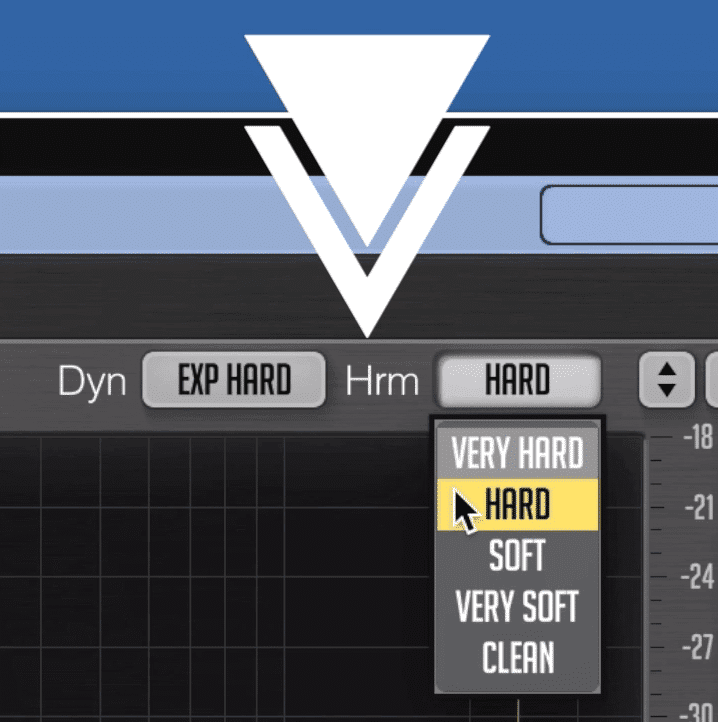 Harmonics fill the frequency spectrum.
You can create up to 7 bands ranging from 20Hz to 38kHz - this makes the HarmoniEQ great for adding some air to your masters.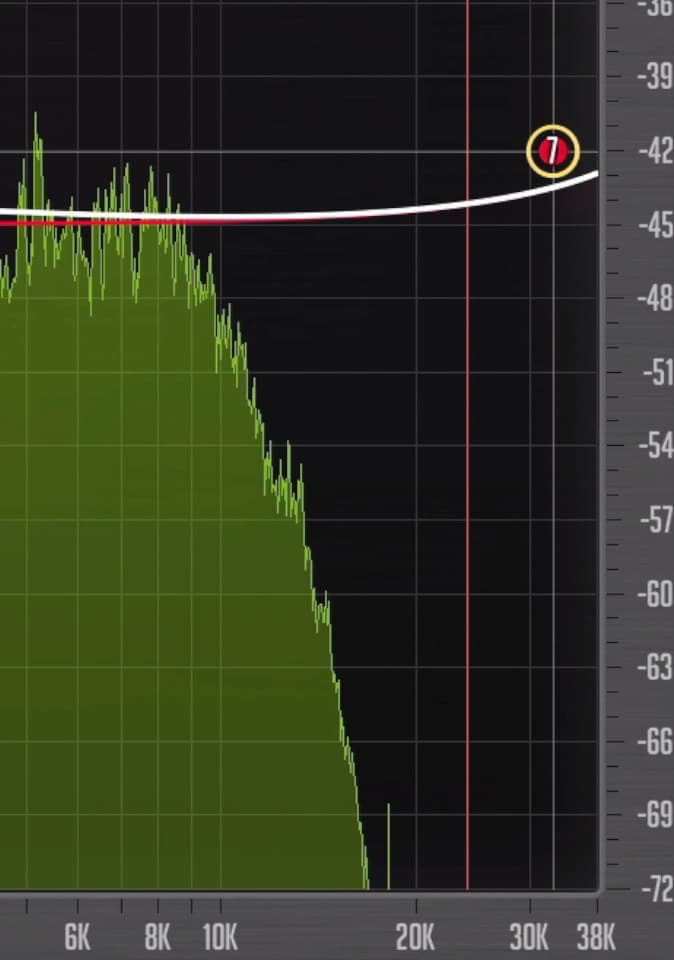 A high frequency band can be used to add some air above 20kHz.
Some additional functions include oversampling, inverse gain, and input and output.
HarmoniEQ on a Rap Track
This plugin works great for creating an aggressive sounding low and high-frequency range. Harmonics make these sections clear and powerful, while expansion adds some dynamic and punch to those sections.
I enjoyed boosting both the low and high ends while using the most aggressive harmonic and expansion options.
HarmoniEQ on a Pop Track
Boosting the low and high ranges sounded great with this EQ - as did the 'Extra' dynamic option. For the harmonics, I found that the highest setting was too aggressive, so I opted for the second highest.
Considering you can place bands at any frequencies you want, there's no reason that this plugin can be adjusted to the needs of any pop track.
HarmoniEQ on an Indie-Folk Track
I controlled some sibilance by attenuating high frequencies but ensured it didn't sound too compressed with some expansion. Additionally, I added in some soft harmonics to fill the sound a little, without overwhelming the natural tone of the recording.
Boosting some high mids made the recording sound forward and highlighted the vocals. Again, given this plugin's versatility, it will work well for many genres.
Conclusion
We compared these plugins while showcasing them on Rap, Pop, and Indie-Folk tracks. Some of the EQs are versatile enough to work with just about any genre - but some are better suited for particular genres.
For rap, these Mastering EQs worked exceptionally well:
FabFilter Pro Q 3
Maag EQ4
Voxengo HarmoniEQ
For Pop, these Mastering EQs worked exceptionally well:
Chandler Limited Curve Bender
Tube-Tech Equalizer MKII
FabFilter Pro Q 3
For indie-Folk, these Mastering EQs worked exceptionally well:
Chandler Limited Curve Bender
Tube-Tech Equalizer MKII
FabFilter Pro Q 3
Try some of these plugins for yourself and let us know how you use them. Also, if you know of another great mastering plugin, tell us in the comment section of the video.
---