10. FreeSound
9. MusicRader
8. SampleSwap
7. Hip-Hop Makers
6. Sample Focus
5. Bedroom Producers
4. Sound Packs
3. NASA Audio Collection
2. Cymatics
1. 99 Sounds
Music samples have been a driving force in music since the 1970s. With the popularization of digital processing and the accessibility of the sample via the internet, sample usage is just as popular, if not more so.
Whereas samples were once used as the backbone of a song, today, they're used in a less obvious way. Instead of sampling full songs, or chopping up the verse of a classic track and lay beats over them, samples have shifted to become more instrument-centric.
In other words, the most popular and shared samples of today are typically kick, snare, and other percussive samples, with piano loops being a close second.
Typically these samples are layered together in a new composition with the main difference between samples being their respective timbres, and the genres they're associated with.
But you probably don't need details on how samples are used - instead, what's most helpful are some websites you can use to get great-sounding samples for free.
With that in mind, let's look at 10 different websites from which you can easily and safely download samples. Some of these websites cater more to a particular genre, whereas some are more cinematic in nature.
Additionally, some of the websites on this list have nothing to do with music, but still offer unique and valuable sound samples that can be used to add something different to a song.
Let's take a look at each one of these websites - we'll discuss how to download samples from each, as well as some of the basic navigation of the site.
Then, we'll listen to a sample or 2 from the website to get a better idea of how it would be used in a full production.
10. FreeSound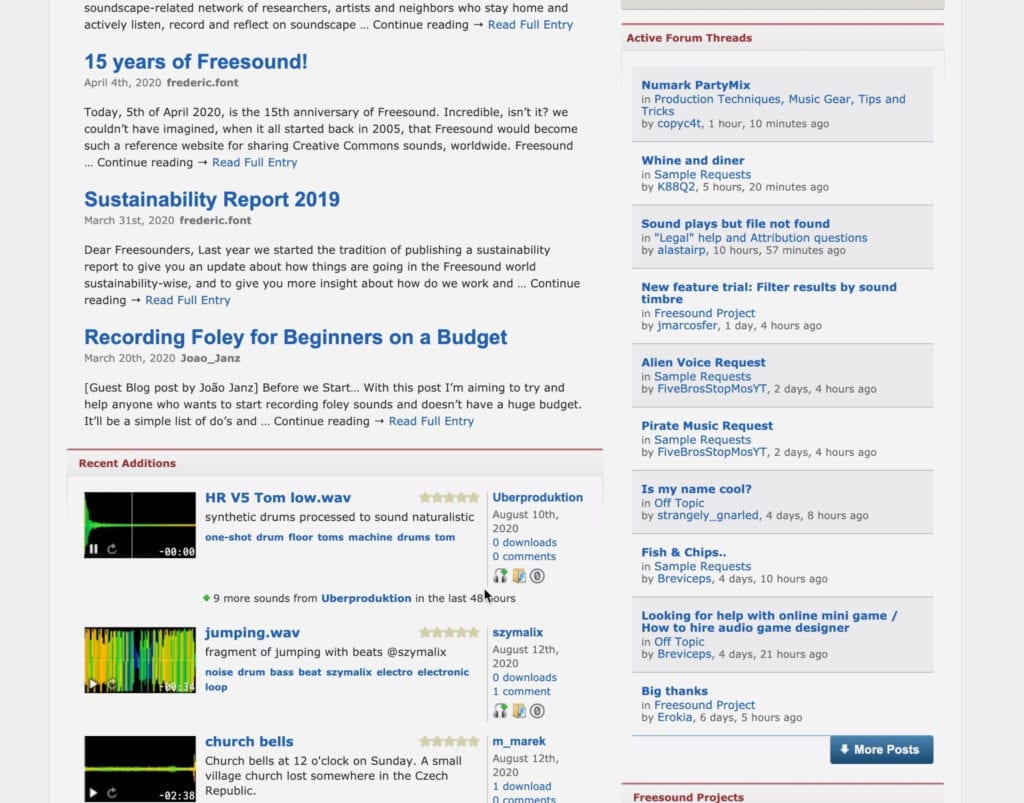 Free sound has a dated look, but a great community of engineers that upload regularly.
FreeSound has a simple interface - one that looks a little dated but is easy to navigate nonetheless.
What's unique about FreeSound is the community it fosters - both through its forums in which users ask questions and share samples, but by the ability of users to upload new samples.
Because of its diverse community, FreeSound has new samples coming out every day.
To download samples, simply create an account, log in, and begin downloading.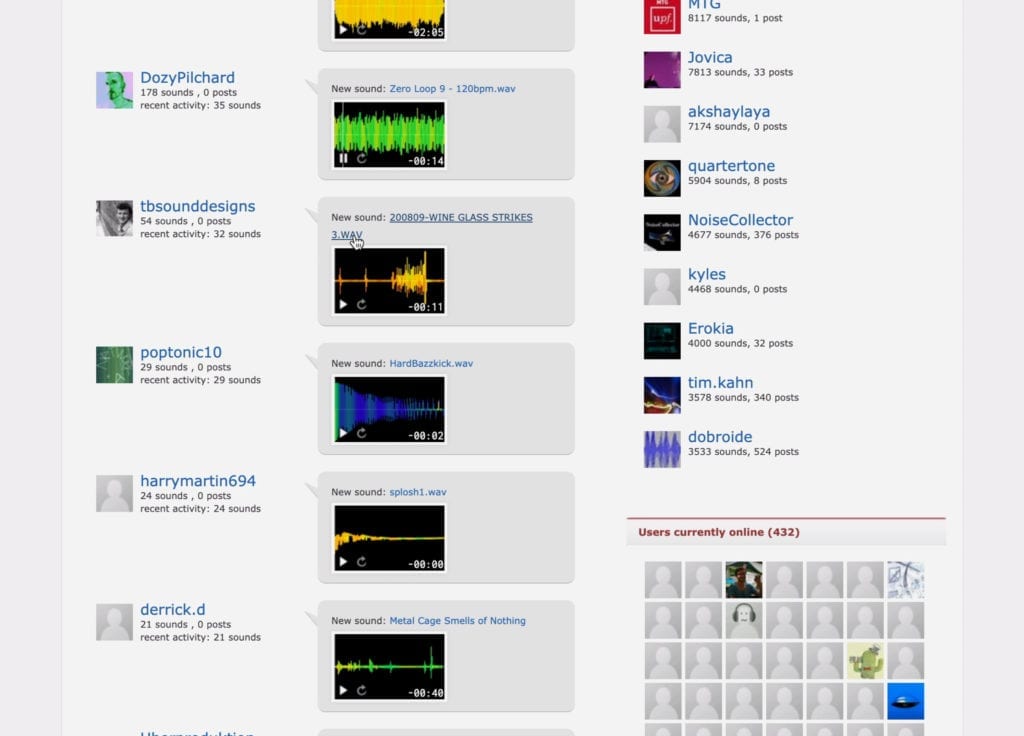 Due to its community, new samples are uploaded to the site everyday.
Adding samples for other users to download is just as easy. Simply click the upload sounds tab, select your file, add a description, and others can now download the sound.
The samples of FreeSound are more ambient and cinematic than anything else; however, you can find some great drum and piano samples and loops.
These sounds are a bit more classic as if they were recorded in the mid-2000s, but if you're looking for a throwback sound, this website is a great source.
9. MusicRadar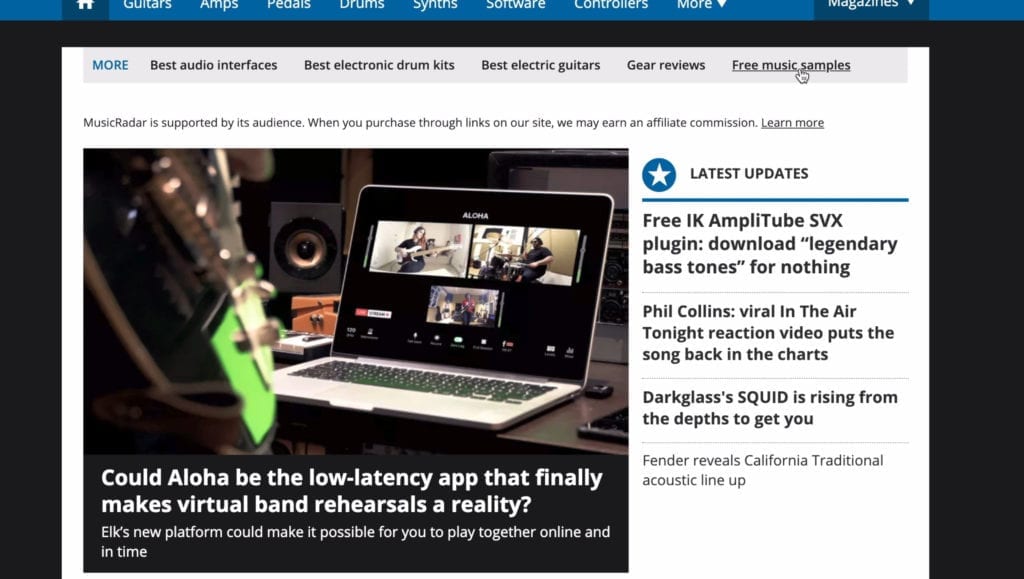 Music Radar is mainly a blog, but they do have an extensive free sample section to their site.
MusicRadar is mainly known for its music blogs and gear-related news, but they also have an extensive log of free samples.
Some of their sample links will take you to other websites, but its through MusicRadar, or SampleRadar as they call, that all these links are made available.
On their main page, you mind find it a little difficult to find these samples, but under the'More' banner, not the tab, you'll find the section titled 'free music sample.'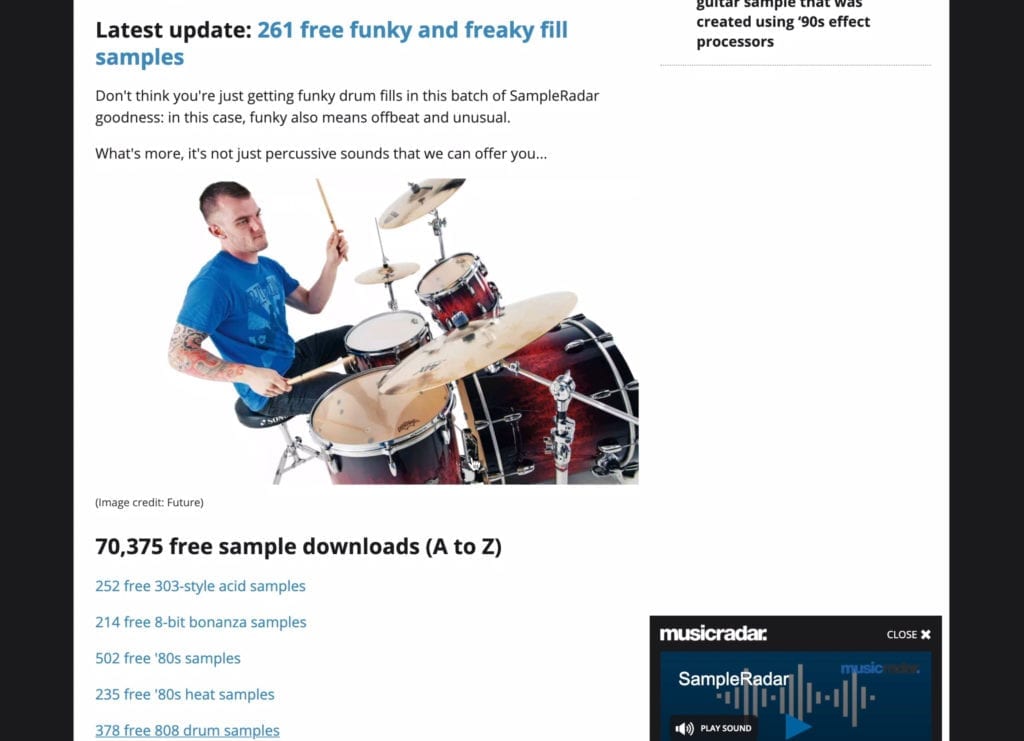 They offer over 70,000 samples, arranged in packages.
From here you'll notice over 70,000 samples, conveniently categorized alphabetically. The samples range from acoustic guitars, various drums, bass lines, pianos, pretty much anything you can think of can be downloaded from their library.
Finding the right sample is incredibly easy since you can preview multiple samples in a package, and then simply click on the download to receive a zip file with hundreds of relevant samples.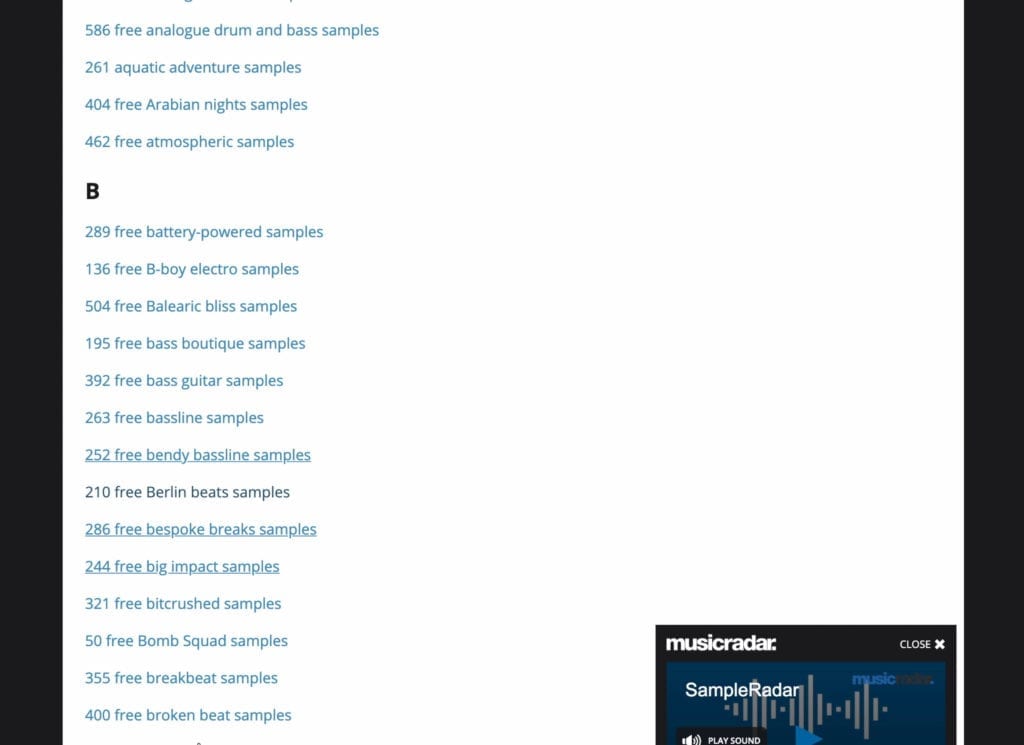 These packages are easily accessible and are organized in alphabetical order.
The samples themselves are organized in alphabetical order and grouped by song key, so finding the right sample is easy.
What's great about this site is that you download sample packages instead of individual files - saving you time while getting access to a library of relevant sounds.
8. SampleSwap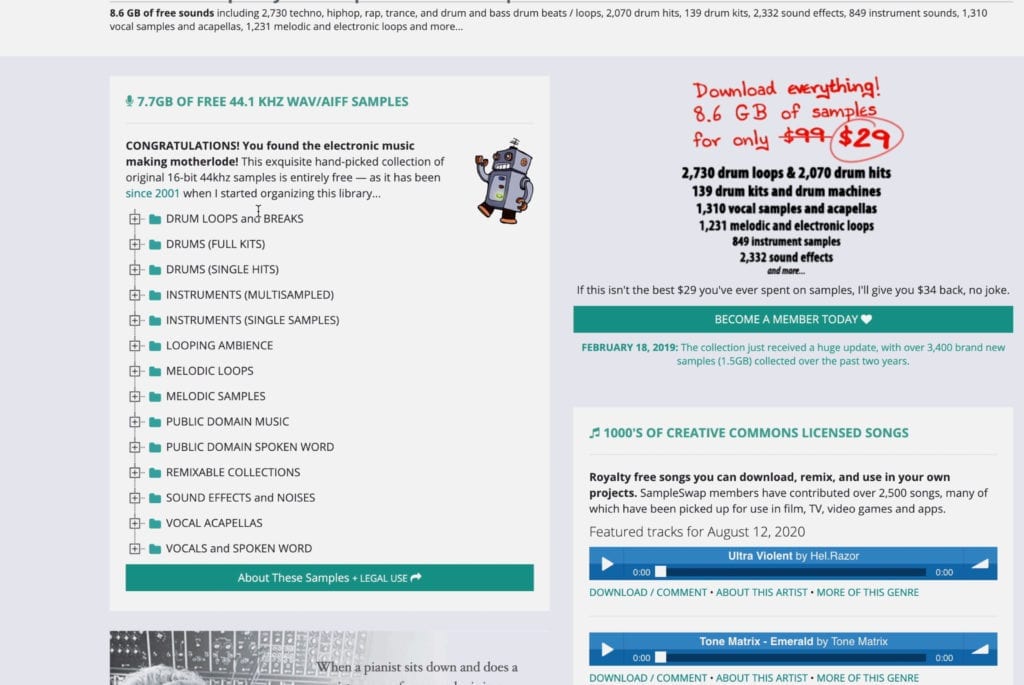 Sample swap has 8GB of free samples.
SampleSwap is a little like the FreeSound site in that the design and layout is a little antiquated and reminds me of a site designed 10 years ago or so - but the samples themselves are great and pretty varied.
The site includes roughly 8GB of free samples , which you can filter through and explore. They're organized in alphabetical order and can be added to cart, from which a download link will be sent to an email.
Although the steps to download files are a little more complex and include setting up an account, it's still pretty easy to access files nonetheless.
The samples are mainly musical in nature and include both single instrument hits and loops. For example, you can download drum loops and fills, full drum kits, melodic loops, single sample instruments, and more.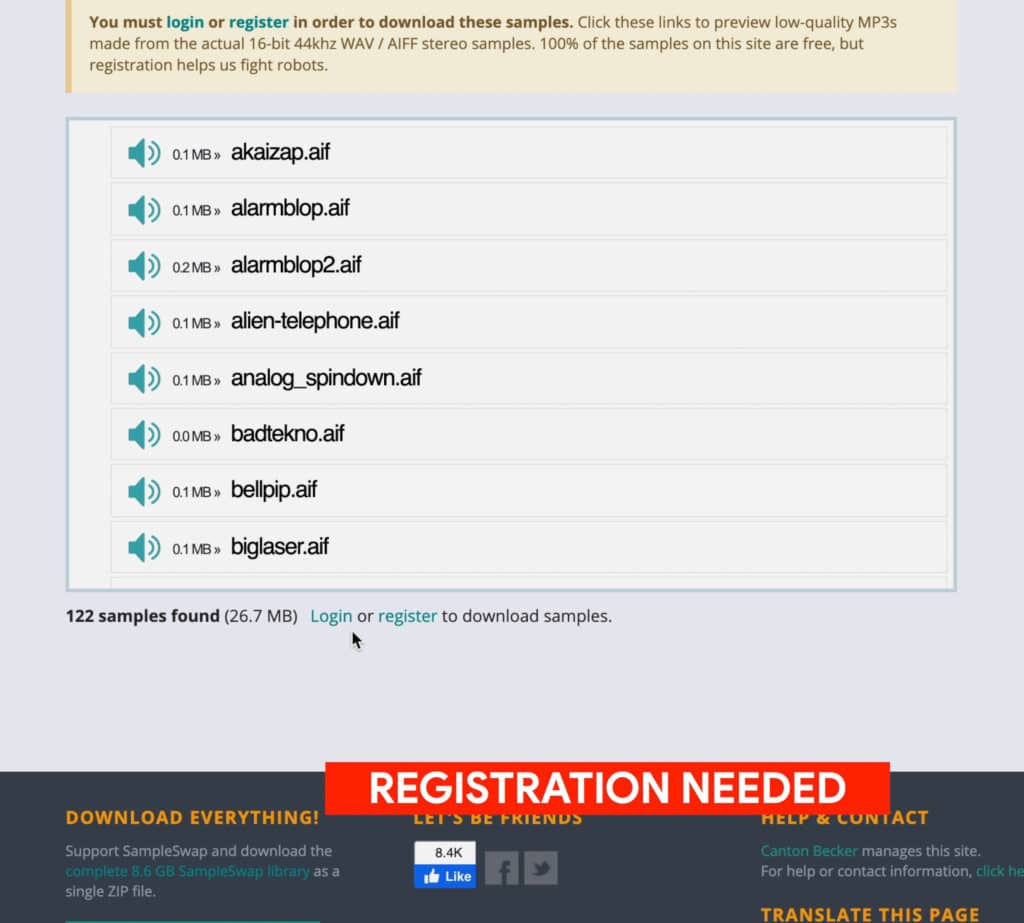 The samples can be previewed. You'll need to create a free account to download them.
You also get access to sound effects, spoken word recordings, and other ambient samples.
7. Hip-Hop Makers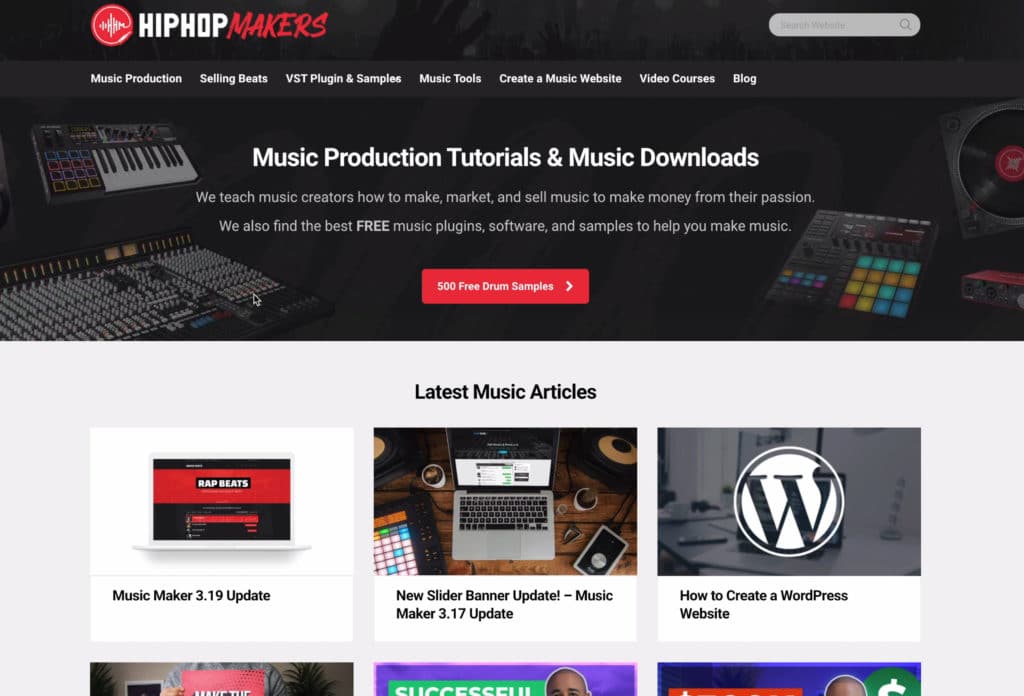 Hip-hop makers is a blog with a lot of links to various sample libraries.
Although Hip-Hop Makers isn't a site where you can directly download samples, as much as its a blog and forum, the makers of the website have comprised an impressive list of links to various sample libraries.
Under their "Free Music Samples" section, you'll find links to over 15,000 samples. The links are organized into categories like:
Drum Kits
Hip-Hop Loops
Trap Loops
Trap Samples
Kick Drum Samples
Midi Songs
Vocal Samples
Piano Samples
And a lot more.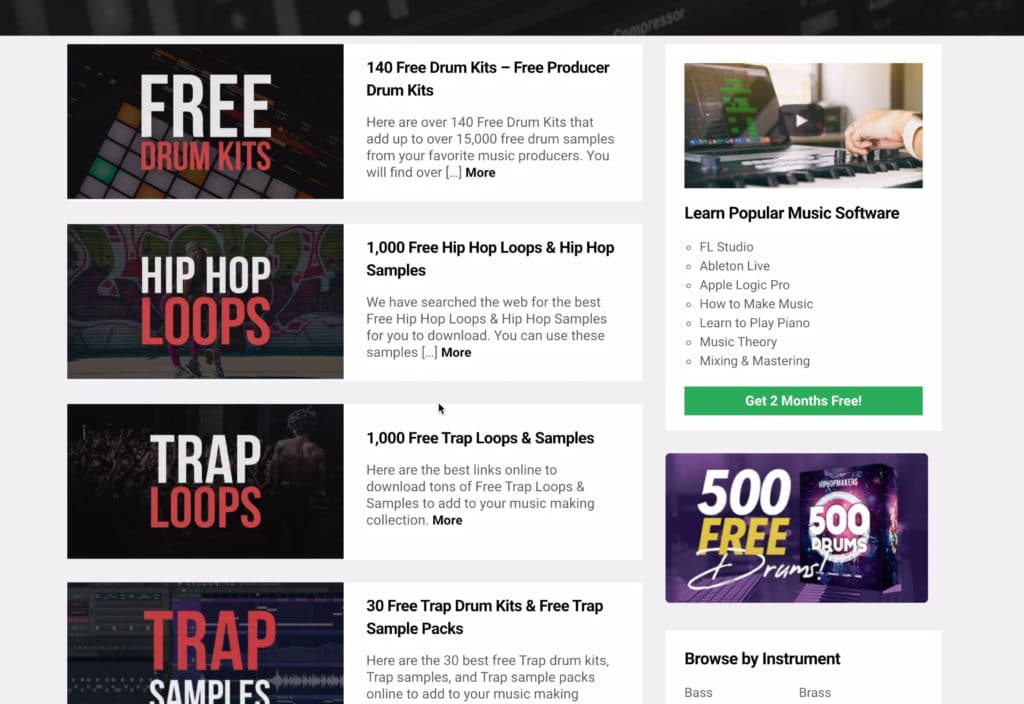 The links are organized in groups like shown above.
Once you click on one of the categories, you'll find somewhere between 10 to 30 outbound links, each related to a particular sample library that you can download for free.
Although the download itself is free, it's important to note that note all of the samples are public domain, nor are they open copyright, so be careful what you choose to use in your track if you intend to release it.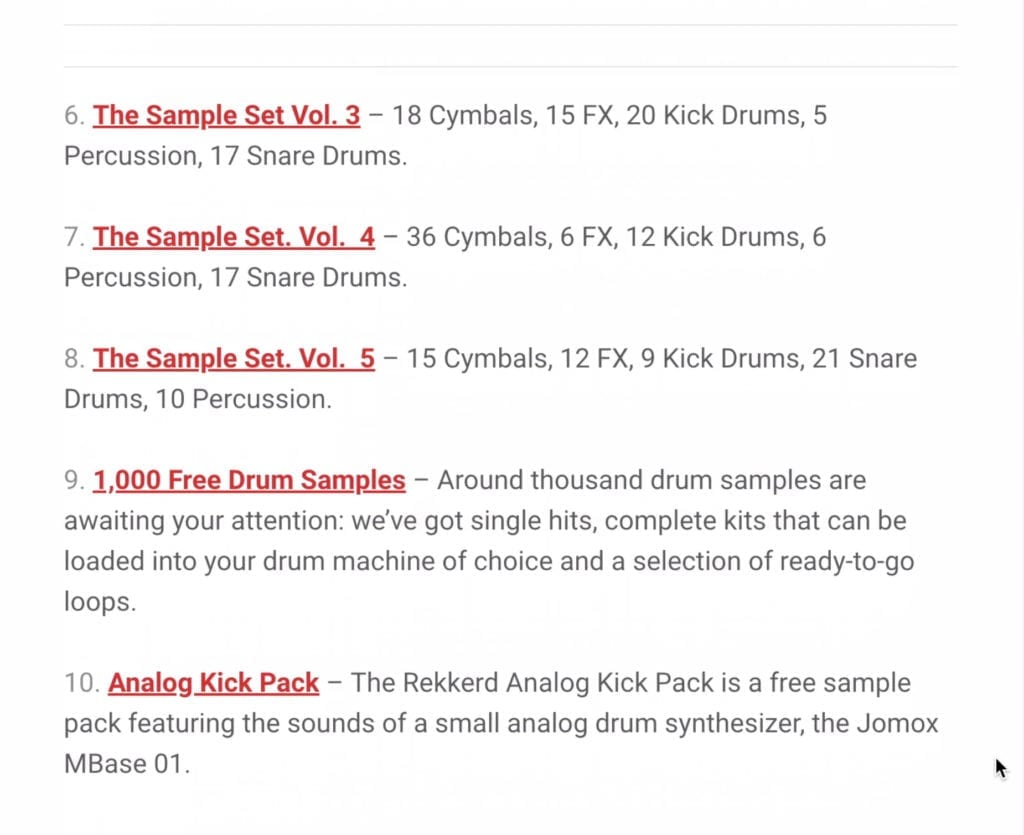 After selecting a group, you'll find roughly 30 outbound links to sample libraries of that type.
6. Sample Focus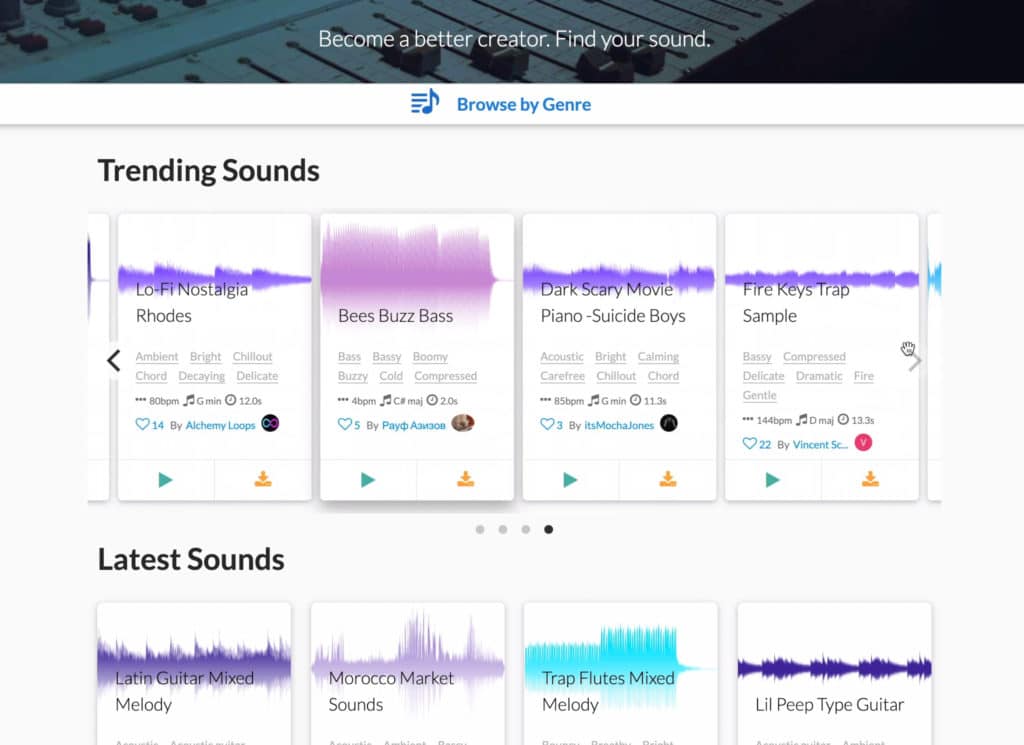 Sample Focus let's you preview samples on the homepage.
If you prefer to have a full library of samples right in front of you, ones that can easily be previewed, Sample Focus is a great site to visit.
On the home page of Sample Focus, you can browse hundreds of samples to find one that will work for your production. These samples can also be broken down into categories, subtypes, and then filtered through based-on tempo, key, tags, and others.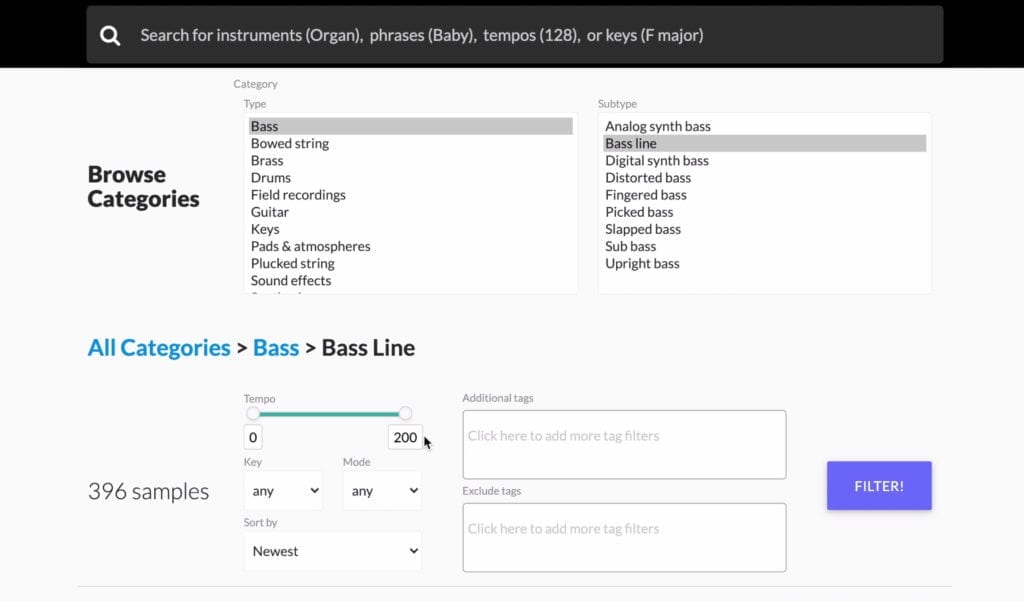 You can also categorize them and find specific samples more easily.
The samples on the site are almost all musical, but there are some ambient samples if you're looking for those.
One thing to note is that although samples are free at first, you start off with only 5 credits , with each sample costing 1 credit.
One cool feature is the ability to upload your samples for credits, with each approved sample earning you 4 credits with which you can download other samples.

Registration is needed, and you only start with 5 credits with which you can download samples.
That said, this website may be best for an active producer - one that's interested in both sharing samples, and finding new ones from other producers and engineers.
5. Bedroom Producers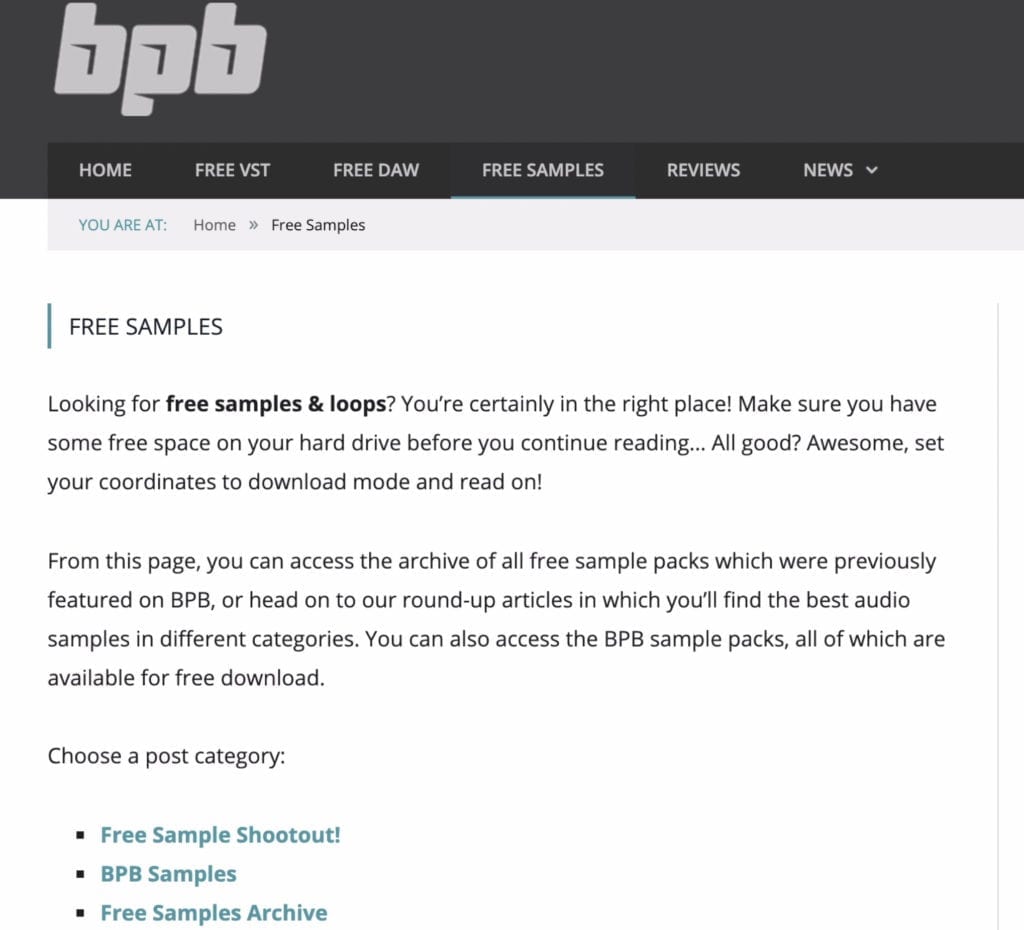 Bedroom producers is a blog site as well as a host to their samples and plugins.
The Bedroom Producers website ranges somewhere between a blog and a software developer. On one hand, they host links to other sites where you can find samples, plugins, etc - and on the other, they develop their own.
We already covered some of their virtual software instruments, like their Tape Cassette plugin series - but they have a lot more to offer.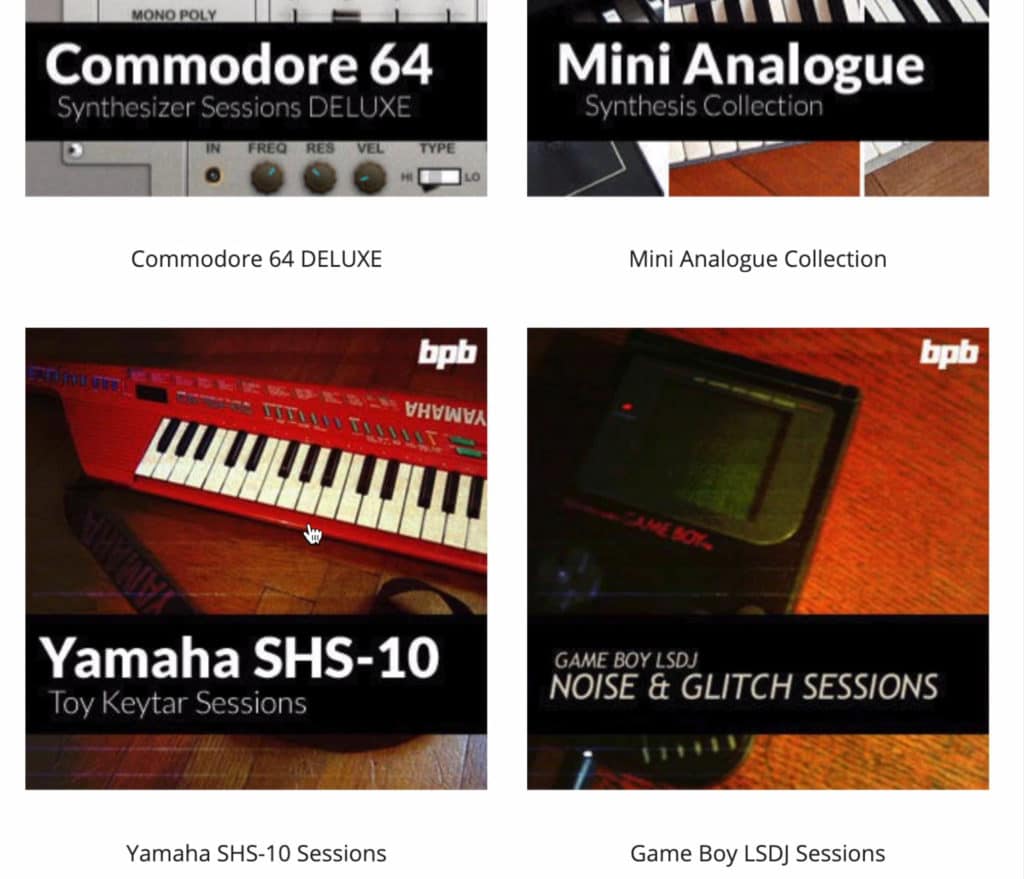 On the site you'll find a lot of unique sample libraries, recorded by BPB.
On their site, under the Free Samples tab, you'll find roughly 20 links to various samples that Bedroom Producers have recorded themselves. Downloading these is simple, and doesn't require any additional registration.
The samples are primarily percussive, but they also showcase some synths, toy pianos, and other unique sounds.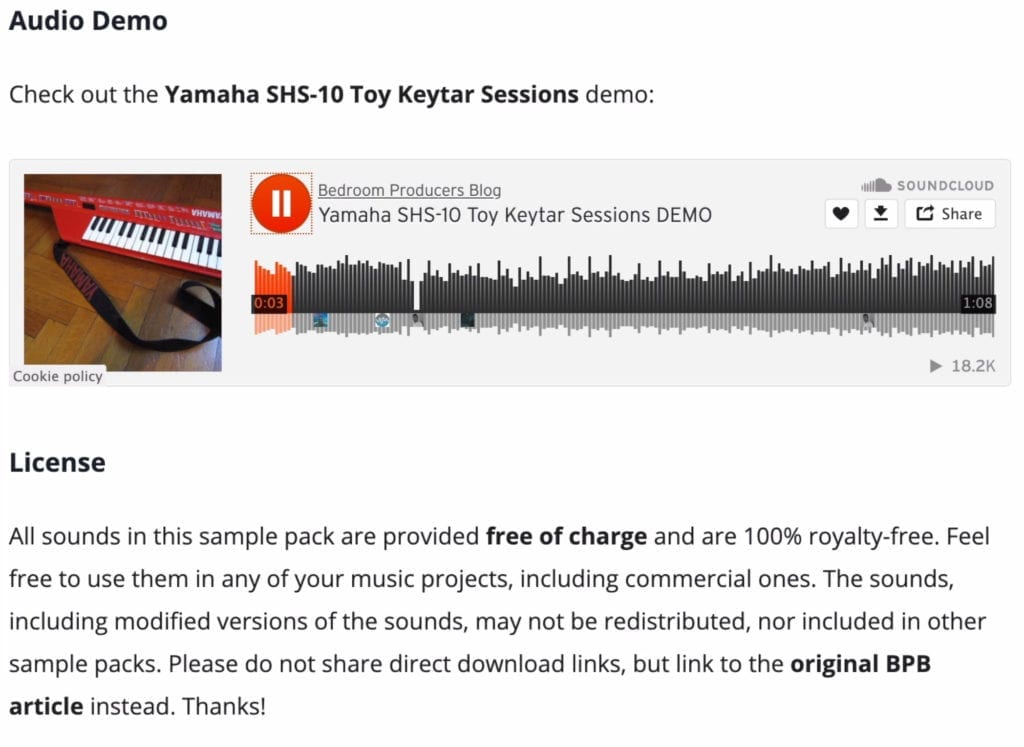 The samples can be previewed on the site.
If you're looking for some sounds that don't find into the typical sampled sound, BPB or Bedroom Producers Blog has a lot of valuable content.
4. Sound Packs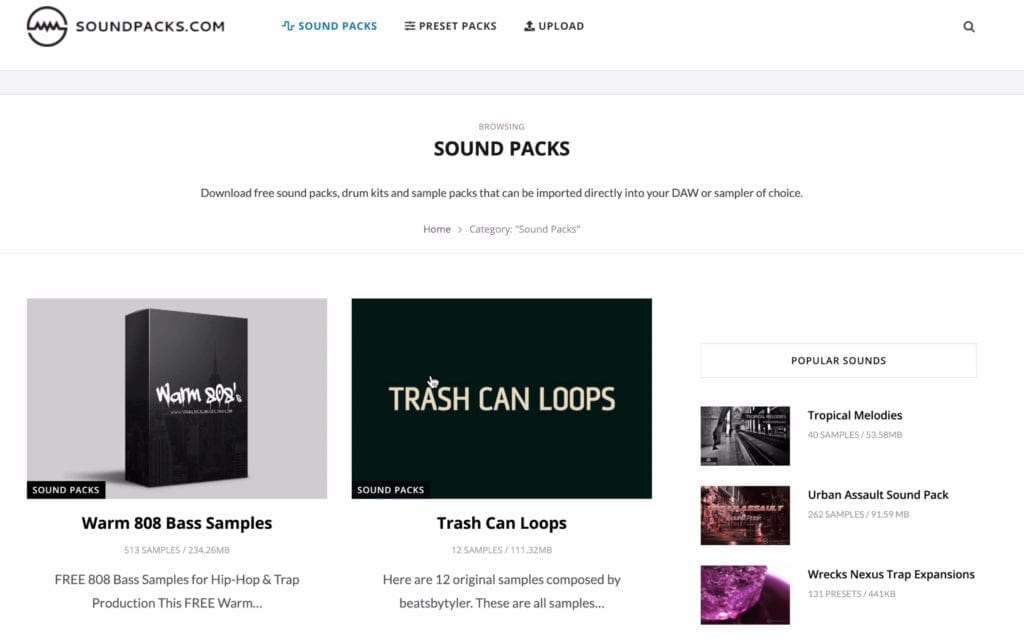 Sound Packs is a great option for pop and hip-hop producers.
If you're looking to produce hip-hop or more modern pop music, Sound Packs is one of the best options on this list.
The site is updated and modern, the interface is simplistic and easy to navigate, and the samples are fantastic. Furthermore, no account is required and the downloads are quick both in the sense they the network speed of the site is fast, and that it usually only takes 1 or 2 clicks to get your download.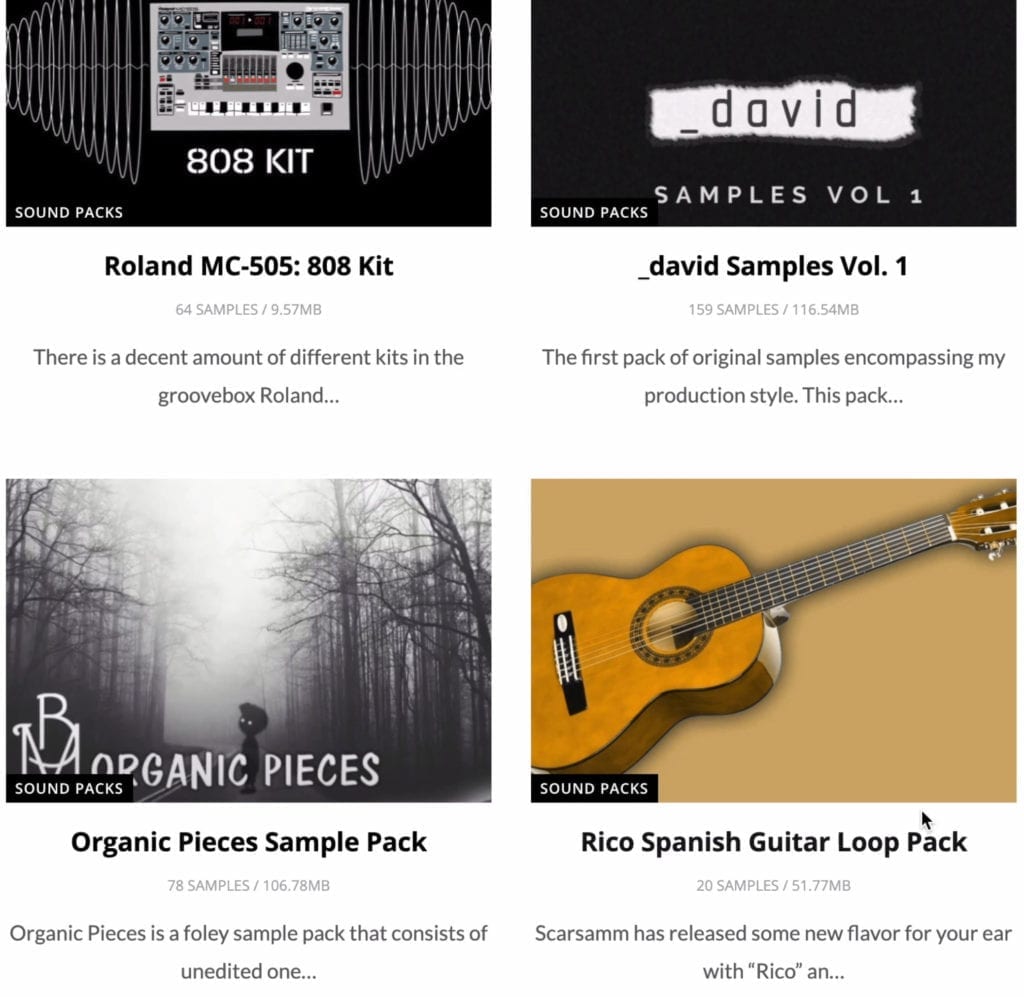 They offer a lot of unique libraries, most of which are percussive.
Under the Sound Packs section, you'll find over 150 libraries, most of which are percussive and are inspired by either a particular drum machine or a famous producer.
Additionally, more unique samples like Spanish acoustic guitar loops, lo-fi jazz keys, and others are available. As hinted at before, these samples lean more toward hip-hop and pop production and will be most useful to producers making this type of music.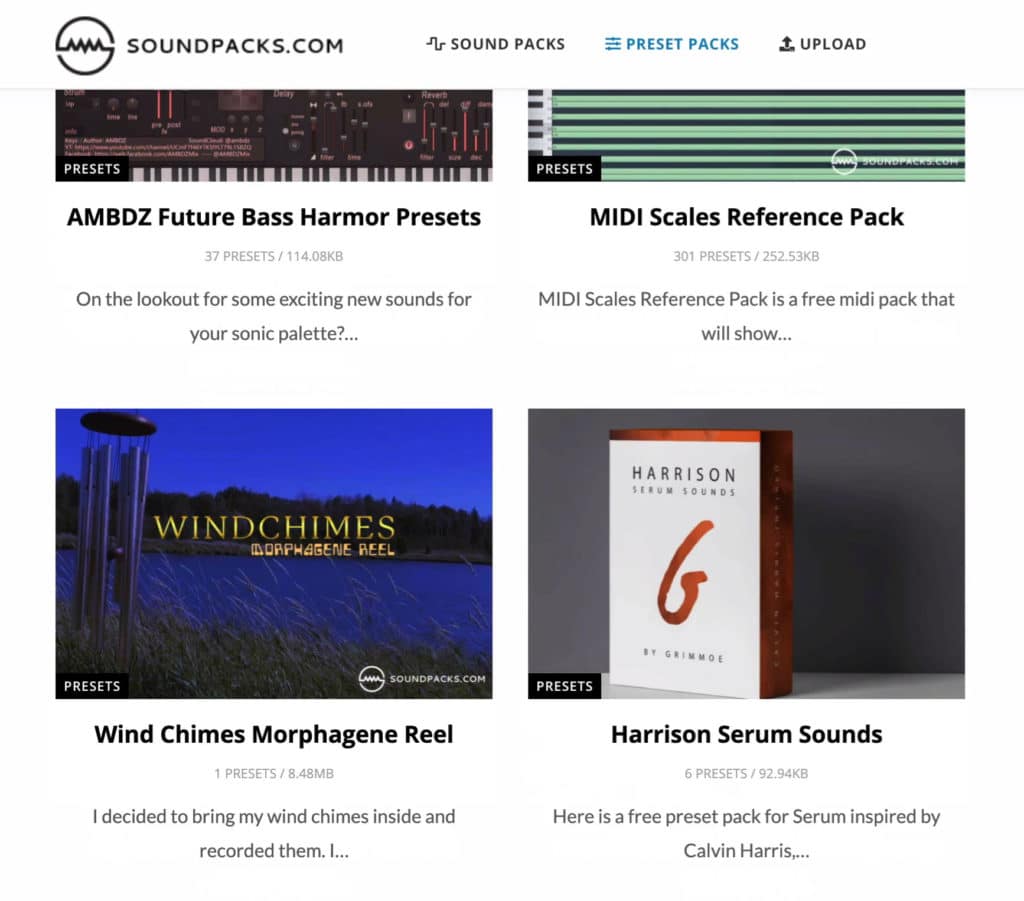 Additionally, free preset packs are available.
Furthermore, the site has an entire section dedicated to presets - so if you have a particular plugin that you use a lot, and want more presets for, there's bound to be a library of presets somewhere on this page.
3. NASA Audio Collection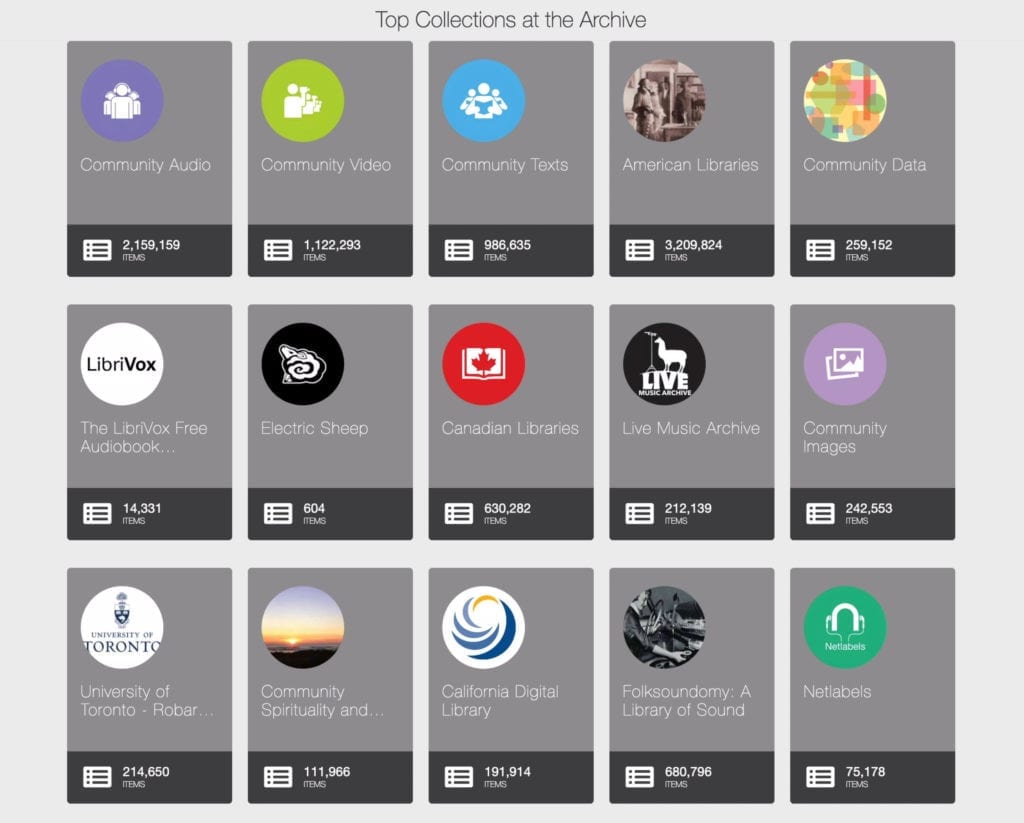 Archive.org host millions of media clips, all of which can be downloaded.
This next entry is completely different than anything else on this list.
On the host website, archive.org, you can find literally millions of audio and video files, all of which have become public domain due to time, or with the permission of the audio file's owner.
One particular section of the website is dedicated to audio files recorded by NASA on their various expeditions into space. The majority of these include communications between the astronauts flying the shuttle and ground communication.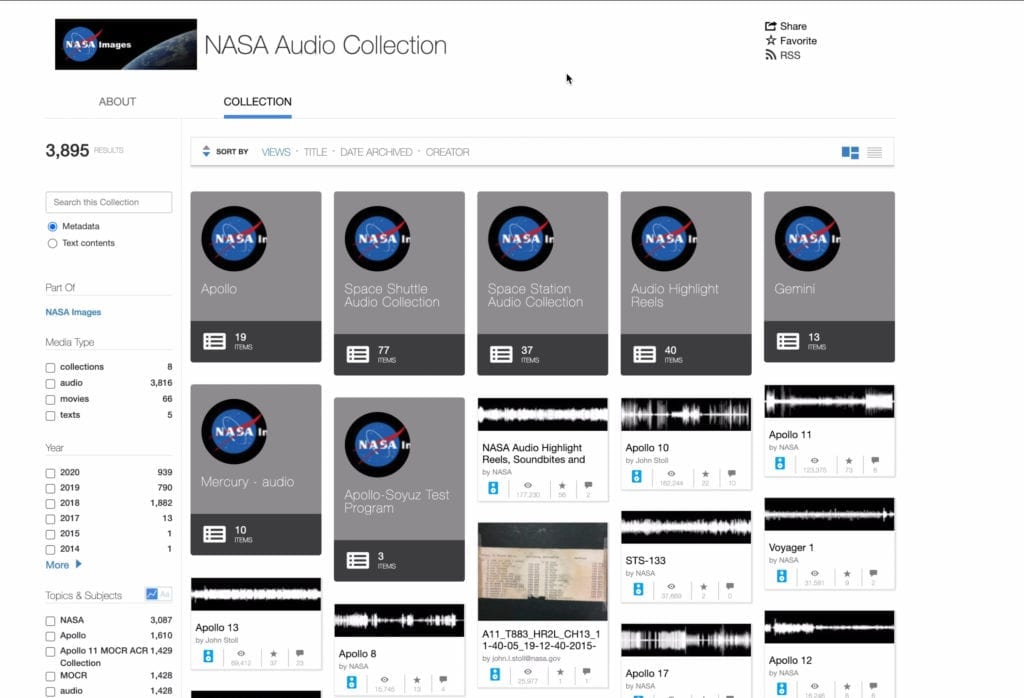 NASA offers a collection of their audio recordings from past trips and launches.
Although they may not be the most useful samples and certainly can be used in every song, they do make for an interesting segue into another section of a song, or maybe an intro or outro.
To download the track, find download options, and click the file type you want to download - which will most likely be FLAC or WAV.
Once you find the file you want, select it, and click the vertical dot icon to the right to find the download option.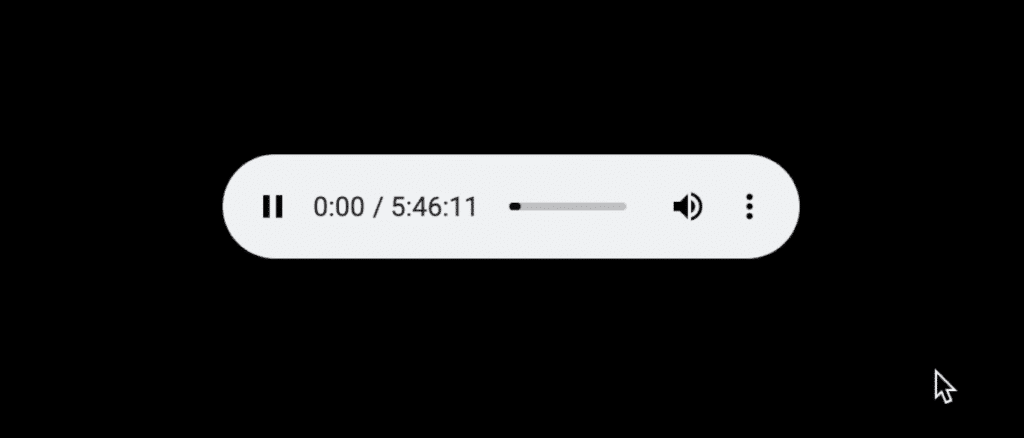 To download, click the vertical dot icon.
Using the site is a little confusing since the design is kind of convoluted, but it's hard to blame them considering the sheer amount of samples and recordings the site offers.
2. Cymatics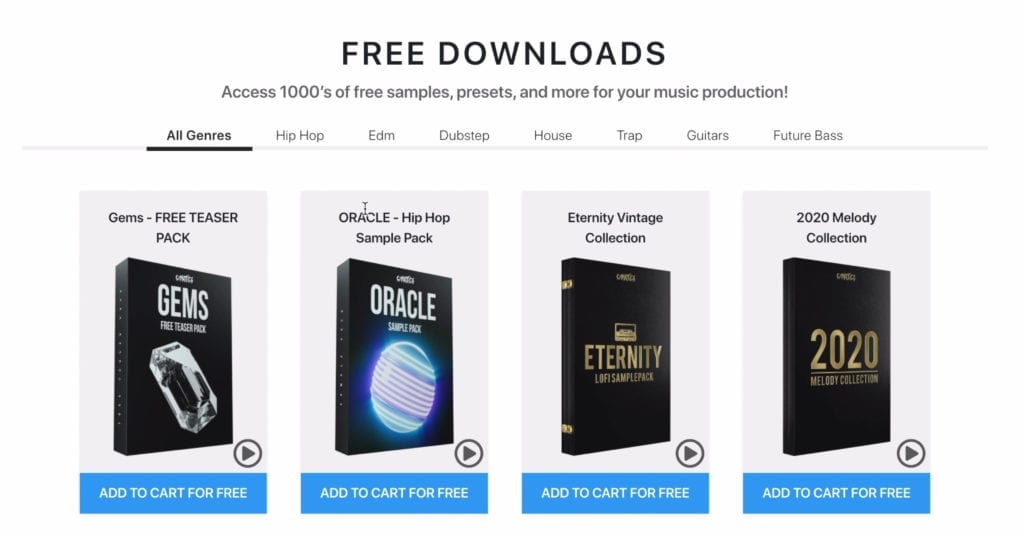 Cymatics leans more toward hip-hop and EDM production.
If you're looking for an extensive library of hip-hop and dance drum samples, cymatics is a great option.
From the home page, you can access various samples by opening the Free Downloads section.
These free downloads have been organized into:
Hip-hop
EDM
Dubstep
House
Trap
Guitars
Future Bass
Each library can be quickly previewed by clicking the play button under the library's image.
Unlike a lot of the other sites we've talked about, the samples on this site are primarily melodic. In other words, they're not the typical drum samples and loops that you find on most other sites - especially on sites dedicated toward hip-hop.
Additionally, from what I could tell, the samples are about 20 seconds long each, and are more loop-based, instead of being single hits or notes.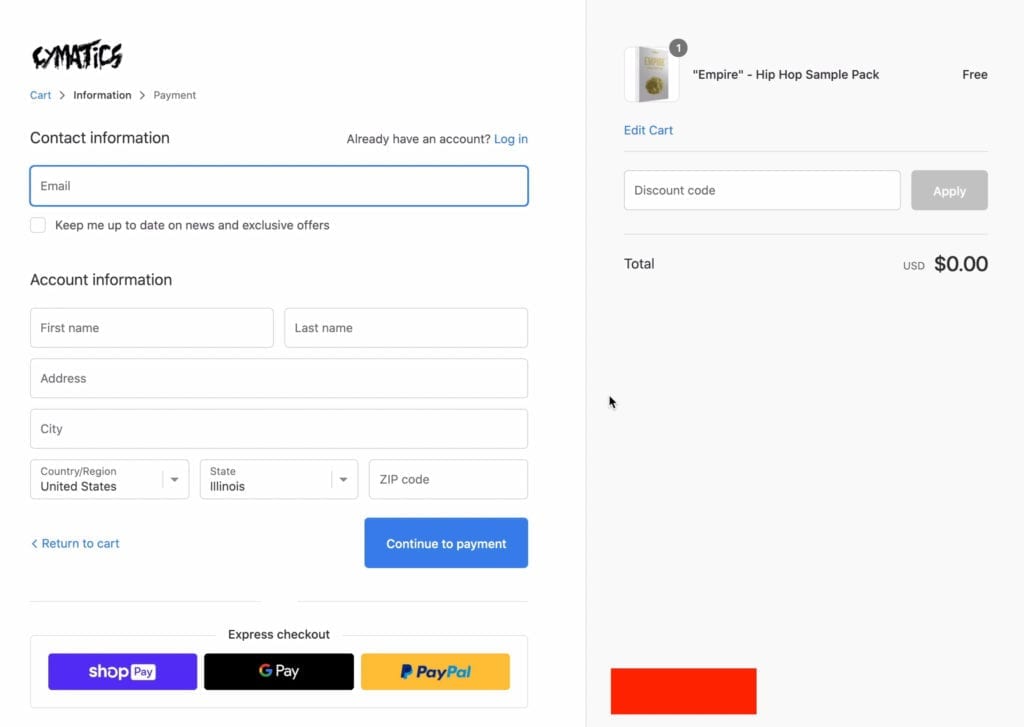 You'll need to create an account to download your files.
With that said, Cymatics is better suited to compositing a song with a melodic aspect rather than strictly creating beats.
The download process is pretty simple - it includes adding the free library to your cart, checking out, which means saying no to a few offers, creating a quick account, and then downloading your files.
Although there is a payment section when downloading, you don't need to enter this information in when the library you're downloading is free.
The downloads range in size from about 200MB to 2GB.
1. 99 Sounds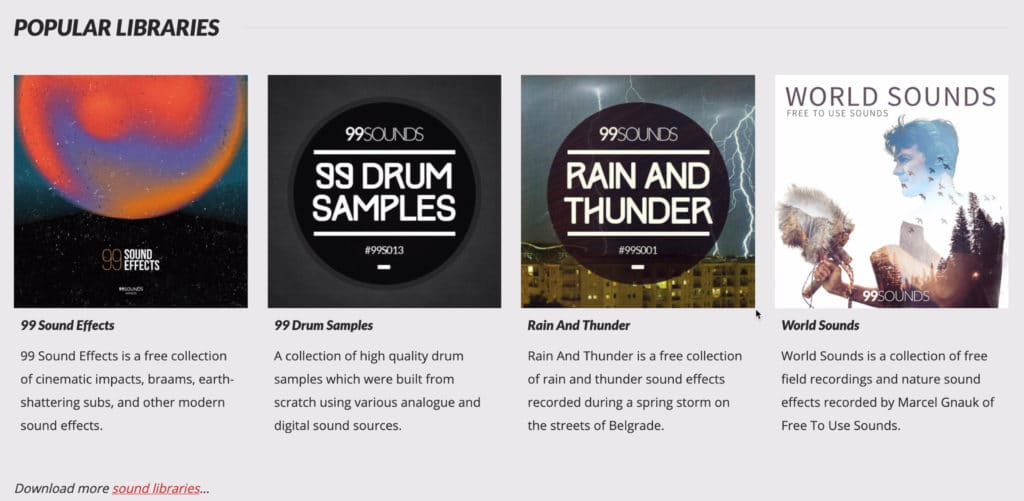 99 Sounds is more cinematic, and offers about 25 libraries.
99 Sounds offers samples that range from the cinematic to the more pop and hip-hop oriented. Whether you're trying to find some unique and professionally recorded sounds for a video project, or add some new instrumentation to your mix, 99 sounds has at least 1 library that you'll find useful.
Some of these include ambient world sounds, while others are more musical and percussive like the kick drum collection.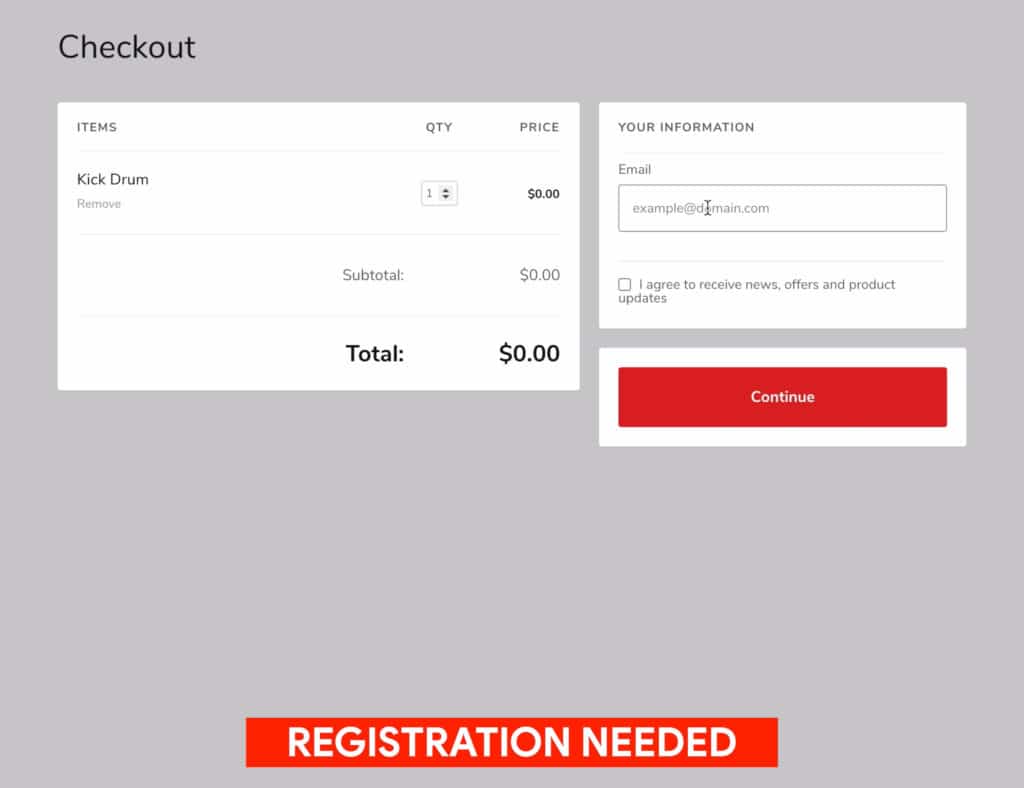 Registration is needed if you want to download your files.
To download the files you want, click on the library, click buy now, enter your email, and then go to your email to find the download link.
The samples themselves are high quality and range from single hits, like with the kick library, to more loop-based samples.
Conclusion
Using samples is becoming more and more commonplace in audio production - especially when it comes to drums. Having the right drum samples for a track can mean the difference between a polished and professional sound, and one that's lackluster.
That's why it helps to explore your options, and find some of the free samples that are available to you.
Some of these websites are great from drum samples:
MusicRader
Hip-Hop Makers
Sound Packs
Bedroom Producers
Others are better from instrumentals and melodic loops:
FreeSound
SampleSwap
Sample Focus
Cymatics
99 Sounds
While some are best for ambient noise and recordings:
Take a look at each one of these blogs and websites to find some samples that work for your productions. This blog post barely scratched the surface of what's available on these sites, so do some exploring and see what's there.
Also, if you know of any great sample websites that we didn't mention here, let us know in the comment section of the video embedded above.
---