MSED - Voxengo
ISOL8 - TBProAudio
BL Waves - Blue Lab
Konsol - Analog Obsession
Frontier - D16 Audio Group
Bittersweet - Flux
Overtone GEQ - Voxengo
HPL2 Processor - Acoustic Field
Loudmax - Thomas Mundt
dpMeter4 - TBProAudio
Finding the right plugins for mastering isn't always the easiest task. There's a lot of trial and error that engineers have to go through before finding the best plugins for their style.
This can be a costly process, but fortunately, great and completely free plugins are being released almost every week that can be used to create fantastic-sounding masters.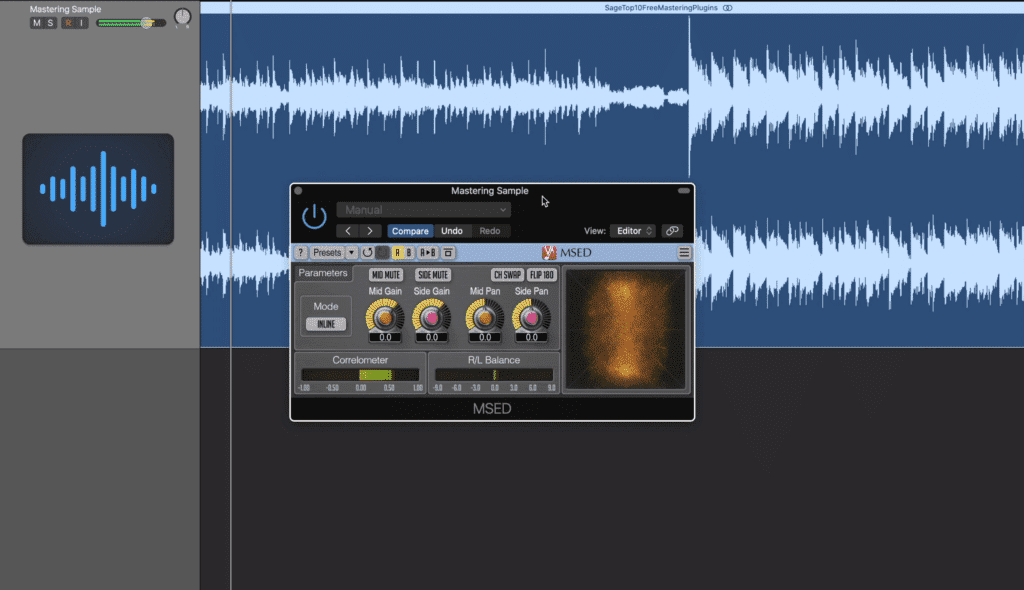 Free plugins often perform the same functions as costly ones.
Although the plugins listed here won't cover every need you might have when mastering, hopefully at least one or two will be useful to you - in turn saving you some time and money.
The plugins listed here range from eq, dynamics, distortion, and just as importantly metering. Some emulate analog processing while others offer a clean and transparent sound.
Regardless of the type of mastering you do or the genre you work in, these plugins will be useful. Keep in mind that these plugins are in no particular order.
10. MSED -Voxengo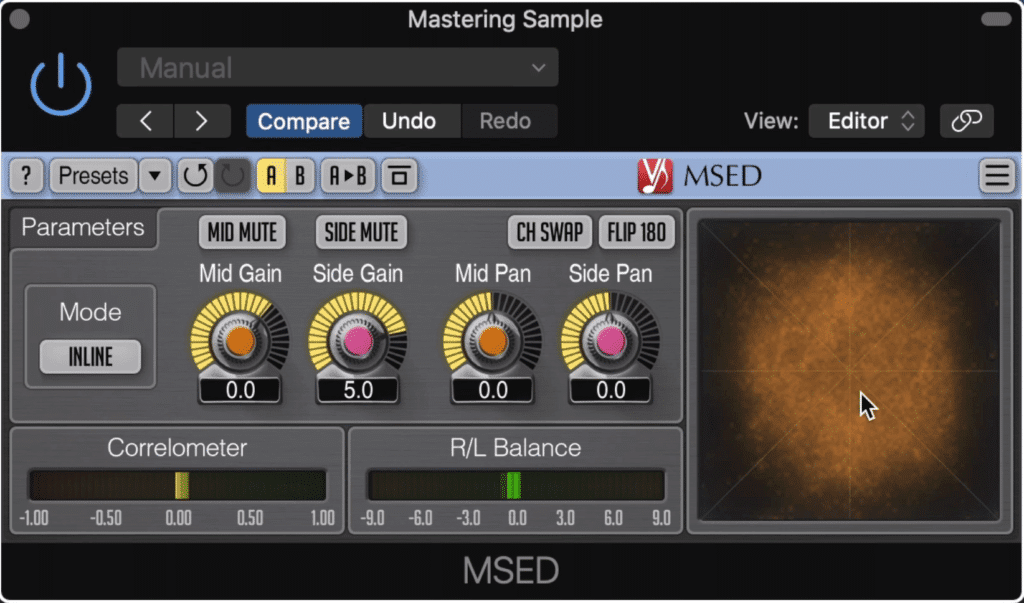 MSED is a powerful Mid-side processor
MSED by Voxengo is a powerful tool for any mastering engineer looking to both monitor and affect their stereo image with one tool. MSED is an encoder and decoder that can sum channels, separate stereo signals into Mid and Side, swap channels, invert phases, and a lot more.
A mid-gain function allows you to increase the gain of your mid-channel, in turn making your mix or master more centered. The side-gain function allows you to increase the gain of your side image, in turn making your mix or master wide.

In includes a correlation and balance meter.
Correlation and right/left balance meters at the bottom of the plugin allow for close monitoring of your signal's balance, and a stereograph on the right offers a quick way to visually understand the width of your mix or master.
Like all Voxengo plugins, an A B comparison tool allows the user to compare two sets of settings.
9. ISOL8 - TBProAudio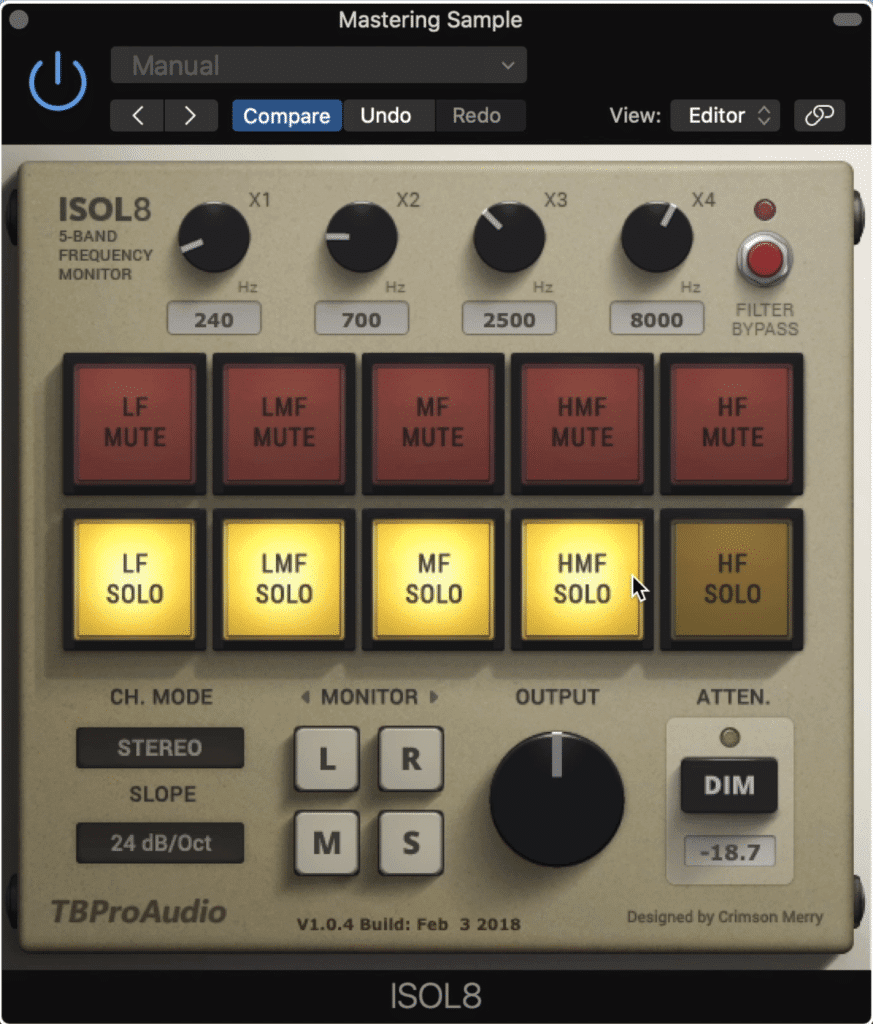 The ISOL8 allows you to solo various bands of your master.
Another tool used for monitoring, the ISOL8 by TBProAudio is a fantastic plugin that allows you to quickly monitor 5 bands of your mix or master.
The bands include Low frequency, low mid-frequency, mid-frequency, high-mid frequency, and high frequency - all of which can be controlled by altering the 4 cross-band rotaries at the top. The slope of these bands can be altered from 24db/octave to 48db/octave to create greater separation amongst them.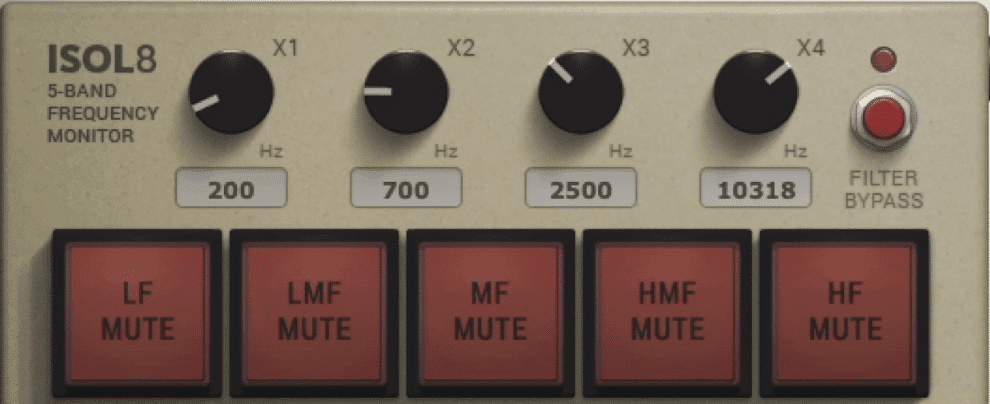 At the top you can alter the bandwidth of 5 bands.
These bands can quickly be soloed or muted, and multiple bands can be chosen at once if needed.
5 channel modes add to the flexibility , making it possible to monitor these bands in a myriad of ways. The monitor section allows you to solo your left, right, mid and side channels

The monitor section allows you to quickly switch between left, right, mid, and side.
Lastly, a dim and an output knob allow the user to adjust the level of the signal, or to quickly attenuate it if needed.
Let's take a listen to a track while engaging the various features of this plugin.
8. BL Waves - Blue Lab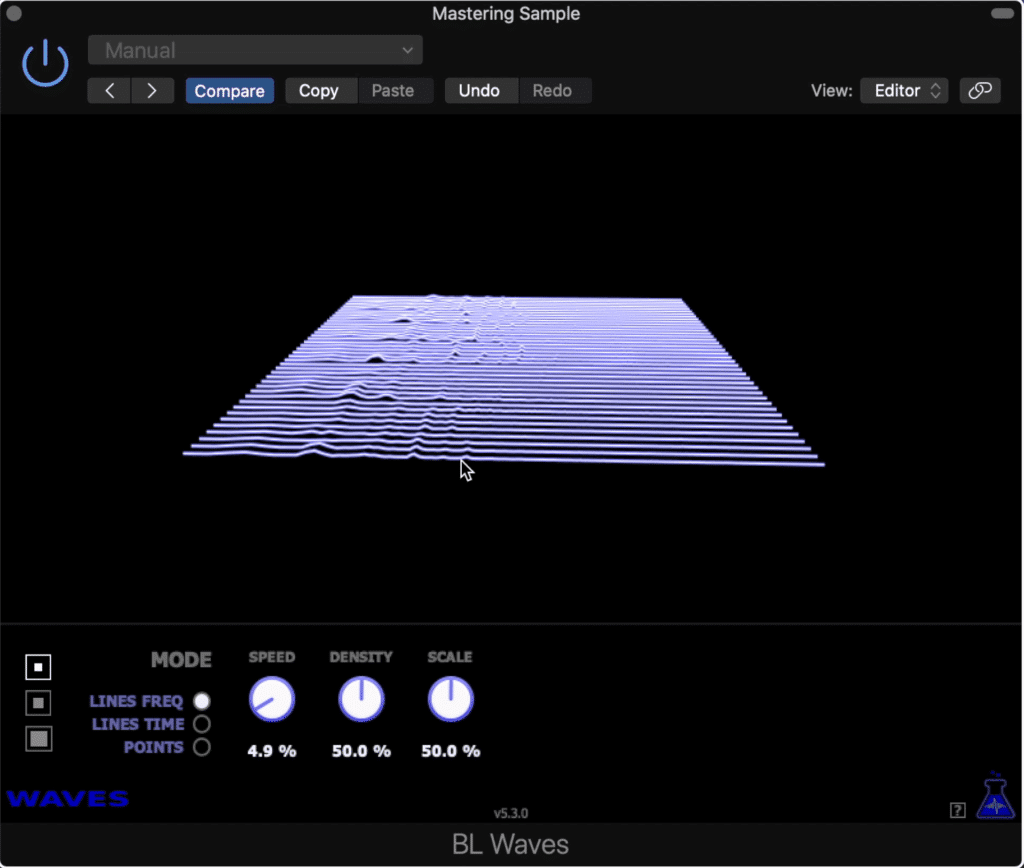 BL Waves offers a unique take on the frequency analyzer
If you're looking for a new way to visualize your projects, the BL Waves by Blue Lab is a great free option.
The display is unique in that it shows a spectrogram from variable and controllable angles. By clicking and dragging the display, you can alter the angle, in turn getting a new perspective on the frequency range and amplitude of your mix or master.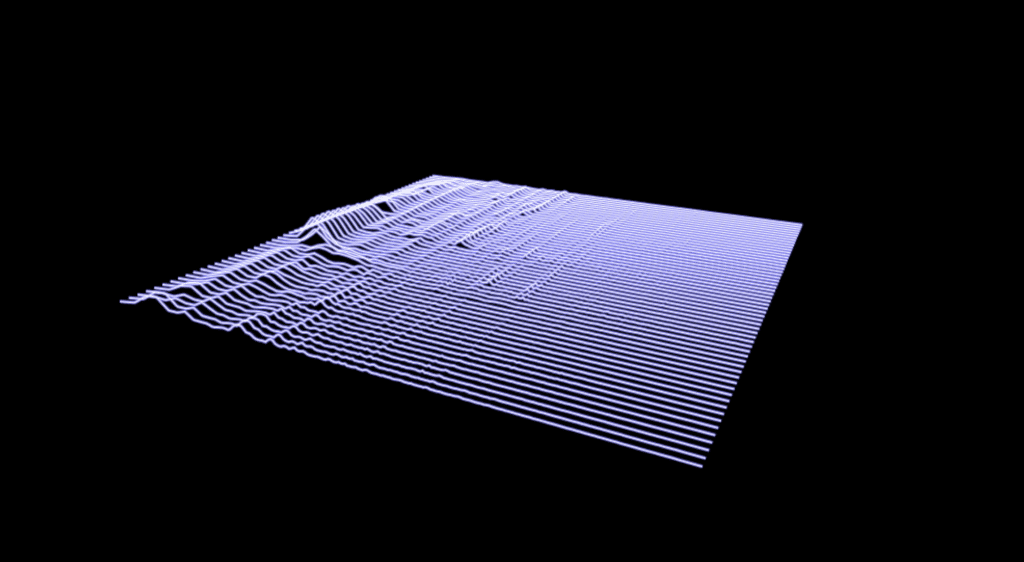 You can change the angle of the graphic by clicking and dragging the display
The window can be adjusted to 3 sizes, and three modes can be engaged that alter the display between frequency, time, and a point-based display that seems to take both into account.
The speed alters the rate the lines refresh whereas the density alters the number of lines displayed. Lastly, the scale alters how exaggerated the lines respond to the amplitude of the signal.

Three window sizes, 3 modes, and 3 variable display settings allow you to customize your display.
Although I personally found this plugin to be a lot more aesthetically pleasing than a typical frequency analyzer, I did notice that it can negatively impact the sound of a master by causing jitter.
That said, be sure to remove this plugin from your inserts prior to export your mix or master.
Let's quickly see how this plugin responds to music so that you can get a better idea of how it operates
7. Konsol - Analog Obsession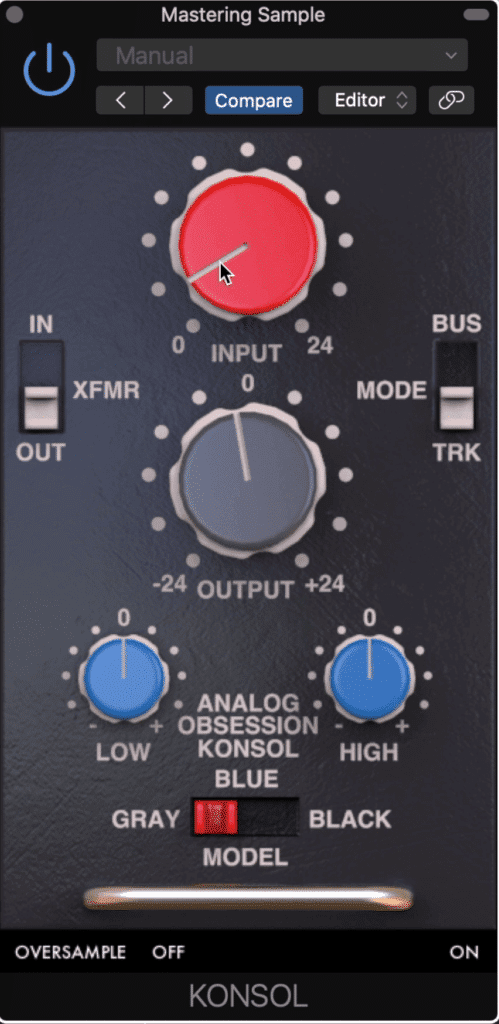 The KONSOL is an analog emulation plugin that models itself off of famous console channel strips.
If you're looking for a free mastering plugin that can impact the sound of your master, not just offer visuals or metering, then Konsol by Analog Obsession is a good choice.
Analog obsession is frequently on our lists for free plugins so definitely check them out and some of our other lists if you're looking for more plugins that impart analog tonality onto a signal.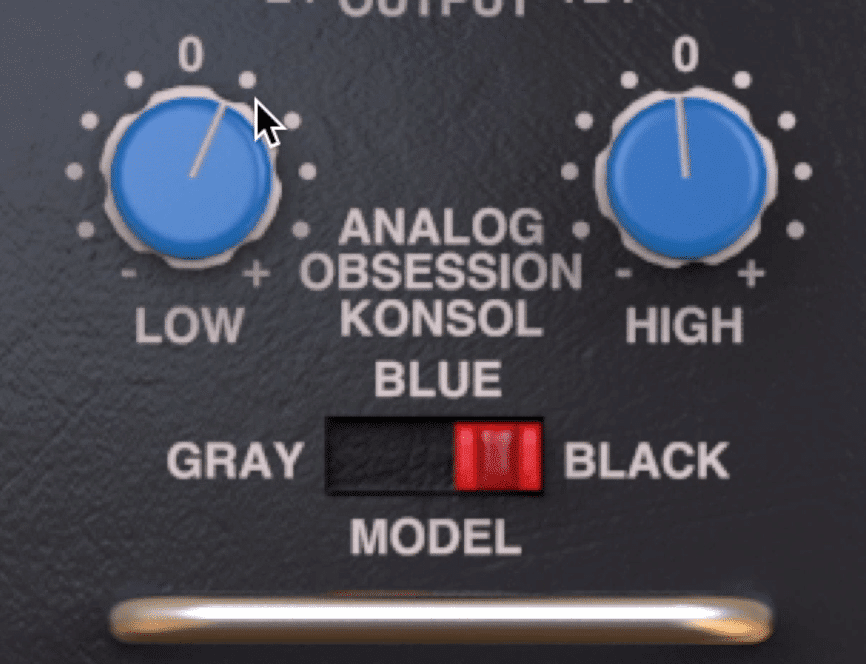 At the bottom, you can switch between multiple model types and amplify or attenuate low order or high order harmonics.
The Konsol models one mono or stereo channel that you'd find on a summing mixer. An input rotary introduces up to 24dB of gain, as does the output rotary. With these two functions, you can easily create saturation and harmonic generation by increasing the input and decrease the output.
The plugin also 3 various model modes including Grey, which is the cleanest option, Blue which creates high order harmonics for a crisp and bright sound, and black which creates mid to high order harmonics for a full sound.
The Bus and Track mode alters the routing as does the XFMR mode. The XFMR mode enables 1 transformer emulation when the plugin is in track mode and 2 transformer emulations when the plugin is in bus mode.
Lastly, two equalization knobs control which harmonics are more prominent, with the low rotary increasing the amplitude of low order harmonics, and the high rotary increasing the gain of high order harmonics.
6. Frontier - D16 Audio Group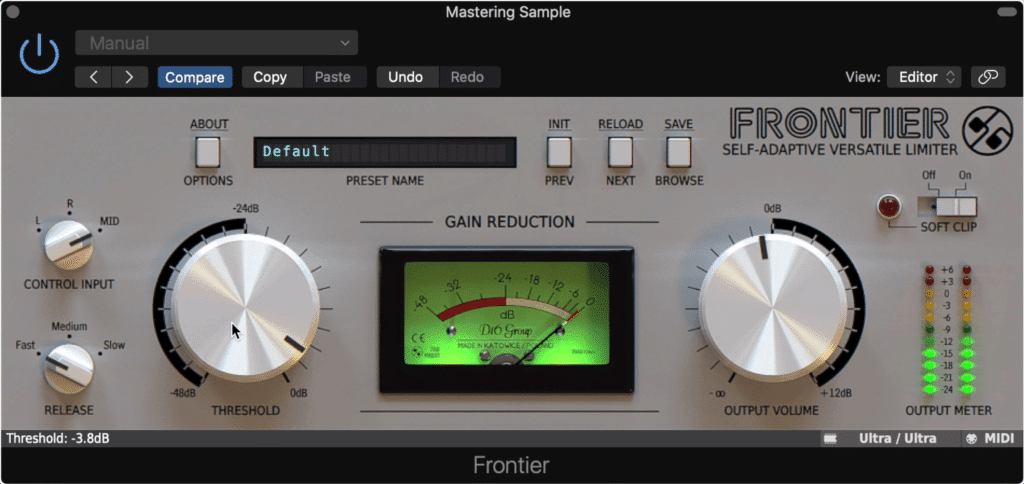 The Frontier is a powerful limiter.
Frontier by d16 has been on our top free plugins lists before - the reason being, it's a great sounding plugin that offers some flexibility you wouldn't expect out of a free plugin.
First off, the display is fantastic which each parameter easily controllable and helpful metering such as gain reduction and output - both of which aren't always seen in free limiters.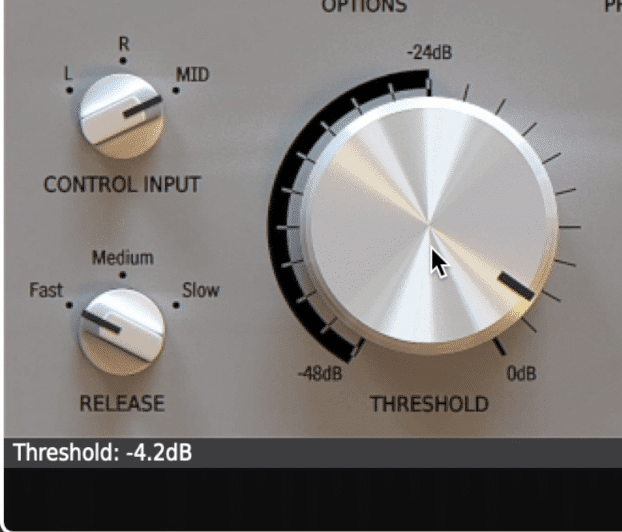 The release is input dependent with some control via the rotary on the bottom left, and the threshold has an auto make-up gain function tied to it.
Beyond the aesthetics, the plugin offers a lot of functionality and a great sound. The threshold enables an auto make up gain function that increases the overall amplitude of the signal whereas the output rotary serves as the ceiling.
The release is input dependent but with 3 chasuble modes, fast, medium, and slow. The input can be controlled between the left, right, and mid channels. When the mid mode is selected, the width of your image will be affected.
Lastly, a soft clip function allows for gentle to significant harmonic distortion that pleasantly amplifies your signal.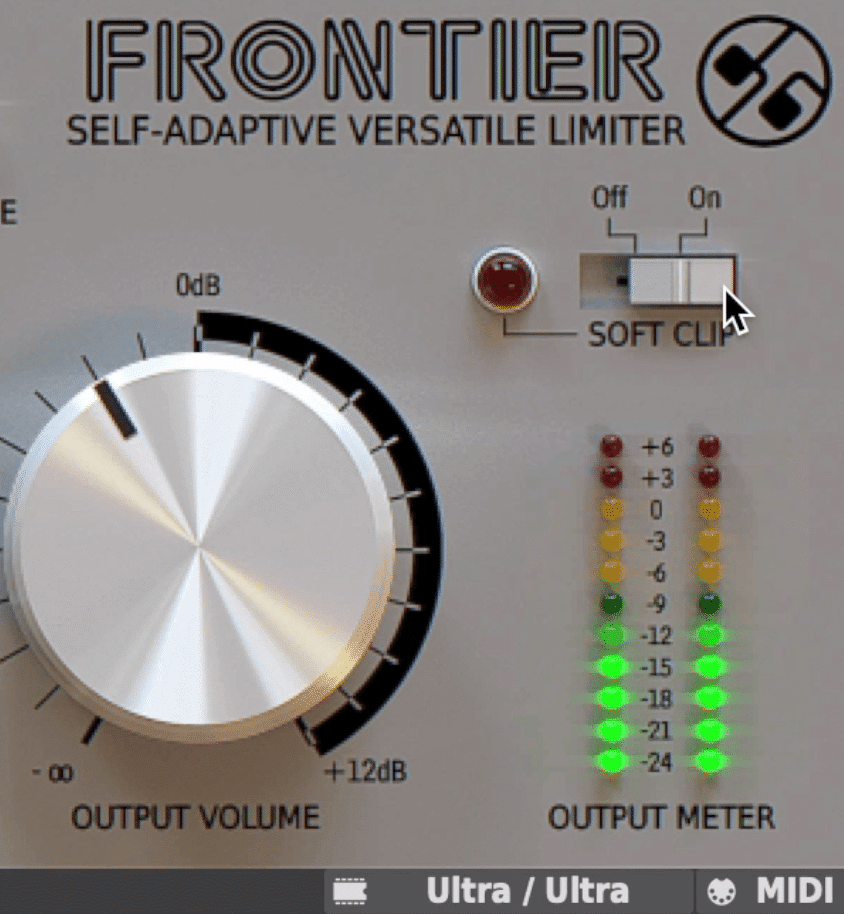 A softy-clip function introduces harmonic distortion.
Try the Frontier plugin as a parallel compressor or as a maximizer on your output channel. One thing to keep in mind when using this plugin is that the plugins default setting has the threshold set to -12dB, meaning the makeup gain will automatically be pretty significant.
With that said, it's best to pause your mix or master before inserting this plugin, otherwise, you may make your monitored signal a lot louder than you want to.
5. Bittersweet - Flux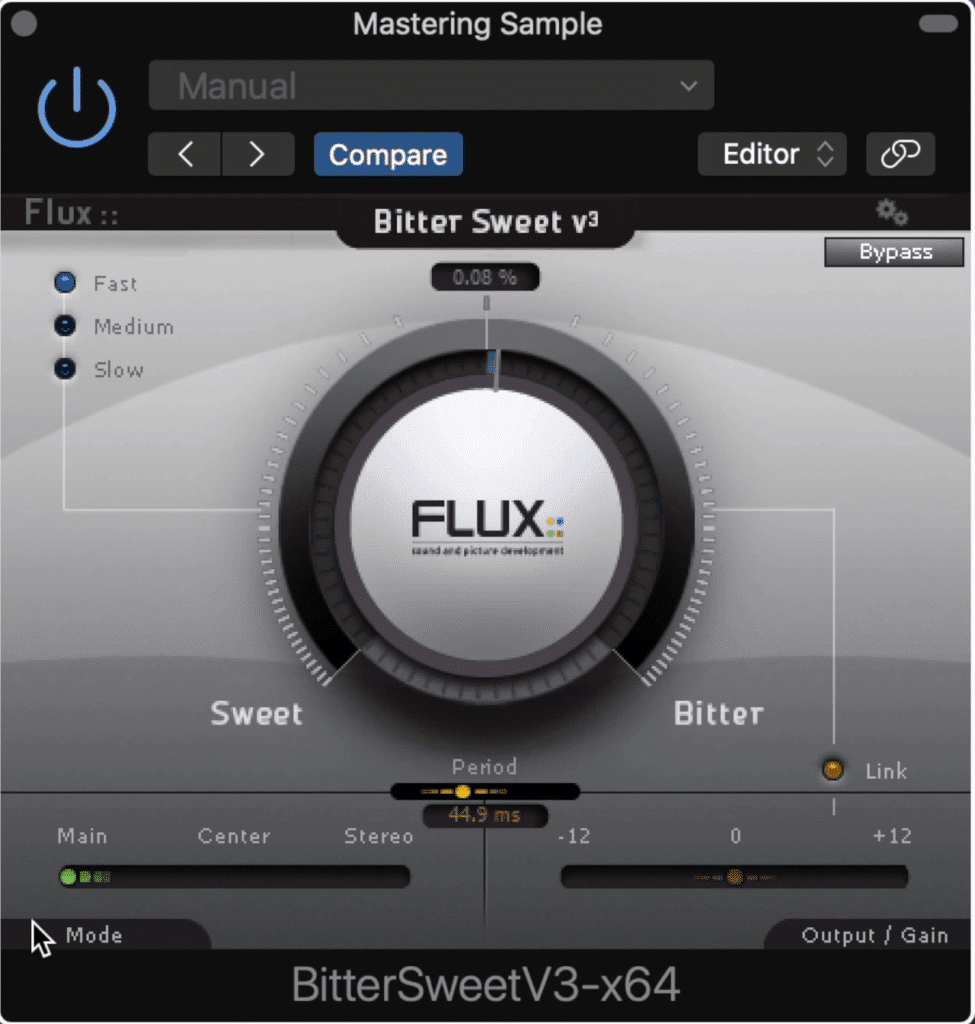 Bittersweet is a popular free plugin that sounds great on a master or mix bus.
If you've looked into free plugins before, odds are you've come across Bittersweet by Flux
In case you haven't yet, the Bittersweet plugin by Flux is a transient shaper that works surprisingly well on masters. The rotary in the middle of the plugin allows you to easily shift between a smooth, transient reduced sound, or an aggressive, transient accented sound.

The mode section in the bottom left switches the processed signal from stereo, mid, and side.
The fast, medium and slow settings on the left allow you to alter the attack time of the plugins dynamic functions, whereas the period slider under the main rotary allows you to change the duration for which the transient shaping lasts.
The link icon allows for automatic gain attenuation or makeup based on the settings, but this can be disengaged. The mode slider alters the incoming signal between mid and side, just mid, and just side.
If you're looking for an incredibly fast and easy way to affect the timbre of your mix or master, check out the bittersweet plugin.
4. Overtone GEQ - Voxengo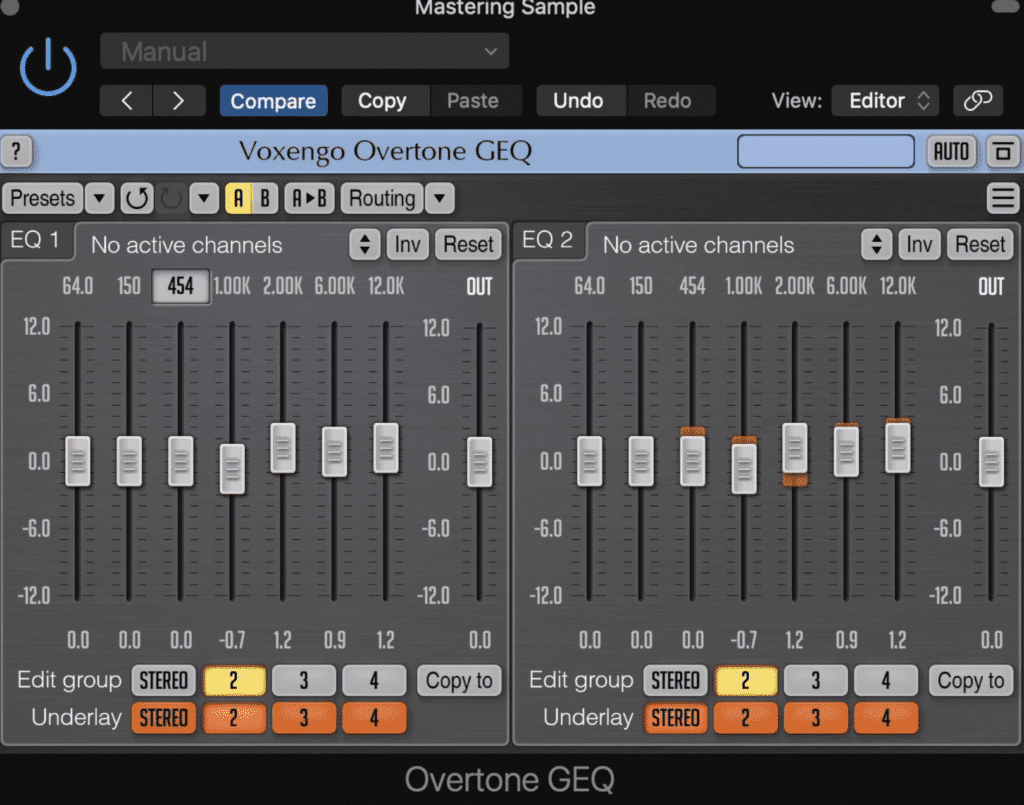 The GEQ adds harmonics to a signal when inserted.
Another plugin we've talked about before, the Overtone GEQ by Voxengo offers immense routing options and a flexible eq setup. Just as important is the tube-based harmonic generation this plugin provides.
The very act of using the plugin or inserting it on your signal introduces complex harmonic generation that makes your signal fuller and more nuanced.
7 bands at 64Hz, 150Hz, 350Hz, 1kHz, 2kHz, 6kHz, and 12kHz , give you a fair amount of control over the equalization curve you impart on your signal.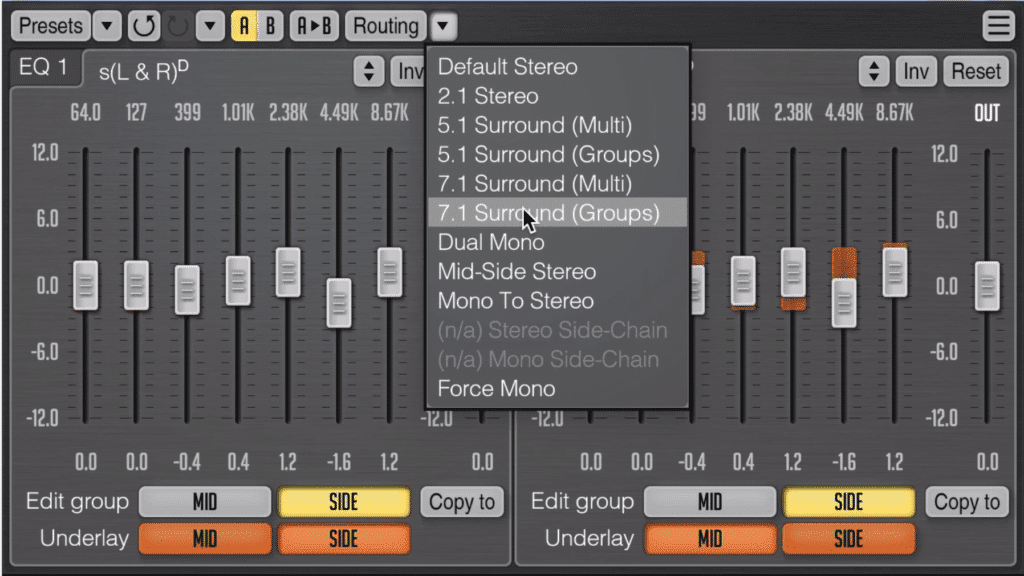 It is capable of a multitude of routing configurations including surround sound.
The default setting is a great start, but changing your routing to mid and side stereo gives you advanced control over both your frequency response and the stereo image of your signal.
If you have the need for it, the Overtone GEQ can also support various surround sound configurations, making this plugin truly versatile.
AB comparisons allow you to compare various curves , while the plugin's customization settings allow you to personalize the display to your liking.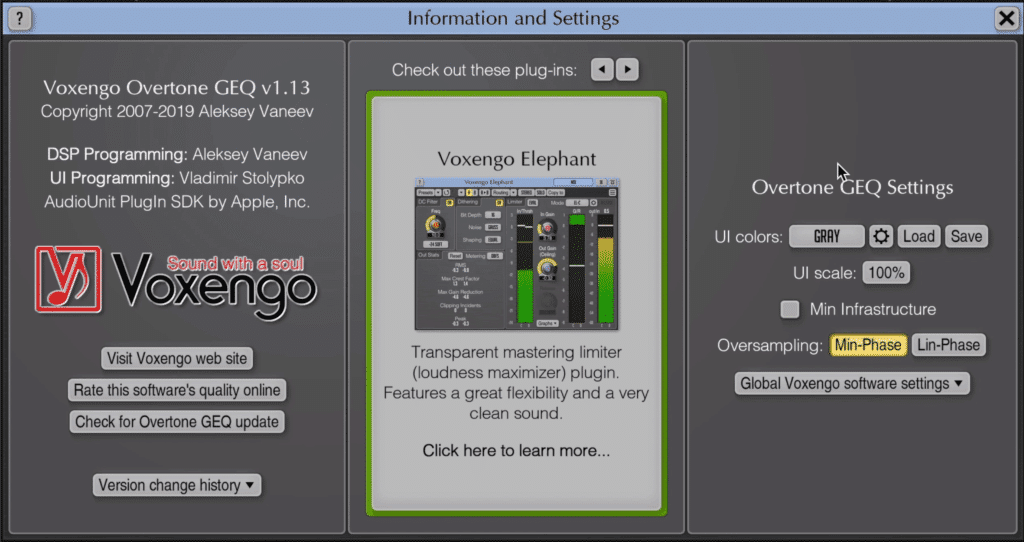 You can also customize your plugin's appearance via the setting's window.
If mastering, an oversampling function provides an easy way to avoid any unwanted intermodulation distortion and aliasing.
3. HPL2 Processor - Acoustic Field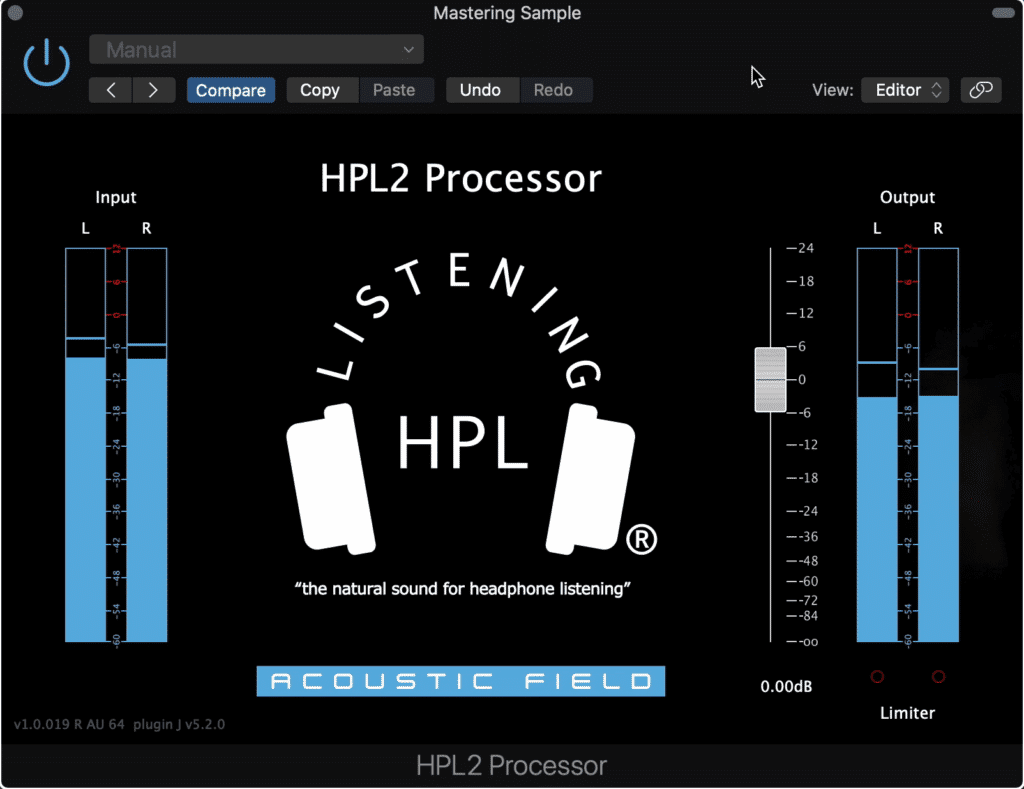 The HPL2 processor is great for getting a new perspective on a mix.
A truly unique plugin, and one that stands apart from any of the others on this list, the HPL2 Processor converts any signal into a spacious and natural-sounding one.
Designed to provide headphone users with a more realistic sound, the HPL2 Processor gives headphone users an idea of what a mix or master might sound like over loudspeakers. Although the plugin doesn't completely provide listeners with an absolutely accurate depiction, it doesn't give an engineer a new perspective on a mix.
Just like how NS-10s allow engineers to hear their mixes on a consumer-grade system, the HPL2 Processor exposes flaws in a mix or master that you may not hear if solely using headphones.
By prioritizing the mid-range, and altering some of the phase relationships, this plugin recreates the signal to sound more open - in turn changing a forward and punchy headphone mix into a somewhat washed out and distant sound.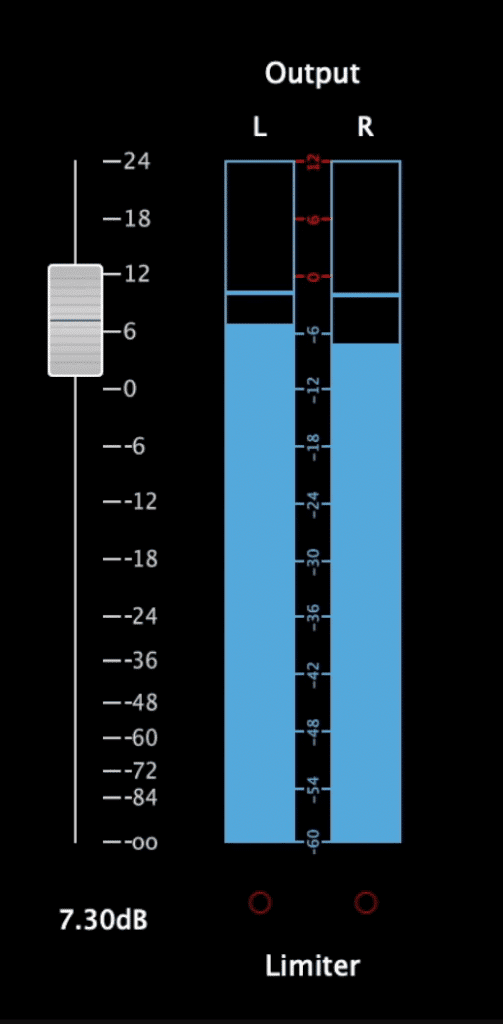 The only control you can affect is the output.
With that said, it definitely isn't a good idea to use this plugin as an effect, unless for a creative purpose, but it does help to create a new perspective when mixing.
When using this plugin the only parameter you can control is the output. Typically, using this plugin decreases the overall volume by 3 to 6dB , so you will probably be using this to offset some of that attenuation.
Let's take a listen to this plugin - if you weren't already, now would be a good time to use some headphones.
2. LoudMax - Thomas Mundt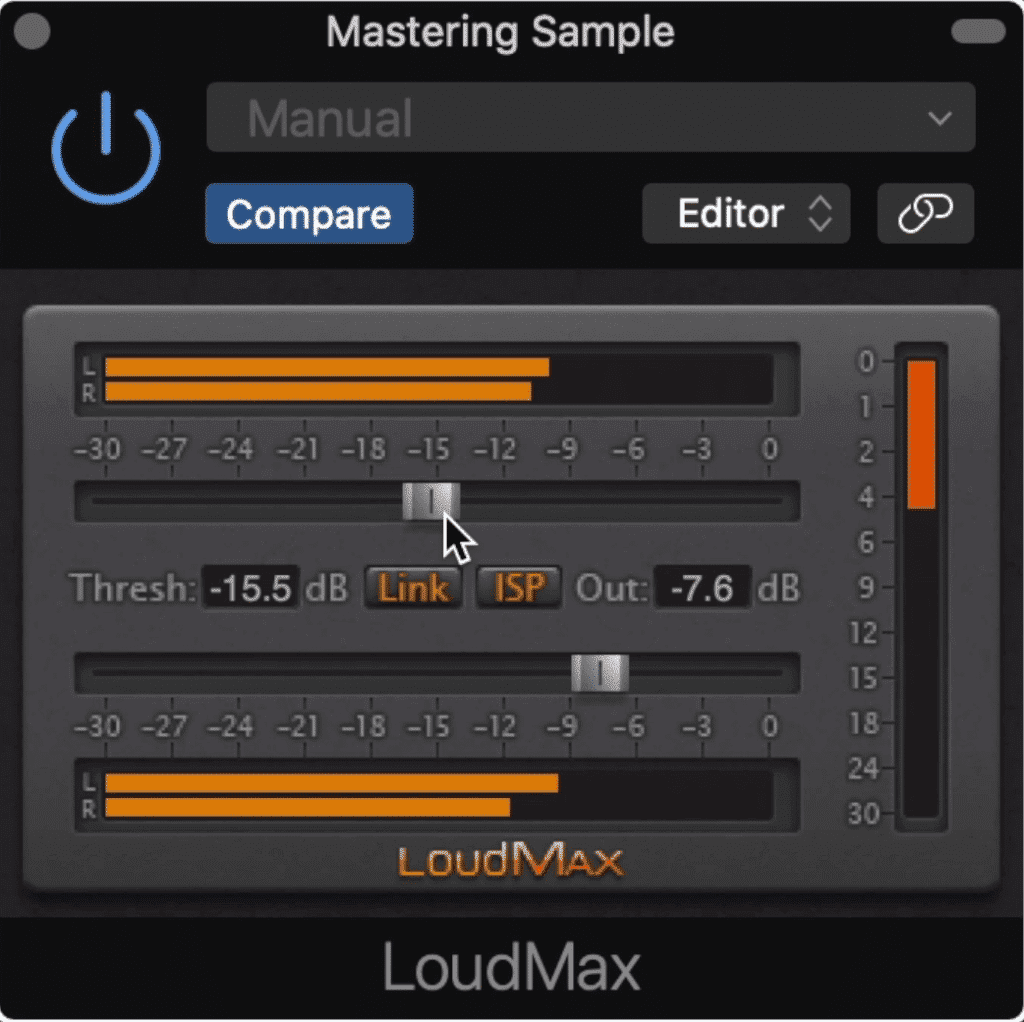 LoudMax is a simple but powerful limiter, similar to the Waves L1
LoudMax by Thomas Mundt is basically a reverse-engineered clone of the Waves L1 limiter. It imparts clean compression on a signal and uses input dependent attack and release settings to create a loud and clear mix.
The threshold incorporates an automatic makeup gain, so when it's lowered, the mix or master becomes louder. The output serves as a ceiling for the signal, ensuring that clipping distortion doesn't occur.

The Link and ISP buttons add value to the limiter.
The link button enables inter-sample peaking detention, also know as true-peak detection. This ensures that no peaking is occurring between samples.
The link function allows both faders to be controlled simultaneously, which is a great method to use when you want clean and transparent compression on an individual instrument or vocal.
All-in-all this plugin is super straight forward , as it doesn't do too much other than limit your signal. Unlike other limiters, there is no expansion or variable compression settings, nor is there any analog emulation via harmonic generation.
If you're looking for a simple but reliable limiter, and don't want to purchase the Waves L1, then this is a great option.
1.dpMeter4 - TBProAudio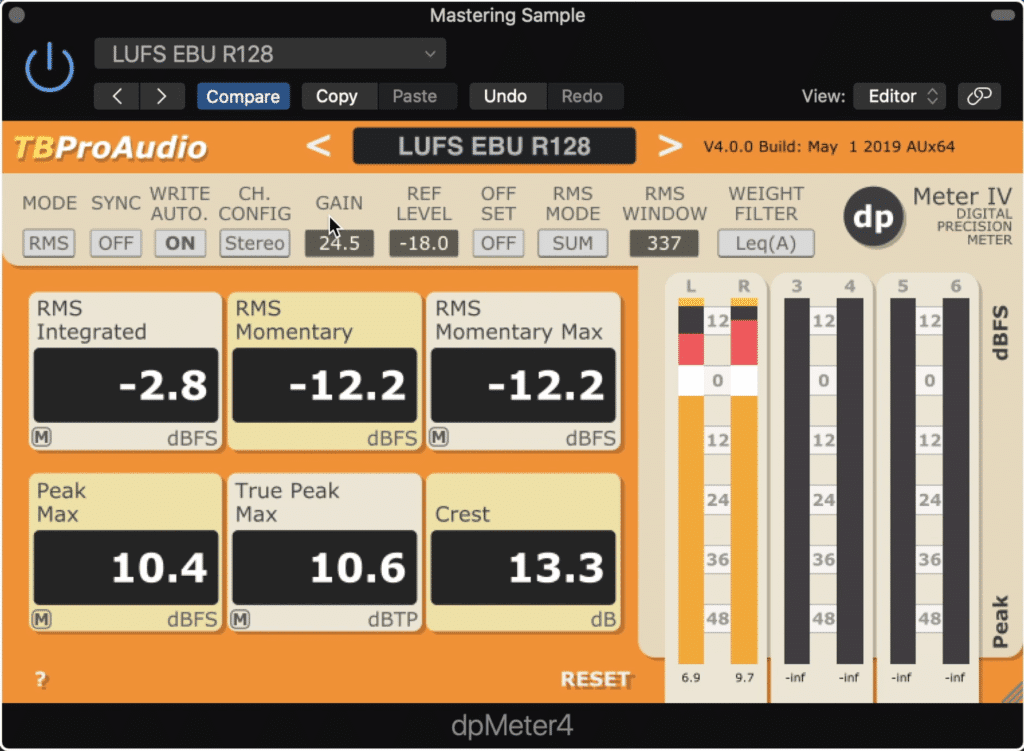 The dbMeter4 can easily take the place of much more expensive pro mix and mastering meters
A number one, we have what at first might appear to be a boring metering plugin - but if you're at all interested in saving anywhere from $70 to $150 on a virtually identical plugin then the dpMeter4 is worth your time.
The dpMeter4, although not the most aesthetically pleasing, accurately displays multiple metrics regarding the loudness and peaks of your signal. Additionally, it allows you to set the measurements for various broadcast standards.

The top bar of the plugin allows for immense customization to ensure that you're mastering your project to the correct levels.
It shows the true peak and max peak of your signal, as well as inform you if any distortion of clipping occurs. A peak meter in dBFS is shown on the right side of the plugin for your stereo output as well as two additional stereo outputs should your choose to set up the monitoring in this way.
On the top panel of the plugin, you can alter the measurement type, a DAW sync function, automation, channel configuration, the incoming gain, the reference level, your signal's level as compared to your reference level, your RMS mode, and sample size the RMS measurement takes into consideration, and the filter type used for measurement.
You can also easily access the manual by clicking the DP button.
Resizing the plugin is as easy as dragging the window from a marker in the lower right-hand corner.
If you aren't familiar with a plugin like this one, yet you want to master music or have been mastering music, this is something that you'll need to become acquainted with. The integrated loudness of a master is incredibly important whether it's being released on a streaming platform, or for any other medium.
Conclusion
Each of these plugins represents a free version of another, certainly more expensive version. If you've been eyeing a particular plugin and are ready to make a purchase, perhaps consider exploring to find a free version.
It's entirely possible that the internal processing is incredibly similar if not the same. Furthermore, it's definitely possible to combine a free couple of plugins to accomplish what a paid plugin with more functionality does.
The more you understand what these plugins are doing, the more you'll be able to find free alternatives like the ones listed here.
---